Fix iMessage/FaceTime & Push Notifications On Hacktivated iPhone 4/3GS
iOS 5 brought with it a plethora of new features, including the infamous iMessage that allowed users to communicate with any other iOS 5 device over a WiFi/mobile data connection, effectively eliminating the cost of carrier SMS plans. While highly appreciated and useful, iMessage was something jailbroken users remained envious of, particularly those on unofficial carriers, since iMessage requires activation with iTunes before it can be used. Hacktivating your iOS 5 device bypasses that, and while you can use your iPhone 4 or 3GS, features like iMessage, FaceTime and push notifications remain unavailable unless you're willing to pay for solutions like PushFix and MiTime.
This all changed with SAM (Subscriber Artificial Module), which allows you to activate your iPhone using legitimate certificates generated through iTunes. Advantage? You get fully working push notifications, FaceTime and iMessage (iOS 5 only) without needing to spend a single buck. Read on after the jump to find out how.
Before we begin, allow me to explain a little how this works. iTunes activates your new iPhone using your official (supported) carrier's IMSI, taken from the SIM card. When you hacktivate the device for use with unofficial carrier, this process is bypassed by running a daemon constantly in the background, fooling iTunes into believing that the device is already activated. While there are numerous methods and tools available for hacktivation, SAM, a free package on Cydia, spoofs a fake IMSI, making iTunes believe that the device is running on an official carrier's SIM, thus making the program generate legitimate activation certificates. While this fixes the 'push notifications not working' issue, on iOS 5, it also fixes FaceTime and iMessage. You also get considerably better battery life, thanks to skipping the activation daemon constantly running in background (even better for ultrasn0w unlockers).
The process described here was tested on iPhone 4 (GSM version) jailbroken using sn0wbreeze 2.8b8, running iOS 5.0. The usual warning applies; while fully tested, proceed with this method at your own risk. AddictiveTips cannot be held liable for any damage whatsoever.
You will need a jailbroken, already-hacktivated iPhone 4/iPhone 3GS, with Cydia up and running.
First, launch Cydia, head on to the Manage tab and add the following source.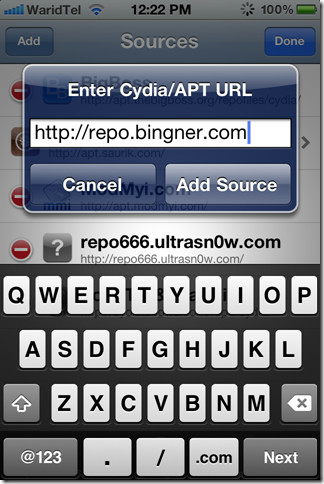 Once your new repository is added, search for SAM, or find the package in the repository manually, and install it.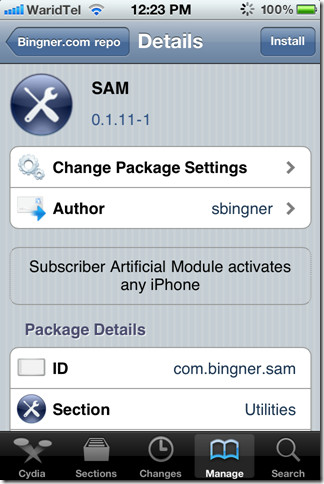 With SAM installed, you'll find a SAMPrefs icon on your iPhone's Springboard. Launch SAMPrefs and navigate to Utilities menu.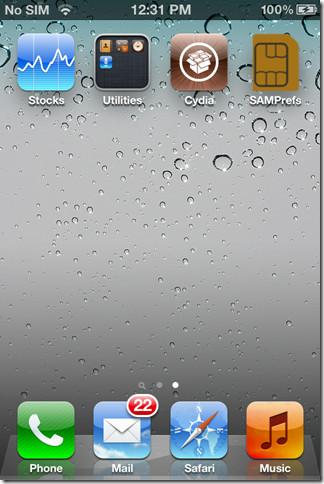 Under Utilities, tap the option that says "Revert Lockdown to Stock". This will deactivate your hacktivation, but don't worry about it; your iPhone will remain functional.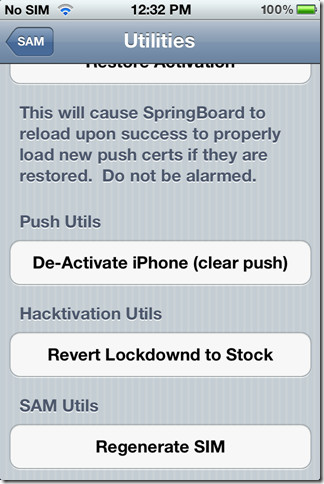 A message will pop up claiming that Stockification was a success. Hit OK to dismiss.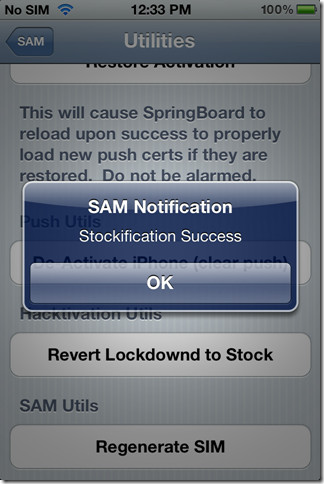 Next, on the same screen, hit the De-Activate iPhone (clear push) button. Another message will pop up, confirming that the phone has been deactivated.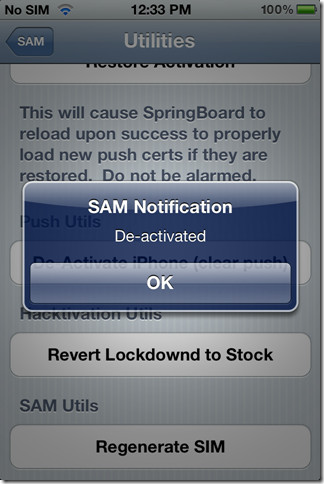 Now, if you had your iPhone already connected to your PC, remove the USB cable and reconnect. Otherwise, just connect it with iTunes and let it activate (one sync is all it takes with SAM package installed). Also, at this point, if iPusher app was already installed on your iPhone, remove it.
At this point, the activation is basically complete and you can verify that by navigating to Settings > SAM > More Information. If it says Wildcard Activated, you're good to go.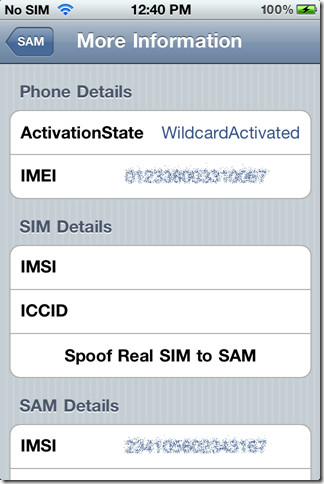 Once your iPhone is activated, launch SAMPrefs again, tap Utilities and you'll notice that the menu displayed is different from the last time around. Hit Backup Activation, followed by Restore Activation. A success popup should follow.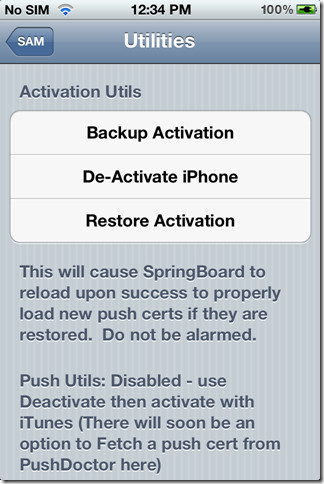 From here on begins the part that requires patience (bothered me, at least). Reboot your iPhone and then let it sync with iTunes. Once that is done, install the free iPusher app from App Store [iTunes link].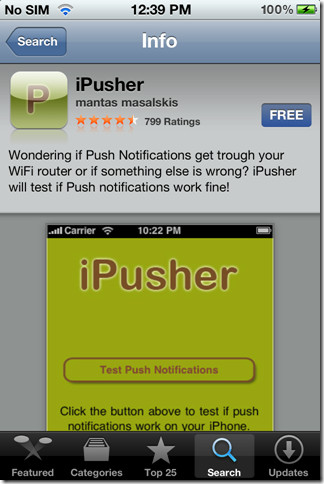 Reboot your iPhone again (yeah, that's two reboots before you can actually use it – I didn't like that, either) and sync once more with iTunes. Also, ensure that you have a working WiFi connection with active internet access. Then, launch iPusher, allow it to send you push notifications, and tap the Test Push Notifications button. Should you see the below screen, breathe a sigh of relief, for everything works!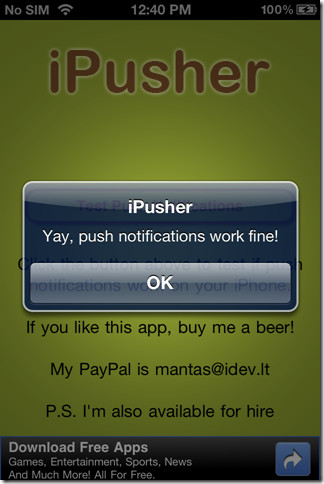 This should basically fix everything, but to be sure, it's better that you turn off both iMessage and FaceTime, and reactivate them. To do that, go to Settings > Phone and turn off FaceTime. For iMessage, follow Settings > Messages and turn off iMessage. Now, reboot your iPhone again, turn both these features back on and they should be good to go.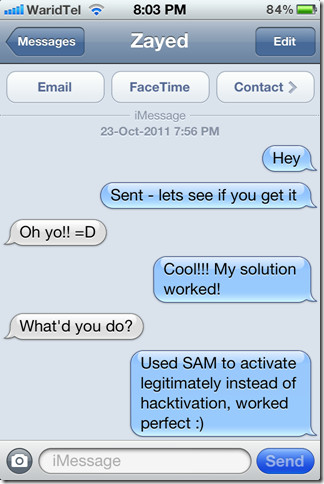 It's worth mentioning that in Settings, both iMessage and FaceTime still show 'activation unsuccessful'. They do work, nevertheless.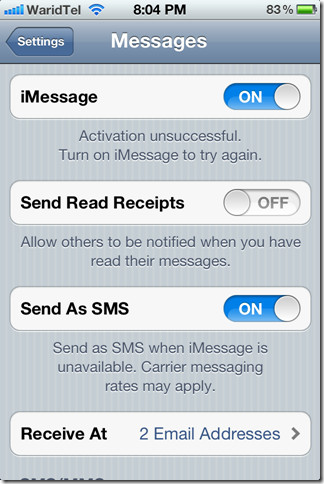 Now that you can use your otherwise-hacktivated iPhone 4/iPhone 3GS back to their full potential, do share the goodness with your friends and loved ones. Please note that this method works for iPhone 4 and iPhone 3GS only, running iOS 5 on an unofficial carrier. Also, you won't need these settings if you're using a factory-unlocked phone, since they don't need to be hacktivated at all anyway.