The Best Suspense Movies on Netflix
Nothing gets your blood pumping like a good thriller — and Netflix is well aware of this fact. That's why there's no shortage of thrilling suspense movies on Netflix. But if you've had a Netflix subscription for a while now, you know how hard it can be to find a good movie to watch when the selection is so huge. There's often so much content that it makes it difficult to choose, and sometimes Netflix's own recommendation algorithm can make it hard for you to find the perfect suspense movie for the evening.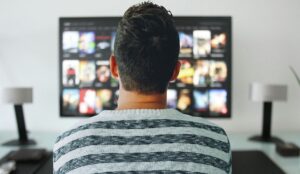 Here are some of the best suspense movies on Netflix that you may not have seen on your Netflix home screen, but are still definitely amazing thrill rides.
El Camino: A Breaking Bad Movie
If you're a fan of Breaking Bad, then El Camino is your chance to find out what happened after the Finale. The two-hour film follows Jesse (actor Aaron Paul) as he tries to run from the law and his past. As you can probably guess, it's a thrilling action film from beginning to end.
Drive
Ryan Gosling plays a stuntman-turned getaway driver who is entangled in a criminal plot that puts the woman he loves and her husband at risk. In addition to the great driving, strong acting, and silk jackets, you can also expect great performances from Bryan Cranston, Albert Brooks, and Christina Hendricks.
Apostle
This Supernatural horror tale follows Thomas Richardson (actor Dan Stevens) as he travels through the early 20th Century to a cloudy island controlled by a secretive cult, all while battling an opium addiction. Expect an amazing performance from Martin Sheen who plays Father Malcom, the leader of the cult.
Blue Ruin
In this thriller, Dwight Evans, portrayed by Macon Blair, goes on a revenge-spree after he discovers that the man who killed his parents is to be release from prison. But his plan quickly spins out of control, resulting in a thrilling adventure that is bound to make you squirm.
Green Room
Four members is a touring band portrayed by Alia Shawkat, Callum Turner, Joe Cole, and Anton Yelchin witness the murder of a young woman and are held captive by the neo-Nazis responsible. What follows is a tense and sometimes brutal and gory story of survival that's bound to keep you on the edge of your seat.
Cam
Madeline Brewer plays Alice, an ambitious webcam model who's working very hard to grow her career. She begins to worry for her safety when a mysterious doppelganger takes her place and begins to post content online without her. This is an intense and highly feminist story that borders in horror.
Burning
Aspiring novelist Lee Jong-su, portrayed by Yoo Ah-in, tries to reconnect with a young woman he grew up with. When the story introduces Ben, portrayed by Steven Yeun, a handsome rich guy with a penchant for burning down greenhouses, the story becomes as thrilling as it is confusing.
The Silence of the Lambs
This classic has FBI trainee Clarice Starling, played by Jodie Foster as she interviews Dr. Hannibal Lecter, played by Anthony Hopkins. It quickly emerges that Lecter has his own agenda and is planning to use the interaction for personal gain. The heart-pounding moments and the amazing performance delivered by both Foster and Hopkins make Silence of the Lambs an influential film in the psychological thriller genre to this day.
Uncut Gems
In this 2019 Netflix Original, Adam Sandler plays New York City jeweler Howard Ratner. Stuck with huge debts he is unable to pay, he tries to find a rare black opal that can solve all his money problems brought on by a heavy gambling addiction. The result is an anxiety-inducing trip that in some ways reveals a more serious side of Sandler.
Nightcrawler
In this thriller, Jake Gyllenhaal plays Lou, a man who records the late-night violence in Los Angeles and sells his videos to the local news. But how far is he willing to go to get the best scoop? Gyllenhaal's performance in this eerie but gripping story will keep you glued to the screen.
The Gift
In this thriller, Jason Bateman plays Simon, a man who runs into an acquaintance while out shopping with his wife. A simple warm welcome quickly becomes unexpected stopovers, cryptic messages, and escalating threats.