Is CCleaner Safe? CCleaner Download, Install, How to Use
If you heavily add clutter to your computer by installing and uninstalling software, trying out different games or web browsers, or making frequent changes to the registry, your system will eventually fail to work properly.
To prevent that from happening, it's a good idea to turn to software applications specialized in clearing up disk space and ultimately restoring the performance of your machine.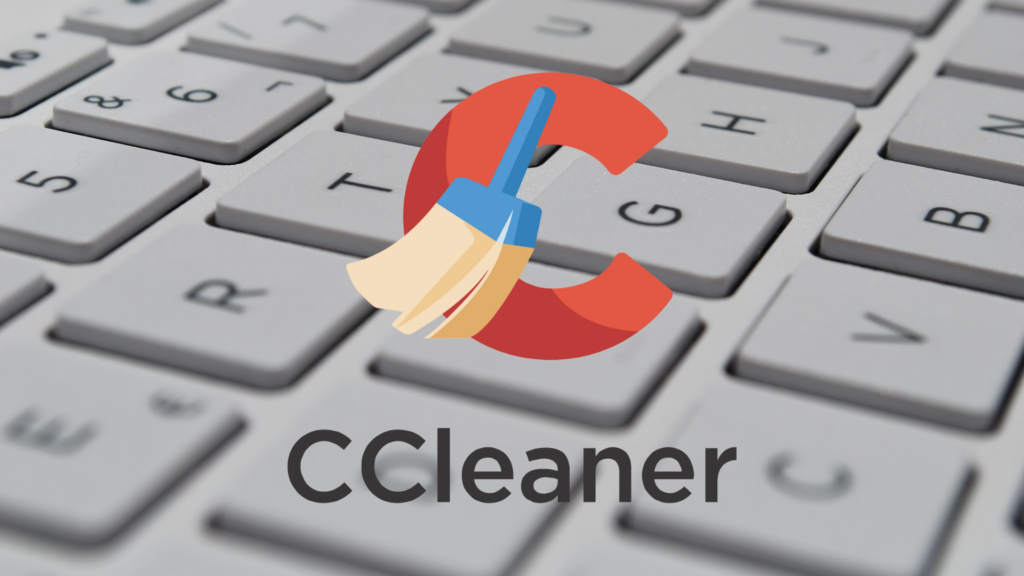 What is CCleaner and how does it work?
Made by Piriform, CCleaner is a renowned disk cleaning utility that has been around for a long time.
It gives you a simple solution to make room on your hard drive by deleting junk files, unnecessary data, large items, and anything else that's unused but occupies your disk space.
You can also use the app to protect your privacy by deleting sensitive content such as passwords saved in your web browsers or the list of recently accessed documents.
The tool works by automatically identifying the most problematic parts of your hard drive and operating system. For instance, it takes into account special folders in Windows that store cache data.
How to download CCleaner
You can download CCleaner for free from the official website by choosing from the standard, portable, and slim version.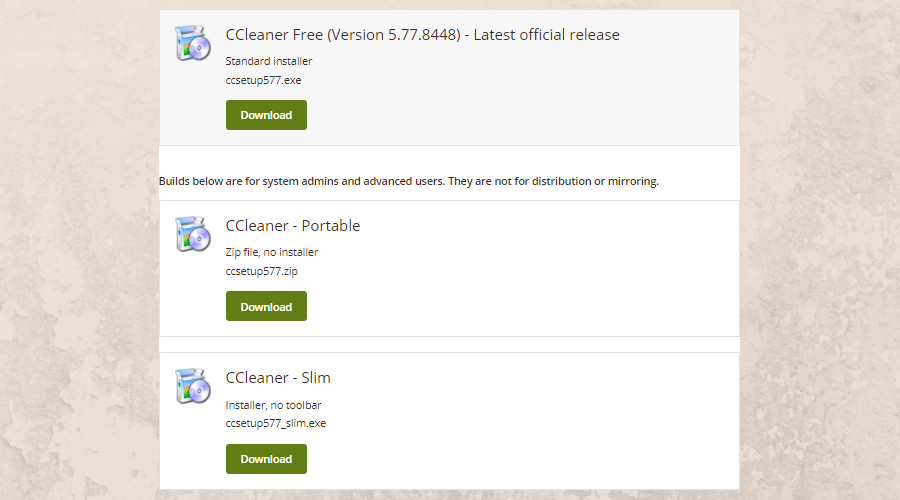 The standard version has a third-party offer during setup, which you can easily decline if you're not interested.
In the slim version, you won't risk accidentally installing that software. However, the standard version gets updated sooner than the slim mode, which takes a while longer.
During setup, you can proceed with the default settings or enter customization mode to disable program shortcuts, remove CCleaner from the Recycle Bin context menu, deactivate the Intelligent Cookie Scan module, as well as indicate the preferred install folder.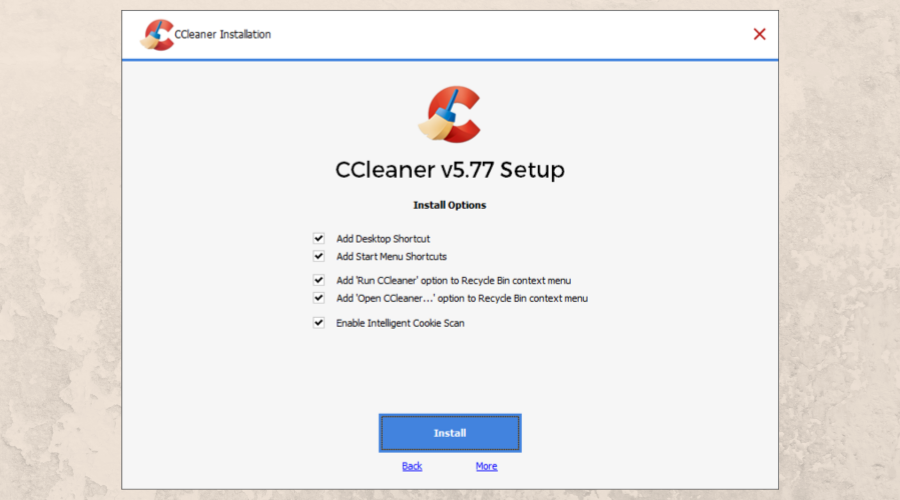 If you want to skip the entire installation process, you can opt for CCleaner Portable. You can even store it on a USB stick to run in on any machine without setup.
How to use CCleaner
Close any active web browsers
Wait until it patches up your PC
Health Check is a newer feature introduced in CCleaner, which works as a one-click optimizer by automatically scanning your computer for all types of supported issues. However, you can control each section independently.
Custom Clean
Custom Clean lets you remove junk data from Microsoft Edge, Edge Chromium, Internet Explorer, Windows Explorer, the system, or advanced areas like Windows Event Logs or custom files and folders.
You can also ask CCleaner to take a look at files retained by Firefox, Opera, Chrome, Windows Store, and various other applications that can be removed to clear up some space.
Here's how to use it:
After a quick scan, CCleaner shows details about the files to delete, such as total occupied disk space. Click Run Cleaner to remove them
Registry
The Registry area of CCleaner gives you the possibility to fix invalid, broken, missing, or corrupt registry entries and associations.
Here's how to use it:
When CCleaner asks to back up the registry before making changes, click Yes and specify a saving folder for the .reg file
Perform a new scan to review any further registry issues. It's sometimes necessary to run multiple scans until you clean up all registry entries
Tools
CCleaner isn't only useful for removing junk files and fixing the registry. It has a bunch of goodies put away in the Tools section.
For example, you can remove or repair any programs from your computer in Uninstall, or get your applications updated to the latest version in Software Updater.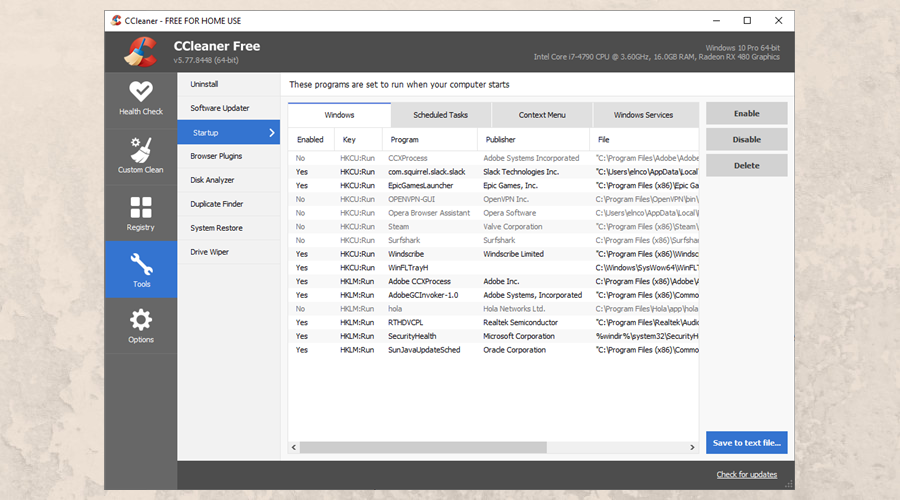 In Startup, it's possible to manage startup processes, scheduled tasks, context menu entries, and Windows services. Meanwhile, the Browser Plugins area lets you deactivate and reactivate plugins found in IE, Firefox, Chrome, or Opera, depending on what you have installed.
Disk Analyzer scans your computer for the largest files so that you can remove them and free up valuable disk space. Duplicate Finder is responsible for finding and eliminating duplicate files that only add clutter to your hard disk.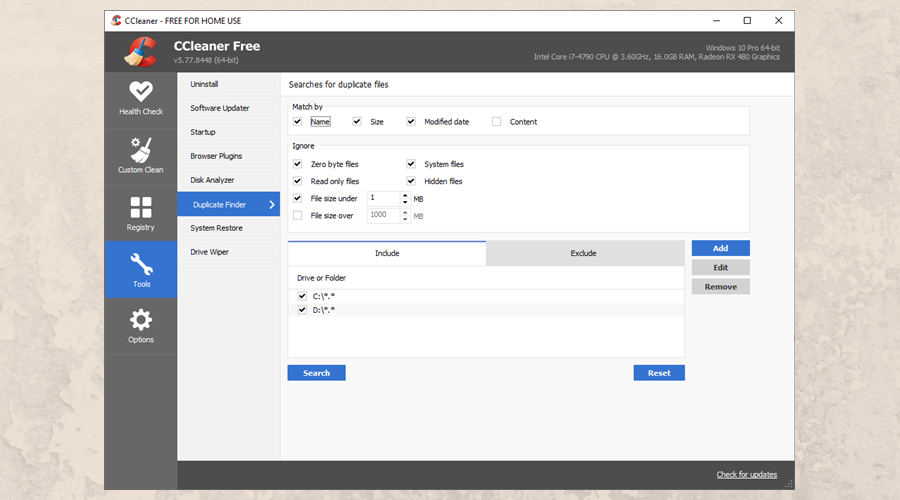 System Restore provides a shortcut to the Windows System Restore section, where you can revert your operating system to a previously saved checkpoint.
Lastly, Drive Wiper is a precious feature that gives you the possibility to wipe free disk space or your entire data to make sure that your files can't be recovered with tools like Recuva.
Is CCleaner safe?
The automatic recommendations made by CCleaner are safe. However, you might accidentally ask the tool to remove data you actually need, like passwords saved by your web browsers. Caution is advised.
Although the standard edition of CCleaner is ad-supported, it's a safe offer. Even VirusTotal thinks so.
The disk cleaner traditionally offers Google Chrome to download and install, but only if you don't already have it. Still, Chrome is one of the safest browsers, so there's nothing to worry about if you accidentally set it up on your PC.
On the other hand, you should probably know that CCleaner was hacked in 2017 and again in 2019.
Is CCleaner Pro worth it?
Compared to the free edition, CCleaner Pro offers scheduling and monitoring features. It allows you to clean the data of multiple computer users.
What's more, the professional edition optimizes your PC's speed and security in Health Check mode. CCleaner Pro is worth it if you must often clean your machine. Just keep in mind that it doesn't allow commercial use (you need CCleaner Business for that).
Conclusion
Although there are numerous PC optimization tools on the market, CCleaner still manages to stand out, even after all these years. Perhaps it's all thanks to a loyal fan base that remained at its side even after Piriform was acquired by Avast.
Even so, CCleaner remains one of the most important players in the computer cleanup software industry. It's fast, easy to use, and efficient at what it does.