Restrict Kids Internet Usage With Nanny Parental Control [Ubuntu Linux]
Nanny Parental Control is a Linux based application that provides a comprehensive set of options for controlling the content and time of internet access for websites, instant messengers and email clients. Internet usage can also be scheduled for specified users. It is somewhat similar to Internet Security Controller, which is a Windows based application that restricts internet access according to a specified criteria and websites. Administrative privileges are required for configuring Nanny settings. In order to benefit from this application, make sure that other users upon whom restriction are applied, should not have administrator password, so that the settings are not altered by them.
Nanny can be accessed from Systems –> Administration.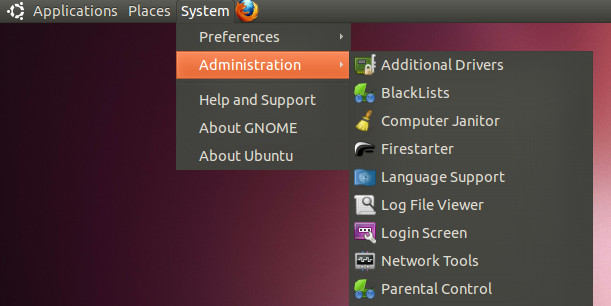 It contains four basic tabs, each allowing restrictions for a specific purpose. The PC use time tab can be used to restrict time for a specified user (even the administrator account). Use The Computer check box can be checked to restrict computer usage time for a set amount of hours. The user on which this restriction is leveled will not be able to use the computer more than the set number hours. The grid on this tab can be used to schedule the computer usage hours by a user. For example, user 1 may be allowed to access the system between 12am-8pm on weekdays and from 9am-12pm on weekends. To set the restrictions, click the relevant bars, which will turn red from green signifying the restricted area.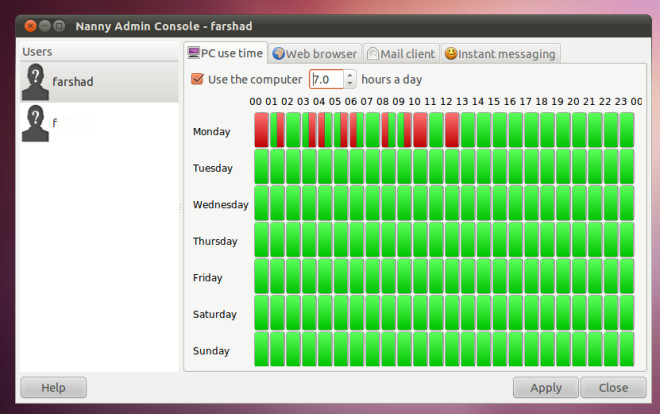 Likewise, a similar method can be applied to restrict the time frame of a user for accessing the browser from the Web Browser tab, email client from the Mail Client tab and messenger from the Instant Messenger tab. Web filtering can also be enabled for allowing and blocking websites by checking the Use Web Content Filtering checkbox in Web Browser tab and clicking on the Configure button (for adding and blocking websites).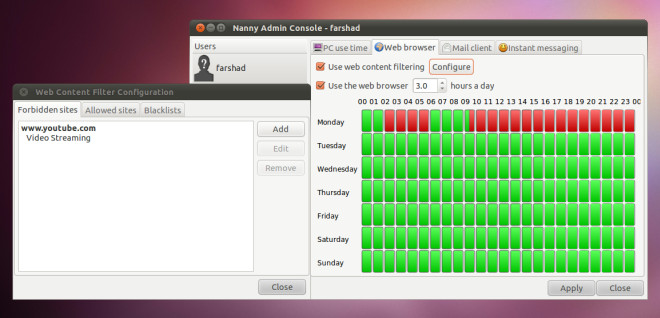 Whenever a user tries to access a blocked website, he/she will receive a message with the Nanny logo. This can be helpful in blocking websites with adult or unwanted content for parental control purposes. Make sure that certain restrictions are not applied on the administrator account (e.g. blocking hours of PC use) as this will block the admin from accessing the system for the set period of time.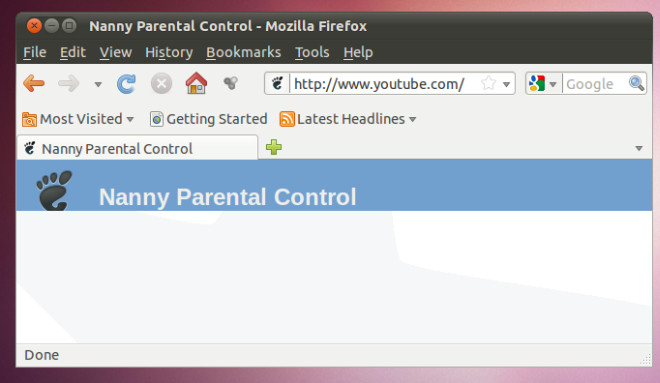 Download Nanny Parental Control