We are reader supported and may earn a commission when you buy through links on our site.
Learn more
Bypass ESPN 3 Blackout or ESPN+ Blackout Restrictions with these VPNs
The best live sports game streams are on ESPN 3 and ESPN+, but anyone living outside the United States will be blocked from enjoying them. However, by using the right VPN, you can effectively bypass these blackout restrictions, allowing you access to enjoy the game, by changing your IP address to fool websites into thinking you're connecting from inside the US. It's surprisingly easy–we show you how in today's guide.

ESPN is one of the leading sports cable TV networks in the world, and it's available on the Internet. ESPN3 provides online streaming for all global sports events and ESPN+ takes it even further and brings you live events, on-demand videos and exclusive content on the web. Unfortunately, live ESPN+ blackout restrictions prevent viewers from watching all this content.
Get past obnoxious ESPN blackouts and stream the game from any country with these VPNs:
NordVPN – Best for Blackouts – ESPN blackouts don't stand a chance against NordVPN's legion of servers, encrypted by the incomparably secure NordLynx protocol.
Surfshark – Surfshark makes short work of unfair geoblocks, with static IPs and blanket obfuscation.
ExpressVPN – When you need buffer-free HD streams, turn to ExpressVPN's turbo-charged network.
CyberGhost – CyberGhost emphasizes ease of use, with a simple option to "unblock streaming" with a click.
PrivateVPN – True to its name, PrivateVPN offers true anonymity routing your traffic through its entirely self-owned network.
In a nutshell, blackouts happen when a telecast gets sold to a local broadcaster, meaning that all other ways to watch the stream are off-limits. In order to bypass these blackouts and avoid geo-blocks on ESPN3 and ESPN+, you will need a VPN. In this article, we will discuss the most important features in a VPN provider, give you our top recommendations for preventing blackouts, and get you started with some generous VPN discounts.
30-days money back guarantee
Pick a VPN to bypass live ESPN+ blackout restrictions
In order to sidestep blackout restrictions for sports channels like ESPN, you will need a quality service with a large network of servers in the U.S., solid security features, wide device availability, and fast connection speed. Here are the specific features to look out for:
Servers around the U.S. – by opting for a provider with many servers across the U.S., you will give yourself more connection options and therefore access to ESPN as well as services like Hulu and Netflix.
Fast connection – once your VPN is installed and you are ready to stream, the last thing you want is buffering errors or delays. Choose a provider with high connection speed, no speed caps, and unlimited bandwidth.
Strong encryption – you want your account information and online history to be as secure as possible. A good VPN provider will use 256-bit encryption.
No-logging policy – do not sign up for a VPN service unless they have a strict zero-logging policy. This will ensure that your data is not stored or can be traced back to you.
Device compatibility – in order to enjoy a blackout-free connection on ESPN streaming services, you'll need the VPN provider to have an app compatible with your device and operating system.
Our top VPN recommendations for ESPN+ blackouts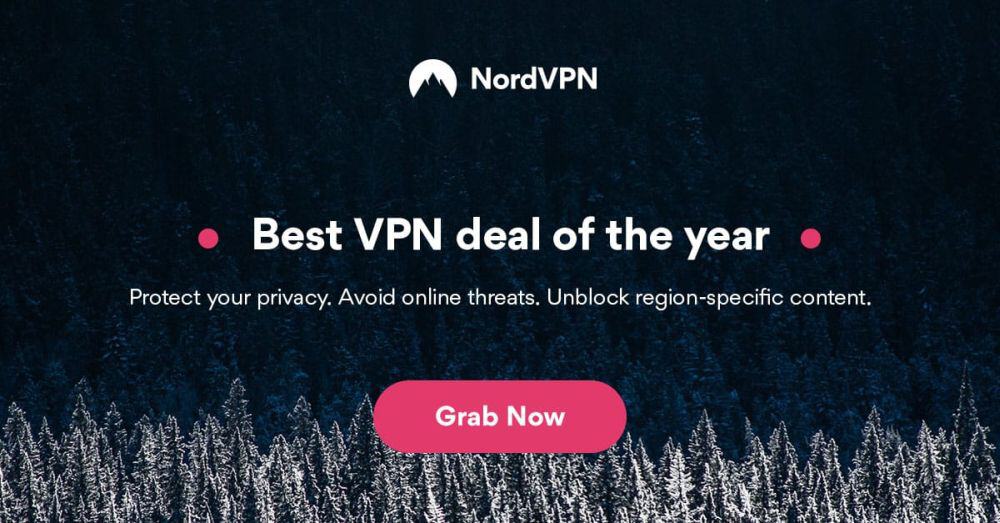 NordVPN is our top recommendation to beat ESPN and ESPN3's unfair blackouts. With over 5,500 servers in 58 countries, NordVPN has of of the largest server networks in the industry, making it ideal for establishing fast, low-latency connections anywhere in the world. NordVPN also offers a range of speciality servers that are great for advanced users, including Onion over VPN, anti-DDoS, P2P and double VPN. Since ESPN3 and ESPN+ blocks some VPN providers, these specialized servers help make sure you avoid ESPN blackouts. Despite the performance, NordVPN's software is fairly intuitive and easy to use.
In terms of security, NordVPN is strong and reliable. With a 256-bit AES encryption, it would take the world's strongest supercomputer millions of users to decipher your encrypted data. Encryption protocols include OpenVPN's UDP and TCP, as well as censorship-busting L2TP. Furthermore, the no-logging policy is one of the most complete in the industry – no logs on traffic, IP addresses, or even bandwidth.
The advanced features make NordVPN a solid choice for bypassing VPN blocks. You can download the app for a wide range of operating systems, all listed in our full review of NordVPN.
Pros
Servers optimized for unblocking Netflix
Mind-boggling number of servers
DNS leak protection, kill switch
"Double" data protection
24/7 Customer Service.
Cons
Some servers can be unreliable
Apps can be a bit cumbersome to use.

Surfshark is better at unblocking sites than a 2-year-old provider has any right to be, but here we are. Indeed, it is one of the very best options for beating ESPN blackouts, due to its robust offering of heavily encrypted US servers. These include multi-hop connections and static IPs, the latter of which is extremely useful for beating VPN blacklists many sites use to block proxy traffic.
In total, Surfshark's network spans 3200+ servers in 65 countries, and comes encrypted by the 256-AES-GCM cipher via OpenVPN, IKEv2/IPSec, and WireGuard. These protocols offer an incredible balance of unbreakable privacy and quick speeds–ideal for streaming live sports in HD.
Moreover, Surfshark never limits your bandwidth or traffic type, and never keeps logs of what you do on their servers.
Pros
Unblock VoIP in oppressive regimes like WhatsApp, Skype, Discord, and more
Diskless server network ensures you leave no trace behind
DNS leak and kill switch protection keep your defenses up even when your connection drops
Based in the British Virgin Islands, where there are no data retention laws
24/7 live chat ensures maximum uptime.
Cons
Overall, not much to complain about
Power users may wish for more settings to fiddle with.
Read our full Surfshark review.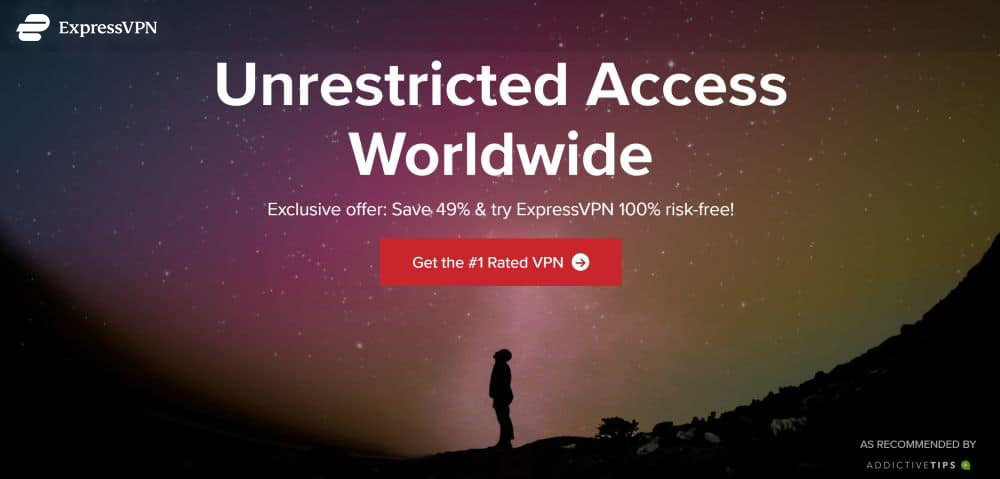 ExpressVPN is one of the most popular and reliable VPN services on the market, and for good reason. The provider lives up to the expectations that comes with its name, providing one of the fastest connections in the industry. With 3,000+ servers across 94 countries, users have plenty of options no matter where they travel to. No matter where you're getting blackouts on ESPN+, ExpressVPN will provide you with more than enough options to bypass them. As an added bonus, you can connect up to 3 devices to enjoy sports content wherever you are, whenever you are.
In terms of privacy features, ExpressVPN uses 256-bit AES encryption which keeps your identity and browsing history secure. Furthermore, a built-in kill switch and DNS leak test will ensure that your data is protected at all times – even if your VPN connection drops or . The zero-logging policy on traffic, IP addresses, and other important information means that all your activities cannot be traced back to your device or identity.
Read our full ExpressVPN review.
Pros
SPECIAL OFFER: 3 months free (49% off - link below)
Super fast servers (minimal speed loss)
Very simple and easy to use
Keeps no logs of personal data
Customer Service (24/7 Chat).
Cons
Expensive month-to-month plan.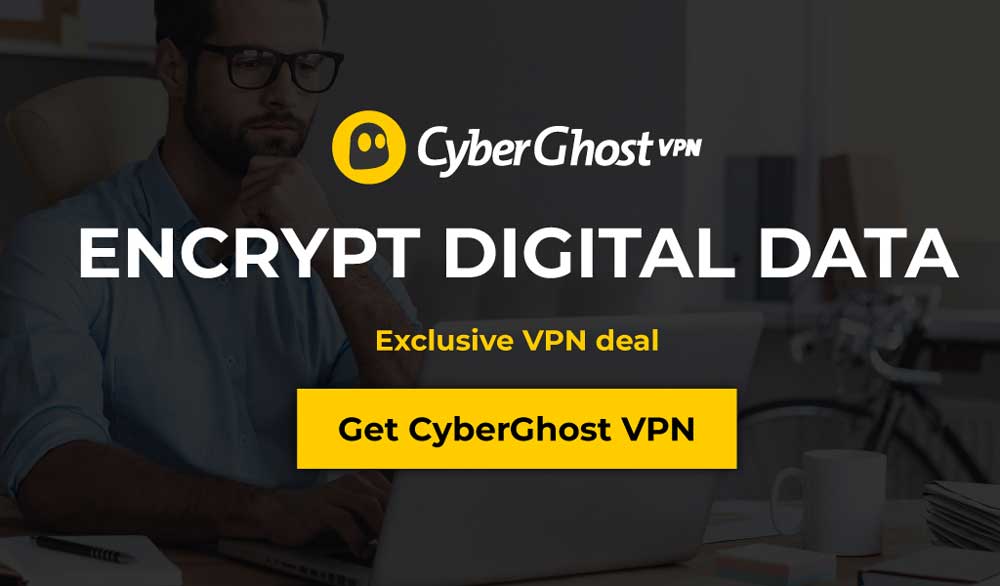 CyberGhost focuses on providing a user-friendly service that also maintains your privacy. Upon launch, you are presented with configuration profiles to choose from based on your browsing needs. These include "surf anonymously", "unblock streaming" and "choose my VPN server". These profiles are then customizable even further, so if you want to "block ads" or add "extra speed", you will able to add these features to improve the performance.
CyberGhost uses the 256-bit AES encryption through OpenVPN, which provides the strongest possible security for your data. Further, the provider's logging policy specifies that almost no information is being stored, from timestamps to even your email address. The only information that is kept on users is anonymous login events on a daily basis, which help gather monthly user statistics.
With a large network of 6,200+ servers in 90 countries, CyberGhost is a solid choice for users looking to stream content on ESPN3 or ESPN+. The service also comes with unlimited bandwidth, no speed caps or throttling, and high connection speeds. This will ensure that you are not interrupted by buffering or lagging.
Read our full CyberGhost review.
Pros
Unblocks US Netflix, Amazon Prime, YouTube, Hulu
Fast, constant speeds
GooglePlay users rating: 4.3/5.0
Strict no-logging policy
45-day no-quibble money back guarantee.
Cons
Can't unblock some popular streaming sites.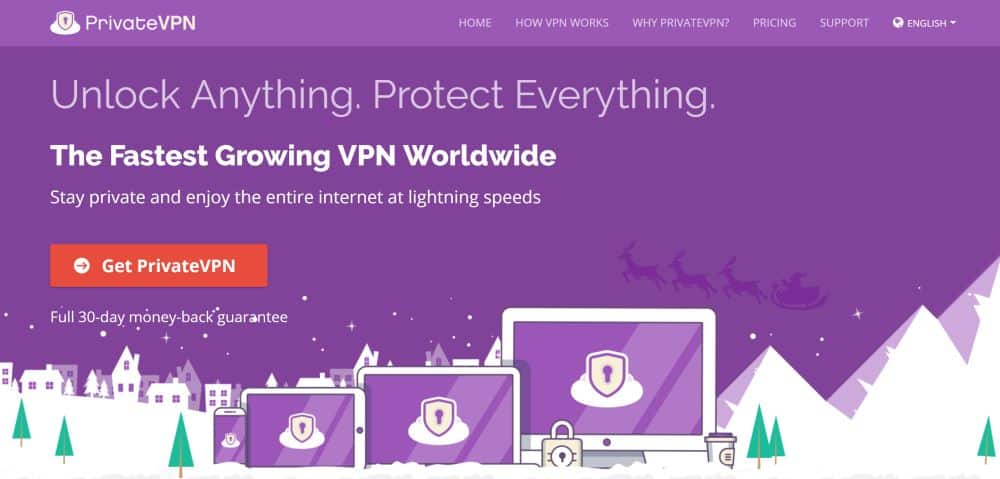 PrivateVPN is ideal if what you are looking for are quick connections and solid security. This service is particularly good for VPN rookies who do not want to deal with a complicated user interface. Within a few moments of downloading the file, you can install and connect the app and start streaming videos online. PrivateVPN's network consists of some 150 servers in 60+ countries, which gives you plenty of connection options.
PrivateVPN uses the strong 256-bit AES encryption as a default, but if you wish to increase the speed, you have the option to go for a 128-bit encryption. Since VPNs inevitably slow down the connection, a slightly weaker encryption will accelerate the streaming and downloading. Furthermore, the unlimited bandwidth and no limitations on server switching ensure that your experience will be uninterrupted.
Other core security features provided by PrivateVPN are the kill switch protection and the no-logging policy. In case you ever get disconnected, the provider will shut down your entire internet to prevent your data from getting passed on into the hands of your ISP. Furthermore, the no-logging policy ensures that almost no information of yours is being stored or can be connected to your email address.
Private VPN is available on a wide range of operating systems, from Windows to Linux.
Read our full PrivateVPN review.
Live blackouts in sports broadcasting
Blackout restrictions have been affecting sports broadcasting for years. The reason behind having them is to encourage people to attend stadiums or, at the very least, use local channels for watching the events remotely. Unfortunately, in most countries, including U.S., Canada, and the U.K., blackouts are a part of almost every national game and are meant to give local broadcasters a competitive edge.

Live blackouts have been around long before online streaming services like ESPN+, and caused quite the stir. In 2012, fans filed a class-action lawsuit against MLB and NHL for limiting TV access to live games and hence forcing them to buy traditional TV packages to watch local matches. The verdict was carried out in 2015, and the judge ended up siding with the fans, stating
"every class member…as a consumer in the market for baseball or hockey broadcasting, has been deprived of an option…that would have been available absent the territorial restraints."
Unfortunately, the end result of this lawsuit was a mere haggle – prices were lowered, but blackouts still exist. If a major national broadcaster gets his hands on the licensing rights, the local TV channels will not be allowed to broadcast the same match. While the blackouts controversy still continues, we bring you the quickest, most secure solution that will have you streaming content on ESPN3 and ESPN+ within minutes.
How does a VPN help sports fans with blackouts (and other things)?
The good news is – you don't need to wait for the solution from sports leagues or TV cable companies like ESPN. Instead, you can start streaming a myriad of your favorite sports content, live games and exclusive footage already now by opting for one of our recommended VPN providers. So what can a VPN help you with?
Bypass regional restrictions
It's clear now – the biggest reason for live blackouts on services like ESPN3 and ESPN+ is location-based restrictions. A VPN will allow you to change your IP address from state to state, depending on the region where the match is broadcasted. This means that without leaving the comfort of your home, you can watch a live match from anywhere, from Boston to Los Angeles.
By using a VPN, you can bypass all geo-blocks and limitations not only on sports content, but other major online video streaming providers, too. For example, Netflix's library varies depending on your location, whereas BBC iPlayer is not available at all outside of the U.K. With a VPN, you will be able to "relocate" depending on your streaming preferences and watch limitless amounts of international content, too.
Hide your IP address and stay secure
As we have mentioned, a VPN service will hide your true IP address and give you a new one depending on the server you chose. If ESPN3, ESPN+ or your ISP gets a hold of your true IP address, not only will you be limited in the content you see, but the ISP and local government will know your real address and location. This means they can snoop for your online activity and, if needed, use it against you – which can feel like an invasion of privacy.
When using a good VPN service, you can be certain that your data will always be encrypted and made anonymous by the foreign IP address. None of your browsing history or account details can be traced back to your ID or location, so your connection will always be private.
Punch through censorship
Internet freedom is a major factor, to the point that in some countries, websites like Google, Facebook and Wikipedia are blocked due to local censorship laws. If you are looking to travel or relocate, a VPN will allow you to bypass these censorships laws so that your online experience, including watching sports on ESPN3 and ESPN+, never gets interrupted.
Get started to eliminate blackouts
Now that you have decided on a VPN provider and understood more on live blackout restrictions, you are ready to get started. Below, you will find a step-by-step guide that will have you streaming blackout-free content on ESPN3 or ESPN+ within a few moments.
Downloading and activating
Sign into your VPN account through your browser and download the right app for your device (for example, for a Samsung phone you'll need an app compatible with Android and smartphones).
Install the VPN, launch the app as soon as it is downloaded, and sign in.
As soon as you sign in, you will be automatically assigned to the fastest available server. However, you can change it manually if you wish to get an IP address from another state or country

– this is what allows you to bypass espn blackout restrictions.

.
Now that you are connected to the server of your choice, you are ready to browse content on ESPN3 and ESPN+ without experiencing any blackouts. Make sure you choose the right location depending on your

streaming

needs.
Verifying your connection
Now that you have a VPN installed, it's important to test the connection and make sure it is working properly. This step is not mandatory, but it will save you the hassle of seeing ESPN+ blackouts and having to check the connection later.
Open your browser and go on ipleak.net. Wait for the page to load. This will run an automatic IP address lookup test.
In the box called "Your IP Address", make sure the location is the one you chose in the VPN app. If you see your physical connection, there may be a leak and you should contact the VPN provider to solve the problem. If you see your chosen location, you are good to go

, and now have access to any content you want from that location.
Conclusion
Blackout restrictions have been causing a riot for many years, even before streaming services like ESPN3 and ESPN+ were introduced. Now that these services allow you to watch your favorite sports content on ESPN remotely, live blackouts are all the more frustrating. Instead of waiting for the long-term solution with major sports leagues, start using one of our VPN providers and start enjoying live game, blackout-free broadcasts now.
Planning to watch a big game? Or an exclusive interview with your favorite player? Let us know what's the first thing you'll watch on ESPN3 or ESPN+ without worrying about location blackout restrictions.