We are reader supported and may earn a commission when you buy through links on our site.
Learn more
Best VPN for DirecTV Now: Unblock and Watch DirecTV Now from Anywhere
DirecTV's massive catalogue has fans all over the world, but most are unfortunately blocked from watching the service outside the United States. However, if you use a VPN, you can spoof an American IP address and fool the site into letting you stream your favorite DirecTV content anywhere in the world.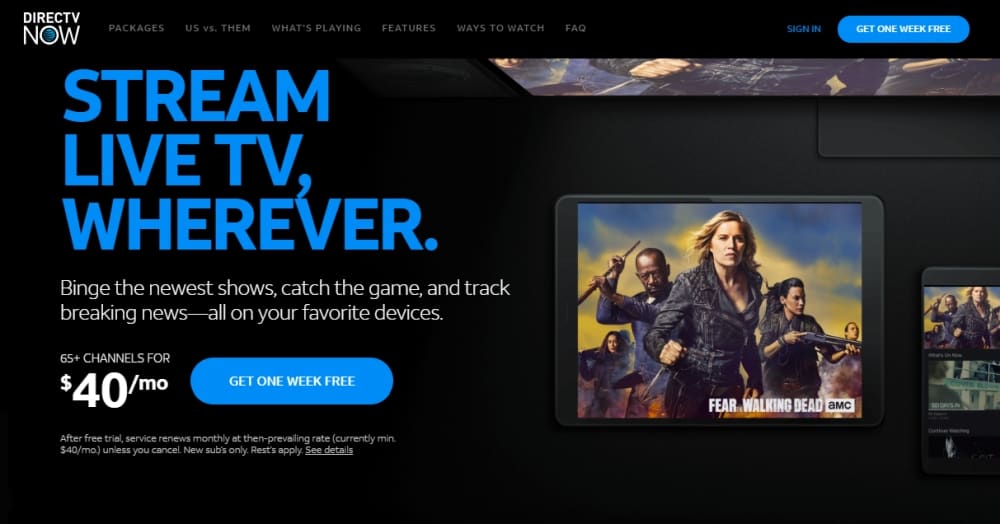 DirecTV Now is a live TV streaming service provided by the satellite and cable service DirecTV. With it you can access a massive amount of live and on-demand programs straight from your favorite devices, including PC browsers, Fire TV, Roku, Apple TV, and Android TV. All you need is a subscription, the right apps, and fast access to the internet, then it's live sporting events and binge watching TV shows all day long.
Maintaining your privacy while using DirecTV Now is extremely important. The modern internet is filled with attacks on your identity and data security. ISPs log and track which sites you visit, government agencies run mass surveillance programs, and cyber criminals are always looking for a weakness to exploit. You can protect yourself from all of these dangers while boosting your DirecTV Now experience with by using a virtual private network (VPN). With the right service on your device, you'll stay safe while enjoying fast internet access all at the same time.
Want to cut to the chase? Here are the VPNs confirmed to work for unblocking DirecTV Now:
NordVPN – Best for DirecTV Now – NordVPN operates a ludicrous number of US servers encrypted by NordLynx, making it simple to get an American IP address to unblock DirecTV Now.
Surfshark – Automatic obfuscation and strong default encryption handily beat DirecTV's geoblocks.
ExpressVPN – Easily one of the best VPNs for streaming, due to military-grade protections and blazing fast speeds.
CyberGhost – One of the easiest streaming solutions, with an unambiguous "unblock streaming" option.
PrivateVPN – Flexible encryption balances privacy and performance for buffer-free streams.
PureVPN – The do-anything VPN with a slew of extra cybersecurity features.
Below we cover everything you need to know about finding the best VPN for watching DirecTV Now, including guides on how to set it up on your favorite device.
30-days money back guarantee
Choosing the best VPN for DirecTV Now
What do you need out of a good VPN? Speed and privacy are always at the top of the list. But are there any special requirements for choosing the best VPN to use with DirecTV Now? That depends on a variety of factors, including which device you plan to stream from and where you're located.
With a little research you can find the best VPN for DirecTV Now that works no matter where you run it. To help you along, we collected the top evaluation criteria to determine which VPN is the most useful for live TV streams anywhere in the world. We used these criteria to rank the top VPNs and make our recommendations in the next section.
Best VPNs for DirecTV Now
We ranked and tested some of the most popular VPN services on the market to find out which ones are best to use with DirecTV Now. The results are below, any of which are perfect for streaming movies on your favorite device.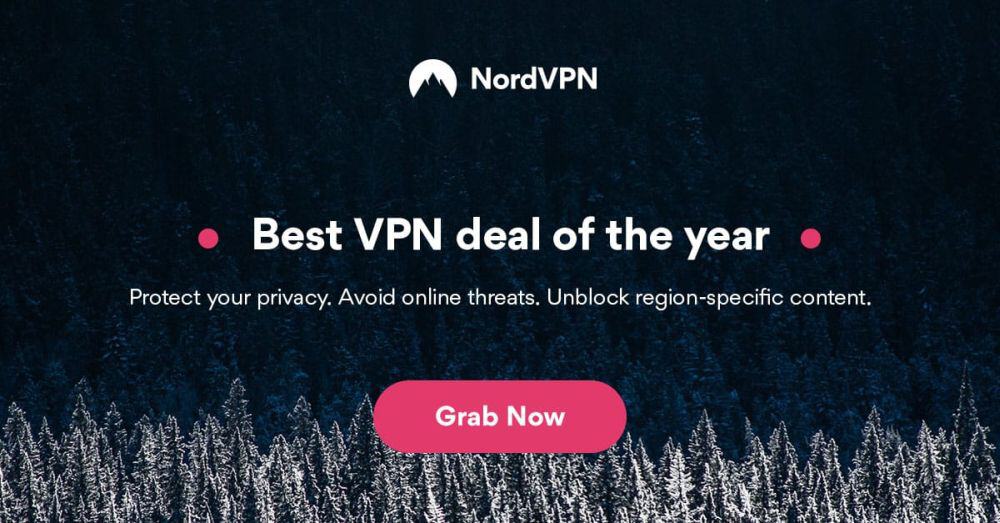 NordVPN is, on the whole, the most capable VPN on the market. The most impressive is the size of its server network, which happens to be one of the largest networks. The company adds to the list on a regular basis, but right now users have access to over 5,500 servers in 59 countries, all with unlimited data, unlimited bandwidth, and unlimited server switching. This network allows for unique services not found on other VPNs, as well, including protection against DDoS attacks, double encryption, and onion over VPN routing, all of which are available by simply connecting to the right server.
NordVPN provides a great zero-logging policy that covers everything from bandwidth to time stamps, traffic to IP addresses, more than the majority of its competition. Backing these features is 256-bit AES encryption on all data, an automatic kill switch, DNS leak protection, and a host of customizable encryption features. NordVPN makes it extremely easy to log on and stay safe, no matter which devices you happen to own, or which movies you plan on watching.
Read our full NordVPN review.
Pros
Highly affordable plans
Most VPN servers with different IP addresses
Torrenting is explicitly permitted
Retains no metadata of your browsing
Customer Service (24/7 Chat).
Cons
Not much
Apps can sometime be slow to connect.

Surfshark hasn't been around all that long, but they're already widely hailed as one of the best solutions for unblocking streaming sites like DirecTV Now. Since their 2019 debut, they've grown their server network to encompass 3200+ servers in 65 countries, with the USA well catered for. There are even static IP and multi-hop connections available for enhanced utility in unblocking sites.
The ace up Surfshark's sleeve, however, is Camouflage. This obfuscation method automatically clicks on when it detects sites employing VPN-blocking software, which is why it offers such great access to Netflix, HBO Go, and DirecTV Now. It disguises your VPN traffic, which is itself heavily encrypted by the 256-AES-GCM cipher, letting you get past almost any block.
Surfshark's RAM-only network is robust, stable, and speedy, plus makes it impossible for your provider to keep logs of your activity. Not that they would, as Surfshark maintains a strict no-logging policy.
Pros
Robust servers blast through geoblocks to access your favorite streaming sites
Server selection is dead simple and quick
DNS leak and kill switch protection keep your defenses up even when your connection drops
Based in the British Virgin Islands, where there are no data retention laws
Responsive customer support available 24/7.
Cons
Server network is not nearly as expansive as major competitors
Power users may wish for more settings to fiddle with.
Read our full Surfshark review.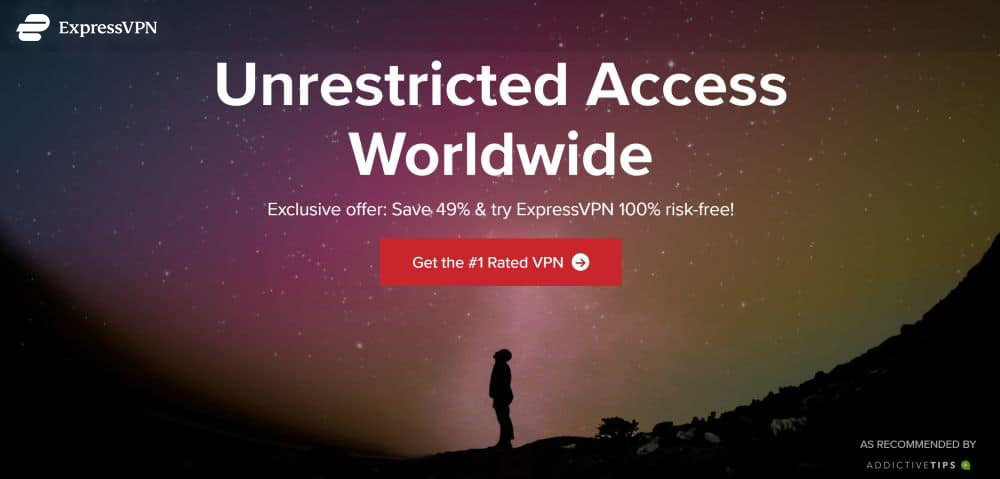 When speed is a number one priority, ExpressVPN is hard to beat. The service is one of the fastest VPNs on the market, scoring high marks on every speed test in the book. ExpressVPN accomplishes this thanks to a huge network of 3,000+ servers across 94 countries, all of which are accessible on smartphones, tablets, PCs, and plenty of other devices. And to secure your connection with a fast server, all you need to do is sign in and click to begin. ExpressVPN is incredibly easy to use, making it the perfect choice for watching DirecTV Now.
All data that passes through the ExpressVPN network is secured by military grade 256-bit AES encryption. It's also backed by a zero-logging policy on traffic, DNS requests, and IP addresses. DNS leak protection and an automatic kill switch create a reliable safety net in case of an accidental disconnect, as well. ExpressVPN manages all of this from behind the scenes, leaving you free to enjoy an open and secure internet.
Read our full ExpressVPN review.
Pros
Unblocks Netflix and other streaming sites
Fastest servers we have tested
Torrenting/P2P allowed
No personal information logs kept
Live chat support available.
Cons
High cost for month-to-month users.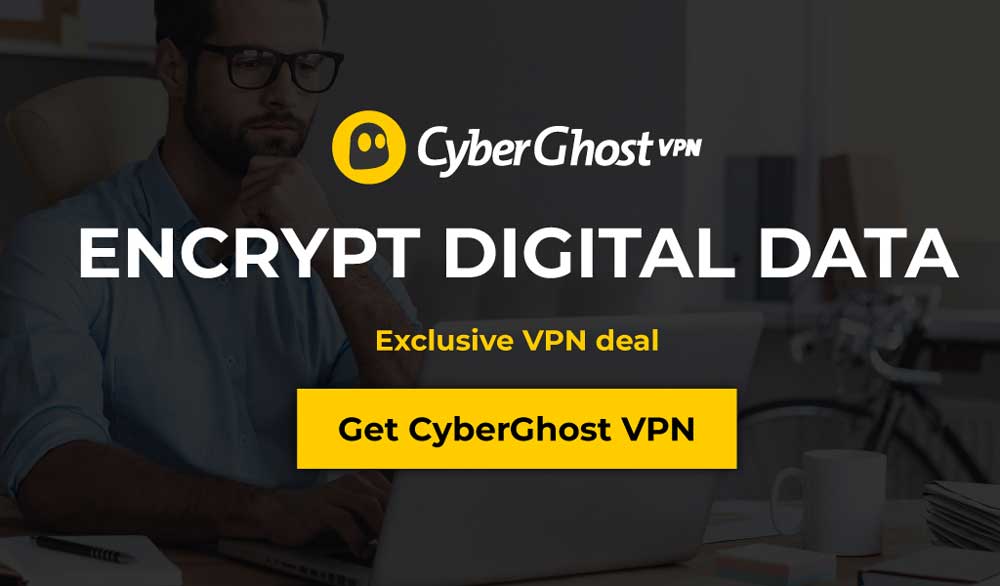 CyberGhost is one of the easiest to use VPNs around, no matter which device you run it on. It comes with a full array of privacy options that keep you safe online, including strong encryption and excellent data retention policies. CyberGhost users gain access to the company's huge network of over 5,900 servers in 90 countries, along with fast, intuitive software custom built for Mac, PC, Windows, iOS, Android, and other devices. If you don't want to spend hours setting up your privacy experience, CyberGhost can deliver the right amount of security in an instant.
CyberGhost keeps you safe with 256-bit AES encryption on all data, a zero-logging policy on traffic, time stamps, and IP address, and both DNS leak protection and an automatic kill switch. All of these features are easy to use and provide the perfect amount of security for top-tier online privacy. With CyberGhost on your device, you can use the internet securely from any country, and it's perfect for DirecTV Now streams, too.
Read our full CyberGhost review.
Pros
Unblocking Netflix, iPlayer, YouTube, Hulu
Special profile designed for torrenting privately
Located in Romania (out of 14 eyes)
Strict no-logging policy
45-days 'No-hassle' money back guarante.
Cons
IPv6 WebRTC leak in macOS
Doesn't work well in China.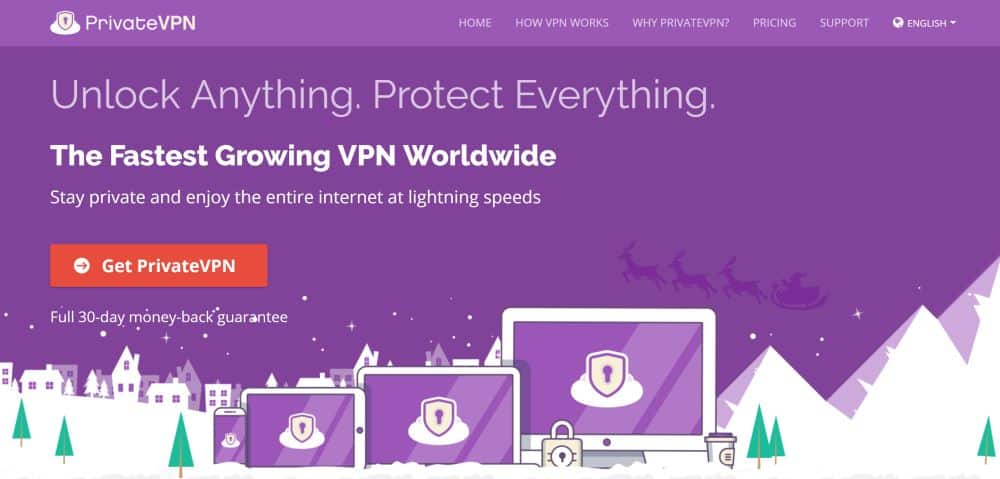 PrivateVPN creates a safe browsing environment without sacrificing speed or ease of use, making it one of the best VPNs to run while doing daily tasks, including streaming through DirecTV Now. All you have to do is run the app and let it sit in the background, protecting you from a host of privacy issues like mass surveillance and ISP snooping. PrivateVPN even works on smartphones, desktop PCs, and Fire TV, too, making it perfect for watching movies on DirecTV Now.
PrivateVPN has a strong network of over 150 servers in 60+ countries, delivering just the right amount of speed, security, and location variety. The service locks down data with 256-bit AES encryption, keeps your connection safe with an automatic kill switch and DNS leak protection, and features a zero logging policy on all traffic, as well. It's the perfect solution for all of your online privacy needs, and it makes DirecTV Now streams as secure as they can get.
PureVPN offers some of the most unique and thorough online privacy features in the entire industry. The company has a strong foundation of VPN security, but it also delivers a suite of extras built into a single app. If you've ever wanted anti-virus protection, malware shields, app blocking features, and DNS website filtering in a single package, PureVPN will deliver. This helps you stay safe from a huge variety of online dangers without any extra effort.
PureVPN keeps you safe with a zero-logging policy on traffic, an automatic kill switch, solid 256-bit AES encryption on all data, and DNS leak protection. All strong and standard features in a good VPN. These work alongside the company's self-owned network of 5,900+ servers in 90 countries, providing a ton of options for fast, safe, and secure connections. Once you join PureVPN, you can enjoy a private internet experience on every device, all with just one click.
Read our full PureVPN review.
How to use a VPN with DirecTV Now
The hard part is finding the best VPN to use with DirecTV Now. Once that's out of the way, you're ready to set everything up and start enjoying some fast, secure movie streams.
How to set up your VPN
It's incredibly easy to get started with most VPNs, as the companies have gone out of their way to make installation as streamlined as possible. The steps below will work for just about every service on the market. As always, if you need more help, consult the VPN's support pages for detailed information.
Sign into your VPN's website and download the app for your device. You may be redirected to an app store to install the software on a mobile device.
Install the VPN app, launch it, then enter your login credentials to sign in.
The app will automatically connect to the fastest server available. You can use this for optimal speed, or open the server list and choose one in another country, like the U.S.
Connect to a server and give the VPN a few moments to resolve the link.
Minimize the VPN to let it run in the background.
Verify your IP address
It's a good idea to verify your IP address the first time you connect to a new VPN, just to make sure everything is working correctly. If you don't–and if an IP leak occurs–you won't get the online protection or anonymity you need.
Make sure your VPN is active, connected, and running in the background.
Open a web browser on the same device and visit ipleak.net.
Wait for the page to load and automatically run an IP address lookup.
Look at the box at the top beneath where it says Your IP address.
If the label shows a country other than your home, the VPN is working correctly.
If there's an error, check with your VPN support pages to resolve the IP address leak.
Launch DirecTV Now
Now that your VPN is installed and secured, you can jump onto DirecTV Now and start streaming. If you don't have an account, visit https://www.directvnow.com and click on the blue "Get One Week Free" button at the center of the page. Go through the account creation process to begin your trial subscription.
Next, choose a stream in your web browser, or download the DirecTV Now app for your mobile device. Software is available for iOS, Android, Roku, Fire TV, and many set top TV streaming boxes. Sign into the app and you'll have instant access to on-demand and live TV shows.
Watching DirecTV Now outside of the U.S.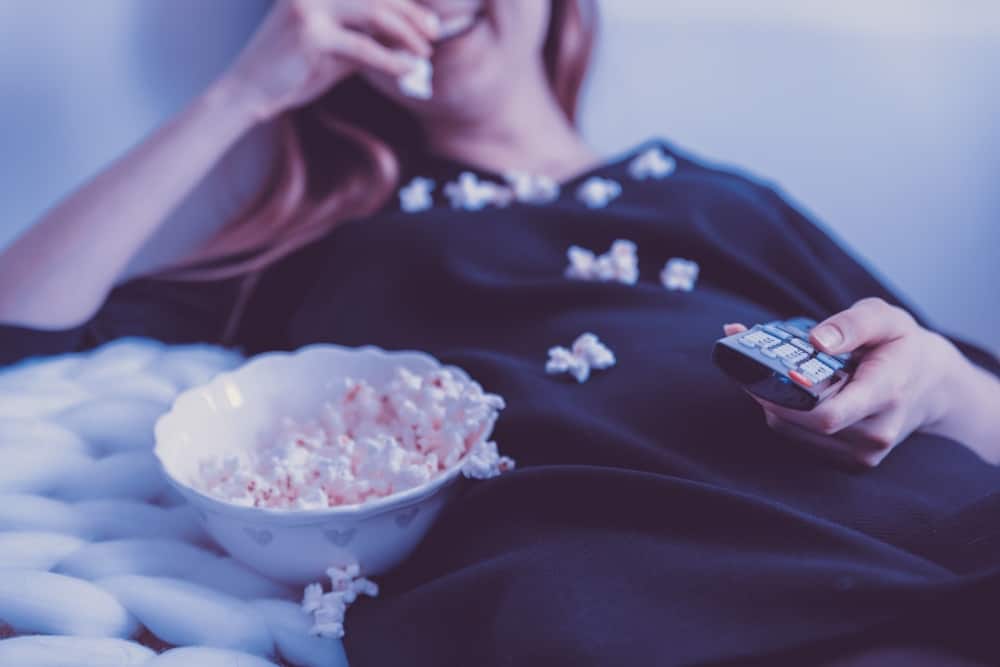 Did you know a VPN can often help you watch services like Netflix, Hulu, and DirecTV Now from any country in the world? It's all thanks to data encryption and IP address anonymity.
How do VPNs defeat geo-restrictions?
Region locks similar to those used by DirecTV Now and Netflix make it a point to deliver their content only to certain countries. They get this information by examining your IP address, a series of numbers assigned to each device the moment it connects to the internet. An IP address is sort of like a mailing address for online data. It tells servers exactly where you are so you can effectively use the internet.
Whenever you launch the DirecTV Now app or access the website, it simply checks your IP address, then allows or denies access based on location. If you're in the U.S. this is fine, as the service is fully available to anyone inside the country. Cross the border or go overseas, though, and you'll find your streams are suddenly unavailable.
VPNs encrypt data leaving your device, making it impossible for outside entities to see what you're trying to access. They also swap your local IP address for an anonymous one from their servers. So, if you connect to a VPN server located in the U.S., you will actually appear as if you're from the U.S., as far as DirecTV Now is concerned.
You don't have to do anything to gain this ability. VPNs automatically switch everything over and keep you protected, no matter which device you're using or which server you connect to.
Other uses for a good VPN
VPNs are amazing tools that do much more than just encrypt data and let you watch DirecTV from other countries. Below are a few of our favorite benefits you'll be able to take advantage of as soon as you install a VPN.
Access censored websites – Censorship is a growing problem in many countries around the world. If you visit an area that suffers from strict censorship, you won't be able to access your favorite sites. A VPN cuts through those firewalls instantly so you can enjoy the open world wide web without restriction.
Data encryption for always-on privacy – Encryption makes data unreadable to third parties. This means no one can track your activity or discover which sites you visit or files you download. Your DirecTV Now streams will also stay private.
Stop surveillance and tracking – IP addresses can be used to track and identify your location. Because VPNs exchange this IP with an anonymous one, you'll stay invisible from the moment you connect.
Watch videos from other countries – Netflix, Hulu, BBC iPlayer, YouTube, and other streaming services restrict content availability based on your physical location. With a VPN can you crack through those barriers for unrestricted movie viewing.
Conclusion
Securing your device and gaining access to DirecTV Now streams is surprisingly easy with a good VPN. Once you've chosen a reliable service it's simply a matter of setting everything up and enjoying the show. Best of all, you can recreate this VPN-DirecTV Now setup on all of your devices, from PC to Mac, Fire TV, iOS, Android, Roku, and more.
Which VPN do you prefer for streaming DirecTV Now? Got a favorite show you can't wait to watch? Share your thoughts in the comments below.