Assign Global Hotkeys To Control System Volume With Sound Volume Hotkeys
Many media players allow users to control volume using mouse wheel; you roll mouse wheel in upward direction to increase the volume, and similarly rolling down the mouse wheel decreases the volume, but when we have to increase/decrease the system volume, we move to system volume indicator (icon) present in system tray, select the volume control and then increase/decrease the system volume. The media players like VLC and Winamp let users control volume through hotkeys as well, which are, Ctrl + Up cursor key to increase and Ctrl + down cursor key to decrease the volume, but unfortunately, these hotkeys only work when the said media players are active. This leaves users with no other option than to either manually increase/decrease the system volume, or first activate the media player and then adjust the volume.
Sound Volume Hotkeys is a tiny system volume controller that lets you increase / decrease system volume through global hotkey combinations –  Ctrl + Up Arrow and Ctrl + Down Arrow to increase and decrease the volume, respectively. Although it's not that much feature rich as previously covered VolControl, it may come handy for those who are not using keyboard with multimedia buttons and looking for a simple on-screen volume controller. Using the application, you can not only adjust media players volume level, but also control volume for Grooveshark, Spotify and Pandora desktop clients.
Once installed, just run the executable file to launch the application. It will sit in system tray and replace the global hotkey for changing system volume. It doesn't offer any lengthy configurations to go around with. You can customize the effect of on-screen volume indicator from Customize window, which can be accessed from system tray menu. Underneath the effects, you can choose to change the on-screen volume indicator transparency. Once changed, click the Preview button to verify both applied effects and opacity level.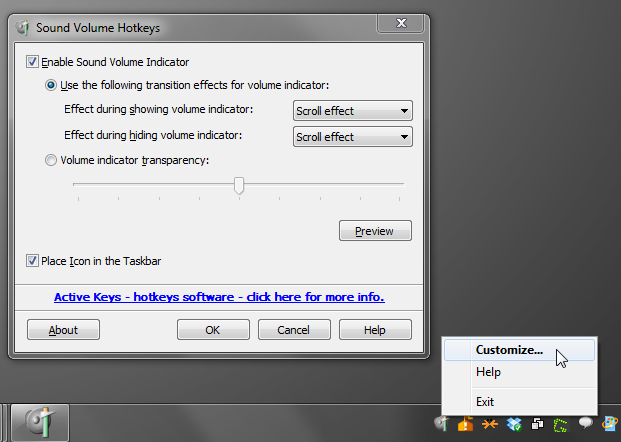 Now, when you want to decrease and increase the volume, just use Ctrl + Up and Ctrl + Down cursor keys.

According to developer, it works on Windows 2000, Windows XP, and Windows Vista. We have tested the application on Windows 7 without encountering any issues, whatsoever.
If you're looking for an eye candy and customizable on-screen volume adjuster, have a look at previously featured 3RVX.