How to disable automatic updates in Chrome on Windows 10
Chrome updates automatically but not invisibly. A new update will normally download in the background, but it will install when you quit and open the browser again. Once a new update to the browser has been downloaded, you can't avoid upgrading to it unless you're willing to leave Chrome open on your desktop forever.
Chrome updates
Chrome is an exceptionally stable browser, and its updates rarely, if ever, break anything. The updates will add and/or remove certain features to the browser. If you need to stick to a particular version of Chrome so you can continue to use a feature, you will have to keep the browser from updating.
Disable automatic updates in Chrome
There are two ways to disable automatic updates in Chrome. You can disable the update service, or you can disable or delete the task that periodically checks for these updates.
1. Disable Google Updates service
Chrome updates only when a service called Google Updates is run. If you turn the service off, the browser will not be able to check for and download updates.
Tap the Win+R keyboard shortcut to open the Run box.
In the Run box, enter "services.msc" and tap Enter.
In the list of services, look for and select the Google Update Service.
Right-click it, and select Properties from the context menu.
On the Properties window, go to the General tab.
Open the Startup type dropdown.
Select either the Manual or the Disable option.
Click Apply.
Repeat for all Google Update services.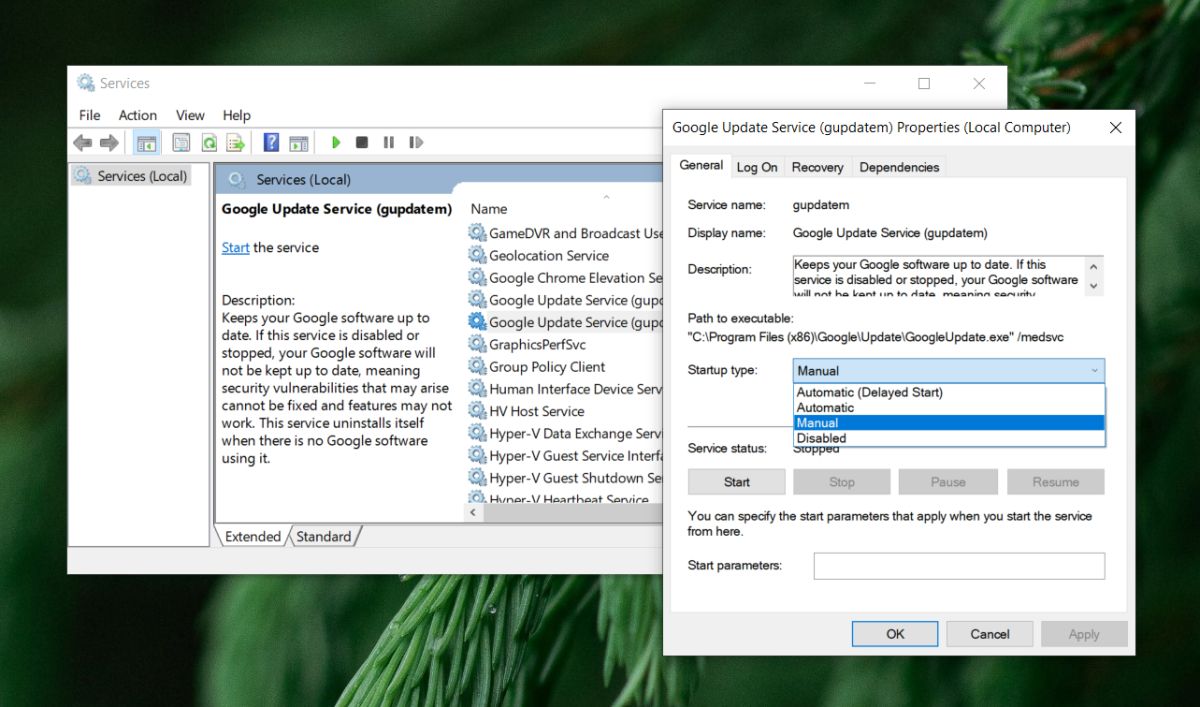 2. Disable Google Update task
Disabling the Google Update service may not work if there is a scheduled task that will run the service. In this case, you will have to disable the task that is triggering it.
Open Task Scheduler.
Select Task Scheduler Library in the column on the left.
Look for the GoogleUpdate task.
Right-click it and select Disable.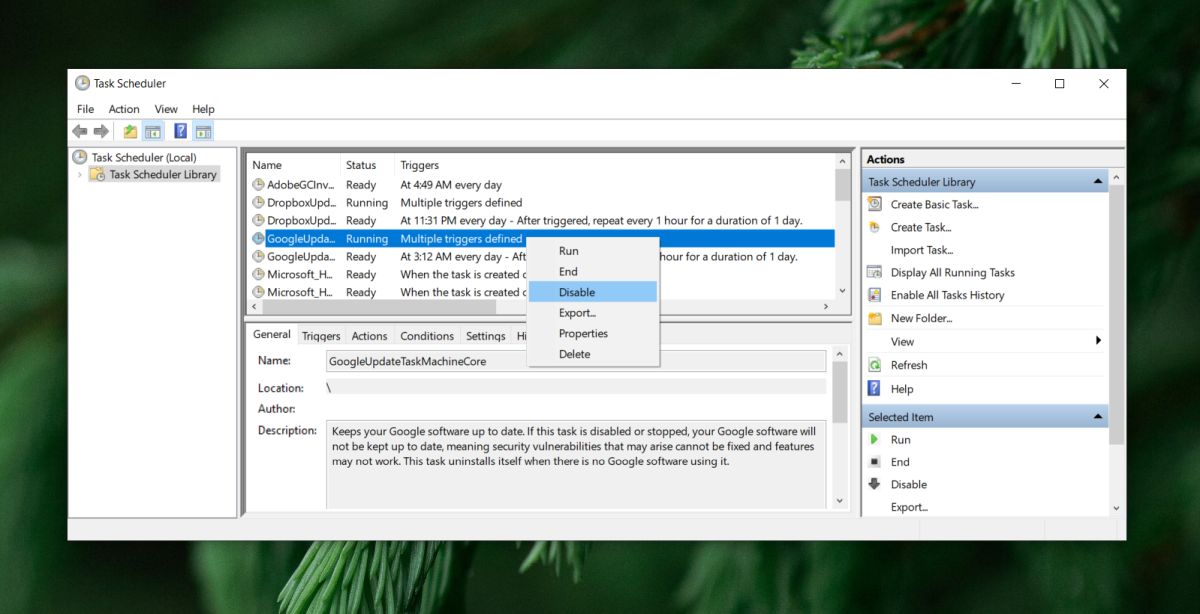 Updating Chrome
With automatic updates off, you will have to manually update Chrome. To do that, follow these steps;
Open Chrome.
Click the more options button at the top right and go to Help>About Google Chrome.
A new tab will open and Chrome will check for updates. If a new update is available, it will be downloaded.
You will have to relaunch Chrome to apply the update.
Problem updating Chrome? Check out this solution.
Conclusion
While it is possible to disable automatic updates for Chrome, we don't advise you do it unless you have a very good reason. This is because new browser updates often have security fixes, and if you are running an older/outdated version of Chrome, you may be putting yourself at great risk.