How to fix Bluetooth stopped working on Windows 10
Bluetooth technology has been around for years and it's gotten pretty good. We're at the point where users can connect all sorts of peripherals, including speakers and headphones, over Bluetooth, and get great audio quality. An internet connection can be shared with a Windows 10 system over Bluetooth, and game controllers can connect using it as well.
The technology, in terms of both hardware and software, is stable. That said, if Bluetooth has suddenly stopped working on your Windows 10 system, try the following.
Fix Bluetooth stopped working
This article assumes you were able to use Bluetooth and it suddenly stopped working. If you were never able to use Bluetooth on your system, these fixes may or may not be helpful for you. Try the following fixes to get Bluetooth up and running again.
1. Update Bluetooth driver
Bluetooth drivers are supposed to update automatically but that doesn't always happen for various reasons.
Open Device Manager.
Expand the Bluetooth group of devices.
Right-click your Bluetooth device, and select Update Driver from the context menu.
Allow Windows 10 to search for drivers, and install any updates that are available.
Restart the system.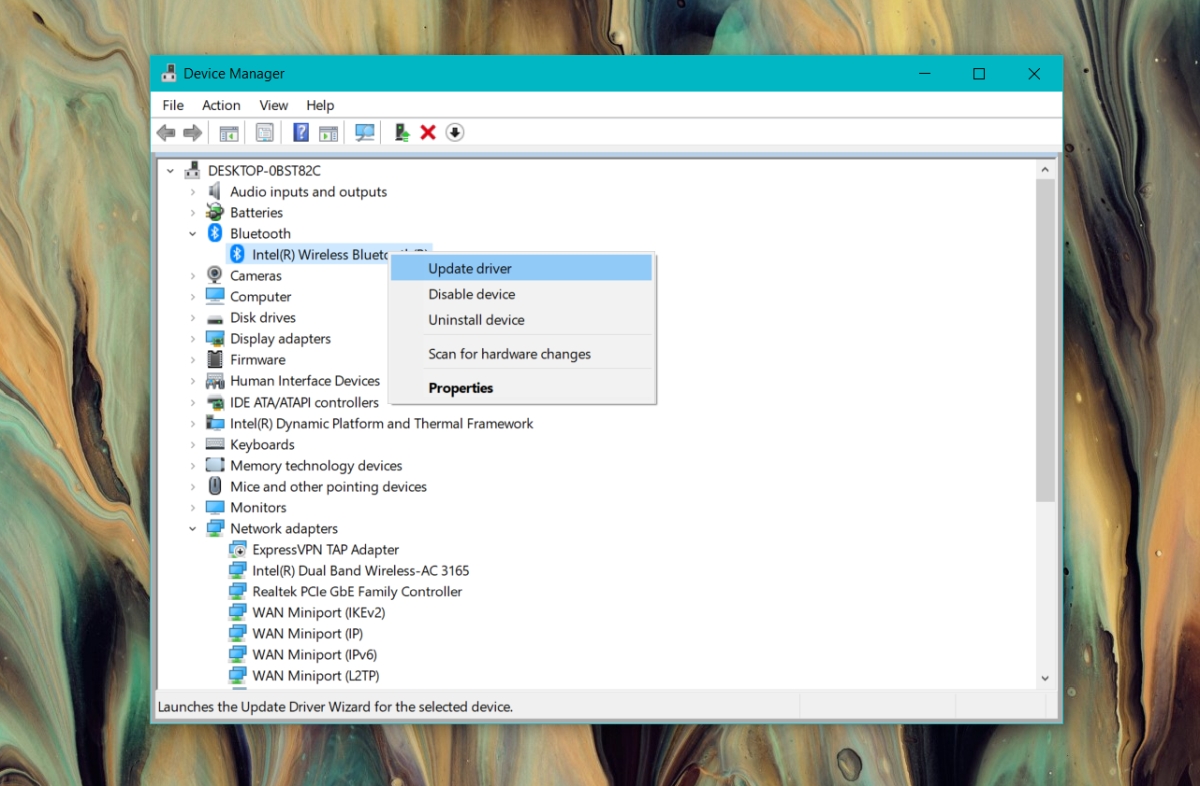 2. Roll back Bluetooth driver
Bluetooth driver updates are automatic and they don't always take compatibility into consideration. It is possible that your Bluetooth driver has been updated to a new version which isn't compatible with your Windows 10 version. Try rolling the driver back.
Expand Bluetooth.
Right-click your Bluetooth switch/chip and select Properties.
Click Roll Back driver.
Allow the driver to be removed and the older one to be installed.
Restart the system.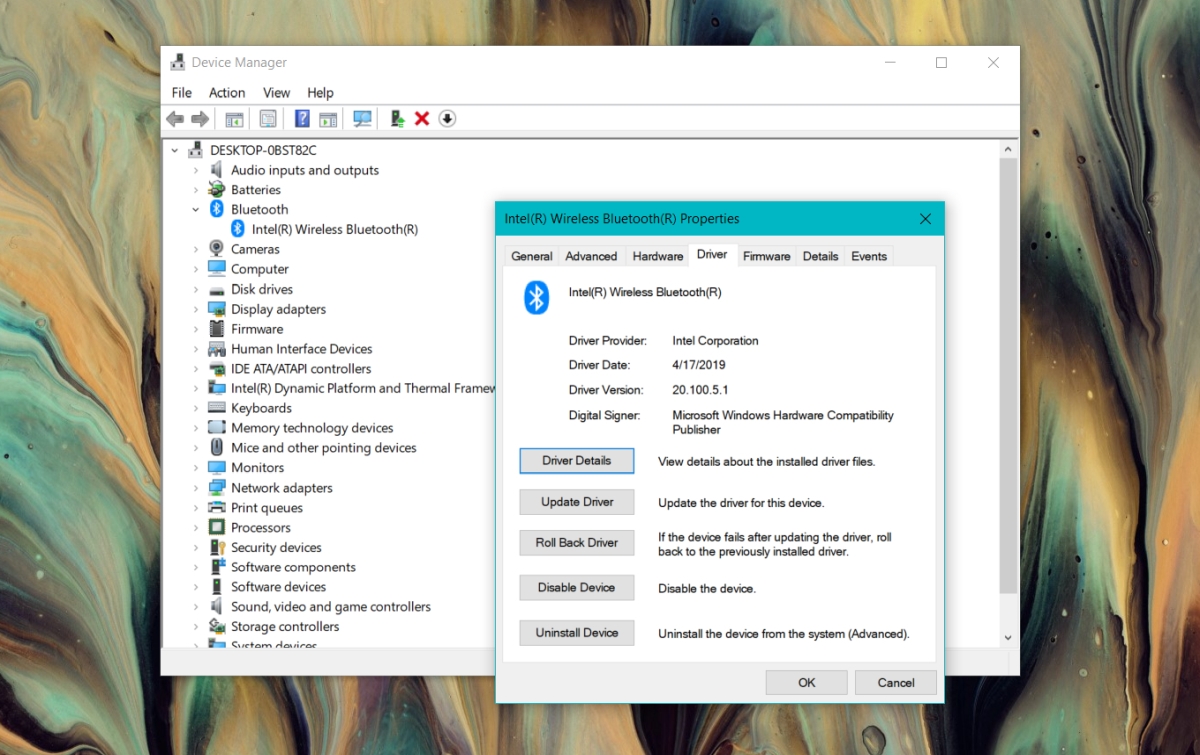 3. Check BIOS
Some systems have a setting in their BIOS that can enable/disable Bluetooth. If you've recently updated your system's BIOS, the update may have turned Bluetooth off.
Open your system's BIOS.
Look for anything related to hardware or hardware configuration.
Find your Bluetooth switch and enable it.
Boot to Windows 10.
Open Action Center (Win+A) and turn Bluetooth On.
4. Uninstall Windows updates
Windows 10 receives small updates throughout the year. These updates, much like the feature update, can cause hardware problems. If you've recently installed an update that is reportedly causing Bluetooth problems, you can uninstall it.
Open Control Panel.
Go to Program>Uninstall a program.
Click 'View Installed Updates' in the column on the left.
Select an update, and click Uninstall at the top.
Restart the system and check if Bluetooth is working.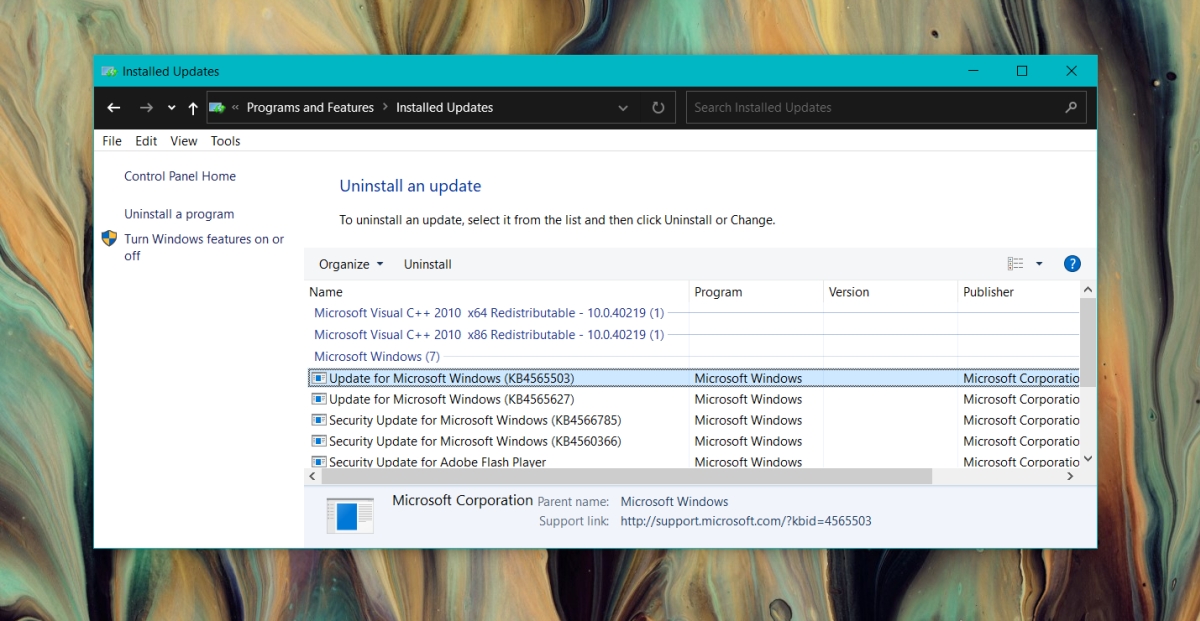 5. Roll back Windows 10 feature update
If Bluetooth stopped working right after installing a Windows 10 feature update, the update is likely to blame. You can check for a driver update as described in the first solution and that may fix the problem. If it doesn't, you may have to roll back the Windows 10 update until the problem is acknowledged and resolved by Microsoft. Remember that there is a very small window during which a Windows 10 update can be rolled back.
Open the Settings app.
Go to the Update and Security group of settings.
Select the Recovery tab.
Under the 'Go back to the previous version of Windows 10' section, click Get Started.
Windows 10 will roll back to the old version using data in the Windows.old folder.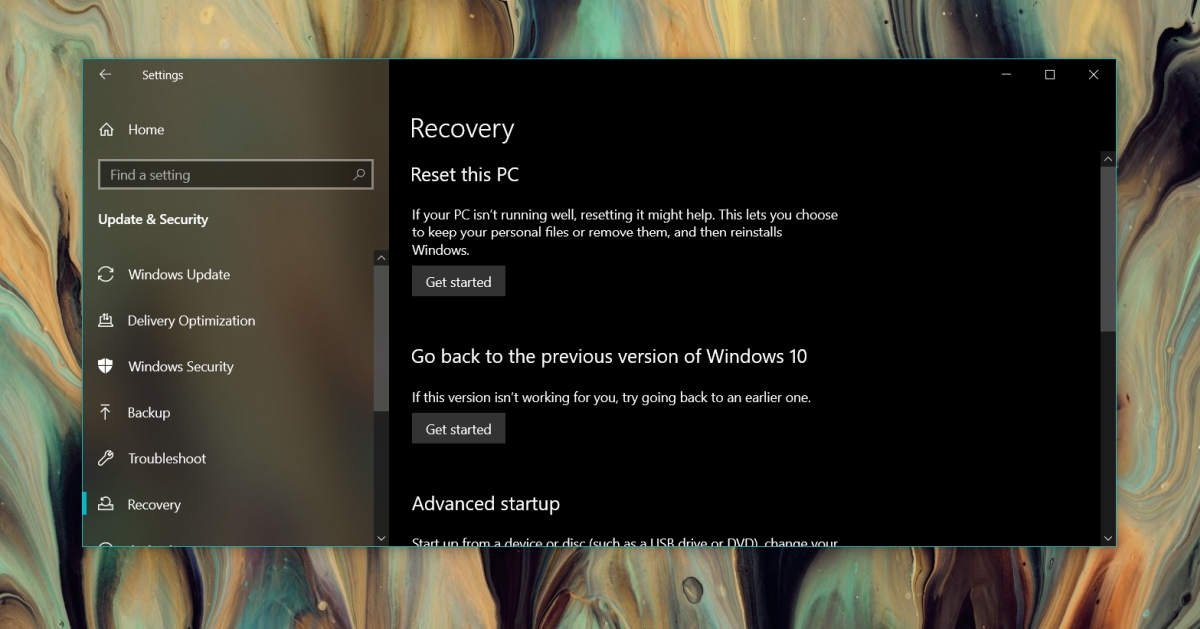 6. Check for hardware damage
Bluetooth works via a chip on your system. It's not easy to damage the chip if you take care of your system. If the system has been dropped, or something has been spilled on it, it can damage any hardware component, including Bluetooth. Have it checked for hardware damage.
Conclusion
Bluetooth problems after an update are normally software-related i.e., an incompatible driver or a buggy update. If you suspect hardware damage, you won't be able to fix it by removing or updating drivers. If there are no visible signs of hardware damage, it may still be worth getting the system checked out if the above solutions fail.