Get Windows 8 Style Clock On Your Windows 7 Desktop
Windows 8 Desktop Clock for Windows 7 is a portable application which brings the Windows 8-style login screen look-alike clock to your Windows 7 desktop, with glowing text. Such attempts to port Windows 8 functionality to Windows 7 is frequent among the developer community and it appears that until the Windows 8 beta launch, we might get a set of tools to replicate the Windows 8 UI on our Windows 7. Having said that, W8 Desktop Clock is not just a Windows 8 replica application, but rather can be used to make your common wallpapers into a wallpaper clock. In an earlier post we showed you how to get wallpaper clocks for Ubuntu using Screenlets. However, even Screenlets only allows adding wallpaper clocks and does not transform your wallpaper into one. This give W8 Desktop Clock quite an edge and makes it a worthy application for transforming wallpapers into wallpaper clocks.
Just launch Windows 8 Desktop Clock for Windows 7 and it will add time and date to your desktop. Thankfully, the font is quite easy on the eyes and provides seamless integration to the desktop wallpaper, without causing any distortions.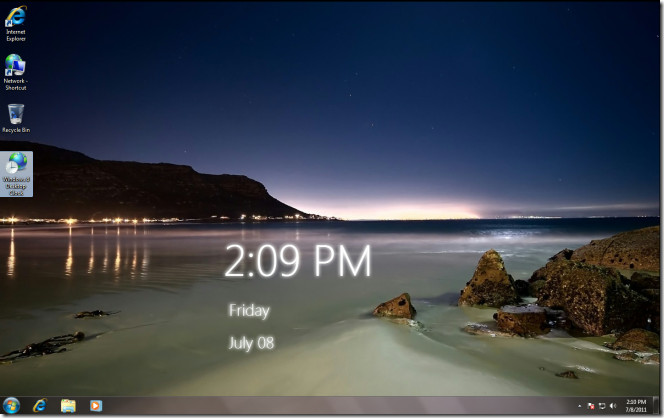 Download Windows 8 Desktop Clock for Windows 7