Selectively Remove EXIF Metadata Of Photos Using Pixelgarde
You may know that most smartphones and new digital cameras have the ability to embed location, also referred to as geotag, along with numerous other image attributes into your picture as EXIF metadata. Although metadata of pictures taken by camera or smartphone gives you a detailed information, including exact GPS location where the photo was taken, name, XResolution, YResolution, ISO, YCbCrPositioning, and date and time stamp, it's generally advised to remove such metadata from pictures before sharing them with others.
Since anyone can easily read the embedded information and exploit it in various way, you may not want want to share images with complete metadata on online social media networks and image sharing platforms, like, Picasa, Flickr, etc. Pixelgarde, pronounced as Pixel Guard, is an application which not only removes image metadata but also optimizes it for online sharing. The application supports direct uploading to Facebook, Flickr, Twitter, Photobucket, and Picasa. You can also choose to share pictures via email too.
Unlike previously covered apps, such as Geotag Security, JPEG & PNG Stripper, and Image MetaData Stripper which attempt to remove metadata of images in one go, Pixelgarde lets you select the type of information you wish to delete from the photo. An option to delete all file attributes of selected pictures is also available. By giving you an option to select the information that is to be deleted, the app gives you more control over the photos.
To get started, drop the pictures over the main interface or use the plus sign to add pictures. Once inserted, it will start reading the EXIF metadata. When you hover mouse pointer over an image, a small info icon appears. Clicking that icon reveals all the hidden meta tag information of the image. All you need is to select the images and click image file attributes from bottom to remove them. For instance, if you want to delete GPS location from the images, select the images, click Location option, and then hit Apply.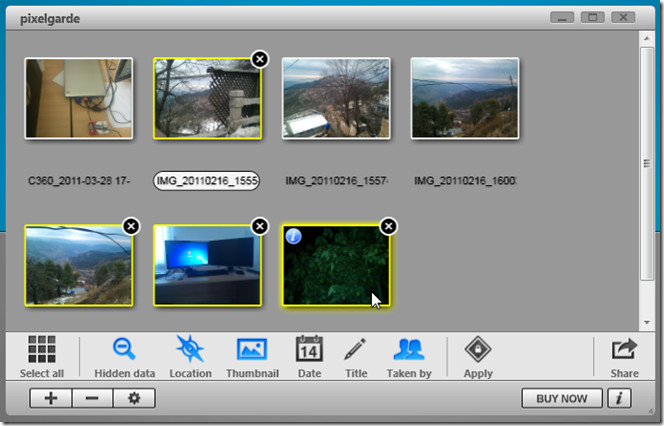 Similarly, you can replace the artist name (taken by meta info) with custom one. Select the image and hit Taken by to enter the name of person who took the selected snap. However, you don't need to manually add artist name to all images. Just click Select All and click Title to add new title to all images. Now hit Apply to export images to defined location.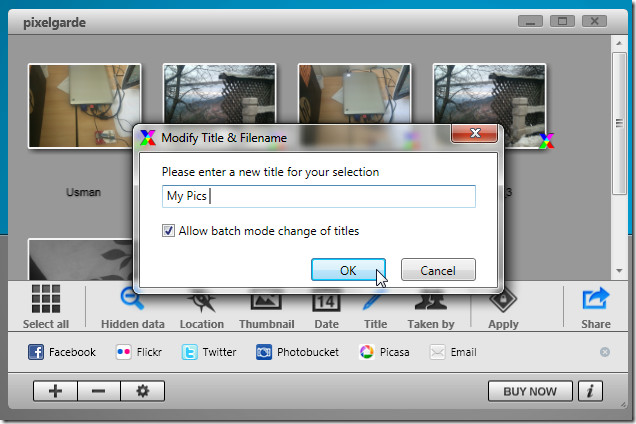 The process of deleting hidden information is same. When you click Hidden data, a dialog box will appear, letting you know which tags will be removed. Close the dialog and click Apply to remove the tags from the pictures.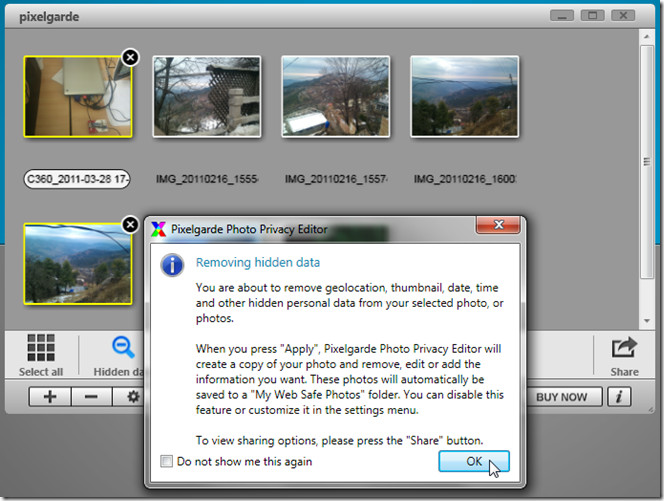 Finally, you can delete thumbnails of pictures by enabling the Thumbnail option.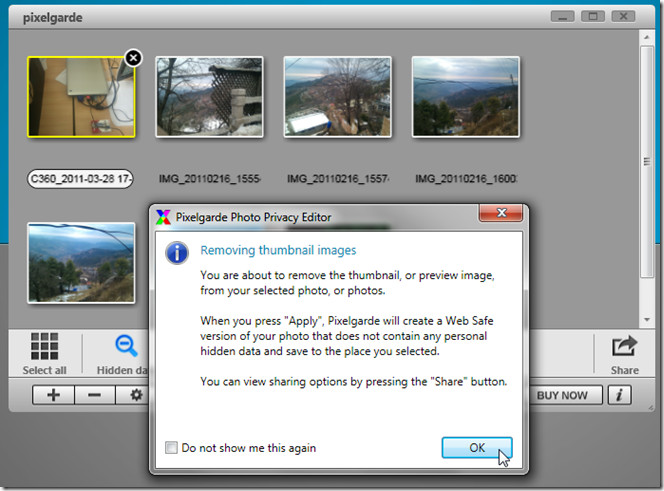 Pixelgarde has the ability to perform all tag remove functions in one go. You need to manually click each tag remove function, such as, Hidden data, Thumbnail, Taken By, etc. before clicking Apply to completely remove the tag info. When images are processed, click Share to select online platforms on which you want to share images.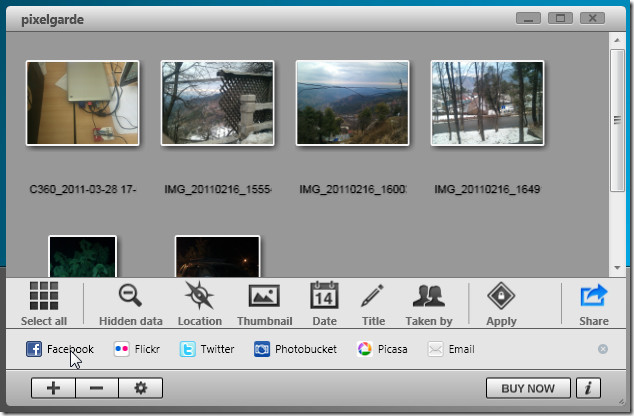 The Settings is accessible from Settings icon present alongside add and remove file buttons, from where you can change the default output location and enable/disable option to save edited photos. Pixelgarde works on Windows XP, Windows Vista, and Windows 7. Versions for both iPhone and Android are also available.