SeventhGate Turns Your Wireless Network Card Into Virtual WiFi Router
Are you looking for a tool to convert you PC wireless card into virtual router, so it can be used as WiFi hotspot and also to connect portable devices which don't support both Open (non-authenticated) and WEP protected ad-hoc connections? Among all the virtual router apps available out there, Connectify and VirtualRouter are considered to be the best. Both work quite well on our systems but many users have faced problems. If you've been frantically looking for an alternative, you may want to have a look at Seventhgate.
Seventhgate, an open source tool, allows users running Windows 7 and Windows Serer 2008 R2 to turn wireless network card into virtual WiFi router.  The application is currently in beta and features, like, port forwarding and MAC address filtering along with many other improvements are in the pipeline. Moreover, it shows all the connected wireless capable devices and PCs in a list with their names and IP information. This enables you to quickly identify all un-authorized connected devices. To make sure, only authenticated devices are connected, you can define client connection limit, so only authenticated devices will be able to gain network access through host PC.
The app usage is extremely easy. After installation is finished, launch the application and enter the network hotspot name followed by pass key. Once entered, you can optionally choose to specify client limit. Now choose Wireless Network Connection from the list and hit Start to create a private wireless network.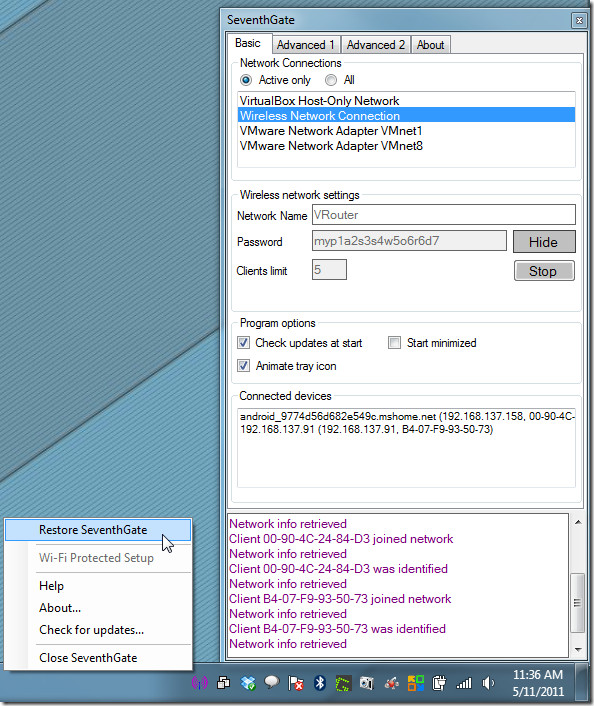 You can connect any number of clients (wireless enabled PCs and other portable devices ) with host PC. All the connected devices get listed in bottom pane. You can view the Wireless Network information from Advanced 1 tab, where it lists down Interface GUID, Mac Address, PhyType, Channel Frequency, and connected peers/clients.