We are reader supported and may earn a commission when you buy through links on our site.
Learn more
How to Install TVZion on Fire Stick and Fire TV
Both the Fire TV and Fire Stick are some of the best streaming hardware around. With them you can watch an enormous amount of content, much of which is available to rent or buy through Amazon itself. Fire TV also supports streaming apps such as Netflix and Hulu for even more movie watching power, not to mention tons of games and other extras.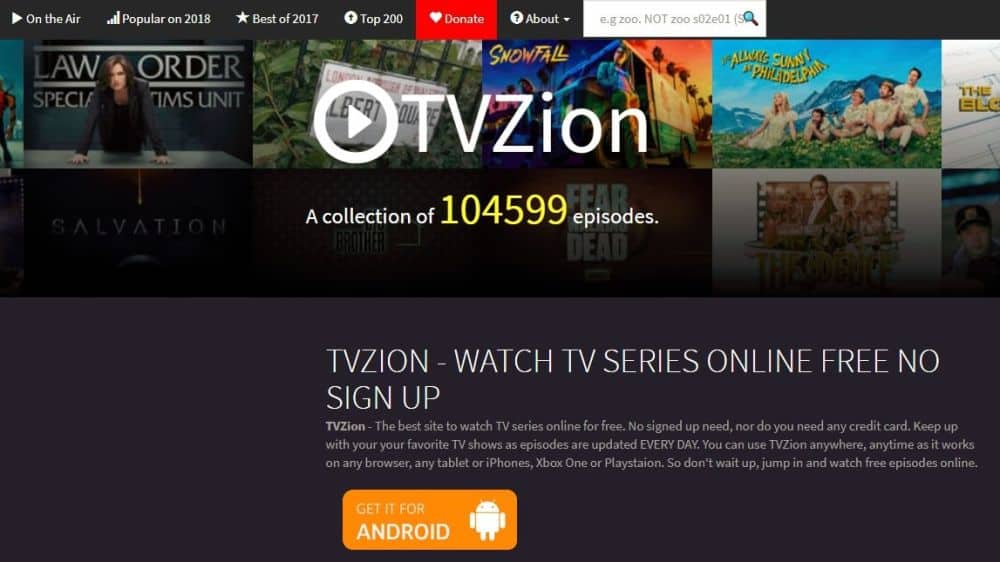 If you're feeling adventurous, you'll probably want to learn how to sideload apps on Fire TV and use them to access even more content, including live sports, streaming anime, and Hollywood blockbuster movies. Apps like TVZion are some of the best ways to get ahold of this free content, as well. By installing TVZion to your Fire Stick or Fire TV, you'll be set for content for months on end!
30-days money back guarantee
Important – Always Use a VPN with Fire TV
It doesn't matter if you're installing Kodi on your Fire Stick, running a sideloaded copy of YouTube on Fire TV, or just streaming movies from Amazon, it's always a good idea to keep a VPN connected in the background. VPNs encrypt every piece of data leaving your device to keep it anonymous and secure. Without a VPN, anyone can spy on your activity, including cyber criminals and nosy ISPs.
Finding the best VPN to use with Fire Stick means researching a lot of information, comparing features, and so on. We've simplified the process by providing a list of important criteria below, followed by a selection of the best VPNs to use with Fire TV.
Fast speeds – Only the best VPNs provide fast video streaming speeds, and you'll need them for TVZion's great content.
Device compatibility – To use a VPN with Fire TV, it has to be compatible with the platform.
Network size – The more servers a VPN runs, the more virtual locations are at your disposal.
Zero-logging policy – A strict zero-logging policy for true online privacy and security is the only way to use a VPN.
IPVanish is the best VPN for Fire TV
With the above criteria in mind, we periodically test and retest the major players on the VPN market. And, time and time again, we arrive at the same conclusion: for FireTV, nothing beats IPVanish. That's because this provider prioritizes the things heavy users of streaming services need, namely speed and ease of use. Indeed, once you download, install, and launch IPVanish on your Fire TV, you'll find it remarkably easy to access the advanced protection the service has to offer.
Your privacy online is guaranteed by unbreakable 256-bit AES encryption, a solid no-logging policy, as well as rotating IP addresses so your location and identity can never be nailed down. Add to the mix an automatic kill switch, DNS configuration, and a massive server network numbering 1000+ nodes in 60 countries and counting, and you have a truly premium internet protection suite.
Want to know more? Read our full IPVanish review.
IPVanish offers a 7-day money back guarantee which means you have a week to test it risk-free. Please note that Addictive Tips readers can save a massive 60% here on the IPVanish annual plan, taking the monthly price down to only $4.87/mo.
Preparing to Install TVZion on Fire TV & Fire Stick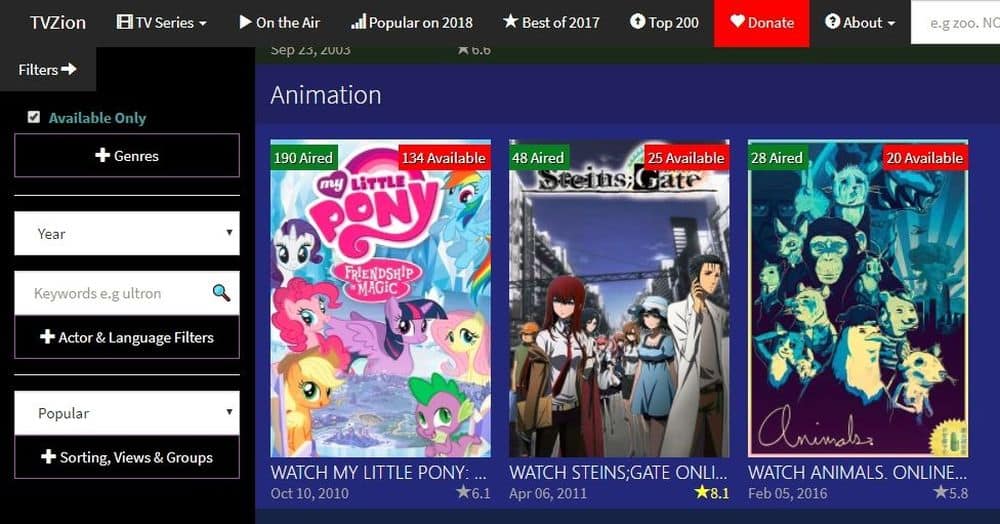 TVZion is an incredible resource for free TV shows, and it works on just about any device built on the Android operating system. The app doesn't natively support Fire TV, though, which means you'll need to sideload it to gain access. We'll cover that entire process in detail below. Don't worry, it's not as complicated as you might think.
Adding APKs to Fire TV
APK files are the Android equivalent of exe files you might find on Windows devices. They're essentially single-file resources for an app that contain everything necessary for running software on an Android device. Everything on Android uses apks, even things like YouTube or Google Play. The Fire TV and Fire Stick operating system is based on Android and can run most apps that are normally compatible with Android. All you need to do is get the apk file to your Fire TV through a process known as sideloading.
Is Sideloading Safe?
Sideloading on Fire TV doesn't require any kind of hacking, rooting, or jailbreaking. It also doesn't change your hardware, and can be undone as easily as you would uninstall any other app. With sideloading, all you're doing is accessing the device and installing software without going through Amazon's appstore. You're not tampering with the operating system or doing anything the Fire Stick can't handle, so you don't have to worry about harming your Fire TV.
You may occasionally run into compatibility issues with certain sideloaded Android apps, as not all of them were made to run on TV screens or controlled with a remote. This doesn't cause any harm to your device, however, it's just frustrating when you can't run the software you want without fumbling through clumsy menus.
Before Sideloading, Allow Unknown Sources
The Fire TV operating system has a default setting that disables external installations and prevents sideloading. You won't be able to manually install anything until you disable it. Follow the steps below to enable unknown sources on your Fire Stick or Fire TV so you can install TVZion yourself.
Go to your Fire TV's settings page located at the top of the home menu.
Scroll right and choose Device
Move down to Developer Options
Set Apps from Unknown Sources to ON.
Accept the warning message about installing external apps.
Download this Optional but Convenient App
TVZion runs fine on Fire TV, but the interface clearly wasn't meant to be used on a TV or with a clunky hardware remote. To make things easier, you might want to install an app like Mouse Toggle for Fire TV (Android) or Remote Mouse for Fire TV (Android, iOS). These clever pieces of software will walk you through a quick installation process and give you the ability to control a Fire TV with the remote or an app just as if you were using a mouse.
How to Install TVZion on Fire Stick
Got everything ready to go? Now let's dive in and get TVZion up and running so you can watch some TV shows!
Step 1 – Choose a Sideloading Method
There are several reliable ways to get files from your PC or the internet to Fire TV. All of them have some pros and cons. To help you decide, we've created an article discussing which sideloading method to use. We're going to use adbLink for the tutorial below, as it's the best all-around way to install TVZion. Later we'll cover another method that many users also like to follow.
Step 2 – Download TVZion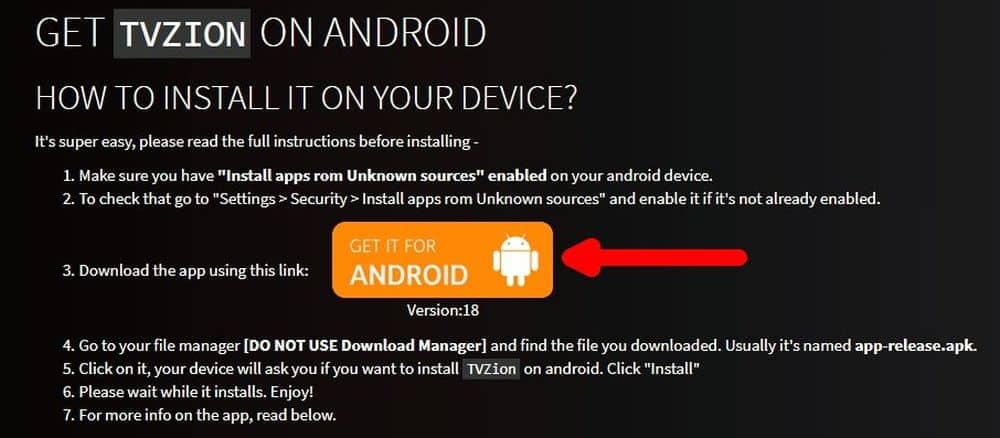 The first step is to download the TVZion Android apk file and have it ready on your computer. Visit the TVZion website in a browser access the download section. Click the orange "Get it for Android" button to automatically download the apk to your desktop. The file should be called app-release.apk once it fully transfers.
Step 3 – Set up adbLink
Next it's time to download and set up adbLink. On your PC web browser, head to the official adbLink website, scroll down, and download the appropriate file for your operating system. Install it right away, then launch it.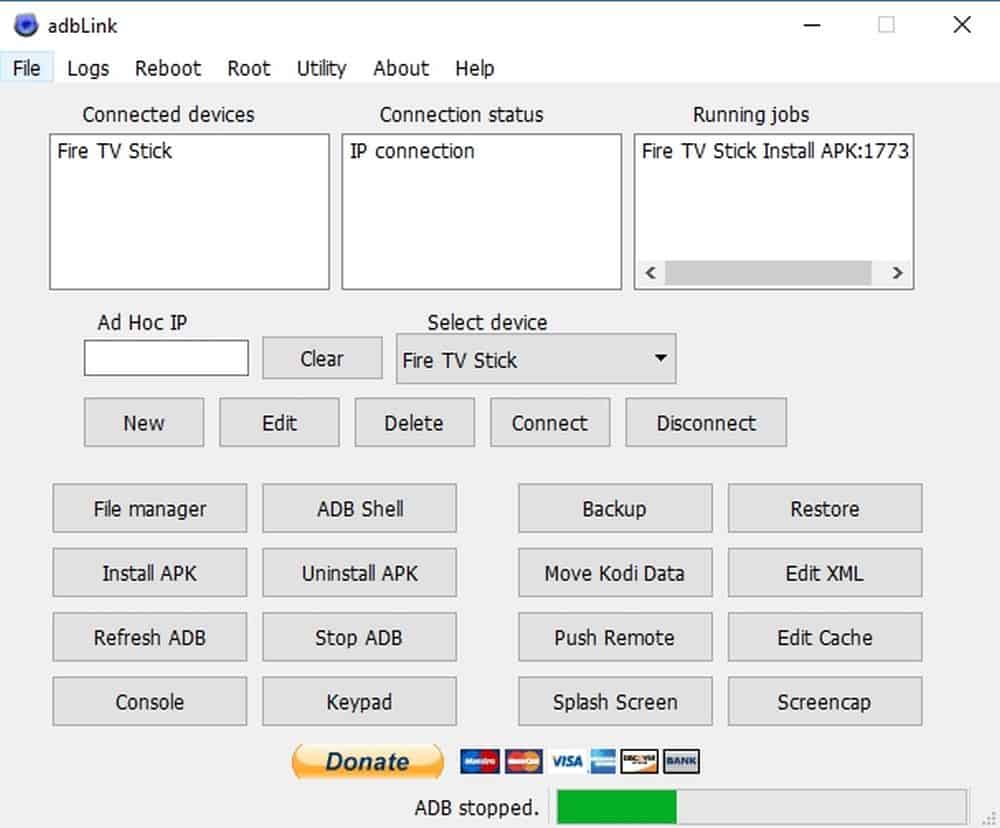 Switch over to your Fire TV device and navigate to Settings > About – Network. On the right you'll see information about your connection to the internet, including device's IP address. Write this down or memorize it.
Back in adbLink, click the New button next to the devices box and add your Fire TV. In the next window, type a unique description in the box, then enter the device's IP address you retrieved above. Save your changes. adbLink will now be able to interface with Fire TV, provided both devices are on the same home Wi-Fi network.
From the adbLink main screen, choose the Fire TV you just entered by clicking the "Select device" dropdown box in the center. Click Connect just beneath that. The connection will take a moment to resolve. Once it completes, you should see the device and status listed in the white boxes at the top of adbLink's screen.
Step 4 – Install the TVZion apk
Now it's time to put everything together and actually sideload the TVZion app. In adbLink, click the button marked Install APK. A file dialog will open. Navigate to where you saved the apk downloaded above, then choose android.apk. adbLink will confirm you want to install the apk. Click Yes, then the process will begin.
While the installation proceeds you should see an item in the Running Jobs box at the top, along with a progress bar at the bottom of adbLink's window. It may take a few minutes for the installation to complete, as adbLink has to transfer a lot of data over to your device. Once it completes, adbLink will notify you via dialog window.
Step 5 – Run TVZion
Now it's time to watch some TV series! Launch TVZion on your Fire Stick or Fire TV by finding it under the Apps & Games section. You'll see the main interface right away and can navigate through the app's offerings with ease. For more info about TVZion and what you can do with it, see the section below.
Alternative Method – Install TVZion Using Downloader App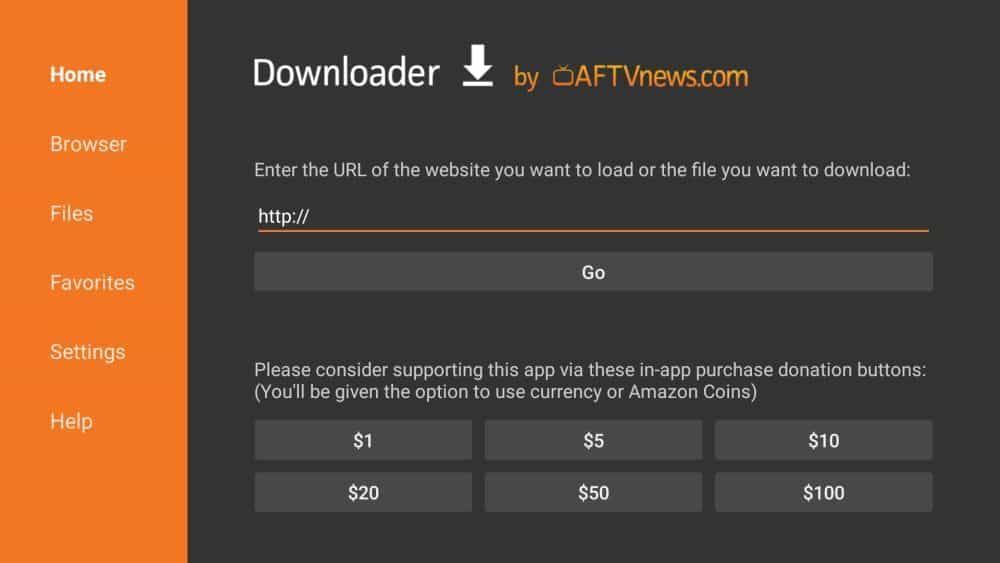 If using adbLink isn't possible, or if you're not interested in connecting your PC to Fire TV, there's always the free Downloader app instead. This method is pretty straightforward but can require some extra typing, a cumbersome prospect with nothing more than a Fire TV remote. Still, you won't have to worry about Wi-Fi connections or strange networking errors, as everything takes place on your Fire TV device. Follow the steps below to install TVZion on Fire Stick or Fire TV using the Downloader app.
Open the Amazon app store on your Fire TV.
Search for Downloader and install the program.
While that installs, locate the URL for the TVZion apk. It should be the following: https://www8.tvzion.com/apps/android
Open Downloader and type in the URL. Be sure to enter it exactly as it appears, https and all.
Download the apk file using the Downloader interface. Once complete, you'll be able to install it right away.
Access the TVZion program from the Fire TV main menu at any time, and enjoy the streaming!
What's on TVZion?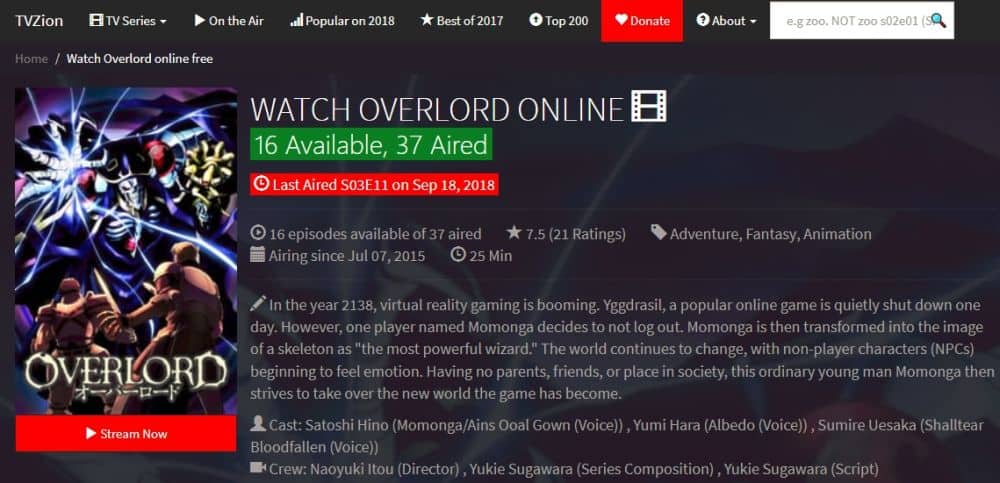 TV shows. Lots and lots of TV shows. As the name suggests, TVZion is a haven for TV series from around the world, It's incredibly easy to jump on and start streaming single episodes, or to binge watch entire collections in one sitting. By installing TVZion to your Fire TV, you'll have full access to all of this content, all for free.
Live TV
TVZion has a special section called On the Air. Here you can watch live streaming content from multiple genres, creating a TV-like experience where you never know what'll be on. At the time of writing we found classic Power Rangers episodes from the 1990s, NCIS, My Little Pony, Big Bang Theory, and Better Call Saul, among dozens of others.
On-Demand TV Shows
The core of the TVZion experience is getting to watch TV shows at your leisure. You can check out content by sorting or searching using the interface's powerful filtering features, or simply browse by popularity or date. Choose a series to watch, then pick an episode from the list on the side. As soon as you're logged in and click, the stream will begin. It's that simple.
Note about Limitations
TVZion is an ad-free experience, but it does come with one restriction: limited streaming time. Everyone gets 500 hours from the moment they install, which is a ton of time, to be honest. When you reach that limit you'll need to add more playback time. To do this, click the Settings option under the Menu and select "Add more playback time". This will redirect you to the Google Play Store to make a quick purchase, netting you a full 1,000 of extra watching time for practically nothing.
Conclusion
With apps like TVZion around, who needs mainstream TV services? It's the perfect alternative to Netflix and alternative to Hulu, and it doesn't bother with regional restrictions or anything like that. With TVZion on your Fire TV or Fire Stick, you've got full access to thousands of shows. All you have to do is install it and enjoy.
Are you a cord-cutter bent on getting the best value from your streaming services? What will you watch on TVZion? Leave us your thoughts in the comments below!