We are reader supported and may earn a commission when you buy through links on our site.
Learn more
How to Install Private Channels on Fire Stick
Amazon's Firestick is a surprisingly capable little device, and you can expand its range of content delivery by installing private channels. Never done it before? Don't worry, we walk you through the process below, and share a few more tips on how to get the most out of your Fire TV device.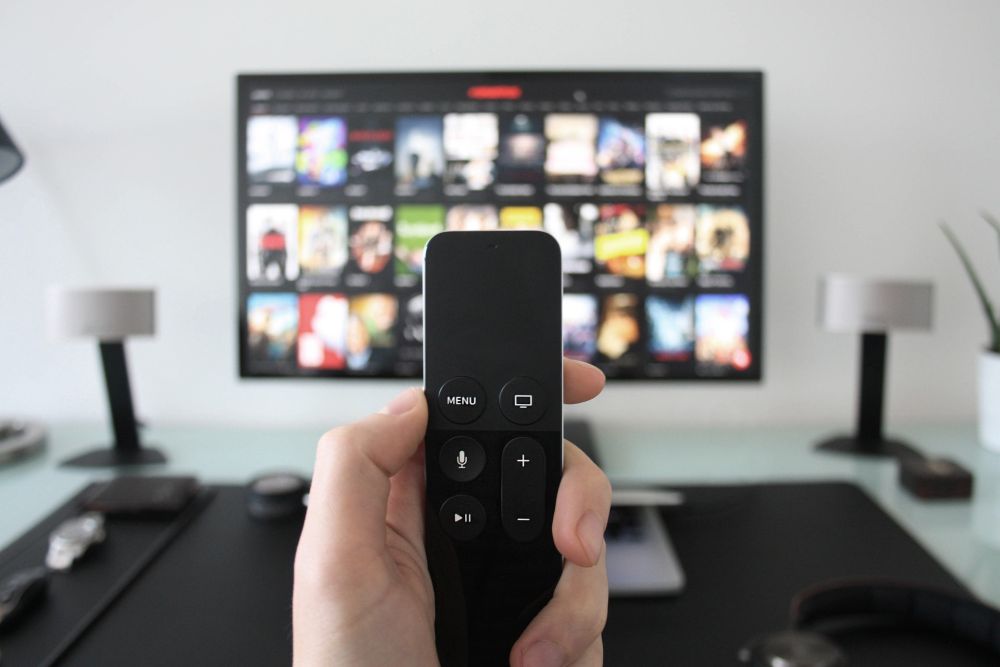 One of the things that makes Fire TV and Fire Stick so useful is the ability to install hundreds of channels directly to the device. Download an app from the built-in marketplace and you have instant access to a huge variety of content, everything from live TV to sports, games, blockbuster movies, the Kodi media center, and more. Best of all, most of these apps are extremely affordable, or even free!
You can supercharge your Fire Stick by adding private channels to the interface thanks to a process known as sideloading. It doesn't require any hacking or jailbreaking, all you have to do is find an app or channel you want to install, use a third party app to get it to your Fire Stick, then sit back and enjoy. Below we discuss the ins and outs of installing private channels on Fire TV.
30-days money back guarantee
Best VPN Apps for Fire TV
VPNs are incredibly useful tools everyone should use no matter which devices they run. Our data is routinely sent across the world unencrypted and unprotected, making it easy for government agencies to track us or ISPs to sell private information. Even streaming content on Fire TV transmits your personal data across the internet, making it easy to see what you're watching and where you live.
Using a virtual private network makes it easy to stay hidden online by creating a private tunnel of encryption between your device and the internet. With encrypted data nobody can tell what videos you're streaming, keeping everything safe from prying eyes. Best of all, they're easy to install, and they require almost no effort on your part to remain safe and secure.
Below is our recommended VPN service proven to work well with Fire TV. It's fast, affordable, and keeps your data secure at all costs.
NordVPN – Secure Spoofing and an End to Throttling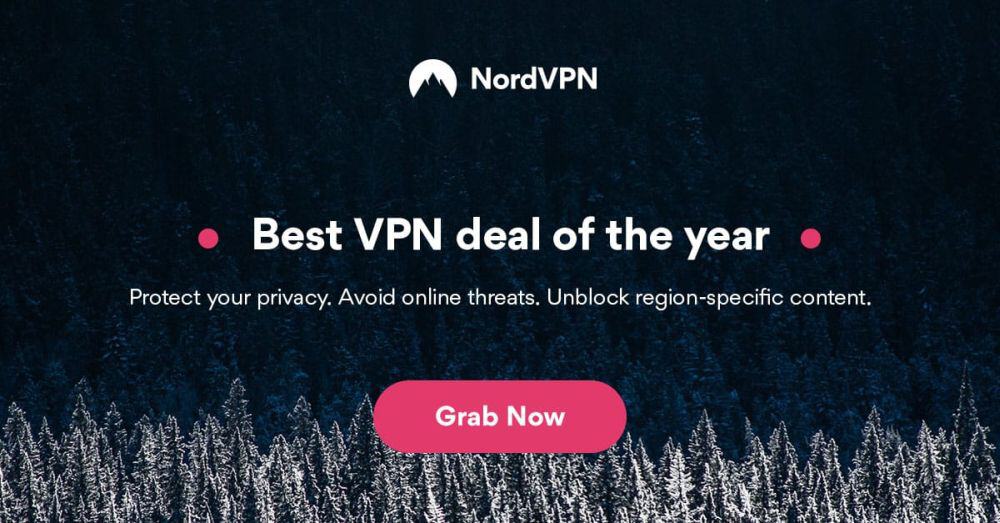 NordVPN has long been considered one of the top VPNs in the industry for most use-cases, but Firestick was an exception. But now, there is a dedicated NordVPN app available within Amazon's Appstore, bringing the world's best overall VPN to Fire TV.
With it comes an amazing network of over 5,800 servers in 59 countries, giving you limitless possibilities of new, previously geoblocked content to explore. It's a great way to change the region settings on your Firestick with just the click of the remote. What's more, these server connections feature unbreakable 256-bit encryption via NordLynx–a cutting edge protocol that maximizes protection without an appreciable hit to speed. This means buffer-free streaming, fast private channel installs, and a more responsive experience overall.
NordVPN also maintains a strict no-logging policy, ensuring that what you choose to watch is only ever your own business. Combined with leak-proof smart DNS servers, you can unblock even stubborn sites like Netflix, hiding your activity from ISP throttling beneath a veil of unbreakable cryptography.
Read our full NordVPN review.
Pros
Unblocks US Netflix, iPlayer, Amazon Prime and other streaming services
Extensive server park of over 5,400 different servers
Up to 6 simultaneous connections
No logs and encrypted connections for total privacy
Money back guarantee policy.
Cons
Some servers can be slow and unreliable
They can take 30 days to process refunds.
Basics of Installing Private Channels
Private channels on a Fire Stick essentially means sideloading your own apps, usually in the form of apk files, or "Android Packages". Most of the time services that create the apps will offer apk downloads you can easily access, allowing you to grab them and sideload in an instant.
Which Apps are Compatible?
Fire TV and Fire Stick use a modified version of Android. This means they're capable of running almost all apps designed for the platform, including some games and utilities. There are some limitations you'll have to discover on your own, however, as compatibility isn't as straightforward as the ability to launch an app. Most software made for Android was designed for touch screen interfaces, for example, so you might be unable interact with the app even after installing it.
For the most part, video streaming apps from Android work well on Fire TV and Fire Stick. Software like Kodi runs like a dream, as do Stremio and ShowBox. You can also install the Android version of YouTube onto Fire Stick to restore that lost functionality.
Is Sideloading Safe?
It sure is! Sideloading a channel to Fire TV doesn't require any kind of hacking, just accessing the device from a Wi-Fi network and installing software manually. The process uses the Fire operating system's native protocols to handle everything, meaning you can uninstall sideloaded apps at your leisure. All you're doing is bypassing the restriction of using Amazon's built-in store, that's it. Feel free to install as many private channels as you like!
Prepare Your Fire Stick to Sideload
The Fire TV operating system blocks external installations by default. You can easily toggle this on by visiting the settings page, however. It's completely safe to do this, Fire TV often even prompts you to change the option when attempting to sideload something. Follow the quick steps below to prepare your Fire TV for the sideloading process.
Go to your Fire TV Stick's settings page located at the top of the home menu.
Scroll right and choose Device
Move down to Developer Options
Set Apps from Unknown Sources to ON.
Accept the warning message about installing external apps.
Three Ways to Install Private Channels on Fire Stick
Ready to get some new channels installed on your Fire TV? Sideloading methods are straightforward and surprisingly easy. There are multiple ways to get it done, too, each of which has its own strengths and weaknesses. Below we'll cover a few of the most popular methods of installing new channels on your Fire device. All of them are fast and free.
Option 1 – Downloader App
The Downloader app is a free piece of software you install directly from your Fire TV. It presents a simple interface with a big box at the top of the screen. Just type in the URL of an apk file you want to sideload, then Downloader fetches the content and installs it for you. Couldn't be easier, right? The only downside to this method is typing long URLs can be frustrating with the Fire TV remote. If you can get past that, or if you've got a good bluetooth keyboard, you're set.
Follow the steps below to add new channels to your Fire Stick via the Downloader method.
Open the Amazon appstore on your Fire TV.
Search for Downloader and install the program.
While that installs, go to another device and locate the URL for the apk you want to install.
Open Downloader and type in the URL.
Download the file through Downloader.
Install it by selecting "Files" within the interface.
Option 2 – adbLink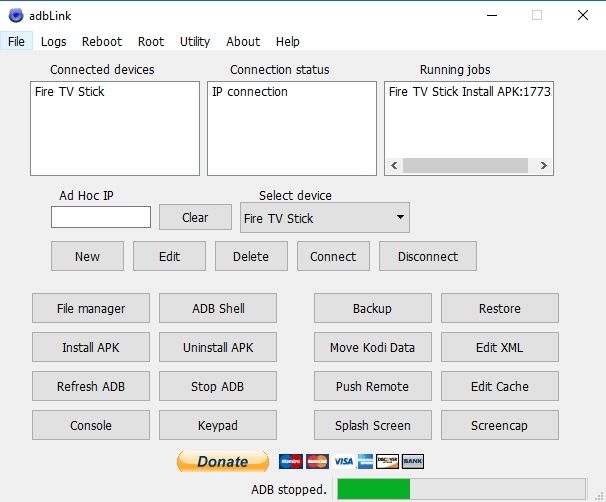 adbLink is a free third party program for Windows, Mac, and Linux. It connects to your Fire TV over Wi-Fi and can be used to manage installed programs, add new content, remove apps you no longer need, or browse the file structure of your Fire device. It's a little more complicated than Downloader above, but it does give you a full PC interface to play with, which is powerful to say the least. Once you get used to adbLink's setup you might just prefer it to the other methods.
Follow the steps below to get adbLink and use it to install new channels on Fire TV.
On your Fire TV Stick go to Settings > About – Network and write down your device's IP address.
On your PC visit the adbLink website and download the program for your operating system.
Run and install adbLink.
In adbLink click "new" next to the devices box and add your Fire TV Stick.
In the next window, type a unique description and the IP address of your Fire TV Stick.
On your PC, download the apk files you want to add to your Fire Stick.
In adbLink, click the "Install APK" button.
Navigate to the file you downloaded and click "ok".
adbLink will automatically install the app to your Fire TV device.
Option 3 – apps2fire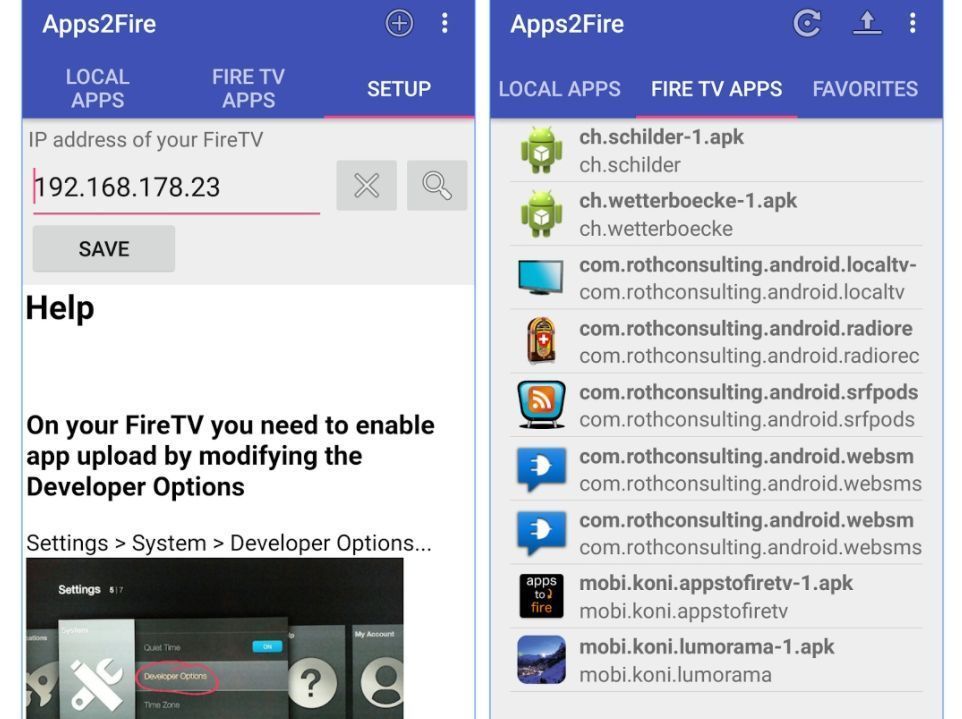 If you've got an extra Android device in your home, apps2fire can be the fastest way to sideload channels to your Fire TV. The app simply "pushes" installed software from the Android device to a Fire Stick. All you have to do is install the app you want, then send it over. Apps2fire takes care of all the difficult work, giving you more time to relax and enjoy the new content.
Use the guide below to install apps2fire and use it to install custom, private channels on Fire TV.
On a separate Android device, install apps2fire from Google Play. Make sure it's the one developed by Koni, as there are some clones.
On the same device, search for the app you want to install on your Fire TV. Install it as normal.
Run apps2fire and let it create a list of your local installs.
When the scan is complete, slide the menu left and tap Setup.
On your Fire TV, go to Settings > About – Network and write down the IP address on the right.
In apps2fire, enter your Fire TV's IP address from the above step, then tap "Save".
Go to the Local Apps tab and scroll down to the app you want to install on Fire TV.
Tap the app, then select "Install" when the window opens.
After a moment, the app will upload to your Fire TV and automatically install. This can take a few minutes depending on the app's size and the speed of your internet connection.
Best Channels for Fire TV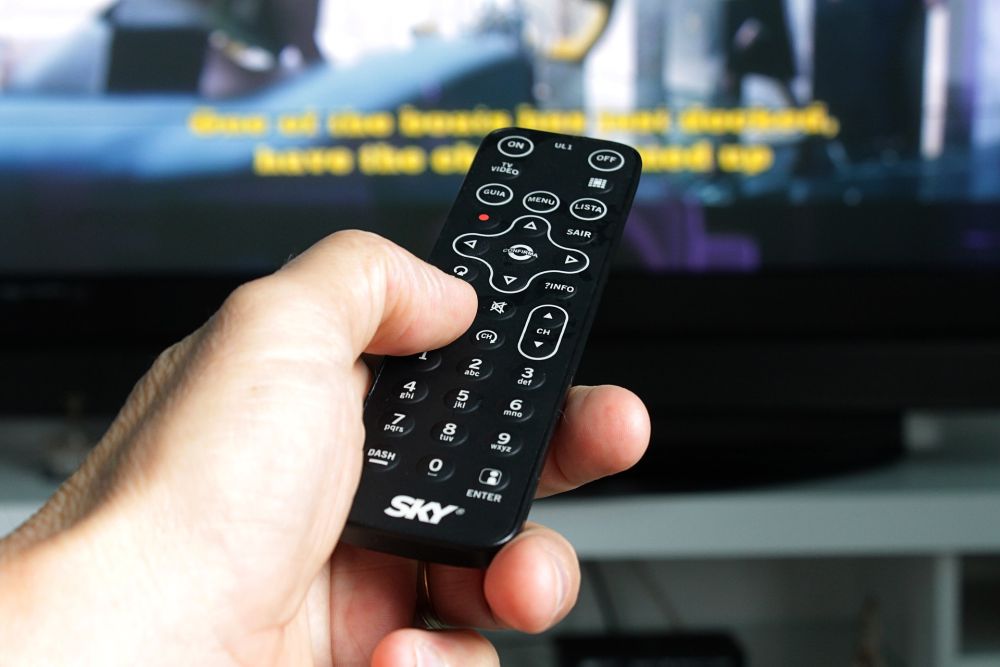 Fire TV was made to stream. The device comes with several useful apps already pre-loaded, but you can extend its functionality by leaps and bounds by installing the right third party apps as soon as possible. Below are some of the best streaming apps for both Fire TV and Fire Stick.
Kodi
Kodi is the most popular, the most well-established, and arguably the best media center app ever created. The free and open-source software works on a huge variety of devices and allows you to manage and stream movies and TV shows from thousands of sources. Want new movie releases? Live sports? TV from overseas? With the right add-ons, Kodi can hook you up, and all for free! If you need a hand getting started, check out our guide on the easy way to install Kodi on Fire TV and Fire Stick, then browse our Kodi add-ons guides to find the right channels for you.
Stremio
Stremio has been getting a lot of attention in the last few years as one of the best alternatives to Kodi. It has the ability to sort, organize, and stream a wide variety of movies and TV shows, all from a friendly Netflix-like interface. With Stremio you can access all the latest films straight from the internet, no need to visit the cinema or pay costly rental fees. We also covered some of the best Stremio add-ons to help you get this channel set up and ready to entertain!
Showbox
ShowBox is one of the best movie streaming channels to emerge in the last few months. The interface makes it look like an alternative to Netflix or Hulu, but the content it offers is newer and sometimes of better quality, as well. With ShowBox you can watch all the latest trending movies, including newly released films and titles that are still in theaters. TV shows are listed by popularity and include all the latest series from around the world, especially the U.S. You'll even have a section devoted to movie trailers to get you hyped for upcoming releases!
Conclusion
Fire TV and Fire Stick are amazing devices. Affordable, easy to use, and perfect for installing private channels and sideloaded apps to expand your entertainment options beyond the horizon. Choose the right software and you'll have more movies and TV shows than you can handle!