We are reader supported and may earn a commission when you buy through links on our site.
Learn more
Stremio on Fire Stick / TV. Can it work? Here's all you should know
The Stremio video streaming service has been gathering a lot of attention lately, mostly due to its impressive ability to find, sort, organize, and stream a wide variety of movies and TV shows. In a lot of ways it's a good alternative to Kodi, but in others, its a unique and useful multi-platform service unto itself.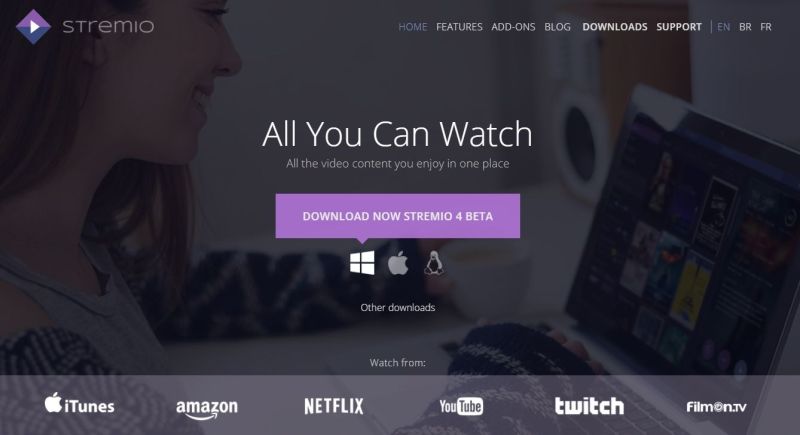 We've already covered some of the best Stremio add-ons you can use with your installation, but the question remains: can you use Stremio on Fire TV and Fire Stick devices? We sat down with our Fire Stick sideloading tools and a copy of Stremio to find out!
30-days money back guarantee
Before Trying Stremio, Get a Good VPN
Whether you're using Stremio on a Fire TV, an Android device, or on your dedicated desktop PC, it's extremely important to always have a VPN actively running in the background. VPNs encrypt the data leaving your device to help keep traffic anonymous and secure. Without it, it's easy for third parties to spy on your activity. ISPs can use this to throttle your connection, government agencies can collect data on your location and interests. But with a VPN present, none of this is even possible.
You have to weight a lot of factors to choose the best VPN for any activity. For movie streaming on Fire TV, it's even more difficult. We've done the heavy lifting for you by selecting some of the best VPNs to use with Fire Stick and Fire TV below. The criteria we used to evaluate these VPNs helped us narrow the list down quite a bit:
Full compatibility with Fire Stick and Fire TV
Fast download speeds around the world
No restrictions on torrent downloads
Unlimited bandwidth
Keep these in mind while researching your own VPN, or just check out our selections below, as they're all perfect for locking down your information so you can stay safe online.
IPVanish – Best VPN for Fire Stick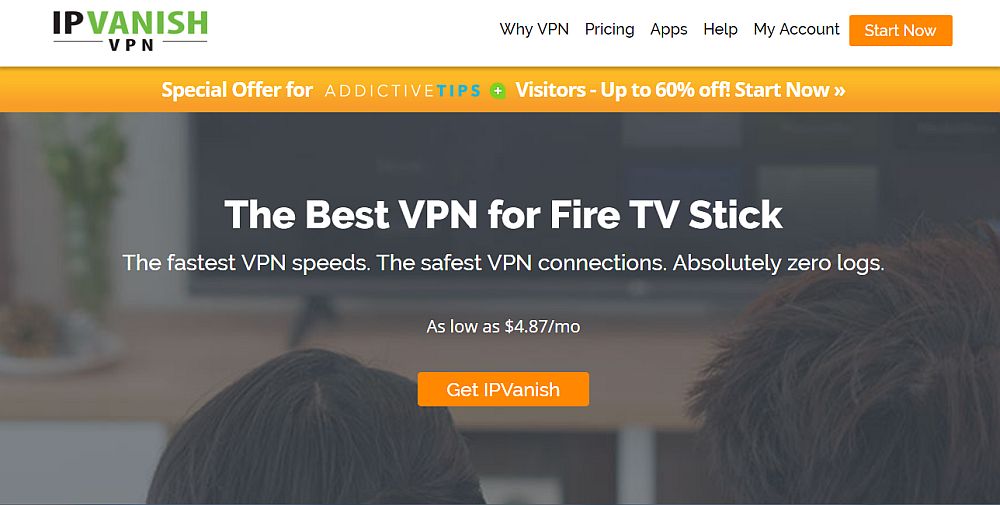 IPVanish knows that heavy video streamers need two things from their VPN: strong security, and no-compromises speed. The service delivers just this with an incredible array of 950 servers in 60 different countries, each of which is lightning-fast and lag-free. You'll be able to find a good connection anywhere in the world with IPVanish, allowing for HD movie and TV shows streams on your Fire TV, Fire Stick, or any number of devices. Best of all, IPVanish has a native app for Fire TV, so you can install it directly from the appstore with no need for sideloading.
As far as its technical privacy features are concerned, IPVanish is no slouch. The service includes DNS leak protection and an automatic kill switch on all custom versions of its app to keep data secure. Information is protected by 256-bit AES encryption, and a zero-logging policy on traffic prevents data from going to long term storage. These features along with ease of use and incredible speeds make IPVanish one of the best VPNs for Fire TV.
Find out more about IPVanish's speed and security features in our IPVanish review.
IPVanish offers a 7-day money back guarantee which means you have a week to test it risk-free. Please note that Addictive Tips readers can save a massive 60% here on the IPVanish annual plan, taking the monthly price down to only $4.87/mo.
Stremio Movie Streaming on Fire Stick – Can it Work?
Stremio is a powerhouse of movie- and TV-show streaming. The software works on a variety of platforms, including Windows, Mac, iOS, and Android. Unfortunately there's no dedicated version available for Fire TV you can download from Amazon's appstore. That didn't stop us from investigating further, of course!
Stremio for Android

Stremio is a popular resource for Android owners, especially anyone who owns an Android tablet. The Android TV operating system powers dozens of brands of set top TV boxes, and it's capable of running many Android apps, even those that don't specifically support Android TV.
We tried the Android version of Stremio and found it worked extremely well. Fast streams, good interface, touch-friendly searching and browsing options, and so on. It ran just fine on our smartphone device, which seemed promising for any lower-powered TV boxes we wanted to install it on.
Fire TV is Based on Android
Something a lot of Fire Stick owners forget about is that the Fire TV operating system is just a modified version of Android. Through a process called sideloading you can actually install a wide variety of apps meant for Android TV or Android smartphones and tablets directly to your Fire Stick. It's easy to do, it's completely safe, and it was arguably an intended feature left in by the Amazon development team.
Now we have a promising situation. Stremio works on Android, Fire TV can run Android apps, so logically it should be able to run Stremio. The only way to find out for sure is to sideload it ourselves and see what happens.
Testing Stremio on Fire Stick
Sideloading apps onto a Fire TV device is pretty simple. We'll cover the full details on how to do that, including instructions on installing Stremio to Fire Stick, in a separate article. For now, know that we used the adbLink method and installed the Android apk directly from Stremio's website for maximum compatibility.
Overview
Some apps built for Android devices translate poorly to the television screen. They're created for touch screens on tall and narrow screens, not remote controls on wide, flat screens. This can lead to some incredibly awkward navigation and nearly unusable apps, despite full compatibility.
We're happy to report that Stremio doesn't fall into this category. The app is designed for Android, not Android TV or Fire TV, but it works on Fire Sticks like a charm. Installation is as easy as sideloading any other app. You can browse movies and TV shows, search for series, sort by trending or genres, even check out your custom library or manage Stremio add-ons.
Always Use a VPN When Streaming for Your Protection
As stated above, it's important to use a VPN when taking advantage of services like Kodi or Stremio. Not only does it provide identity and data protection for every packet of data, but it also ensures your streams aren't monitored or throttled, which happens surprisingly often with apps like this. Make sure you have a good VPN on your Fire Stick, activate it, then let it run in the background while watching videos on Stremio.
We ran Stremio with IPVanish listed above and encountered zero problems throughout the experience. Each one kept our data safe without interfering with the speed or quality of the streams. Stremio's interface also responded naturally without any lag, both when running alone and with a VPN in the background.
Tour of Stremio's Interface
Stremio's interface may not have been designed for Fire TV, but it works so well you'll swear it was! Navigating with the Fire Stick remote is simple and intuitive, while starting, pausing, and browsing movies is every bit as straightforward. No tutorials needed, just dive in and let Stremio keep you entertained.
It's worth noting that Stremio preserves your library and add-ons across devices. If you log in and set the service up on a desktop, then log in on the Fire TV instance of the app, you'll see that everything is in place for fast, easy access to your favorite content.
Home Screen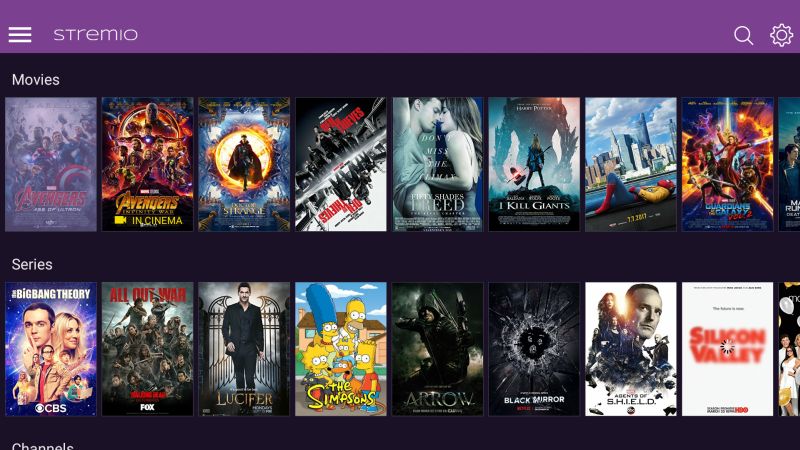 Stremio's Android app running on a Fire Stick or Fire TV feels like it was natively made for your TV. The interface widens to accommodate the extra real estate, usually showing at least eight items per row at a time. You can use the Fire TV's remote to navigate these just like you would on Netflix or Hulu.
Scrolling down through the home screen you'll find a selection of popular movies, TV series, and channels, all listed in tidy rows. Pick one you want to watch and start streaming, or press up on the Fire TV remote to access the hamburger menu in the top left corner of the screen where more sorting options are found.
Discover Option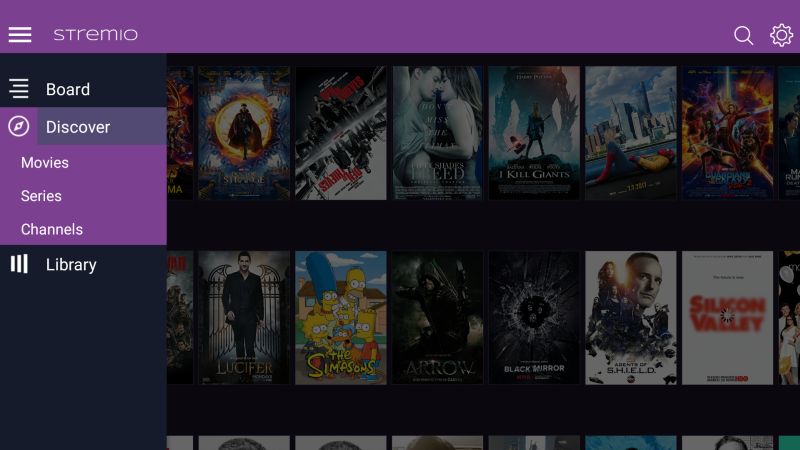 The menu button in the corner hides a few useful links, the best of which is Stremio's Discover option. This takes you directly to individualized sections for movies and TV series and opens up two new options for finding new content: trending and genres.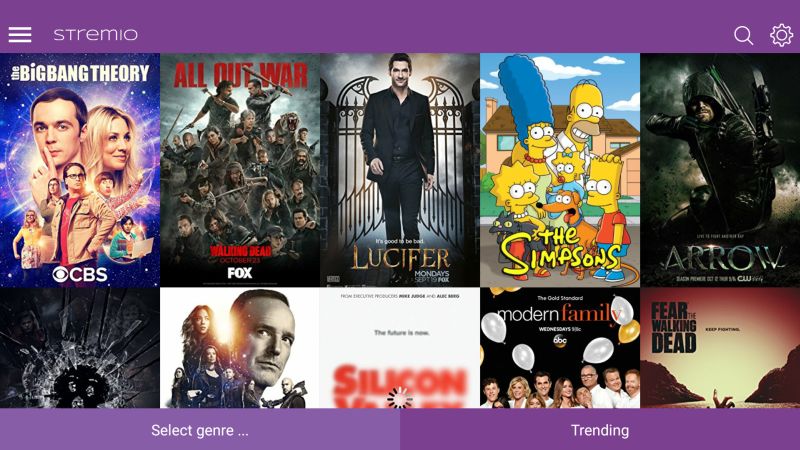 If you click on the movies menu under Discover, for example, you'll be presented with a screen like the one shown above. Narrow the viewing list by genre or trending rating, or simply scroll around through the grid to see if there's something you like. The interface is identical for movies and series, so you don't have to worry about learning new layouts just to switch between the two.
Streaming Videos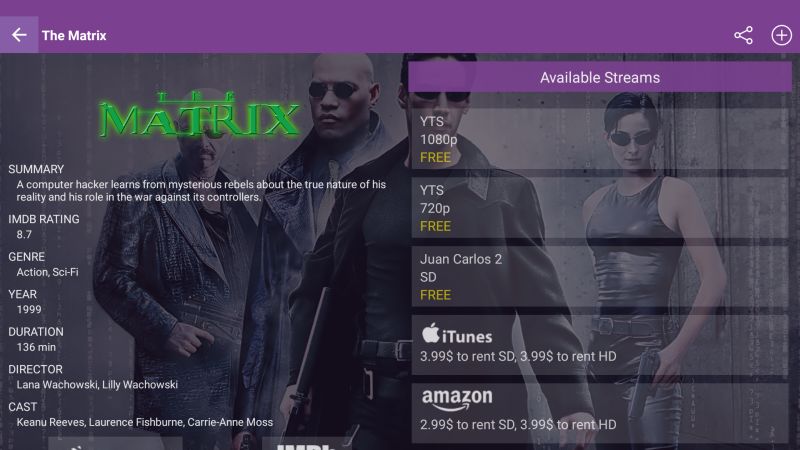 Once you find a video you like, you can click the Fire TV remote's center button to select it. You'll be taken to a selection screen similar to the above, showing a list of relevant streaming sources, rental resources, and purchasing options on the right. If you have any Stremio add-ons installed they'll show up at the top of the list. Otherwise, you can simply move down the column and find an option that appeals to you.
Channels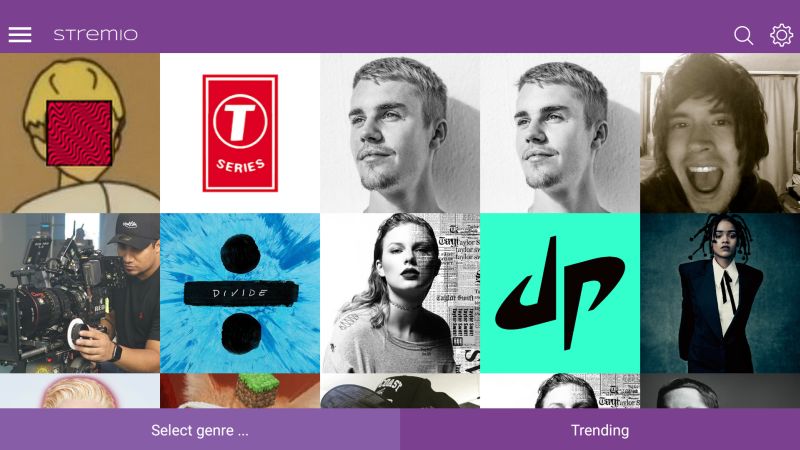 Channels are another method of discovering content on Stremio. This section collects popular creators from YouTube and other free video resources and lines them up in an easy to navigate grid. Select one you like and you're ready to go, it's that simple.
Settings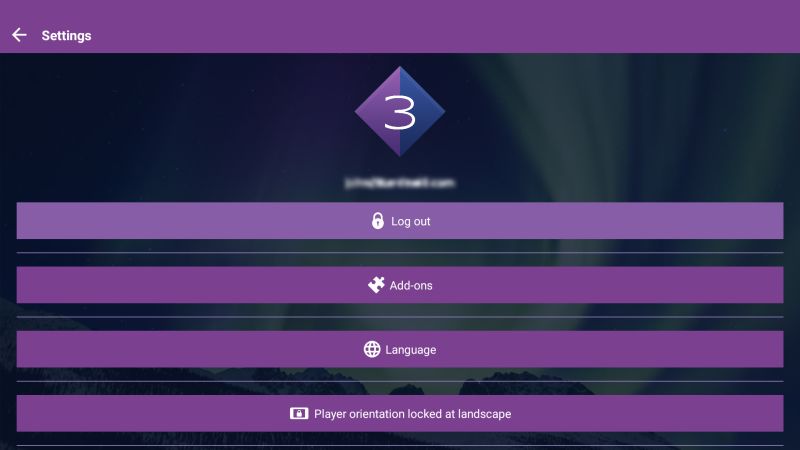 Stremio's interface is so straightforward and intuitive, it doesn't need a lot of configuration options. If you want to see what it offers, press up on the Fire TV remote to select the gear icon in the upper right. From here you can log out from your account, change the interface language, or manage and install add-ons from Fire TV. Note that the orientation setting doesn't apply to Fire TV, only Android phones and tablets.
Add-ons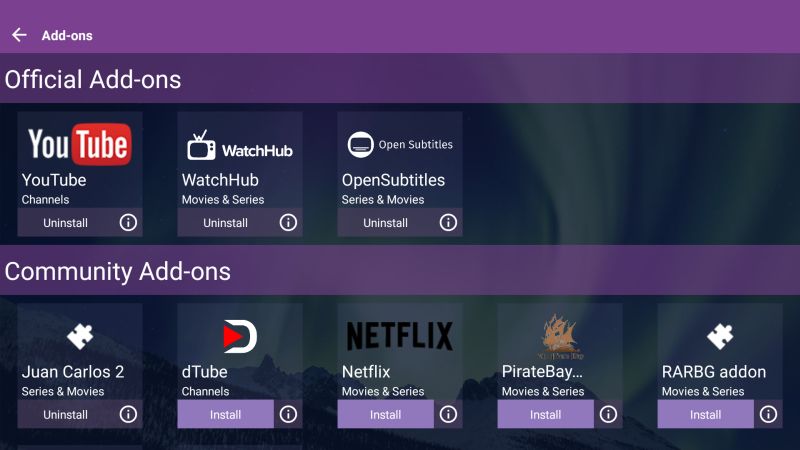 Stremio's small but useful add-ons community has a home on the Android and Fire TV versions of the app, as well. You can add extensions by scrolling to the add-ons section under the settings menu. It's an incredible way to extend the default stream source offerings from Stremio's basic features.
For more information about Stremio's add-ons, including suggestions for some of the best add-ons to install, see our article that focuses exclusively on the topic.
Conclusion
Ready to load up your Fire TV with all the movie streams you can handle? Stremio is a new but incredibly useful service that could eventually replace Kodi as the top movie and TV show provider around. It's fast, easy to use, and it offers a wide variety of sources that doesn't leave out rental or purchasing options.
Although Stremio has yet to release a dedicated Android TV or Fire TV version of its software, the Android installation runs perfectly fine on these set top boxes. With a quick sideload you'll be able to access a massive array of popular and trending content, all from the comfort of your Fire TV.