We are reader supported and may earn a commission when you buy through links on our site.
Learn more
Watch Narcos Season 3 Online: How to Unblock Netflix and Stream Narcos
If you're looking to get in on the Narcos season 3 hype, Netflix will block you unless you're located in a handful of countries. But with the right VPN, you can bypass the infamous proxy ban and beat geoblocks to enjoy your favorite streaming content anywhere in the world. We show you how below.

Narcos, the Netflix series about infamous drug lord Pablo Escobar, is thrilling and horrifying by turns. It's been critically acclaimed for its sophisticated take on this dark period in Colombia's history and has won fans from all over the world. If you like deep dramas like The Wire or Breaking Bad, then this is the kind of show that you'll enjoy. With season 3 of Narcos airing recently, fans of the show are excited to see more episodes, and if you haven't watched the show yet then now is a great time to start!
Short on time? Here are the VPNs we recommend to unblock Narcos season 3 and watch it online from any country:
NordVPN – Best Overall VPN – NordVPN is not only a solid choice for unblocking Netflix shows like Narcos, it's the most potent privacy solution on the market. Military-grade encryption, massive network, excellent customer service, and a solid no-logging policy.
Surfshark – A lightweight, affordable VPN with powerful site unblocking functionality like smart DNS, obfuscation, and top-tier encryption.
ExpressVPN – One of the fastest VPNs on the market, now even faster with Lightway encryption. Stable, leak-proof servers, zero logging.
IPVanish – An outstanding choice for low-powered streaming devices like Firestick, and an excellent choice for Kodi users.
It can be tricky to watch Narcos, unfortunately. It's only available through the Netflix service and not in all regions. But if you want to check out season 3 of the show, don't worry – today we have a guide on how to unblock Netflix and watch Narcos season 3 online. First we'll talk about how to get around Netflix's region restrictions, then we'll show you how to watch the show using Kodi for you non-Netflix users out there.
30-days money back guarantee
Get Around Netflix Region Locks
Most users can log in to the Netflix website and watch Narcos season 3 directly with no problem. If you've got a subscription and live in the US, the UK, Canada, or Germany as well as in many other countries, then you'll be able to see Narcos episodes as soon as they are available.
However, Netflix still has region locks on some of its content. If you are based in or travelling through some countries including Australia or Italy, then you won't find Narcos in your Netflix library. Ironically enough, despite the show being set in Colombia, it's not available to watch on Colombian Netflix!
If you're in this situation where you have a Netflix account but Narcos isn't available in your region, there are ways to bypass Netflix's region locks so that you can watch the show.
Using a VPN with Netflix
The usual way to get around region locks for websites is simply to use a VPN. When you connect to the internet and start up your VPN software, every piece of data that your device sends over the internet is bundled up and encrypted. The encrypted packets travel to a server in a location of your choosing, where the data is decrypted and sent along to its original destination. This makes it appear to websites as if you are accessing them from wherever the server you're using is. So, you can be located in France but connect to a VPN server in Japan, and when you go to load a Japan-only site you'll be able to access it.

It's more difficult than it used to be to use a VPN with Netflix though. The company has been under considerable pressure from rights holders who were concerned about users bypassing the region locks and accessing content that was not licensed by Netflix in their geographical area yet. In response, Netflix has cracked down on the use of VPNs in the last year or two. Now, if you boot up your VPN and visit Netflix, you'll be able to access the website of the country whose location you are spoofing, but you'll get a proxy error when you try to stream a video.
Netflix uses sophisticated methods to detect whether visitors are using a VPN, including blocking off ranges of IP addresses which are known to be used by VPNs, blocking connections with many users sharing one IP address, and checking whether the location of a user's IP address matches the location of their DNS. This means that most VPNs won't work with Netflix.
VPNs Confirmed to Work with Netflix
Netflix's proxy ban is not unbeatable, and these top-tier providers are proof: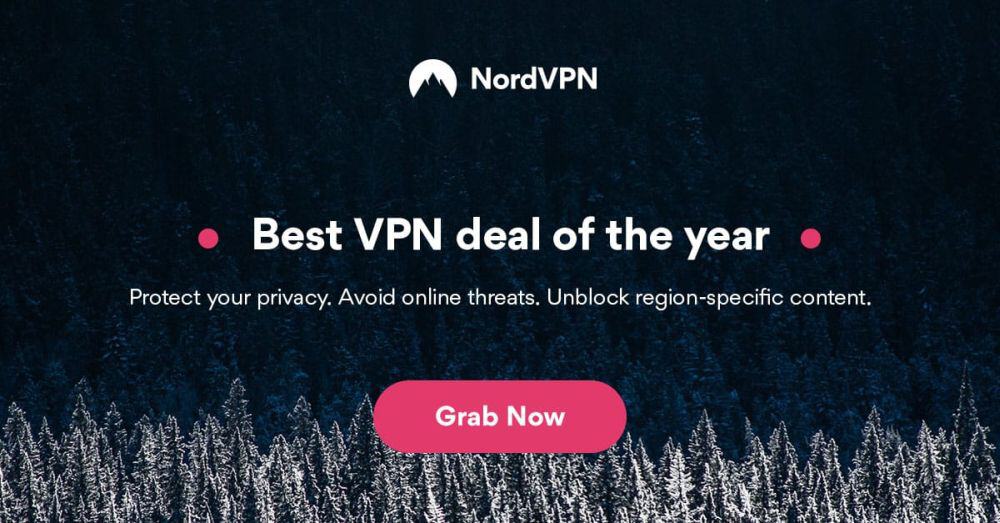 NordVPN is the most trusted provider among serious privacy advocates and casual streamers alike, and it is extremely well-suited to unblocking your favorite content like Narcos season 3 abroad. While Netflix has infamously blocked VPN traffic, NordVPN still manages to get through thanks to a potent combination of 256-bit AES encryption and smart DNS functionality built into each server connection.
Moreover, NordVPN is known for servers galore, with more nodes in the US than many providers have in their entire network. Many of these have special functionality optimized for P2P, anti-DDoS, Onion over VPN, obfuscation, and even more use-cases. So, NordVPN is not only a great Netflix unblocker, but is a jack-of-all-trades provider that can handle anything you throw at it.
Speeds are exceptional across NordVPN's network, especially since the rollout of their new NordLynx encryption protocol. Your activity is always private thanks to a solid no-logging policy, backed by DNS leak protection and an automatic kill switch.
Read our full NordVPN review.
Pros
Unblocks American Netflix
No bandwidth caps
Allows up to 6 devices to be connected at once
Retains no metadata of your browsing
24/7 Live Chat.
Cons
Automatic server selection can be unreliable
Can't specify City or Province in App.

Surfshark is a relatively new provider, but has fast proven itself as one of the best. Like other top-tier VPNs, it offers built-in smart DNS that auto-configures to bypass the obnoxious and unfair Netflix VPN ban. Combined with obfuscation and unbreakable, NSA-grade 256-AES-GCM encryption, you can slip past any site block in total anonymity.
Surfshark is available cheap, but you can split your subscription with a friend thanks to this provider's liberal allowance for unlimited simultaneous connections. They never log identifiable metadata, so no one (not your ISP, government, local hacker, or even Surfshark itself) can tell who is connecting, nor what they're doing.
Connect to over 3200 servers in 65 countries, and surf in safety with CleanWeb ad and malware blocking on your side.
Pros
Unblock VoIP in oppressive regimes like WhatsApp, Skype, Discord, and more
Multi-hop connections readily available
Wide app availability on desktop, mobile, consoles, smart TVs and more
Favorable BVI jurisdiction guarantees no logs kept
Get help any time of day via email, phone, or live chat.
Cons
Growing network doesn't have same coverage as more mature VPNs
Relatively young VPN still has to prove itself trustworthy over the long haul.
Read our full Surfshark review.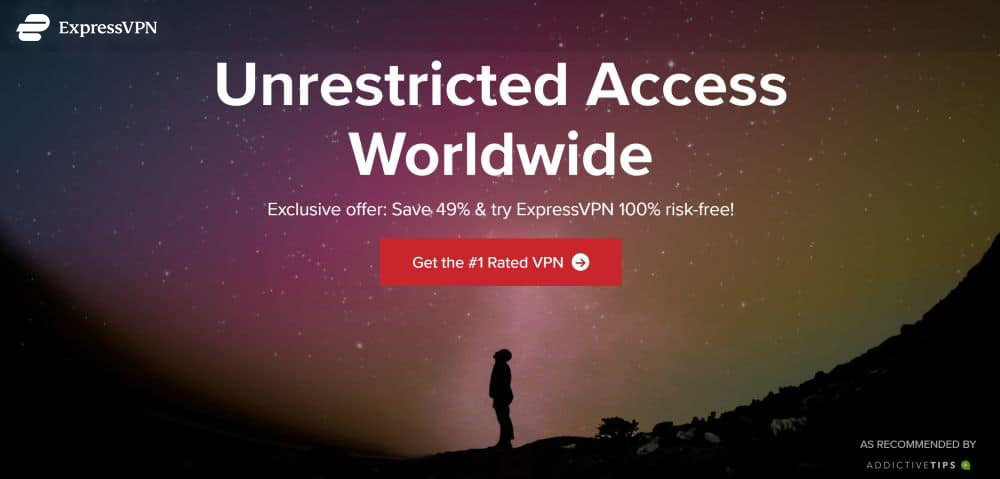 Another provider confirmed to work with Netflix is ExpressVPN. They have a reputation as one of the fastest VPNs, so they're perfect for streaming. Their network of servers in 145 cities in 94 countries means that you can easily spoof your location to get around Netflix's region locks.
Due to the changing nature of Netflix's VPN detection, it's possible that the first few VPN servers you try won't work. However, the company does have some servers which work and if you have any trouble finding them, you can hop onto the 24/7 customer service and ask them which server to connect to.
The ExpressVPN software supports all the platforms you would expect, including both new and older versions of Windows (RT, XP, Vista, 7, 8, and 10), and Mac OS, Linux, and Android. It has strong 256-bit AES encryption and a no-logging policy to keep you safe as well.
Read our full ExpressVPN review.
Pros
SPECIAL OFFER: 3 months free (49% off - link below)
Super fast servers
Govt-level AES-256 encryption
Strict no-logs policy for personal information
Live chat support available.
Cons
Max 3 connections simultaneously
Slightly pricier than competition.
With a solid VPN installed, you'll be able to watch Narcos season 3 on Netflix even if it isn't available in your region. Just start up your VPN software and connect to a server in the US. Then head to netflix.com and find Narcos. When you click on an episode it should start playing and let you watch all the seasons including season 3.
Alternatively, Watch Narcos on Kodi
What if you don't have a Netflix account, but you still want to watch Narcos? In that case, we recommend you try out the Kodi media centre software. This open-source software is designed for managing and viewing your media content like videos, music, and pictures. But Kodi can do much more than that too! You can install add-ons, created by third-party developers, which extend the functionality of your Kodi system.
Once you have installed Kodi onto your PC, Mac, or mobile device, then you can install the following add-ons in order to watch Narcos.
You Should Get a VPN if You're Using Kodi Add-ons
Before we continue on to the installation instructions for the add-ons, we should first discuss security issues. Although the Kodi software itself is open source and fully legal to use, some of the add-ons available for it are created by third parties and exist in a legal grey area. If you use add-ons for Kodi over an unsecured connection to stream content illegally, you could be liable for a fine.
To avoid this, you can use a VPN service to encrypt all of the data that you send over the internet. This encryption means that it is impossible for your ISP or for anyone else to see what content you are accessing online.
In order to choose a VPN, we focus on several issues:
Are there multiple servers in many different countries?
Are the connections fast enough to stream HD video?
Does the VPN software support multiple operating systems?
Do the companies agree not to keep logs of users' internet activity?
4. IPVanish – Most Popular Kodi VPN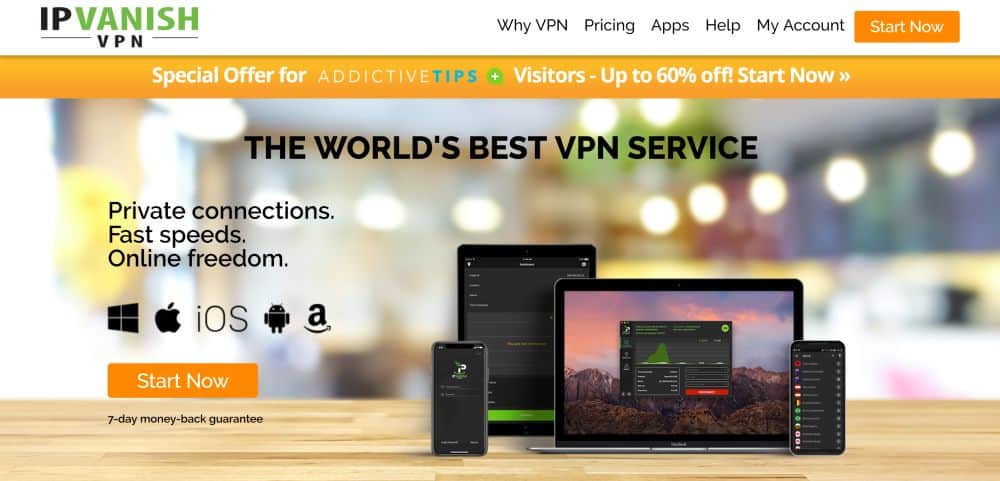 Having considered these factors, the VPN we most recommend for Kodi users is IPVanish. They have super-fast connections, more than 850 servers in 61 different countries, support for Windows, Mac, iOS, Android, Firestick and more, and they have a strict no-logging policy to keep your activity online completely anonymous.
Read our full IPVanish review.
With a VPN in place, we're ready to install add-ons for Kodi. We'll show you two add-ons which you can use to watch Narcos. Both these add-ons are very popular and have tons of TV shows and movies, including Narcos season 3. Try out both and see which one you prefer.
Watch Narcos with the Covenant Add-on
Covenant is possibly the biggest name in Kodi add-ons for streaming TV. There's a massive range of shows to watch and the episodes are often available in high quality.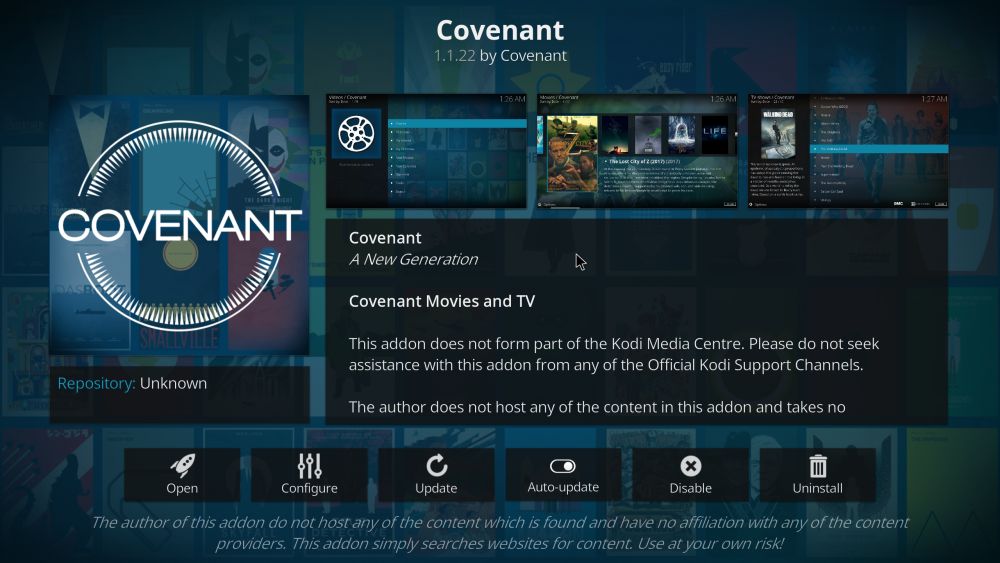 You will need to visit the following web address to get the latest version of Covenant: https://github.com/Colossal1/repository.colossus/tree/master/plugin.video.covenant
Click on the most recently updated version of the zip file and on the next screen, click Download.
Open Kodi, and go to the Addons menu. Once there, select the addon browser icon, which resembles an open box.
Click on Install from zip, then locate where you saved the Covenant zip file you just downloaded (it will usually automatically be saved in your downloads folder).
Click on the Covenant file to install it. Wait for the notification that the install has been successful and Covenant should now be ready and waiting on your addons page.
How to Use the Covenant Add-on for Kodi
With the Covenant add-on installed to our Kodi system, we can now use it to watch Narcos season 3:
Begin on your Kodi home screen
Go to Add-ons
Go to Video add-ons
Click on Covenant
Scroll to the bottom of the page and click on Search
Click on TV shows, then on New search…
Type narcos into the input box which appears and click OK
You'll see that the first entry says Narcos. Click on this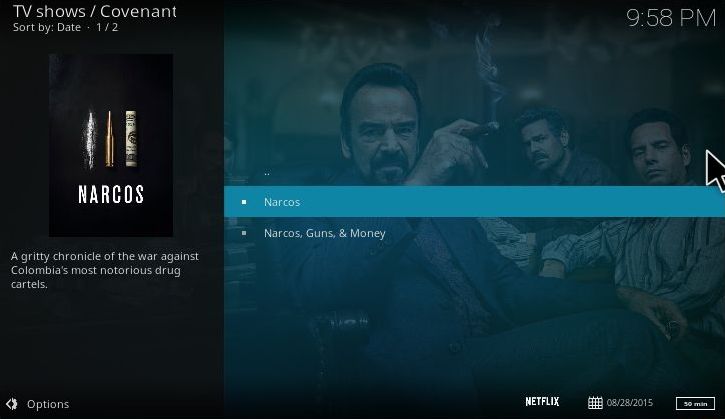 Click on Season 3
You'll see a list of the 10 episodes in the season. Click on the title of any episode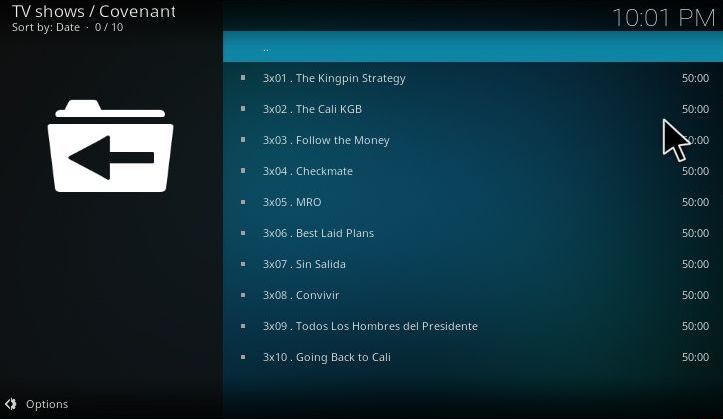 A popup will appear showing a progress bar as the add-on searches for sources. Wait for it to load
You'll see a list of streaming sources, indicating the hosting website and whether the episode is in high definition. Click the name of any hoster to open the video
Wait for a moment for the stream to load, and your episode will begin playing
Conclusion
Here we've shown you several ways that you can watch Narcos season 3. If you are a Netflix user and your problem is that Narcos isn't available to watch in your region, then we recommend using NordVPN, Surfshark, or ExpressVPN to get around Netflix's region locks to let you watch the show.
If you're not a Netflix user, then you can use either the Covenant add-on for Kodi along with IPVanish to watch Narcos, including season 3.
Do you have a preferred way to watch Narcos? Did we miss your favorite streaming solution? Then let us know in the comments below!