We are reader supported and may earn a commission when you buy through links on our site.
Learn more
Best VPN for VUZE in 2021: Complete Anonymity Torrenting
VUZE is a great torrent client, but using it without the best VPN you can afford is a recipe for disaster. In today's article, we cover in depth the top VPNs for Torrenting proven to offer fast, private connections so you can continue torrenting in peace.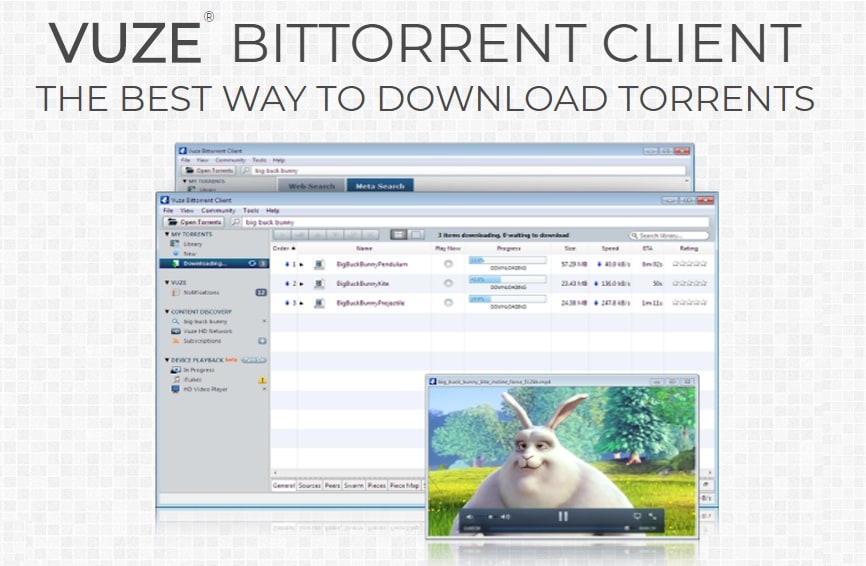 Torrenting is a convenient way to quickly download large files. You can use it for HD movies, zip archives, software installers, high-quality television shows, and so much more. The technology has progressed over the years to provide users with more and more ways to share content. Today, BitTorrent and the clients that support it are seen as one of the best ways to upload and download content.
ISPs frown upon using VUZE, but you can anonymize your downloads and stay safe with these VPNs:
NordVPN – Best for VUZE – NordVPN is the world's most torrent-friendly VPN, with a battery of P2P-optimized servers around the globe. Each connection is encrypted by the fast, yet unbreakable NordLynx protocol for total anonymity.
Surfshark – A new VPN with consumer-friendly policies, low prices, and a "say yes" philosophy towards torrenting.
ExpressVPN – Got the need for speed? This well-loved provider offers the fastest P2P downloads, secured by Lightway encryption.
CyberGhost – VPN protection doesn't have to be complicated; just click "torrent anonymously" and you're good to go.
PrivateVPN – Route your torrent traffic over this entirely provider-owned network, and configure your encryption by hand for the best balance of speed and security.
PureVPN – This provider offers a ton of options for spoofing your IP in 140+ countries, plus extras like web filtering and adblocking.
The downside to torrenting is that it isn't always 100% safe and secure. Even when using clients like VUZE, you're bound to encounter viruses and bad files. To top it off, the nature of torrenting means revealing your actual IP address to the world, making it easy to track your activity and trace your location. One quick and easy tool to eliminate most of these issues are virtual private networks. With a VPN, you can torrent on VUZE without sacrificing your identity.
30-days money back guarantee
How Do VPNs Protect VUZE?
Online privacy comes down to two things: data security and identity protection. Torrents uniquely tax both of these to deliver fast file sharing. That process can put you at risk, but fortunately VPNs can fill that gap with just the right amount of security.
VPNs Obfuscate Your Identity
Each time you connect to the internet, your device gets assigned a unique IP address. This series of numbers is used to identify your hardware so packets can be routed to the correct destination. The side effect of this is that it's easy to use an IP to pinpoint your exact location. With the right tools and a little effort, just about anyone can do it.
RELATED READING: How Facebook Tracks You, and How to Stop It
With VPN in place, your local IP address is no longer shared. When you connect to the torrent swarm through VUZE, the only thing that's visible is the IP of the VPN service, which is anonymous and not connected your location. Simply by running a VPN you'll lock down your information and stay safe, even while downloading files through BitTorrent.
VPNs Encrypt Information
Encryption is the process of wrapping data in layers of complex code, making it impossible to decipher. Normally data packets are transmitted in easy to read chunks. Anyone can open, log, or even collect and sell these, meaning a full record of your online activities can be out in the wild without your knowledge.
With a VPN in place, encryption keeps your information secure. Even when downloading content through VUZE torrents, no one can see what you're doing, nor can they keep a record of your activities. Your activities are private and your identity is secure, every time.
Essential Features Every VPN Needs for Torrents
Already got VUZE on your device but need help keeping it safe? We've rounded up the best VPNs to use with VUZE below, ranking them in order of speed, security, and overall usability. Even if you exclusively download legal torrents, you should always have a VPN to protect your identity.
Researching the top VPN for any task is a tall order. There's a lot of content you need to sift through, everything from encryption protocols to privacy policies and overall reliability. We've simplified the process by outlining the most important features you should be aware of, listed below.
The Fastest and Most Secure VPNs for VUZE
If you're ready to get torrenting and don't want to spend weeks doing comparison shopping, check out our top-recommended VPNs that have the features you need to stay completely anonymous when using VUZE: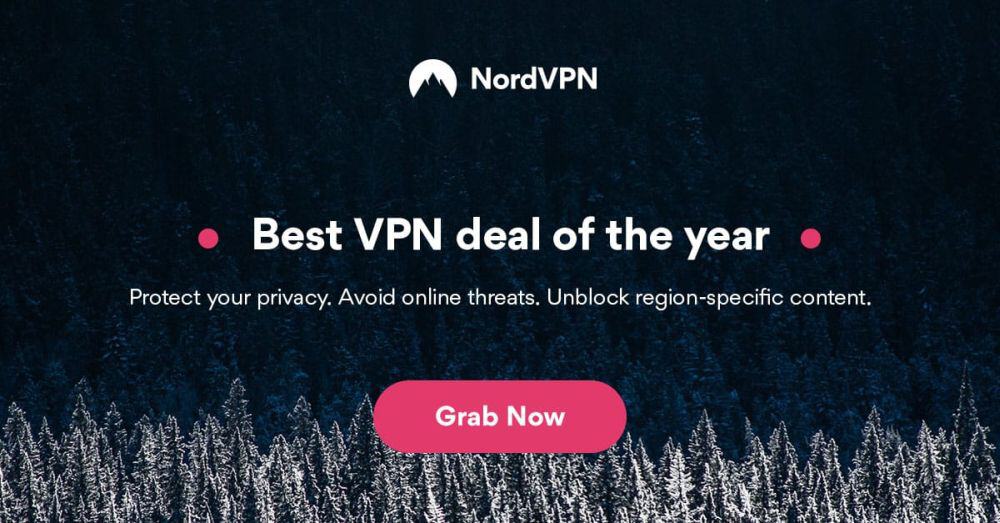 Industry veterans know NordVPN for its sterling reputation, as well as its absolutely massive server network. The list is constantly growing, but at the time of writing there are over 5,500 servers in 59 countries to choose from, covering every continent except Antarctica. That fact alone gives you more options for lag-free connections and speedy torrent downloads, but NordVPN goes a step further to provide special servers optimized for things like stronger privacy and faster torrents. All you have to do is click to connect, and you're good to go.
NordVPN delivers an excellent blend of privacy and security as well. It starts with a zero-logging policy on bandwidth, traffic, time stamps, and IP addresses, all of which ensure nothing you do can be traced back to your account. You also get an automatic kill switch, DNS leak protection, and 256-bit AES encryption on all data, which is perfect for locking down your identity and keeping your activity safe from prying eyes.
Read our full NordVPN review.
Pros
Servers optimized for unblocking Netflix
Fast and stable connections
256-bit AES encryption with perfect forward secrecy
Retains no metadata of your browsing
Money back guarantee policy.
Cons
Some servers can be unreliable
Refund processing can take up to 30 days.

Surfshark represents the best of a new generation of VPNs that does away with the limiting policies of past providers. You never have to worry about discrimination against P2P traffic, nor bandwidth and speed caps–it's a golden ticket to torrent with VUZE all you like. What's more, you can protect all your devices, thanks to Surfshark's allowance for unlimited simultaneous connections. You can even game this policy to your advantage; splitting it with friends to lower the already-low cost even more.
Beyond saying "yes" to torrent users, Surfshark is an amazing VPN in its own right. It offers NSA-grade 256-AES-GCM encryption, via OpenVPN, IKEv2/IPSec, or WireGuard tunneling protocols, connecting to over 3200 servers in 65 countries. Many of these servers offer options for static IPs and multi-hop routing, greatly expanding your palate of connection options.
Surfshark's RAM-only network infrastructure is not only stable and fast, but it also continuously purges your usage metadata. Thus, when this provider says "no-logging", they really mean it.
Pros
Unblock VoIP in oppressive regimes like WhatsApp, Skype, Discord, and more
Torrent safely on any server, no guesswork required
VPN obfuscation on any server with special Camouflage function
Based in the British Virgin Islands, where there are no data retention laws
Refund requests are simple and fast–no waiting or hassle.
Cons
Speeds occasionally suffer a noticeable drop
Young VPN still has plenty of room to grow in terms of advanced functionality.
Read our full Surfshark review.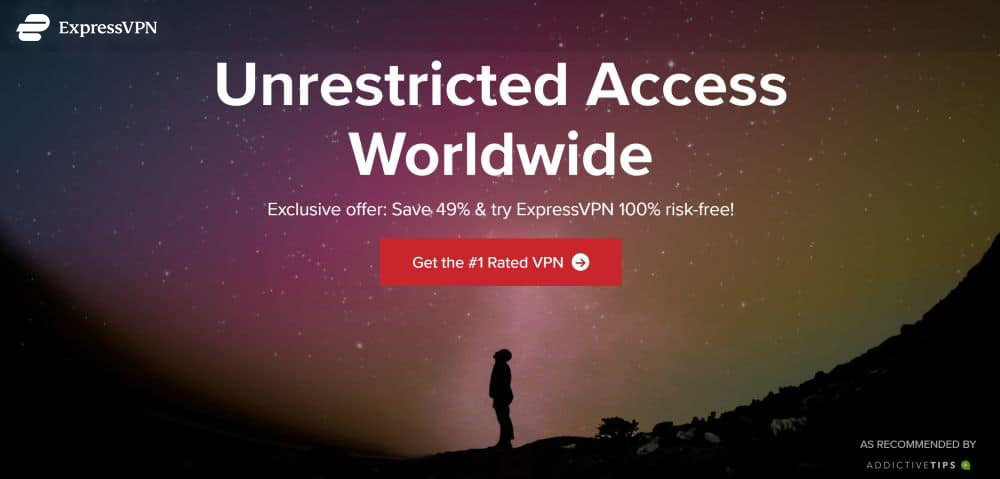 Speed and ease of use are two of the most-praised features offered by ExpressVPN. The company's software makes it extraordinarily easy to connect to a fast server right out of the box, no configuration required. Just click on the big "on" button, and the software will automatically connect to the fastest server currently available to you. If you prefer manual configuration, ExpressVPN's network of over 3,000 servers in 94 different countries means you'll always be able to find a speedy connection in any part of the world, as well. When your downloads feel a little sluggish, fire up the built in speed test to locate a better server in a matter of seconds.
ExpressVPN works to keep your torrents anonymous by wrapping everything in strong 256-bit AES encryption. DNS leak protection and an automatic kill switch ensure your personal data never sneaks through, even in the case of an accidental disconnect. If privacy is your top concern, ExpressVPN offers one of the most comprehensive zero-logging policies on the market, covering everything from traffic to DNS requests and IP addresses.
Read our full ExpressVPN review.
Pros
Unblocks American Netflix, iPlayer, Hulu
Super fast servers (minimal speed loss)
Torrenting allowed
No logs for personal data
Live chat support available.
Cons
Expensive month-to-month plan.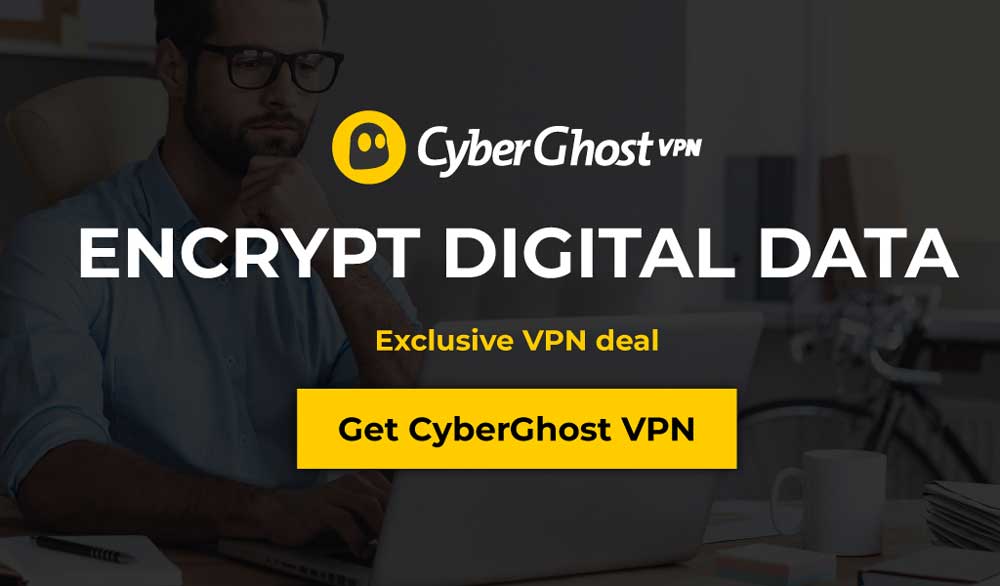 CyberGhost is an excellent all-around VPN, one of the most reliable on the market. Much of the company's success is thanks to a huge network of over 5,900 servers in 90 countries, allowing CyberGhost to deliver unbelievable speeds around the world. No buffering delays or internet slowdown, only fast and secure torrent connections with just a few clicks.
CyberGhost's privacy features keep you secure with 256-bit AES encryption on all data, a zero-logging policy on traffic, time stamps, and IP address, and both DNS leak protection and an automatic kill switch. These foundational features hide your identity each time you go online, allowing you to connect with fully encrypted data no matter where you travel.
Perhaps most notably, CyberGhost has refined the VPN experience with its streamlined, intuitive user interface. Simply start the VPN, choose from a short list of things you want to do especially well online (such as unblock streaming, torrent anonymously, unblock websites, and more), and enjoy an optimized connection.
Read our full CyberGhost review.
Pros
Works with American Netflix
Compatible with TOR
Versatile and user-friendly
Zero logs and good privacy features
45-days money back guarantee.
Cons
Doesn't work well in China.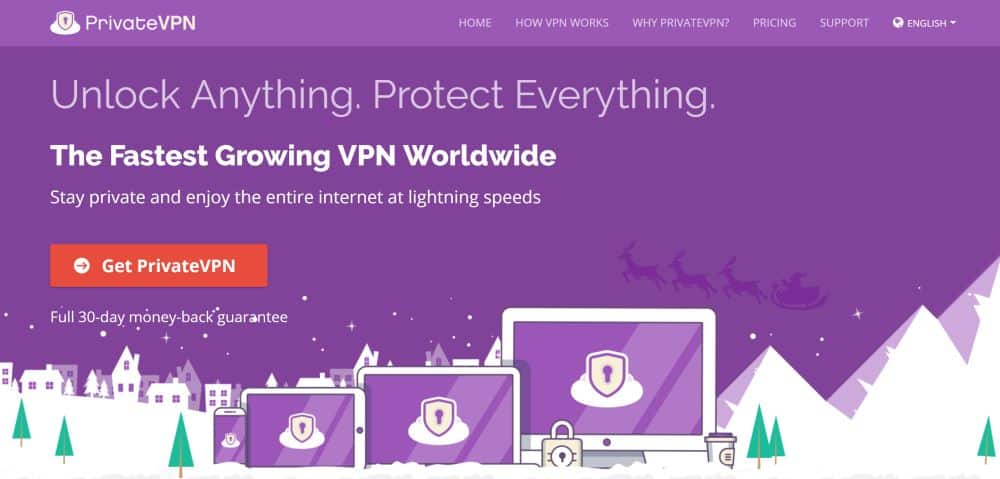 PrivateVPN is a fantastic virtual private network service designed to make online privacy as simple as possible. Users get completely unmonitored access to torrent and P2P connections, unlimited bandwidth, and no restrictions on server switching, along with a lightning fast network that runs on all kinds of devices, including desktops, laptops, and tablets. Combine this with PrivateVPN's excellent encryption and security features and you've got the makings of a solid VPN for everyday use.
PrivateVPN runs a dedicated network of over 150 servers in 60+ countries, enough to deliver speed and location variety without sacrificing reliability. PrivateVPN locks down all data passing through this network with 256-bit AES encryption, and it keeps your connection safe with an automatic kill switch, DNS leak protection, and a zero logging policy on traffic, too.
PureVPN isn't just another VPN service. It offers a full and comprehensive security suite that protects you from a range of cyber threats on a variety of devices. With PureVPN, you'll have anti-virus protection, malware shields, app blocking functions, and DNS website filters built into a single package. Just download the software, activate the extras, and you're safe.
PureVPN provides stellar privacy features on top of its unique offerings, too. It begins with a zero-logging policy on traffic and continues with an automatic kill switch, 256-bit AES encryption on all data, and DNS leak protection. These features work together to keep your data secure no matter what. And with PureVPN's self-owned network of 2,000+ servers in 140+ countries, you're guaranteed a fast connection at all times, as well.
Read our full PureVPN review.
Using VUZE with the Best VPN
Once you've got a VPN in tow, you're ready to get things set up and running. Follow the tips and tricks below and you'll be securely downloading torrents in no time.
How to Set Up VUZE with a VPN
Torrenting may sound complicated, but it's rather simple in practice. With a good client like VUZE and a secure VPN on your side, you'll be able to download large files quickly and safely. The steps below outline how to get started with VUZE and a VPN on PC.
Download the VUZE client by visiting the official website and clicking the "free download" link at the top. Install it as soon as the download completes.
In a web browser, sign into your VPN account and download the software for your device.
Install the app, launch it, then enter your VPN login credentials.
Open the list of servers and choose the fastest one available. Some VPN client will automatically do this as soon as you launch.
Let the VPN run in the background while connected.
Search for a torrent to download. Use an indexer or tracker to find your favorite content. Check out the best private torrenting sites and alternatives to Extratorrent for suggestions.
Download the torrent file or click the provided magnet link.
Open the torrent with VUZE. The download should automatically begin.
When the download reaches 100% you can open the file and enjoy your content.
Leave VUZE running with your download uploading so you can passively upload to other users. This is called "seeding", and it's vital to the health of the torrent swarm, otherwise no one can download anything from the torrent.
How to Stay Safe while Torrenting on VUZE
Torrenting is generally a safe thing to do, though there are a few dangers you should look out for. VPNs eliminate many of these, but by following the tips below you can ensure your torrenting time is even safer than before.
Don't download illegal content – Downloading pirated movies, software, and TV shows will put you in harm's way. If you stick to legitimate content, you're much less likely to get into trouble.
Always use a VPN – VPNs are essential for downloading torrents. Connecting to peers means showing your IP address to the world, which isn't safe in the modern digital age. Never run your torrent client without a VPN.
Choose public trackers carefully – Where you get your torrents from makes a huge difference. Popular sources are generally safer to use than underground ones.
Use anti-virus software – Anti-virus software is a defense against harmful files. Keep your scanner active whenever you search for, download, or run torrents.
Use private trackers – Registration requirements help keep private trackers safe from troublemakers. If you can gain access to a few good private trackers, stick to them for life.
Is Torrenting Legal?
There's nothing inherently illegal about the BitTorrent protocol. It's simply a method of file exchange that relies on swarms of users connecting to other users, each one swapping a small piece of a file. It's fast, it's efficient, and it's perfect for downloading large file content.
The public perception of torrenting is that it's simply a tool for breaking the law. That's something of an unfair reputation, as BitTorrent has countless legal uses, everything from distributing your own files to effortlessly sharing content with your school or work group. Torrenting itself is perfectly legal, but like any tool, it can be used in illegal ways.
Depending on your location, if you're using VUZE to download torrents, you're not breaking the law. If you're downloading copyright material without permissions through torrents, though, that's a different story. Always stick to legal content and you'll be safe. And always use your VPN for added privacy.
Also read about the best VPN for qBitTorrent for anonymous torrenting.
Conclusion
VUZE is one of the top torrenting clients in the world. It's intuitive, easy to use, and free to download and enjoy. By running a VPN in the background while VUZE is active, you can ensure your identity and your data remains secure at all times.
Are you an experienced torrent user with other safety tips to share? Or, are you just getting started with VUZE, and need some pointers? Leave a comment for us below.