We are reader supported and may earn a commission when you buy through links on our site.
Learn more
Finding Cheap VPN: Reviews of the Best and Cheapest VPN for 2021
It's increasingly common knowledge that you need a VPN, but unfortunately high-cost subscription plans are a deterrent for many. On the other hand, free or low-cost VPNs often make compromises on security and performance–often both. That's why we've written this guide to help you pick the best cheap VPN proven to protect your privacy online.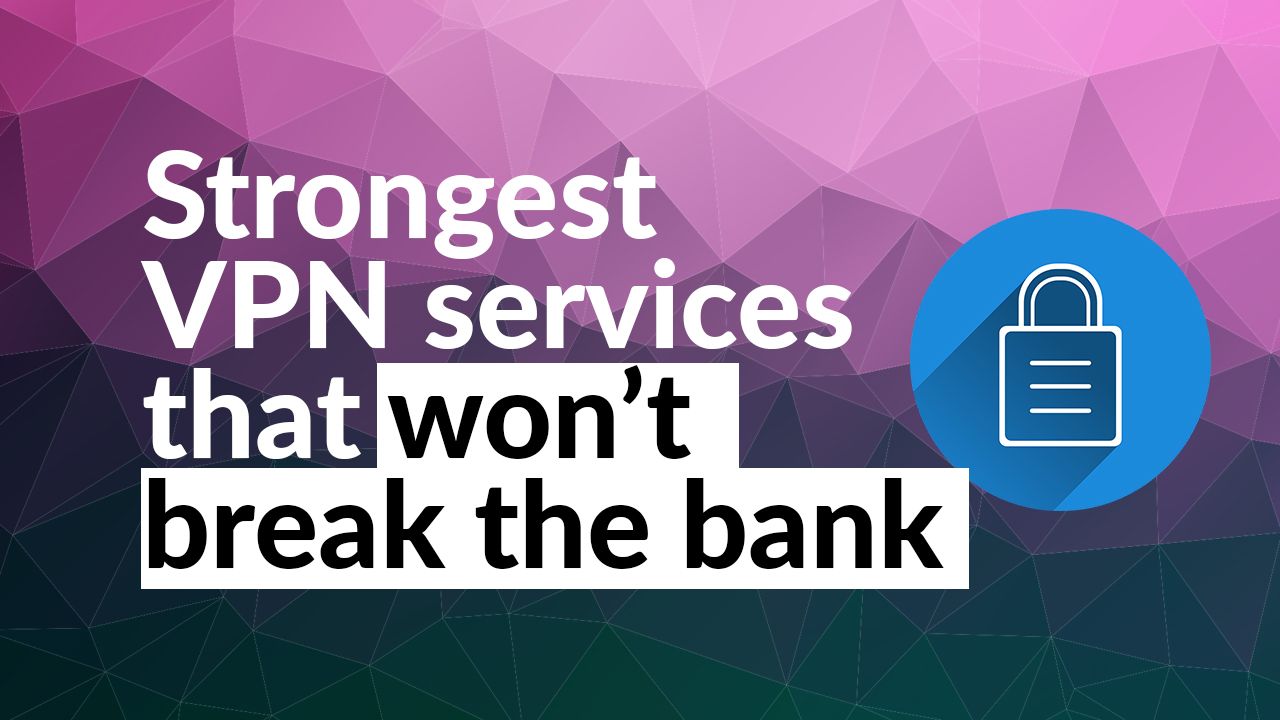 In this article, we're going to help you pick the best VPN for the price to suit your needs. You'll get a quick rundown of VPNs and how you can utilize them, as well as an overview of the problems inherent with free or cheap VPN services. Afterwards, we'll cover six outstanding VPN options. By the time you've finished reading, you'll have a much clearer idea of which service is right for you.
What's wrong with using a cheap VPN? Reasons to avoid the cheapest or "free" service options
The saying "you get what you pay for" most certainly applies to VPNs. Here's a related word of wisdom: if what you're being offered is free, you're the product. Almost every free web-based service works this way by collecting information on you and selling it to advertisers, who then use those same services to advertise right back at you. This is exactly the case with the cheapest vpns.
Some people agree with that concept, some don't. Regardless of whether you fall on that particular viewpoint, though, the reality is that a free or even cheap VPN simply cannot be trusted.
Here's a few common faults with free/cheap VPNs:
VPN data Logging
Almost all free and cheap VPNs have logging. Logging means that your IP address and everything you're doing on said VPN connection is being kept in the servers of the provider, sometimes for a short period, sometimes indefinitely. This information being logged means that third parties, like governments, can gain access to it. The severity of logging can vary from provider to provider, but if you can avoid it, you should.
Free and Cheap VPNs offer poor security
Many cheap VPN services have poor security. This is often due to a reliance on obsolete encryption standards, like PPTP, as well as generally unreliable servers that can cause DNS leaks if connection to the VPN is lost. Even where security is fine, you may also find yourself limited in terms of protocols and devices supported, which makes the VPN service less desirable overall.
Poor stability is common in cheap vpns
"You get what you pay for" doesn't just apply to the consumer: it applies to the provider, too! If they aren't getting money, they aren't going to be able to afford reliable servers that are up to date with the latest security protocols. A dropped connection is infuriating enough on its own, but when combined with a VPN it can mean a leak of private data.
FULL GUIDE: All about VPN kill switches
Additionally, your connection speed can also suffer beneath a poor quality or cheap VPN provider. The best VPNs make only minimal, if any hits to your connection speeds.
Lacking common VPN features
Many premium VPN solutions add extra features to sweeten the deal, such as encrypted messaging or split tunneling. Free and cheap VPN solutions, however, typically don't offer any extra incentives, and may not even offer the basic configurations that a user might need to make the most of their provider.
Potential data collection with a cheap VPN
Last but not least, data collection. This applies the most to free or cheap VPN providers. An analysis of free VPNs on Android revealed that a number of Android-based VPNs intercepted user traffic, contained malware, or simply didn't encrypt the data within at all.
The reason why a free or cheap VPN can't be trusted boils down to a simple rule of business: you need to make money. Hosting VPN infrastructure isn't free, and if a service you're looking at claims you can use their servers for free, you need to start asking questions. Chances are, they're paying for their servers with your information.
The Best and most secure cheap VPN that anyone can afford
Paying for a VPN doesn't necessarily guarantee security, but paying for these will. All of the VPNs we've listed below are all trusted solutions, and you can rest easier knowing that you've chosen any of them.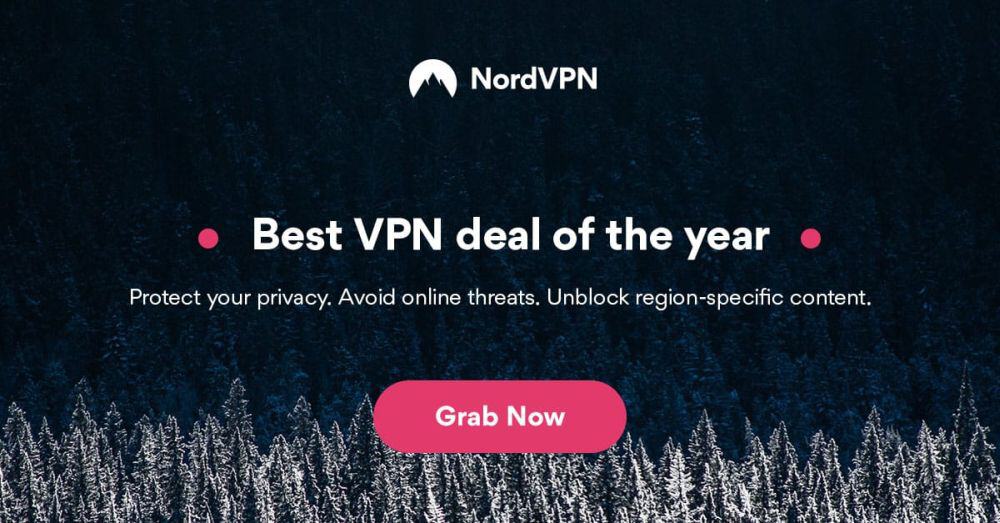 NordVPN is our top VPN and best pick for securing your right to privacy online.
The first two big benefits offered by NordVPN are its no-log policy and Netflix spoofing. NordVPN is based outside of the US, and therefore isn't prone to any mandatory logging laws. Instead, it enjoys the legal ability to log absolutely none of its user traffic, which is of great benefit to its users, and one of its key services that attract customers to this VPN.
NordVPN is also one of the best VPN options out there for Netflix spoofing–that is, accessing another country's Netflix library by fooling Netflix into thinking you're somewhere else. Netflix has managed to detect and blacklist many VPN providers, but thus far NordVPN does not seem to be one of them, by using multiple servers. This is great for the Netflix fanatics among you.
Another benefit is its Double VPN feature. By using Double VPN, your traffic is routed through two VPN servers instead of just one. This makes you pretty much impossible to track or detect, even more so than you were before, but unfortunately it does come at a performance penalty due to the extra legwork your traffic is doing. Nevertheless, NordVPN has a dizzying array of servers (currently over 5,400 nodes in 59 countries) for you to choose from, allowing you to really dial in the best connection for speed when that is a priority.
NordVPN is a genuinely fantastic option and is a cheap VPN optioon, but it's also one of the most highly rated out there, and by many, considered the best, for good reason.
Read our full NordVPN review.

Surfshark does a lot right. In fact, it is widely considered to be one of the best consumer-friendly VPNs on the market. For one, its monthly fees already undercut just about every other major player out there when paying on a month-to-month basis. But you can make this VPN service even cheaper by splitting your subscription with a friend, Surfshark offers unlimited simultaneous connections, after all.
So it's cheap, but is this VPN good? Surfshark is absolutely uncompromising on security, running only the strongest tunneling (OpenVPN, IKEv2/IPSec, WireGuard) and encryption (256-AES-GCM) protocols to connect to their massive array of 3200+ servers in 65 countries. Additionally, you get obfuscation, anti-censorship, adblocking, and smart DNS methods baked into every one of those network nodes.
Surfshark even offers a kill switch, IP/DNS/WebRTC leak protection, split tunneling, and zero logging. Overall, it's hard to get more bang for buck, considering all the VPN services offered.
Read our full Surfshark review.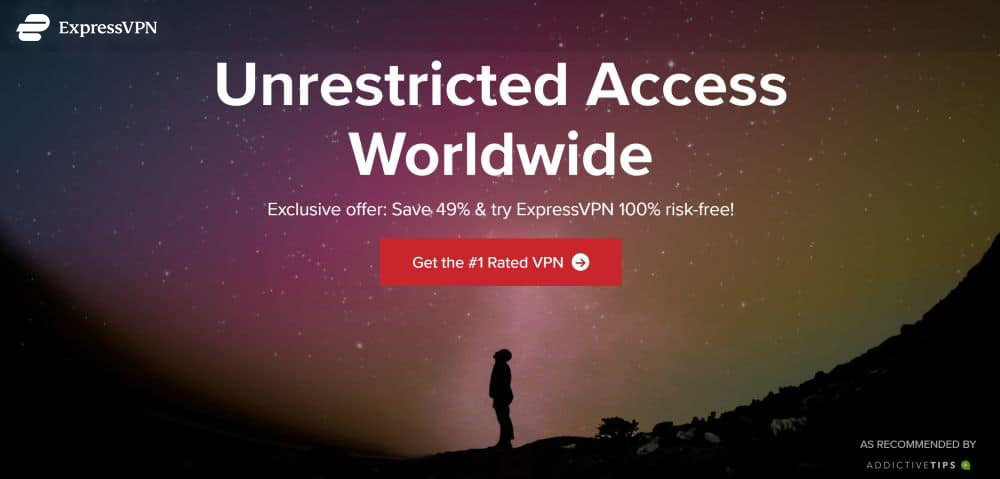 ExpressVPN is the most expensive VPN option on this list, but it still offers great value for money.
ExpressVPN offers a wide number of supported platforms, VPN protocols and payment methods. Perhaps most importantly, however, is that this VPN also offers a .onion site and Bitcoin payments, which, when combined with its IP-less logs, means you can buy a full subscription to ExpressVPN without leaving any traces leading back to you.
For the most hardcore privacy junkies among you, that's got to be pretty tantalizing. ExpressVPN also claims to offer the fastest VPN service out there, and while that's not a hundred percent provable (and depending on all kinds of variables, it may change depending on the day), ExpressVPN does seem to be one of, if not the fastest VPN services out there.
In addition to sheer speed and compatibility, ExpressVPN also offers a unique feature called VPN Split Tunneling. Split tunneling allows you to route only certain applications through your VPN, while allowing others to use your normal Internet connection: say, online games that rely on having minimal latency.
It's also one of the entries on this VPN list that supports Netflix spoofing. If you want to watch another country's Netflix catalog at the fastest speeds possible, ExpressVPN just might be the best option there is, thanks to its optimized 256-bit AES encryption over OpenVPN and massive, 3,000+ node server network.
ExpressVPN is fast, reliable and feature loaded. After all, they call themselves "express", and that's exactly what they deliver. So, what's the downside? Honestly, its price is the only outstanding negative when compared to other solutions. It beats them in pretty much every other way, though, and even bundles 24/7 live customer service on top of it all.
Read our full ExpressVPN review.
While the name "PureVPN" may lead you to believe that this is a brass-tacks VPN service and nothing else, there's actually a lot to like about PureVPN.
First and foremost, this VPN features a truly great amount of platforms and protocols. Pretty much every big OS and VPN protocol has made the list, including PureVPN's own Stealth protocol which, according to them, may be the most secure out there. This isn't a very easily testable claim, but even if Stealth weren't as good as claimed you'd still have a variety of great VPN options to choose from, like OpenVPN and IKEv2.
Secondly, it supports pretty much every payment method under the sun. Thanks to the implementation of PaymentWall and CoinPayments, PureVPN can be bought and paid for with a staggering variety of currencies and cryptocurrencies.
Thirdly, you don't need to worry about your activity being logged. While logging of when you sign in and how much bandwidth you use is kept, logging of your activity is not, meaning you don't need to worry about any third parties getting into your secured data.
Fourthly, it offers a lot of extra VPN features. With built-in antimalware, antivirus, adblocking and other features, PureVPN tries as hard as it can to make sure that even if you aren't a super tech-savvy user, you'll be totally safe while browsing under its expansive, 2,000-strong server network.
Unfortunately, there are a couple of critical issues. PureVPN may occasionally fail to connect to a server. You shouldn't need to worry about losing connection to a server once you're in, but you can enable SecureDNS just in case a DNS leak is a concern.
There is also no Netflix spoofing. Unfortunate as it is, this isn't the right VPN to use if your goal is to watch Netflix from other countries.
Read our full PureVPN review.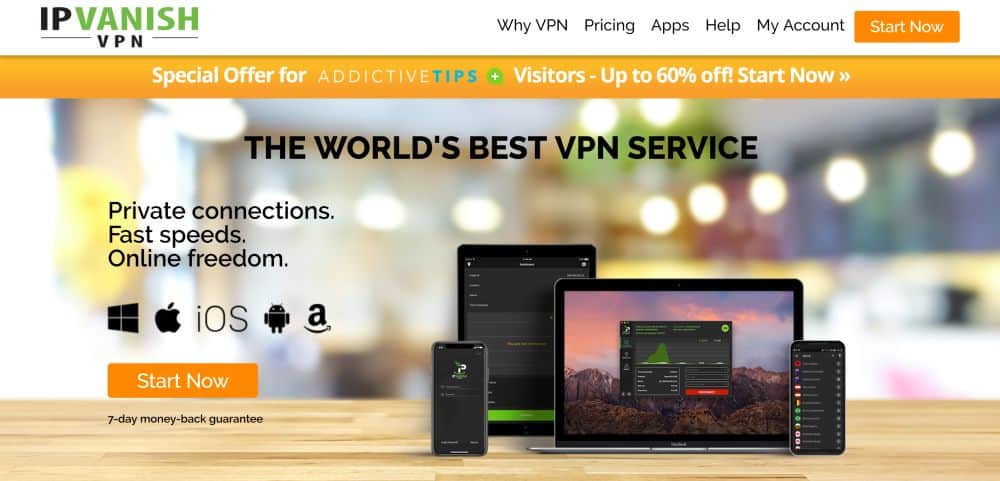 IPVanish is a pretty good VPN solution, but suffers from a few key flaws.
The first of these flaws is a notable lack of extra features and live customer support. This VPN is the first on this list that cannot unblock Netflix and Hulu, nor can it surpass the Great Firewall of China. This is problematic if your primary reason to use a VPN is to access services you otherwise couldn't, or to bypass your country's censorship if you live in China.
The second of these flaws is a curious lack of VPN protocols. Only OpenVPN, L2TP and PPTP are supported. These are good VPN protocols (well, the first two are) but if you prefer using other protocols, or your device doesn't support them, that could be a problem.
With the downsides out of the way, let's focus on the upsides of this VPN. First and foremost, IPVanish has some truly great performance and reliability. This is great if speed is foremost among your concerns, or you do a lot of video streaming via applications like Kodi. IPVanish attributes its impressive performance in large part to its robust network of over 1,300 servers in 60+ countries around the world.
Secondly, IPVanish doesn't log anything. You don't need to worry about the government or anyone else getting access to logs of your activities with your VPN, because not even IPVanish has any idea what you're doing on their servers.
Thirdly, you can pay for IPVanish with Bitcoin and a wide assortment of payment options through WorldPay. If you want to use Bitcoin to stay completely anonymous (even while buying this VPN service) or if only WorldPay offers the payment methods you need, IPVanish is a great option.
Read our full IPVanish review.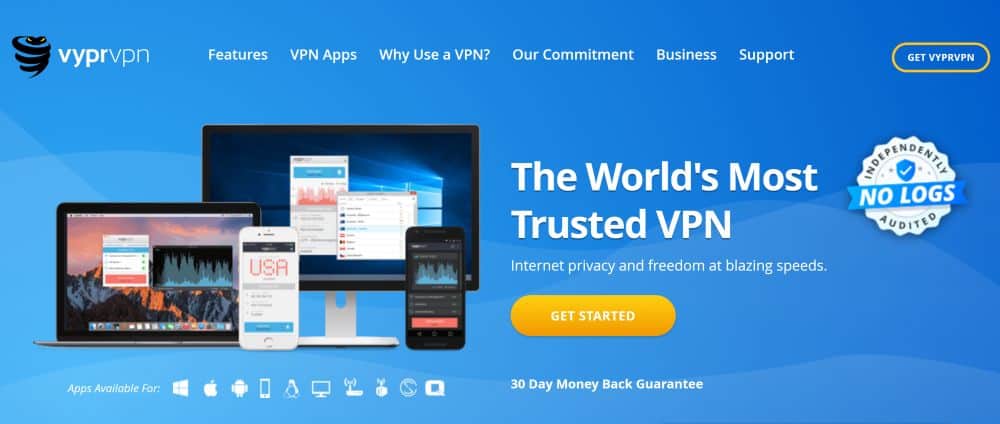 VyprVPN comes from a business known as Golden Frog. Veteran internet users may recognize Golden Frog as the company responsible for Usenet, a popular system of bulletin boards that has, over time, become a haven for filesharing and other activities. Golden Frog has been in the game for a while, and so has their VyprVPN service.
Because of this, VyprVPN is a common recommendation. It's a veteran among VPN services, and has managed to spread servers all around the globe, fully develop its backend, offer extra VPN features to its users and lower its prices over time. In addition to the basics you'd expect from a VPN service, VyprVPN offers free 5GB encrypted cloud storage and encrypted messaging alongside its basic package.
By upgrading to its more expensive Premium package, you'll also gain access to Chameleon, a high-end form of encryption that scrambles the metadata of its users and allows users to breach any form of censorship, up to and including the Great Firewall of China. The server network spans a generous 700+ nodes in over 70 locations around the world.
In addition to this censorship-breaching ability, VyprVPN is also great for its around-the-clock customer service, multiple configuration options and excellent overall performance. It's also the cheapest on this list!
However, there's a notable downside to this VPN. Namely, VyprVPN does keep some logs. It doesn't log everything, and it seems to be mostly reputable, but if you won't settle for anything less than a log-less provider, VyprVPN may not be for you.
Read our full VyprVPN review.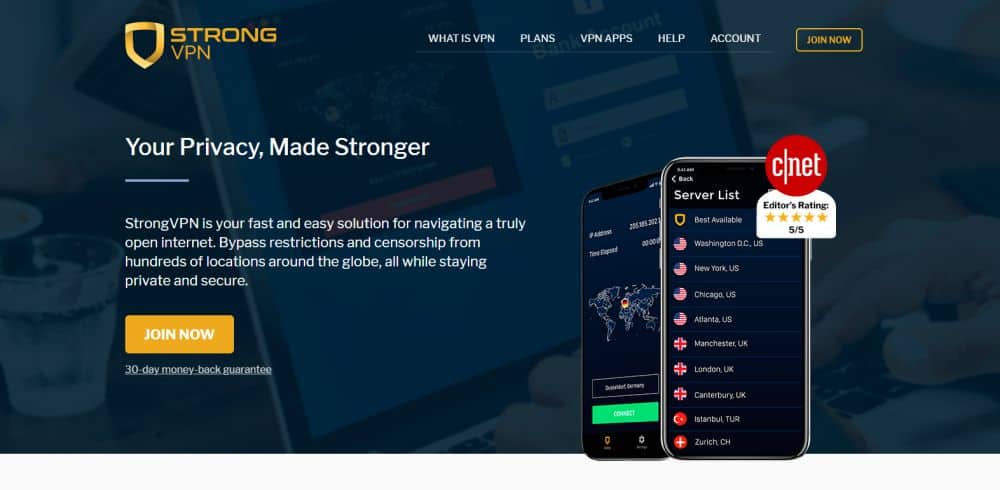 StrongVPN started out as a small, California-based business selling PCs and dial-up internet in 1994. In the decades since, they've evolved into a great VPN service that spans the globe, but is particularly popular for its ability to spoof Netflix and surpass China's Great Firewall.
While signing up with StrongVPN does come at a bit of a price premium over cheaper options, that pair of features alone should catch your attention. Of the six VPN options on this list, only three of them can successfully spoof Netflix. The vast majority of servers offered by StrongVPN allows users to access Hulu and US Netflix with no issues.
In addition to the ability to bypass geolocked content and censorship, StrongVPN also enjoys a variety of supported platforms and VPN protocols. However, protocols are tied to the server you're connected to (of which there are over 650 in 20+ countries), so configuring your StrongVPN protocol/server settings can be a bit of a headache.
StrongVPN also features StrongDNS, which effectively works to prevent DNS leaking and other problems. You can also set StrongVPN to disable your traffic entirely whenever you lose connection to your VPN, preventing anything you were doing from being intercepted by third parties.
As far as performance goes, StrongVPN is okay. It's not the fastest VPN out there, but it performs well enough and should be fine for most applications. All of its other features, however, make it more than worth a buy if they're what you want out of a VPN. Payment by Bitcoin is an attractive option to users for whom anonymity is a top priority.
Choosing a cheap VPN versus the best VPN
Overall, your pick of VPN depends entirely on your needs. Whatever you settle on, just remember one key thing: do not go with free a free or dirt cheap VPN. Out of all our tips in this guide, that's our number one. You can save money with a few of the best cheap VPN options on this list without sacrificing speed or your privacy, and you want to keep those things if you're bothering with a VPN at all.
Which one of these best and cheapest VPN services appealed the most to you? Comment below and let us know which services you've tried before or want to get!