AOL Launches Its Own RSS Feed Reader In Beta
While Feedly came out on top as the best alternative for Google Reader according to most comparisons out there, you might want to stop and reconsider where you're going to transfer your feed-reading loyalties because AOL also has an offering and despite being currently in beta, it's quite impressive. You can get immediate access to AOL Reader by signing up for it right now. While you can sign in to it with your Google account, it will not import your feeds from Google Reader and you will still have to import them from an OPML or XML file, so make sure you back up your Google Reader subscriptions first. Based on its interface and features, AOL Reader might actually sway users who have made up their mind to use Feedly once Google Reader expires. Apart from a nice, clean, no-bells-and-whistles interface, AOL Reader allows users to sort feeds into folders, retaining the folder structure when feeds are imported, supports feed tags as well as a huge list of keyboard shortcuts, and offers sharing options for Facebook, Twitter, LinkedIn and Google+.
The first thing you'll notice when you log in to AOL Reader is that other AOL services are kept well out of the way. You can add a new subscription or start importing your feeds right from the home page.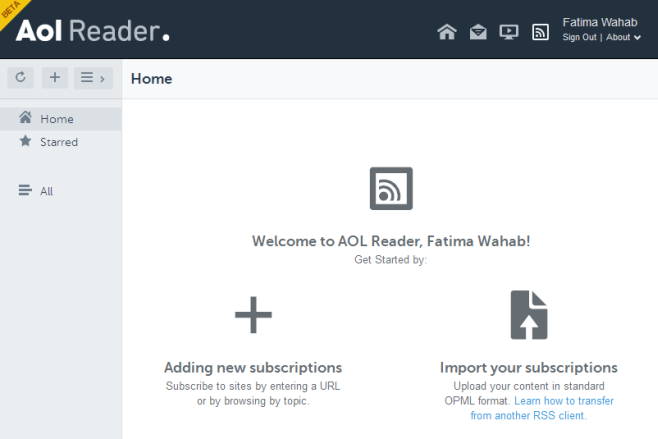 Once added or imported, you can browse feeds individually by selecting them from one of the folders, or browse an entire folder. The news items appear free of any ads and you can mark a story as unread or 'star' it. AOL Reader lets you view news items in list, card, full, or pane view. You can also choose to view unread items or sort them by date. A new feed can be added any time by clicking the plus sign at the top-left.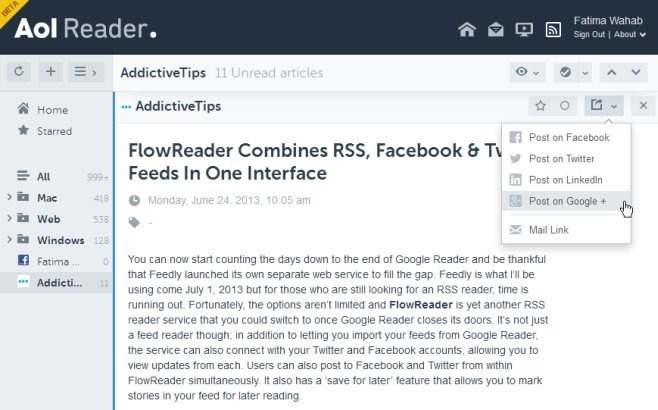 To organize your feeds, manage the settings or view shortcuts, click the menu button at the top of the left column.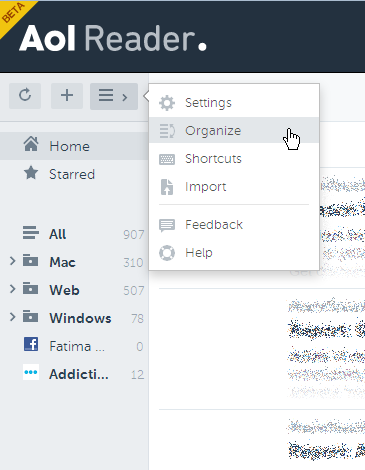 Your folders are called categories and you can move unsorted feeds to any other category, as well as add new categories. To delete a feed, expand the folder it's in and click the trash button next to it.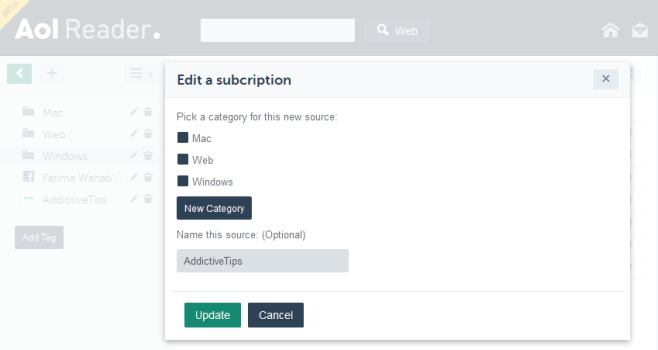 The 'Settings' page lets you specify which tab i.e. the 'Home' or 'All' tab is selected by default when you log in. You can choose between a dark or light theme, hide all categories that have no unread items, and show the unread items count next to each category and subscription. The font size can be managed as well.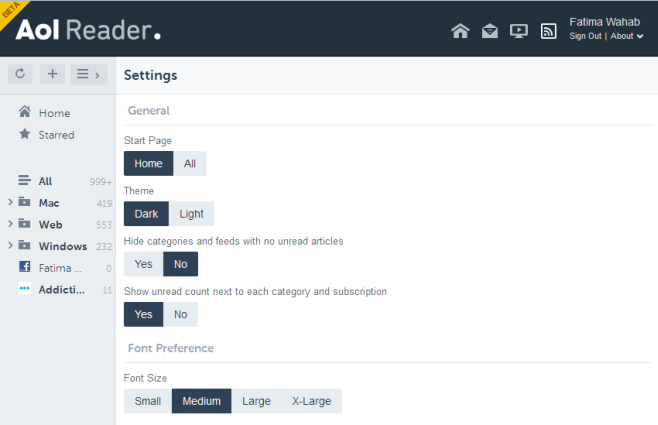 AOL Reader is quite feature-rich but what makes it great is that it never lets any of its features take your attention away from the core function. Your feeds are easy to read, add, and manage. Should you want to share them, change how they appear, or opt for a darker theme, the options are all there.