WinGuard Pro 7: Block Software Installation, Lock Task Manager, Windows Explorer, & More
WinGuard Pro 7 is an application that allows you to password protect a program, folder, and drives, lock task manager, windows explorer, and block software installation. On launch it requires password-setup, where you can use the default password too. Password protecting any program is fairly simple, hit the Protect a Program or Website link from Welcome tab or directly access it from Access Control tab. It will list major applications which you can lock by putting a password. You can also put password on any current running tasks, click on Browse button, select the task from the list and hit Lock.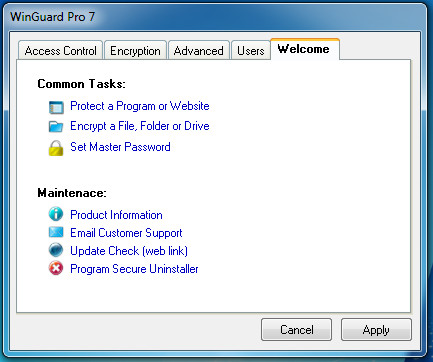 You can easily put advanced locks on both Windows and Internet as seen in the screenshot below. Now locking Internet Explorer, 3rd Party Browsers, and File Downloads is just a click away.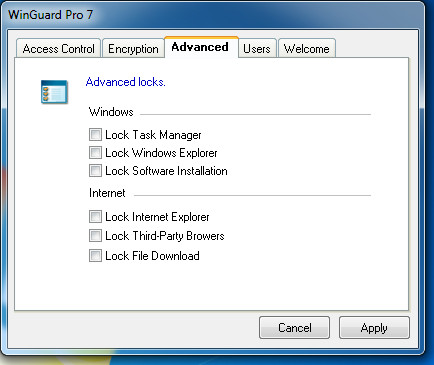 Free version however doesn't allow you to lock any website and moreover you also can't encrypt a folder using password. Apart from this, it is a very useful application which safeguards your programs.
It runs on all Windows based OS, including the latest Windows 7. Testing was carried out on Windows 7 x86 system.
For more, also check out Game Protector, Easy File Locker,  PenyuLocker, and BuduLock.