Windows 10 Reset Failed (FIXED) – How to Reset Windows
One of the best features that Microsoft added to Windows 10 was a reset feature. This reset feature basically gives users a fresh Windows 10 installation without having to go through the trouble of installing the OS from a disk and often without having to install all their apps again. It can also save files that are in your user folder and give you a nearly new/fresh OS to work with. It is an excellent last-resort that end-users who have little troubleshooting skills can use.
Windows 10 Reset Failed [FIX]
The Windows 10 reset option is great but it has a built-in fail-safe. If Windows 10 detects that it will not be able to safely complete the reset, it will automatically fail. You will see a message telling you the same. Sometimes, the message may appear when you trigger the reset, or it might appear after Windows 10 has started the reset and is restarting your OS. Regardless, try the fixes below.
Try again
A failed reset can be a fluke. It is possible a process didn't quit when it was supposed to and it conflicted with the reset.
Open the Start menu.
Click the Power button, and select Restart.
Once your system has restarted, you can initiate the reset.
Open the Settings app.
Go to the Update and Security group of settings.
Go to the Recovery tab.
Click Get Started, and begin the reset process again.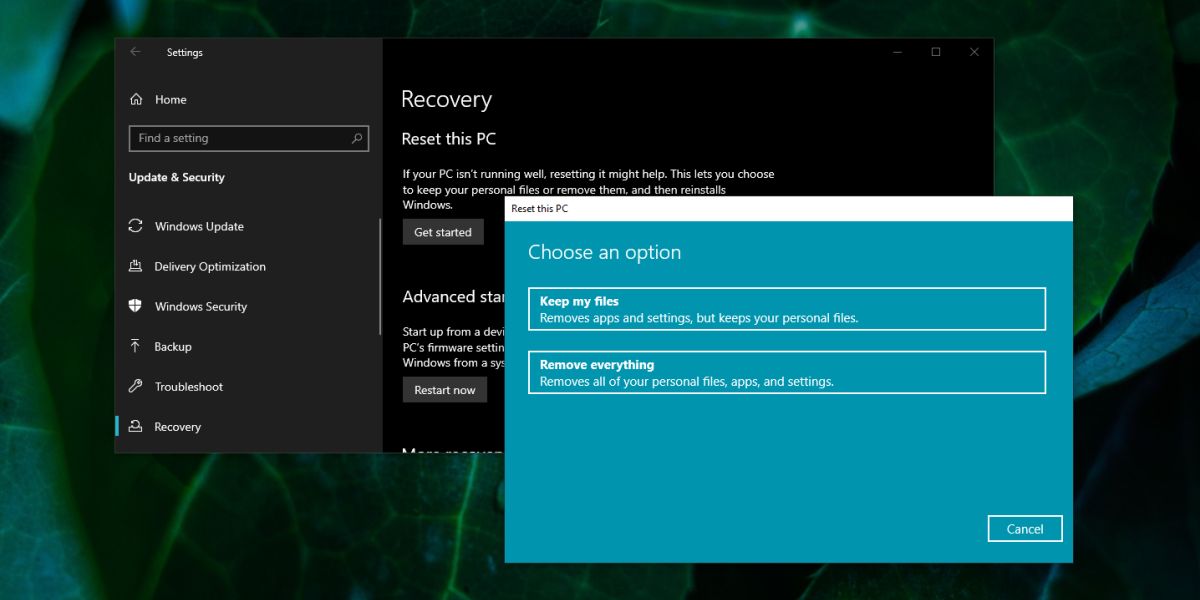 Unplug removable storage
Before you start a reset, remove any storage devices that you can e.g. external hard drives, USB drives, CD/DVD disks, SD cards, etc. You should also remove any peripherals that you do not need to use during the set up e.g., printers, scanners, biometric devices, webcams, mouse/keyboard.
While you're at it, remove any apps that modify the UI of the OS. Deactivate them if you do not want to uninstall them. If the deactivation doesn't work, you should try uninstalling the apps.
Run SFC scan
It's possible the reset is failing because there is something wrong with your hard drive. A problem with the hard drive can have an unexpected and unpredictable effect on the reset. Check your disk for errors.
Open Command Prompt with admin rights.
Run the following command and allow it to fix problems that it finds.
sfc/scannow
For good measure, restart your system and then try the reset again.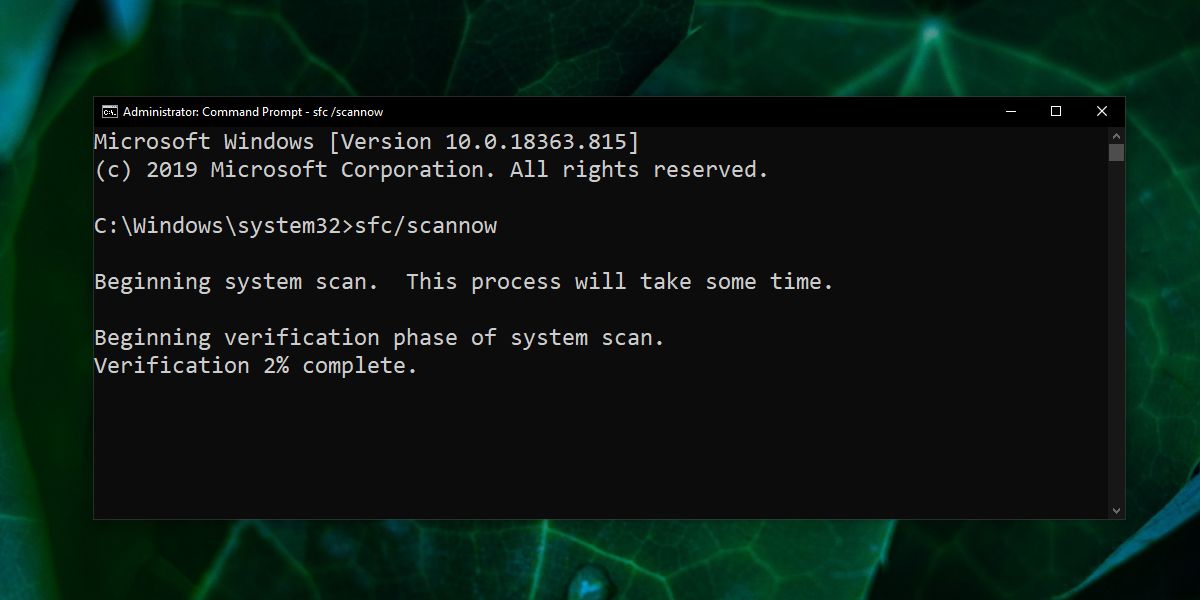 Reset from the recovery environment
For this, you need to create installation media for Windows 10. That will take a little time but it can fix the problem. It's a good idea to back up your files before you proceed.
Connect the installation media to your PC.
Restart your PC and boot into BIOS.
Make sure the installation disk is set as the first boot device.
Restart your system.
On the installation screen, click the 'Repair this computer' option.
Try a system restore
If you're looking to reset Windows 10, chances are it has problems already and they're causing problems with a reset. In that case, you can always try a system restore. The only limitation here is that you must have a restore point to go back to.
Assuming you do, return to it:
Open File Explorer and click inside the location bar. Enter the following, and tap the Enter key.
Control Panel\System and Security\System
Click Advanced System Settings in the column on the left.
Go to the System Protection tab.
Click System Restore.
Click Next on the new window that opens.
Select the point you want to restore the system to and follow the on-screen instructions.
If the restore doesn't fix your problems, you can try a reset after it.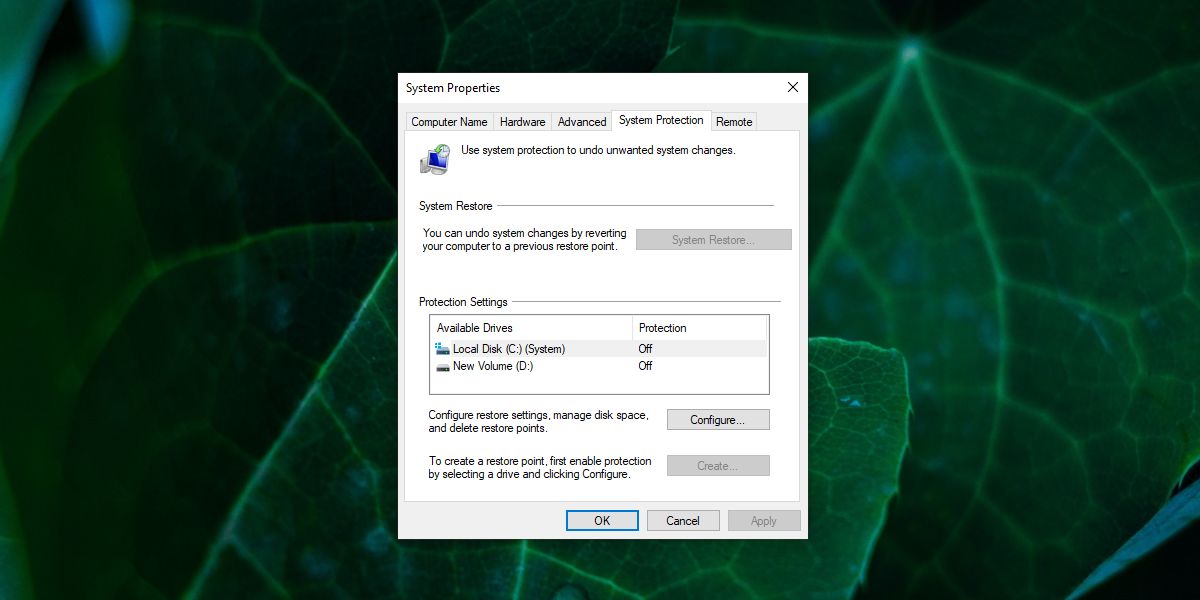 Check for updates
It is possible that you have pending Windows updates. These might be updates that have downloaded, and installed, but need a system restart to finish the installation. In that case, you will see an update icon in the system tray. Click it, and select the Restart now option.
You should also check if there are pending updates that have not yet downloaded. Install pending updates, and then try the reset.
To check for updates;
Open the Settings app.
Go to the Update and Security group of settings.
Select the Windows Updates tab.
Click the Check for updates button.
Install any updates that are available, restart the PC, and then attempt the reset again.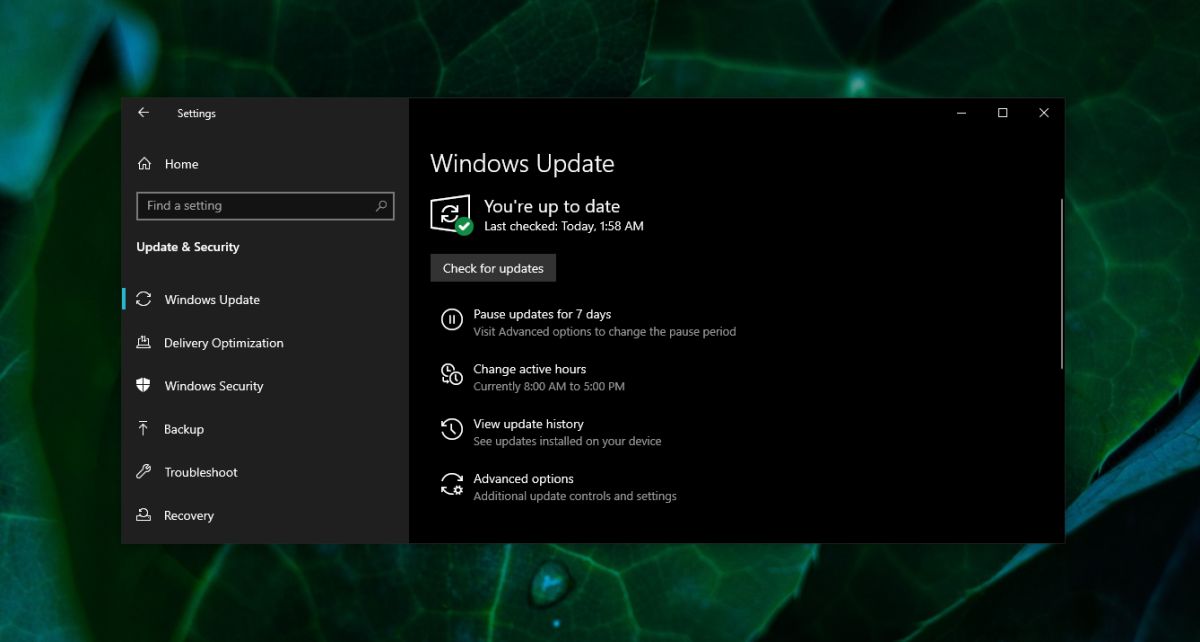 Conclusion
A Windows 10 reset will fix a lot of problems, particularly those that the regular Windows troubleshooter cannot fix. If you're having persistent trouble with any of the stock feature on Windows 10, your user account has one too many errors, or you're having trouble installing and launching apps, a reset can fix all of that but still keep everything intact.
Some users like to do a fresh Windows 10 installation from time to time and in that case, a reset will often fill in. That said, sometimes you will still need a fresh installation so this isn't a cure for everything, but for most things.