List Of Free Holo Themed Apps For Android
Android 4.0 Ice Cream Sandwich was a game changer for Android, bringing in, for the first time, hardware acceleration through most of the UI elements, including the much needed acceleration for the Home Launcher. What made this deal even sweeter was the introduction of a color scheme and theme that will spread like wildfire across all that is Android. The 'Holo' theme, as it is came to be known as, included more than just the new Cyan/Black/White color scheme, such as the inclusion of tabbed/column-based browsing and the addition of a navigation ribbon for apps (mostly official). Yes, Android 4.1 Jelly Bean is here, but it continues on with the same color scheme and the same UI.

ICS & Jelly Bean are becoming increasingly available for more and more Android devices as well as older ones, and so is the love and craze for this Holo theme. We have users on Gingerbread trying to replicate the ICS or Jelly Bean themes on their devices, and not surprisingly so, a plethora of themes for launchers, icons, mods etc, are available for users in case they can't install an ICS or Jelly Bean based ROM. Now, the trouble is, in this quest for achieving a pure Holo outlook, you may have a themed home launcher, be able to install custom icons, mod a few system apps such as Gmail, Gtalk, Play Store etc, or even find modified versions of Facebook and more, a great percentage of the apps found on the Play Store will be void of any Holo effect, and leave you hungry for achieving perfect Holo themed uniformity on your phone. May not sound like a big deal to many, but I, for one, will always be irritated by anything non-Holo on an SGS2 running Jelly Bean, unless I manage to find Holo themed apps to replace my existing ones, which I did, and well, here's me sharing what I found, with you, our awesome readers!
Before proceeding, do understand that some of the apps may compromise on performance or advanced functions, and at times, it will be a trade off of functionality for good looks, as is the case in real life.
Lock Screen, Home Screen & Dialer Replacements
Holo Locker
The only no-nonsense Holo-themed lock screen replacement app for Android that will work on Android 2.2 and above. The app does not fail to bring with it a few options as well, such as vibration on touch, disable or hide the status bar and more.
Holo Launcher
From the makers of Holo Locker, Holo Launcher continues to impress with it's simplicity as a home launcher. However, do note that the transitions in the app drawer are not as smooth as on an Android 4.0 running device, if you're on Android 2.3 or earlier. For those on Sense, Moto Blur, or Touch Wiz ROMs, Holo Launcher could be a great yet quick way to hop onto the Holo theme wagon.
Nova Launcher & Apex Launcher
Features vs. speed! Nova and Apex launchers are two of the most popular Home Screen replacement apps for devices running Android 4.0 ICS or higher. Will work on all Touch Wiz, Moto Blur and Sense based ROMs, but of course, you should be running ICS or Jelly Bean. Nova Launcher is mostly sought after for its features, whereas the Apex Launcher is for the more speed conscious. Personally I still find it hard to pick between the two, what about you?
Download Nova Launcher | Apex Launcher
ICS Dialer
Pretty much a replica of the stock ICS dialer with the exception of swiping between call logs, contacts and the dialer. However the incusion of a T9 dialing feature more than makes up for that.
Keyboards
Jelly Bean Keyboard
ICS Keyboard
Browsers
ICS Browser+
Media Players
Apollo Music Player
The Apollo Music Player was to be a part of the CyanogenMod 9 AOSP ROM, but it soon found itself circulating around the web available for download and installation on any Android device running Android 4.0 higher. With a truly fantastic Holo themed interface, the app requires no root access for installation, either.
More details on this app can be found on our extensive review of the Apollo Music Player.
Popcorn Player
Popcorn Player at first may seem like an unimpressive app, but with its floating and resizable windows, you might start believing otherwise. Alright so, MoboPlayer does the same as well, but does it offer a Holo theme? No. Next!
Read our complete review of the Popcorn Player.
Social Media
It is likely that some of the readers may already know about these apps, and as the apps' names suggest, we believe you already understand what purpose they serve. What's special, then? Well, one thing: these are all holo themed!
Reddit ET
For more on this app, check out our complete review of the Reddit ET app.
BaconReader (Reddit client)
If Reddit ET isn't exactly doing it for you, we doubt the beautiful BaconReader will disappoint.
Check out our review of BaconReader, and decide for yourself.
Fast for Facebook
A third party client for Facebook (if it wasn't already obvious enough), Fast for Facebook provides a faster alternative to the official Facebook app, and that, too, in style, given the interface and UI elements.
Why not read our complete review of Fast for Facebook and see for yourself.
Friendcaster for Facebook
From the developers of BaconReader, we have a beautiful Facebook client with themes, extended settings for push notifications, enhanced photo viewing etc.
For more on this app, head over to our review of FriendCaster.
Boid for Twitter
One of the fastest growing Twitter clients for Android, Boid boasts speed and an easy UI to go along with a true Holo theme.
TweetLine
Customizable themes and settings, and a beautiful UI make this app a must have for any Twitter user.
Tweedle (Twitter client)
Tweedle! Now what do I say about this? It sports themes too and the obvious UI considering the list I'm featuring it in.
Falcon for Twitter (Widget)
What's so special about this app? For one, it's a widget, and secondly it's packed up in Holo goodness.
Nine (9Gag)
Plenty of 9GAG apps out there, yes, but how many offer a near Holo theme? Nine for 9GAG may not offer the complete theme, but it's the closest you can get, for now at least.
Bump
Bump has now been around for a while now, and needs no introduction other than the fact that the app now sports a Holo UI.
Read more about the app in our review of Bump for Android.
File Explorers
Solid Explorer
Easily one of the best file explorers out there sporting an elegant Holo-esque theme, along with some very impressive features such as root access (rooted device needed), FTP, Cloud etc. connections.
Our review of Solid Explorer may help you understand why this app is worth downloading.
File Explorer
A very basic and simple File Explorer app using UI elements from the Android 4.0 ICS OS.
Read more about it in our File Explorer review.
Explorer+ File Manager
A file explorer that is simple enough to use but powerful enough to deal with zip packages, allowing you to pack the files up as well.
Download Explorer+ File Explorer
Camera & Gallery
Camera and the gallery were totally revamped in Android 4.0 and it's only fair that there are now apps out there that can replicate the UI and some functions the original apps.
Gallery ICS
Camera ICS
QuickPic
System Tools
Power Toggles
This app lets you add ICS-styled toggles to your notification bar if you're running Android 2.2 and up. With lots of settings and color styles, the app is a must have for all who're running anything lower than Android 4.0.
Notification Toggle
With Notification Toggles, you are able to add not just one, but two rows for placing your toggle buttons and that's not it; apps can be place for quick launch as well. Nifty no? Runs on any Android device with Android 2.2 or higher.
We reviewed Notification Toggle quite a while back but the app has gone through a major overhaul since that, including the entire revamped UI theme.
Battery Widget? Reborn!
A Holo cool battery widget with enough customizations to suit your needs.
Download Battery Widget! Reborn?
Tools
Calculations
A calculator that also sports a unit and currency converter along with a tip calculating tool, all in Holo style. The app is available as both a free (ad-supported) and pro (ad-free) version.
Unit Converter
A thorough and one-stop unit converter for any user, Unit Converter is as Holo as an app can get. The app is available as both a free (ad-supported) and donate (ad-free) version.
Holo Compass
To the point and one of the most slick compass I have come across on the Play store. No extra settings apart from a choice of two themes, Holo Compass is a must have for the aesthetically conscious.
Holo Lamp
Let there be light! Holo Lamp is a beautiful and well laid out flash app, with some handy strobe effects as well.
WiFinspect
WiFinspect is a powerful tool for monitoring your network security and activity and even grants you access to some information about networks near you as well. However, the only limitation of this app, is the fact that it needs a rooted device to work on.
More on it can be found in our review for WiFinspect.
FolderSync
FolderSync lets you sync your Android device with cloud storage. Which cloud storage? A lot of them! Box, Dropbox, SugarSync, Google Drive, Amazon S3 and more. However, the Lite (free) version of this app only supports 2 accounts at a time.
Timer & Stopwatch
A comprehensive stopwatch and timer app, designed with aesthetics in mind.
Red Laser
Not your regular barcode scanner. Red Laser will also show you the best prices and deals on the product from the internet, and even gives you the multi-scan option.
Sleep Time – Alarm Clock
Truly one of the better looking Alarm apps out there with a dice of Holo goodness. The app also detects your movements as you sleep to determines your phase of sleep, setting of the alarm at the right time.
Download Sleep Time – Alarm Clock
Weather
Weather Eye
It misses tabs that can be swiped to make it a perfect Holo theme, but more than makes up for it with its good looks. The addition of Icon Sets and widget support make this a must-have for any Android user, irrespective of its Holo theme appeal.
Productivity
Notifier
Notifier lets you set up alerts to show up in the notification tray at the set time. Pretty useful for the uber busy, or forgetful.
Lemon Wallet
Welcome to your attempt at a digital wallet. Lemon Wallet will scan and store the cards and receipts in your wallet and upload them to a cloud storage. Definitely worth looking at if you have a wallet that is about to explode.
Notes for ICS
Notes for ICS is a Holo Themed notepad and to-do app with both, Phone and Tablet UI. Notes are synced with Google Tasks on devices running Android 3.2 and up.
Tasks
Tasks fills in where Notes for ICS falls short. Tasks will sync all your notes on devices running Android 2.2 and up and goes on to provide features such as alarms or reminders.
More on it, in our detailed review of Tasks for Android.
Clipper
Easily manage your clipboard with Clipper for Android. Clipper also lets you create snippets containing texts that you want to use often. For quick access, the app neatly sits in the Notification menu as well if you let it.
Go2note
Add notes to locations around you, or anywhere on the map. You can share the location and in turn the notes attached to them as well and when you want to, search for all the notes or those near, or very close to you. The app may not have too much to offer, but the sheer simplicity and practicality of this app makes it a must have for any Android user.
Miscellaneous
LoboWiki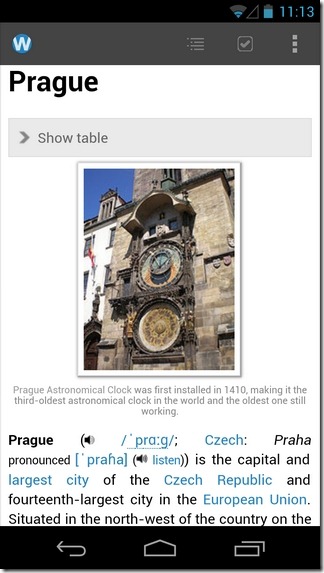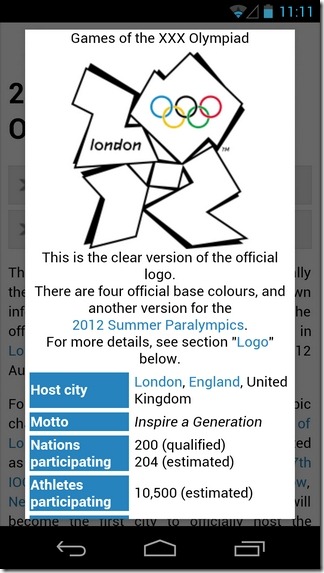 LoboWiki is perhaps one of the best unofficial Wikipedia readers available for Android. It supports offline reading and has a well thought-out, Holo-themed interface ideal for perusing Wikipedia articles. Unfortunately, for those of you owning pre-ICS devices, this app only supports Android 4.0 and above.
Read our full LoboWiki review.
Instrutorials
For the pianist in you, Instrutorials lets you download musical notes, tunes in mp3 or midi format and even plays the music on an on screen keyboard with adjustable playback speeds if you want to learn.
FlightTrack
Search for flights via flight number or routes and view the routes on a map with FlighTrack. Flights can further be filtered through dates as well and works with almost all known airlines.
Peak Stocks
Peak Stocks for Android, provided you with detailed information on the stock market and allows you to create your own portfolios and lets you view that information in a savy Holo theme where you can swipe right or left to scroll through the screens.
Pattrn
  
A simple yet aesthetically pleasing wallpaper app with a wide variety of patterns ready to be set as wallpapers on your device. Save images, or set them as wallpapers directly from the app.
Games
Tic Tac Toe
Snake
---
That is it? Yes, that's it! For now, at least. It's tough finding these apps, but no so much if you throw in your opinions and findings. Share with us what we've missed out and I'll try to make this list as complete as possible, adding some more categories if required.