We are reader supported and may earn a commission when you buy through links on our site.
Learn more
How to Install CyberGhost on Kodi
If you're a regular Kodi user, you might have heard the advice that you should be using a virtual private network. Getting a good VPN is important for your general internet security, but especially if you're going to use add-ons for Kodi. One of the most user-friendly options of providers out there is CyberGhost. With its easy interface and plethora of automatic settings, you won't need a lot of technical knowledge to keep yourself safe. Don't let the simplicity fool you, under the hood is a powerhouse of a VPN that provides security features that are second to none.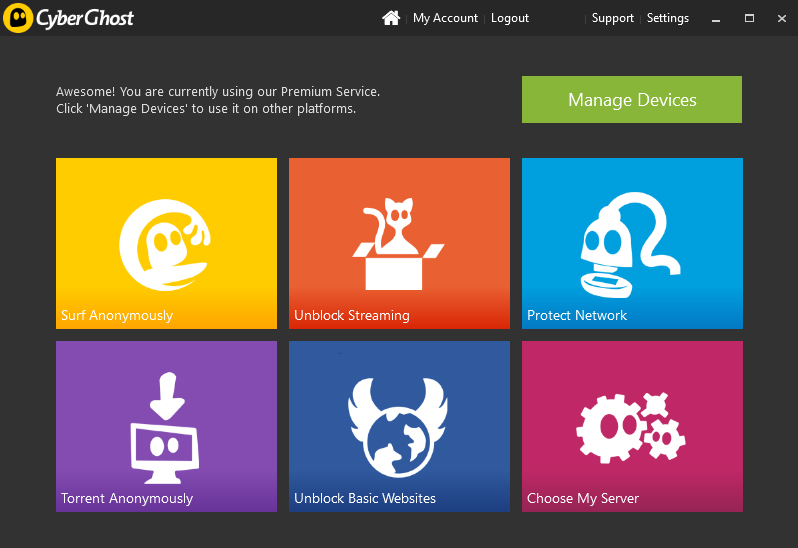 But you might be wondering: how do you actually use CyberGhost and Kodi together? Read on to learn how to install CyberGhost on Kodi, as well as a few tips on making the best use of this excellent provider's service with your favourite media streaming software.
30-days money back guarantee
Why Kodi Users Need A VPN
There are two main reasons that Kodi users should get a VPN: for security purposes and to get around regional restrictions. We'll tackle the issue of security first. Although the Kodi software itself is free, safe, and totally legal to use, its open-source architecture allows anyone to write extensions for the software. This means that many of the add-ons that you see, like those which allow you to download or stream movies, TV shows, and music, are not officially supported by Kodi.
This is cause for caution, as many of these third-party add-ons allow you to stream copyrighted content for free. And normally, when you use an unsecured internet connection, your ISP will be able to see every site that you visit and any files that you download. If your ISP catches you streaming or downloading content illegally, then they could take actions like kicking you off their network or even providing your details to law enforcement so that they can prosecute you.
To avoid these legal troubles when using Kodi, you need a VPN like CyberGhost. This provider's software works to keep you safe by encrypting all of your data so that your ISP and any other outside observers can't see what sites you are visiting or track your online activity. A VPN also lets you connect to a server in another country so that you can get around regional content restrictions. For example, you can watch the BBC from outside the UK or watch CBC from outside of Canada, all for free using a VPN.
CyberGhost – Great For Kodi Users

CyberGhost is an outstanding VPN for Kodi users that offers fast connections, so you can stream videos in high definition using add-ons without any buffering or slow loading. The security offering is solid too, thanks to strong 256-bit encryption and a no logging policy. Taken together, these features ensure you can use your add-ons without worrying about legal troubles from your ISP.
If you need to get around regional restrictions, then you can choose any server from the large network of 1300 servers in 40 different countries. This includes servers in the US, Japan, India, the UK, France, Canada, Australia, and many more. See a full list of available servers at https://www.cyberghostvpn.com/en_GB/vpn-server
The software is easy to install and use, as we'll demonstrate below, and it is available for iOS, Android, Windows, and Mac OS.
Read our full CyberGhost review here.
How To Install The CyberGhost Software On Windows
For illustrative purposes, we'll show you how to install the software on Windows. Users of other operating systems, never fear! CyberGhost has handy installation guides on their website for both Mac and Linux. For iOS and Android, you can simply find the CyberGhost app in the App Store or Play Store and install the software from there. Easy!
Here's how to install the CyberGhost software on Windows:
Sign up for a CyberGhost account
Once that's done, open your web browser and load this page: https://www.cyberghostvpn.com/en_GB/apps/windows-vpn

Your browser will tell you that you're opening an .exe file. Click on Save File and save the file to your desktop
Once the download is complete, double click on the .exe file to start the CyberGhost installation process
The CyberGhost installation wizard will start. First you need to Accept the terms and conditions
Now the software will download more files and begin installation. Wait as this should only take a few minutes
After the software is installed, your browser will automatically open up the CyberGhost website. Use your login details to log in to your account
Once you are logged in to CyberGhost, you can start using the VPN to protect yourself when using Kodi!
How To Use The CyberGhost Software With Kodi
Now that the software has all been installed, we can use it to encrypt all of the data that your device sends over the internet. Once you are connected to a VPN server, you'll be able to use Kodi without worrying about any third parties snooping on your activity. You can also use the software to adjust some settings to give you the best experience, such as blocking ads and malicious websites.
Here is how to configure and use the CyberGhost software to best use it with Kodi:
Before you open up Kodi, begin by opening the CyberGhost software. The software is easy to use and has six main options on the home page:

Surf Anonymously
Unblock Streaming
Protect Network
Torrent Anonymously
Unblock Basic Websites
Choose My Server

Normally, you can simply click on Protect Network to start the VPN. You'll see a page of options, and you click Start Internet Protection to set up the VPN to protect your data
However, as we are using Kodi, we're going to tweak some settings so we can have just the right VPN connection for our needs. We're going to select Choose My Server from the home page

This will bring up a big list of servers all around the world which you can connect to. The name of each country and its flag are on the left, with information about the server on the right. There is also an option at the top to quickly access your Favourites and your Last Used servers
Across the top of this list are tabs which you can use to organise the list by various factors, like All servers, Most empty, Most crowded, Fastest Servers, NoSpy server, Torrent, and Extra Features. There is also a magnifying glass in the top right that you can use to search for a particular server that you want to connect to

Now we'll choose a server to connect to. If we're using Kodi, then we might want to connect to a server in the US so that we can watch content like Comedy Central videos for free. Alternatively, you could connect to Canada to watch CBC content, the UK to watch BBC content, or any other country server to watch regional content from that country

For this example, we'll assume that you want to connect to a server in the US. When you click the name of the country, a list of available servers in that country will appear. You should look at the data on the right to find the best server for your needs:

User load is a representation of how much that server is being used, based on how many other users are currently connected to it. If a server's load is too high, it might work slowly or not at all. However, if you want your IP address to be shared with lots of other users for better anonymity, you might prefer to connect to a busier server. Today we'll assume that you want a fast server, so any of the servers with load below 70% will work just fine
Torrent shows either a tick or a cross to indicate whether torrent traffic is allowed on that server. As most Kodi add-ons don't use torrents, we'll assume that you don't need this. So you can choose any server here, whether it has a tick or a cross
Ping indicates how fast the server responds to a request. This is related to but not the same as an indication of how fast the server will actually run. The ping is most important for online gamers who need a connection without any delays. Choose any server with a reasonably low ping
Favourites is the tool you can use to add a server to your favourites folder for later. Just click the icon and a star will appear, meaning that server has been added to your favourites

Select the server that you want by clicking on it once. Before we connect to the server, though, we're going to change some settings
You'll see the following options:

Block Malicious Websites which detects dangerous sites. Enable this
Block Ads to filter out as many ads as possible. Enable this
Block Online Tracking to stop sites from monitoring, recording, and saving information about your internet activities. Enable this
Data Compression is a technique to save data usage by compressing the incoming data to your device. Leave this disabled when you use Kodi as you don't want your video stream to be compressed as they will look ugly
Automatic HTTPS redirect is a setting to default to using encrypted HTTPS instead of unencrypted HTTP, which is always a good idea to use when it is available. Enable this
Extra Speed, which stays enabled by default
There's one more setting that we're going to adjust. We're going to make it so that the CyberGhost software automatically starts up and connects whenever you turn your computer on, so you don't have to go back and take all of these steps whenever you want to use Kodi.
Look in the General tab and find Automatically run at system startup. Enable this setting
Now look for Run this profile at startup. From the dropdown menu, select Choose My Server. Now enable this option too
Now CyberGhost will start automatically and connect to the server that we just chose whenever you turn your computer on
We're ready to start using Kodi. As our VPN connection is up and running, any data that is sent to or from Kodi will be encrypted and passed via the VPN's server. This means that you can stream without worrying about your ISP catching you, and also that you can get around region blocks to access content using add-ons like iPlayer WWW or Comedy Central
Open up Kodi and use the software as normal, knowing that you are safe and protected while you do so
Conclusion
Kodi is one of our favourite pieces of media centre software, with hundreds of add-ons that you can use to stream movies, TV shows, music, and more. However, many of these add-ons operate in a somewhat less than legal manner. It's ultimately up to you to use this software in a responsible manner, but even if you keep on the straight and narrow, ISPs tend to go after all Kodi traffic, regardless of whether it is legal or not.
The way to keep yourself safe when using Kodi is to use a VPN like CyberGhost. This will encrypt all of your data so that no one can see what you are doing online or if you are streaming. A VPN also lets you get around regional restrictions to access content from other countries.
We've shown you how to install the CyberGhost software and how to configure it to get the best connection for your needs. Once you have followed these instructions, you'll be able to use Kodi safely without worrying about any legal issues with your ISP. Have you tried out the CyberGhost software? Or is there another VPN that you prefer to use with Kodi? Tell us about it in the comments below.