We are reader supported and may earn a commission when you buy through links on our site.
Learn more
How to Mirror or Cast Your iPhone to The Amazon Fire TV Stick
You've got an iPhone; you've got a Firestick. Did you know you can use them together for the ultimate streaming experience? If you're unfamiliar with the mirroring process, we walk you through it today. We also give you tips on how to get more from your devices paired with a VPN.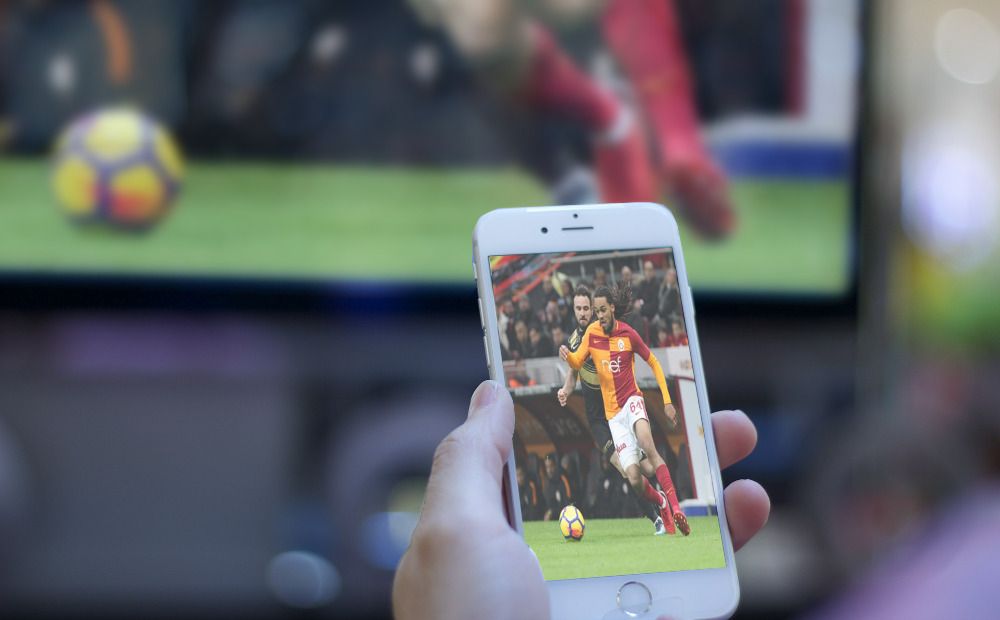 Amazon's Fire TV and Fire TV Stick devices are incredibly useful little machines. Inexpensive, easy to hack, and, though most people are unaware of the feature, able to mirror or cast iPhone and iOS content with ease. With the right apps installed you can send just about any video, picture, or music file to your Fire TV and enjoy it on the big screen. Keep reading for a full guide on how to cast/mirror your iPhone to a Fire Stick!
Access geoblocked content and foil ISP throttling on your Firestick and iOS device with these vpns:
NordVPN – Best Streaming VPN – NordVPN's massive encrypted network is second to none, offering access to an entire world of geoblocked content via NordLynx encryption. Smart DNS, leak-proof servers, and zero logging round-out the package for iOS and Firestick users.
Surfshark – An inexpensive VPN with all the latest encryption protocols and a health (and growing) network of servers.
IPVanish – Long trusted by Firestick users thanks to its efficient, processor-light apps. Still going strong.
PureVPN – Spoof into more countries than any other with this dizzingly huge network.
30-days money back guarantee
Before You Begin – iOS and Fire TV Requirements
The mirroring process from iOS to Fire TV is pretty straightforward. For the most part, you simply need to install the right app on each device, then connect them and start casting. There are some prerequisites you should make sure to meet before diving in, however.
Wi-Fi Network
The one catch to using casting technology is that both your Fire TV and your iPhone need to be connected to the same Wi-Fi network. This prevents mirroring screen contents from afar, unfortunately, but it ensures an extra level of safety and security. You wouldn't want someone hacking into your Fire TV to cast lewd images remotely, after all. The speed of your network can also make a big difference. Most connections should suffice, but if there's a lot of traffic at home, you could experience casting lag.
Fire TV Devices
At the time of writing there are four generations of Fire TV and Fire Stick devices. Some of the casting apps report to work with them all, but others insist only third and fourth generation Fire TVs will work. Make sure you're using a newer device to ensure maximum compatibility. It doesn't matter if you use a Fire Stick or a set top Fire TV device, as long as it's from a later generation.
iOS Versions and Devices
There are a lot of iOS devices on the market. iPads, iPhones, iPod Touches, iPad Airs, and iPad Minis, each with about ten years of releases behind them. The specific requirements for each casting app will vary depending on its requirements. As long as your device isn't more than a few years old it should be able to mirror without any issues. In general, most newer iOS software versions will likely work, anything from iOS 9 on.
Two Apps are Required
Remember that all casting solutions below require two apps: one on your iPhone or iPad, the other on your Fire TV. You'll need to install software on both devices before you can start mirroring.
How to Mirror or Cast an iPhone to Fire TV
Once you've checked your hardware and gathered your devices, it's time to start installing casting apps! Any of the suggestions below will serve your mirroring needs just fine. Pick one and try it out, and if you don't like it, try another!
Video & TV Cast for Fire TV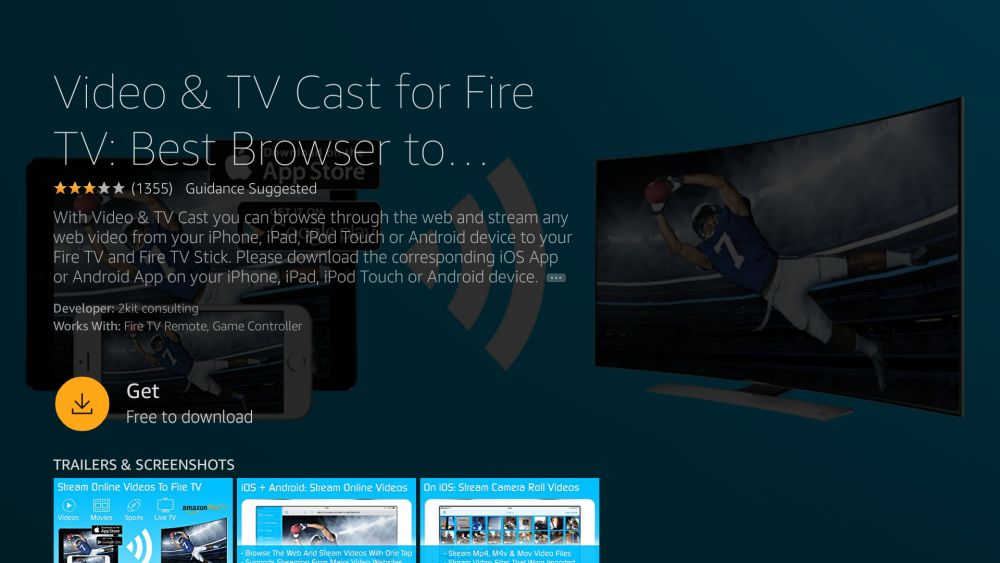 This free to download app from 2kit is about as straightforward as a casting app can get. Once installed on both iOS and Fire TV devices, Video & TV Cast will allow you to stream the contents of your iPhone or iPad screen directly to your television set via Fire TV. Watch videos, check out live sports, send music or photos to your TV, all with just a couple of taps. The app is free to use but offers a premium edition with several useful extras available as a one-time in-app purchase.
Download Video & TV Cast for iOS first and get it set up on your device. Next, turn on your Fire TV and install the app from Amazon. You can either use the search function on the appstore or the link above to send it directly to your Fire device. Once both apps are on and connected, all you need to do is choose which content you want to stream on your iPhone and Video & TV Cast will do the rest.
iWebTV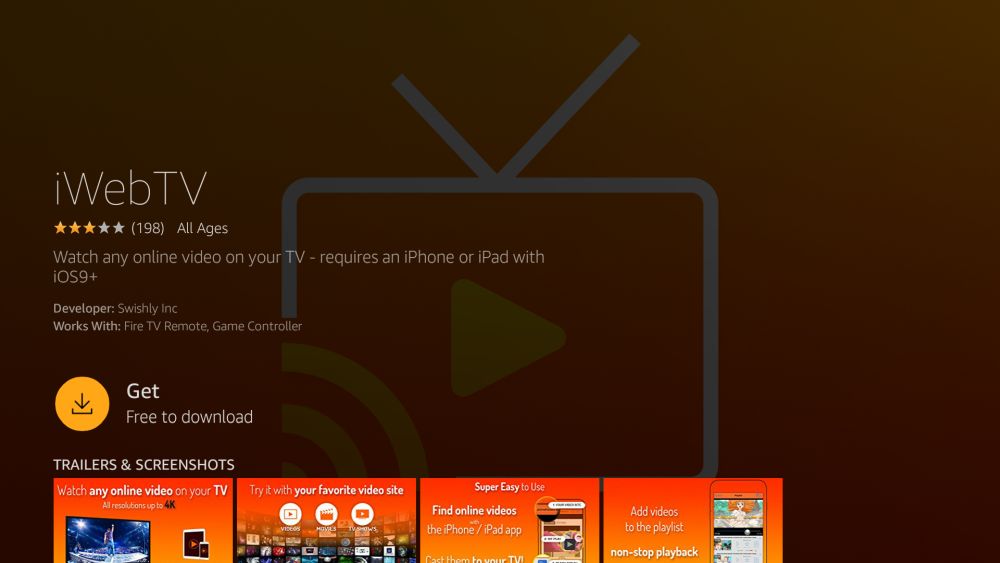 Swishly's iOS casting app iWebTV aims to be the high-end mirroring solution for all your iOS and Fire TV needs. The app delivers HD quality video streaming with ease, including 720p, 1080p, and even 4K movies. It supports a huge variety of video formats, not just mp4 like some casting apps, and you can even add new content to your queue without interrupting playback. Mirroring is as simple as installing the app and hitting play, as well, making it a superb solution for anyone trying to get iPhone content on their TV.
To use iWebTV, start by downloading the app for iOS. You'll need to be running iOS 9 or later, which shouldn't be a problem for most people. Next, get the iWebTV app for Fire TV wither by searching for it directly on the device or sending it via the link above. Once both apps are connected, open the iOS version and select the videos you want to play. Cast them, lean back, and enjoy!
Note that iWebTV is free to use on both devices, but there will be a banner ad obscuring some of the content. A one-time in-app purchase can remove this, or you can upgrade to iWebTV PRO for some extra features and an ad-free streaming experience.
AllConnect for Fire TV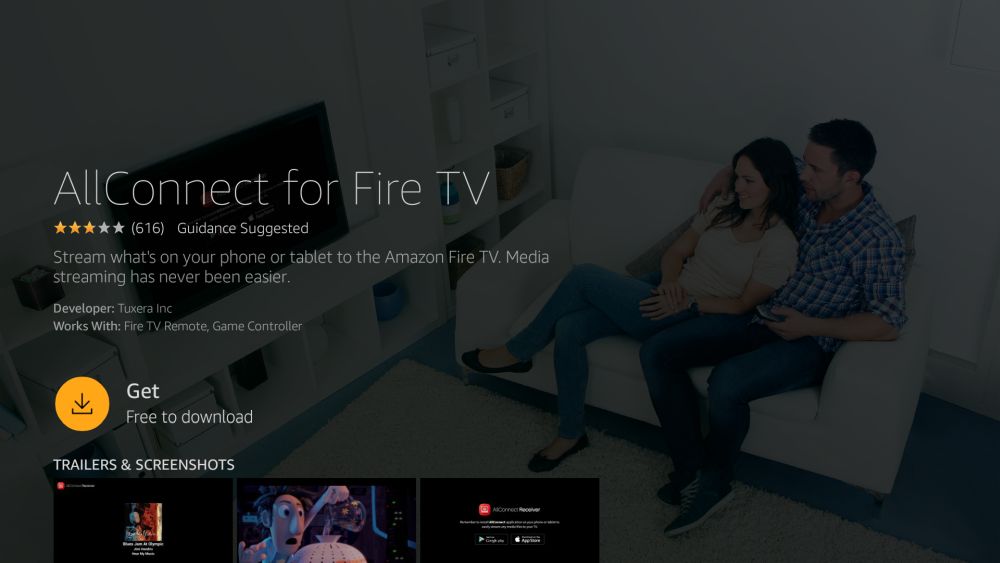 The no-nonsense mirroring app from Tuxera does exactly what you need it to do: stream content from your iPhone to Fire TV. Use it to browse video channels like YouTube and Vimeo, then send it to your TV with a couple of quick taps. You can also stream FLAC and mp3 music files, use it to cast Plex or Kodi content, and even play files in the background while you browse for more content. No hassles and no tricks, just a lot of easy streaming.
To use AllConnect, first you'll need to download and install the app for iOS. It's free to use but has some advertisements as well as limits on the number of devices you can connect to, both of which are removable via in-app purchase. Next, install the AllConnect app for Fire TV either by clicking the link or searching for it on your device's appstore. Once the software is connected on both systems, add content on iOS and start streaming.
AirPlayMirror Receiver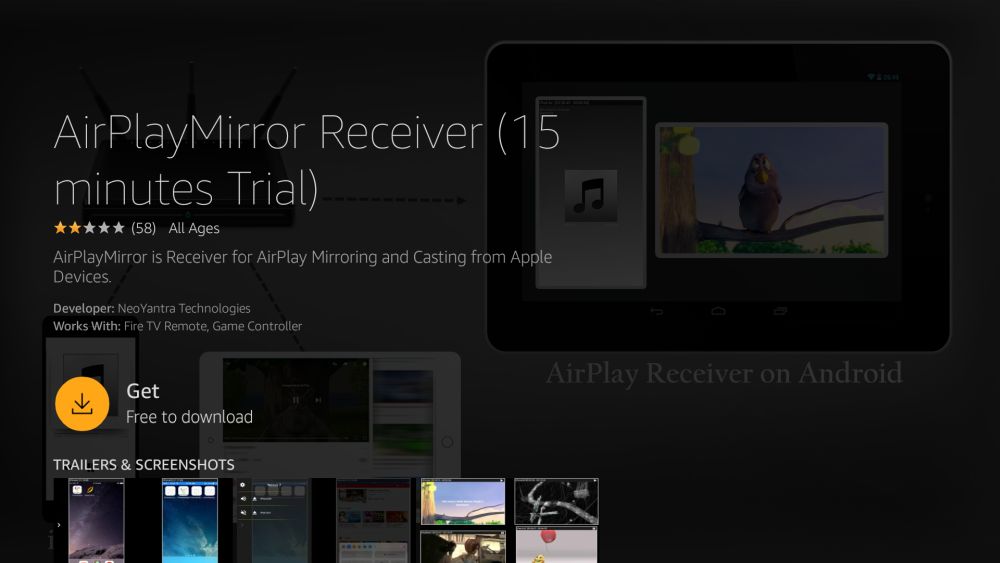 AirPlayMirror is a simple all-purpose mirroring app that works for both iOS devices and Mac hardware in general. With it you can cast from up to four Apple devices at once, watch YouTube or Netflix, and play any media content from iPhone or Mac, including photos, images, and videos. The app isn't free, unfortunately, but it does come with a no-charge 15 minute trial version so you can test things out before getting the full thing.
Using AirPlayMirror is a little different than other apps. Start by installing it on your Fire TV. Open the app and enable your device as a receiver, then grab your iPhone and enable AirPlay. Choose your Fire TV from the AirPlay receiver list. Connect the devices, then pick content on your iOS hardware and start casting.
AirBeamTV Mirroring Receiver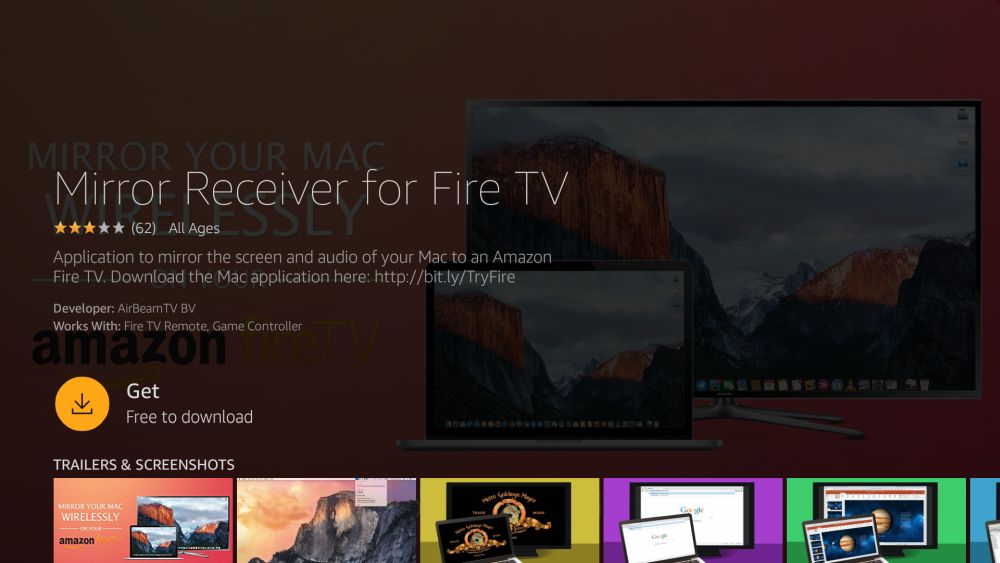 AirBeamTV's Mirroring Receiver app is one of the better iOS casting options on the market. It works with all iPhone and iPad devices out of the box, and it's compatible with Mac PCs as well. You can even install it on certain smart TVs for truly seamless casting. Mirroring Receiver passes everything from videos to music, screenshots, photos, and more, all without the need for cables or additional hardware. It's billed as a Chromecast alternative and it works like a charm. You'll need to purchase the full version of the app to use it, but apart from that there's nothing standing between you and iOS screen mirroring.
To get the casting app up and running, start by installing AirBeamTV Mirroring Receiver on your Fire TV. Use that link to send it to your device, or simply search for it in the appstore. Next, purchase and install Mirror for Amazon Fire TV on your iPhone or iPad. When both apps are running and connected, you can seamlessly send content from your iOS or Mac device to your Fire TV.
Reflector 2 – AirPlay Receiver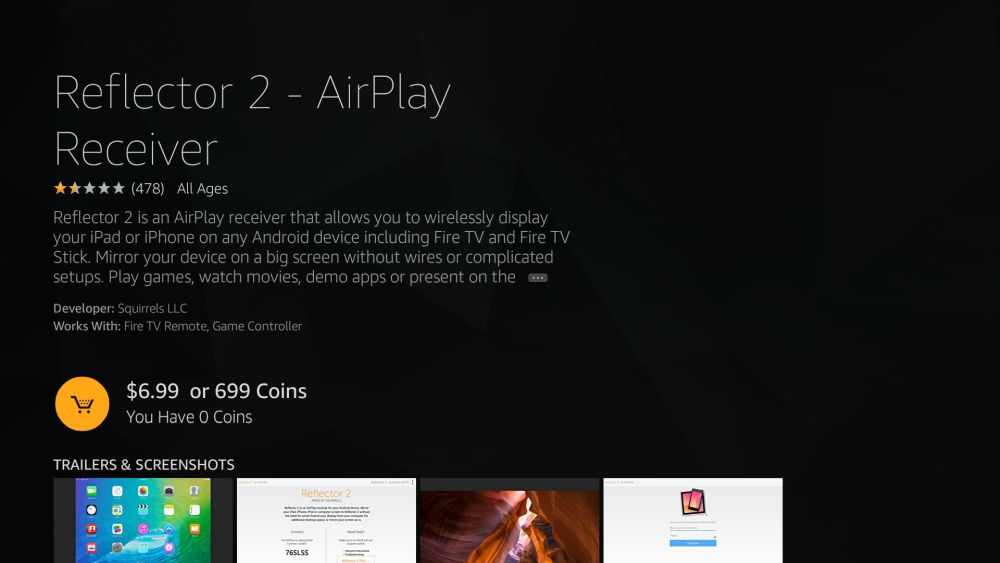 Why bother with third party solutions when you can use the iOS AirPlay feature itself? Reflector 2 takes full advantage of Apple's technology to let you cast your iPhone and iPad's screen directly to any Android device, including Fire TV and Fire Stick. Using it is as simple as installing the app, turning on AirPlay, then choosing the audio, video, or visual image you want displayed on your TV. That's it! Reflector does come with a pretty high price tag, unfortunately, but it does what it advertises and keeps video quality surprisingly high.
To use Reflector 2, start by downloading the app for your Fire TV. Use the previous link to send it to your device, or search manually on the device's appstore. Install it and set the Fire TV up as a receiver. Next, grab your iOS device and open the AirPlay interface. Choose Fire TV from the list of receivers, then pick the content you want to cast and enjoy.
AirReceiver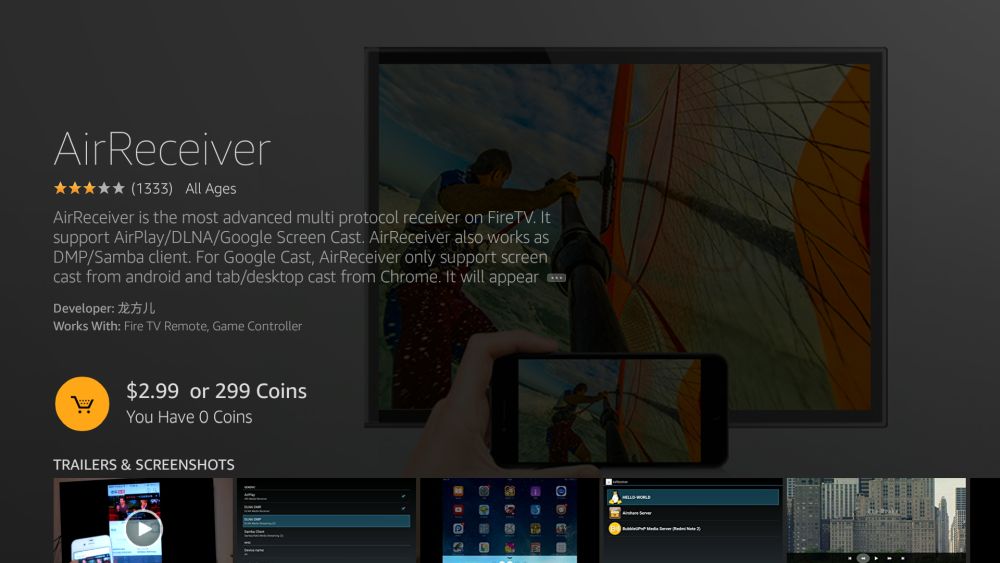 This full-featured app may be the most challenging to use of all the casting solutions, but it makes up for it with an absolute wealth of features. With AirReceiver you can stream and mirror both music and video content from your iOS devices in stunning high quality. Send YouTube content directly to your TV, pull media from your NAS server, run the app in the background while you edit and queue more content, and so on. The app carries a small price tag, but it's worth it for the huge number of features you'll have at your disposal.
To use AirReceiver, start by downloading the app from Amazon's appstore. Run it and set your Fire TV as an active receiver. Next, get your iOS device and switch on AirPlay. Choose your Fire TV as a target, then simply pick the content you want to mirror.
Watch Fire TV Safely with a VPN
No matter what you do online or which device you use to access the internet, there's a chance someone is recording your activity. Governments engage in mass surveillance programs, ISPs store and sell user data, and hackers wait for the right opportunity to steal your identity. Unencrypted traffic has become dangerous in our modern world, even when using devices as simple as a Fire TV.
The good news is that VPNs can protect you from all sorts of identity threats. With a VPN in place your data gets encrypted before it leaves your device, locking down private information so no one can trace its location or monitor your activity. VPNs make it easy to stay safe and are indespensable tools for the modern internet user.
And what's more, VPNs allow for all types of fun! You can use your VPN to spoof past geoblocks and access content in other countries. With all this said, we consider the best VPNs to be: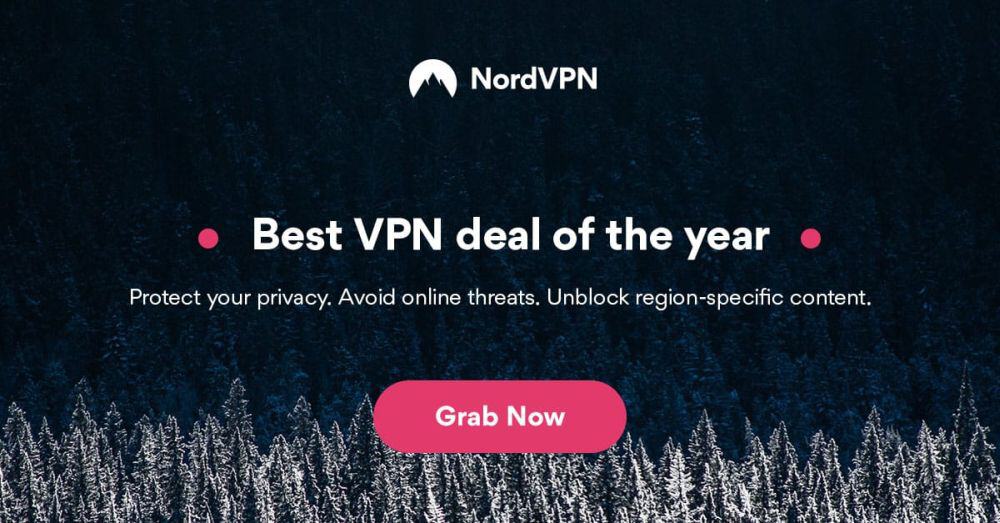 NordVPN is the ultimate VPN, offering military-grade encryption via NordLynx and access to over 5,800 servers in 59 countries. With sleek, responsive apps available for both Fire TV stick and iPhone, you've got a world of geoblocked content available at your fingertips. NordVPN also features SmartPlay, a built-in smart DNS system which helps you bypass proxy bans like Netflix imposes to foil VPNs from accessing international content libraries. Stream in confidence and full anonymity with the industry's best no-logging policy on your side.
Read our full NordVPN review.
Pros
Unblocks American Netflix
Different IP addresses aervers
Zero leaks: IP/DNS/WebRTC
Retains no metadata of your browsing
24/7 Chat Support.
Cons
Sometimes slow in procesing refunds (but always do).

Standing out from the newest generation of VPNs is Surfshark. Cutting the fat and offering only the features you really need, they're able to streamline both their app interface and pricing scheme to provide one of the most pro-consumer privacy solutions on the market. You can cover any number of devices with a single subscription thanks to their liberal policy allowing for unlimited simultaneous connections–you could even share with a friend. Connect to over 3,200 servers in 65 countries protected by unassailable 256-AES-GCM encryption, as well as an independently audited no-logging policy.
Pros
Break through harsh censorship to securely access social media and foreign news sites
Unblock Netflix on any server, no more picking and choosing
30-day satisfaction guarantee
Favorable BVI jurisdiction guarantees no logs kept
Responsive customer support available 24/7.
Cons
Speeds occasionally suffer a noticeable drop
Apps don't allow for much manual fiddling for power users.
Read our full Surfshark review.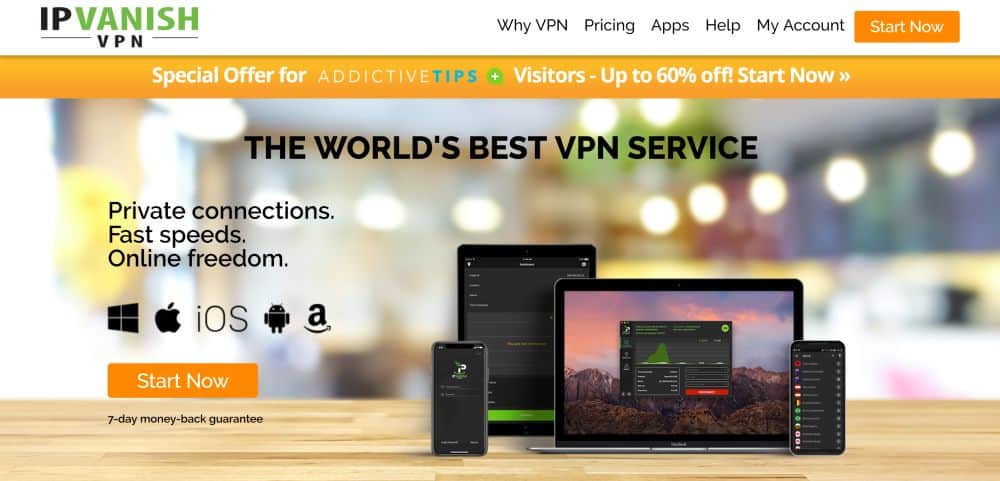 IPVanish elegantly combines speed and security into the perfect VPN for Fire TV. The service deploys a network of over 950 servers in 60 different countries, offering a wide selection of IP addresses for a solid foundation of anonymity. Your connection is also secured with DNS leak protection and an automatic kill switch, while a zero traffic logging policy combined with 256-bit AES encryption ensures no data can ever fall into the wrong hands. You can even install IPVanish directly from your Fire TV's appstore!
Read our full IPVanish review.
PureVPN does more than just keep your data encrypted and safe. The service includes an entire suite of security features designed to protect you online, everything from virus protection to malware shields, app blocking, and DNS website filtering. You also get the industry standard 256-bit AES encryption on all data, automatic kill switch and DNS leak protection, and a zero-logging policy on all traffic, complete with access to over 1,000 servers across 140 different countries. Better still, PureVPN is available to download directly on the Amazon Appstore, making it the perfect service to use with your Fire TV!
Read our full PureVPN review.
Conclusion
Amazon's Fire TV and Fire TV Stick devices have a ton of useful features. Right out of the box they can stream both free and paid movies, let you catch up on Netflix shows or Hulu content, and even offer a simple platform for playing games. With the casting apps above, you can let your Fire TV mirror content from your iPhone and iPad, opening up even more entertainment options.