We are reader supported and may earn a commission when you buy through links on our site.
Learn more
Best VPNs for iOS in 2021: Your Device's Privacy is Important
You might not think you need a VPN for your iOS device, but that's simply no longer the case. We'll show you why iPad and iPhone users need a VPN, how they world to enhance your cybersecurity, plus recommend a few of the top rated VPN providers optimized for your Apple device.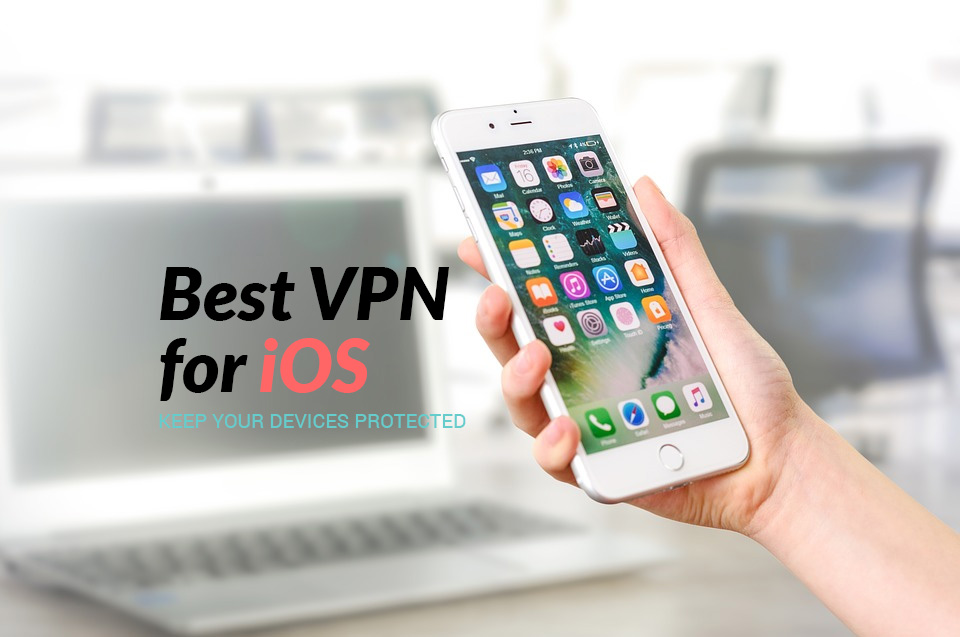 Apple users once had a big advantage when it comes to security. It was conventional wisdom that Macs were far less likely to be infected by a virus than PCs, and it was generally believed by the public that iPhones or other iOS devices like iPads were safe from security issues.
Unfortunately, this isn't the case any longer. There are a big range of security issues which can effect iOS users, from platform independent attacks like phishing to iOS specific problems like issues with the SOS mode and the way a passcode is entered to establish trust. Then there was the disaster of the chip vulnerabilities which was publicised last year. In fact, Newsweek described the recently revealed Meltdown and Spectre chip vulnerabilities which directly affect all iPhones and Macs as the "most disturbing security issue in decades."

In a rush? Here's the tl;dr on which are the best VPNs for iOS:
NordVPN – Best iOS VPN – NordVPN packs an incredible amount of utility into its lightweight iOS app, with access to tens of thousands of virtual IP addresses, the best encryption protocols, and even adblocking.
ExpressVPN – You'll love ExpressVPN for its stupidly fast speeds, attractive app interface, and huge network.
IPVanish – IPVanish offers a snappy app with a great balance of privacy, performance, and price.
These serious concerns mean that iOS users need to be more aware of their security than ever before. For this reason, many security conscious users are opting to use a VPN as part of their security protocols whenever they use iOS. Today we'll take you through some reasons that you might want to use a VPN on iOS – for both security and convenience – and then we'll recommend our best VPNs for iOS.
(Are you an Android user who wandered here by accident or morbid curiosity? Please stick around, we've got your needs covered in our article covering the best VPNs for Android)
30-days money back guarantee
How Should You Choose A VPN?
If you're on this page, you probably already know just how useful a VPN is for iOS users (if not, stay tuned to the end of the article where we highlight some of the main benefits). But how should you pick a VPN provider? With so many options to choose from, it can be tough to know how to differentiate them. Here are the factors that we consider most important when selecting a VPN for recommendation:
Top VPNs For iPhone And iPad
Having scoured the VPN market with the above criteria in mind, here are the best VPN providers for iOS devices: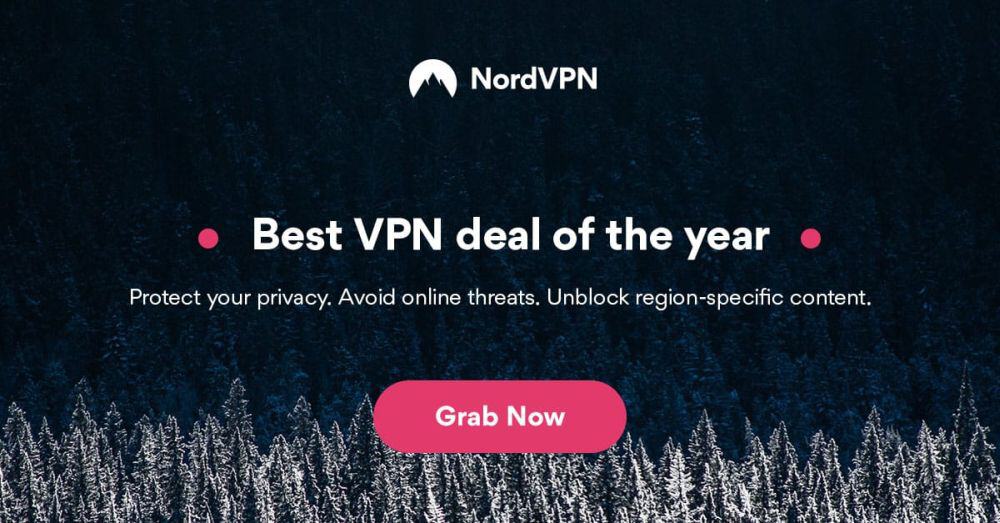 If your biggest concern is security and you'll looking for the best security features in a VPN, then you should try NordVPN. It has the strong 256-bit encryption and no logging policy that we would expect, but in addition it has extra security features like double encryption. Double encryption means that the data is encrypted and sent to a server, where it is encrypted again and sent to another server before being decrypted and sent on its way. This keeps your data as safe as possible. The connections are sufficiently fast for most needs and the server network is large: more than 5,100 servers in over 60 different countries.
The NordVPN app for iOS has a graphical interface which makes it very easy to use, and the software is also available for Windows, Mac OS, Linux, iOS, Chrome OS, Android, and Windows Phone, plus browser extensions.
Read our full NordVPN review.
Pros
Very affordable plans
No bandwidth caps
Tor over VPN, double VPN
Based in Panama
Live Chat Support.
Cons
Automatic server selection can be unreliable
Can't specify City or Province in App.
How To Use NordVPN For iOS
To use NordVPN on your iOS device, just follow these instructions:
Go to the App Store on your iOS device and search for NordVPN. Alternatively, go straight to the page on the app store with this link: https://itunes.apple.com/us/app/nordvpn-worlds-most-advanced/id905953485?ls=1&mt=8
Click the square blue GET button, and then tap it again when it says INSTALL
Wait until the app has been installed, then click on OPEN
You'll see the NordVPN home screen, which is a map with possible server locations you could connect to, and a large on/off switch at the top
If you're not sure how to set this up, you can use the Connect Wizard which appears to automate your VPN setup. Just click through the questions, selecting an answer to the multiple choice questions, and it will set up an appropriate connect for you
Alternatively, click on the location icon over any country to connect to a server there
Click on the on/off icon at the top and you'll be connected to the server of your choice
Wait a moment for the connection to be established. Once the power button turns green, you can see that your VPN is active and that your iPhone is protected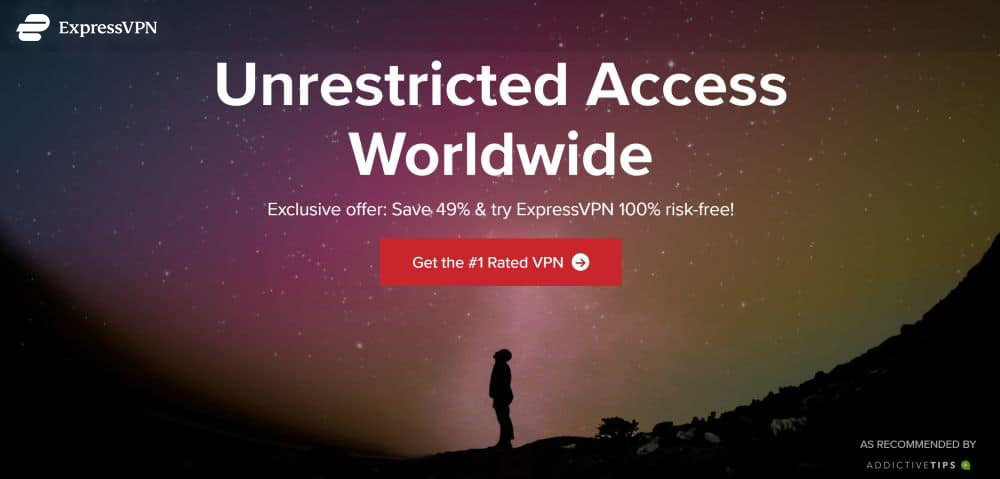 ExpressVPN is one the most popular VPNs out there, due to its super fast connections and well designed software. If you haven't used a VPN before, the ExpressVPN app is easy to use but still has all the features that you need. The service offers excellent security, with strong 256-bit AES encryption and a no logging policy to protect your privacy. The server network is massive, with over 3,000 servers in 145 different locations in 94 countries for all you needs.
As well as an iOS app, you can get the software for Windows, Mac OS, Android, and Linux. The iOS app also has special features like a speed test so you can find the fastest server and a DNS leak test to make sure that your connection is properly secured. There's also a 30-day money back guarantee with no questions asked, so you can try the service risk free.
Read our full ExpressVPN review.
Pros
SPECIAL OFFER: 3 months free (49% off - link below)
Super fast servers
Govt-level AES-256 encryption
Strict no-logs policy for personal information
Live chat support available.
Cons
Max 3 connections simultaneously
Slightly pricier than competition.
How To Use ExpressVPN For iOS
Installing and using the ExpressVPN software for iOS is simple. Here's how:
Using your iOS device, go to the App Store and search for ExpressVPN. Alternatively, go straight to this page: https://itunes.apple.com/us/app/expressvpn/id886492891?mt=8
Click the square blue GET button, and then tap it again when it says INSTALL
Wait a moment for the app to install. Then click OPEN
This will open up the ExpressVPN app for the first time. You'll see options for either Create Account or to Sign in with your account. If you already have an account with ExpressVPN, you can go ahead and select Sign In
A login screen will appear. Enter your login details and click Sign in
Now you'll see a wizard that will help you get your VPN set up. Tap Allow to start the configuration process. Then you'll see a notification that the ExpressVPN service wants to add VPN configurations. Click Allow. You may need to enter your device's passcode
Now you'll see a screen titled One Final Step, which asks if you want to send anonymised information about your VPN connections. There is no personal data contain in this information, but just in case we prefer to opt out by selecting Don't allow
Once this is done, you'll see a Setup Complete. page
If this is the first time you're using the app, there's an option for you to see a brief tutorial. If you want to see this, click or Take a Tour, or if not, click on Skip the Tour
To start using the app, you'll see a large round grey button in the middle of the screen. Tap this button and you'll be connected to a VPN server
Once the connection is established, you'll see text saying VPN is ON and the button will have a green background. This means that your VPN is active and is protecting you. Also, in the status bar you'll see a VPN symbol: a small box with the letters VPN inside. When you see this symbol, you know that the VPN is connected
When you press connect, by default you'll be connected using the smart location feature which finds a server near you for maximum speeds. But if you want to connect to a server in a particular location then you should click the smaller round button to the right of the big connect button which says CHOOSE LOCATION
From here you can pick a specific country to connect to. Just tap a location and you'll be connected to a server in that place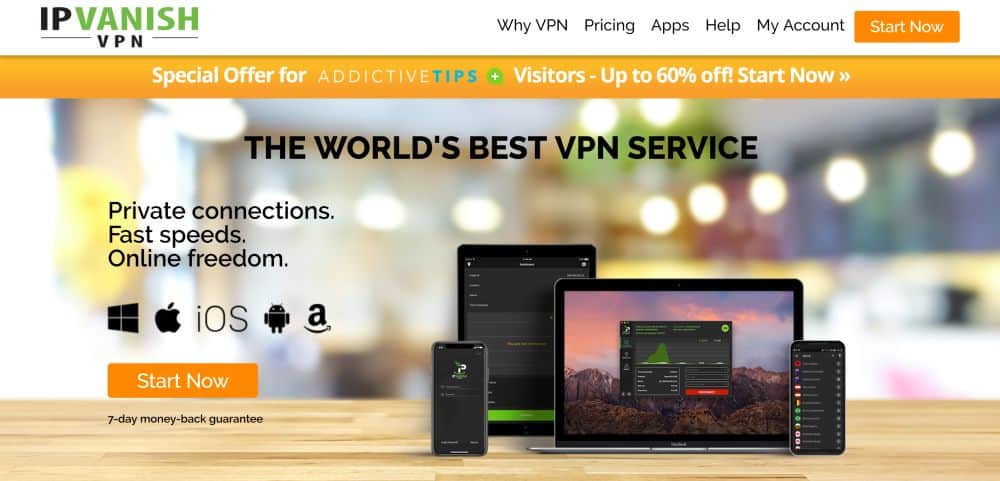 If you want a VPN that is fast above all else, then you should try IPVanish. They are known for their lightning fast connection speeds and large server network of 1,300+ servers in 60 different countries around the world. They also offer excellent security, with 256-bit encryption to keep your data safe and a strict no logging policy to protect your privacy. IPVanish has a simply designed iOS app, plus software support for Windows, Mac OS, Android, Linux, Windows Phone, and many other platforms too. There's also a seven day money back guarantee so you can buy in confidence.
Read our full IPVanish review.
How To Use IPVanish For iOS
If you want to get IPVanish on your iOS device, here's how:
Either open up the App Store on your device and search for IPVanish, or go straight to the app store page here: https://itunes.apple.com/us/app/ipvanish-vpn-the-fastest-vpn/id763638165?mt=8
Click the square blue GET button, and then tap it again when it says INSTALL
Wait for the app to install, then click on OPEN
The first time you open the app you'll be asked whether you want to accept notifications from IPVanishVPN. Click on Allow
Now you'll see a log in screen. Enter your username and your password, then click Login
If this is your first time using the app, you'll see a tutorial. Click Begin tutorial to see the walk-through or Skip tutorial if you already know what to do
After this you'll see your IPVanish home screen. At the bottom of your screen you'll see your Quick connect preferences
Click on Country, City, or Server to choose which server you will be quick connected to when you log in. Now you can press Connect and you'll be connected to the VPN
When you click connect, you'll see an iOS warning you that the VPN wants to add VPN configurations. Click on Allow. You might need to enter your device's passcode
When you're connected you'll see a graph of your VPN activity and the button at the bottom will turn red and now say Disconnect. This means that your VPN is working and protecting you
To connect to a server in a different country, click on the three horizontal grey lines in the top left to bring up the menu, then go to Server. This opens up a list of available servers which you can search or filter using the spyglass and filter icons in the top right of the screen. Click the name of any server to connect to it
WANT TO USE YOUR OWN VPN? Check out our general VPN installation guide for iOS.
Why iOS Users Need A VPN
There are several reasons that iOS users would benefit from using a VPN. The first issue is security. When you connect your phone to a public wifi connection, like the networks that you find at coffee shops or airports, you are exposing your data to potential hacking. When you send data over the internet, other users on the same network as you may be able to intercept and record this data. This means that when you use a public wifi network, other people (namely, hackers) could potentially access your emails, passwords, bank details, and more.
FULL GUIDE: How To Stay Safe On Public Wi-Fi
A VPN protects against this by encrypting all of the data that your device sends over the internet. The encryption makes it virtually impossible for any outside observer to intercept or view this data, even if they are on the same network as you. This makes you much safer when using public networks.
Another security concern is that your ISP or even government agencies may be observing or tracking your internet use. Don't believe us? Read our story on the history of the NSA and FBI cyber snooping — it's chilling to say the least. If you are on your home network, it is incredibly easy for your ISP to see exactly which web pages you have visited, and even to see communications you have sent like emails or chat messages. If the government decides to investigate you, they can force your ISP to hand over all of the data they have on you (which is more than you might think). This data will include not only your personal information, but also personal information about your friends, family, and work colleagues.
How VPNs Work
A VPN keeps you safe at home as well by encrypting your data so that your ISP cannot observe or record any information about your internet use. Your ISP will be able to see how much data you are sending, but not what the contents of that data is. This means that even if the government does ask them to hand over their records about you, there will not be any useable information for your ISP to give.
Finally, you can also use a VPN for convenience, such as for getting around region locks. For example, if you are a Netflix user then you will likely know that the content available on Netflix differs by country. If you want to access Netflix content from another country, you can use your VPN to spoof your location. This means that it looks as if you are browsing from, say, the US, when you are actually accessing American Netflix from Germany. This way, you can access content from all over the internet without having to worry about region locks.
Conclusion
In order to increase security and to protect from malicious software, it is a good idea for iOS users to have a VPN. Not only will a VPN encrypt your data to protect it from hackers, your ISP, or government observers, but it will also give you extra benefits like the ability to get around region locks. With the increasing focus on security issues in iOS, it is advisable for all users to take steps to protect themselves.
We have recommended three VPN providers for iOS users who offer excellent security, fast connections, and well designed iOS apps that are easy to use. Any of these three apps will help to keep your iOS device and the valuable data that it stores safe.
Have you tried out any of these apps? Which iOS VPN app is your favourite? Let us know in the comments below.