We are reader supported and may earn a commission when you buy through links on our site.
Learn more
Best VPN For LG Devices (Smartphones & TVs)
Owners of LG Smartphones and TVs can get a lot more out of their devices with a VPN. After all, the best VPN for LG will unblock geoblocked content, bypass Internet usage restrictions impose by school or work, and finally wrap your connection in an unbreakable layer of privacy-enhancing encryption.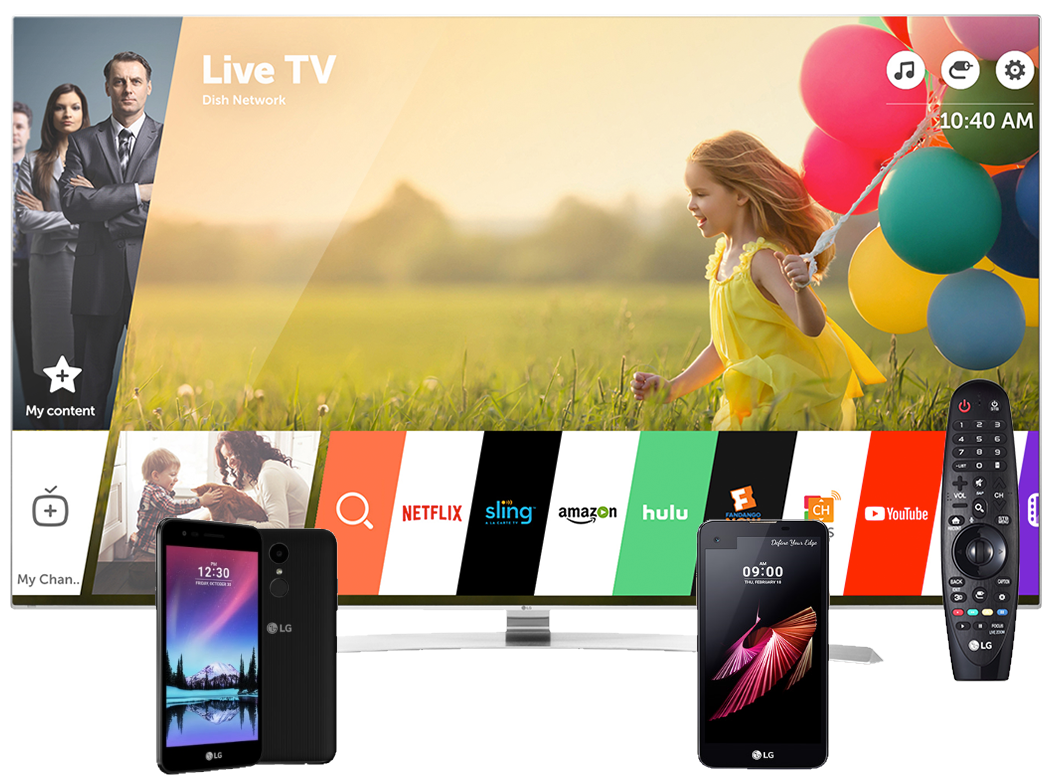 A VPN is undoubtedly one of the best ways to ensure the privacy and security of your online activities. We want all our equipment to be protected and LG devices–smartphone or TV–are no exception. After all, both smartphones and smart TVs are constantly connected to the Internet, exposing us to all sorts of risks. This raises the question that we'll do our best to answer: What's the best VPN for LG smartphones and TVs?
Protect all of your LG devices with these high-security VPNs:
NordVPN – Best for LG – NordVPN offers unparalleled utility in securing your LG phone or TV. Massive server network, top-shelf speeds and stability, a great logging policy, intuitive apps that allow you to tweak your VPN as much (or as little) as you want.
Surfshark – Offers all the features you'll actually use, and discards the ones you won't. Lean, mean, affordable, capable.
ExpressVPN – A premium VPN services with some of the industry's fastest speeds. Gorgeously minimalist apps, tough security.
IPVanish – Lightweight VPN software that doesn't hog bandwidth or processing power. Great for torrenting and streaming.
VyprVPN – Highly configurable provider with proprietary encryption and a privately owned network.
After discussing what Virtual Private Networks are and how they work, we'll talk about what their benefits are and what features one should be looking for when choosing a provider. Then, we'll have a look at the specific case of LG devices and what special requirements they have. Finally, we'll reveal the best four VPN providers that we've found for LG devices.
30-days money back guarantee
The Most Important Features Of Virtual Private Networks
There are way too many VPN providers out there, and their quality is infinitely variable. Picking the best solution can turn out to be a daunting task. We've assembled a list of the most important criteria to consider when selecting a VPN provider.
Performance and stability — Using a VPN adds some overhead that could slow down the communication. To minimize this, you need fast VPN servers. You want the service to be available when you need it, so you need a reliable supplier, one that has excellent uptime.
Number and location of servers — The more servers, the better the chances to find one that works and is not overused. But they need to be distributed throughout the world too so that you can bypass most geographic restrictions.
Strong encryption parameters — This is what makes your data almost impossible to crack. The higher the encryption, the harder traffic is to crack. Accept no less than 128 bits but 256+ is even better.
Available software for your platform — With the multitude of devices connecting to the Internet these days, we need to protect each and every one of them, regardless of their operating system.
Provision for simultaneous connections — Most of us have multiple devices that all need protection. Ideally, we want a single VPN account to protect all our devices.
Ease of use and setup — For obvious reasons. We want to be able to install and use the VPN easily. At the very least, it should be easy to sideload a VPN provider's app onto your device.
No-logging policy — This is one of the most important privacy features. Even if your VPN provider were hacked or were forced to reveal information about your activity, they couldn't if they don't keep have any.
The Specific Case Of LG Devices
LG devices have special needs when it comes to VPNs. These needs are very different if you're talking about smartphones or TVs, though. Let's take a closer look at each platform.
Smartphones
LG smartphones typically run some version of Android. Another feature of smartphones is that they are always connected to the Internet, either through the cellular network or WiFi. This means that we need to find a VPN provider that has software available for Android. Ideally, this software that will connect automatically as soon as the phone starts to ensure we're always connected. We need to keep this in mind when selecting our VPN provider.
TVs
Protecting LG smart TVs is a bit more complicated. The problem is that we can't install VPN software on these appliances. There are, of course, ways around this.
One way is to use a computer as a gateway between the LG TV and the Internet. The TV connects to the computer, which itself connects to the Internet via a VPN tunnel. There are several ways to accomplish this depending on the connectivity (Ethernet or WiFi) of your TV and computer. Typically, your computer would be wired to the network and the TV would connect wirelessly to the computer.
The details of how to configure such a connection are well beyond the scope of our article. Furthermore, they vary depending on the exact model of your smart TV, your computer's operating system and its network connectivity options.
From the standpoint of choosing a VPN provider, which is the subject of the article, what's important is that we need to choose a provider that offers client software for your computer's operating system.
Another way we can protect an LG TV behind a VPN is by running the VPN client software directly on our Internet router. The biggest advantage of such a setup is that all your devices can benefit from the same VPN protection. The good VPN providers all provide detailed instructions on how to install VPN software on many popular routers. Some even sell–either directly or through some partner–routers with preinstalled and preconfigured software.
Again, the specific details are beyond the scope of this article and they differ according to the provider you use and the specific brand and model of router. It is, however, another factor to consider when selecting a VPN provider and one that we've taken into consideration in our analysis of providers.
The Best VPN Providers For LG Devices
We've searched the web, tested several VPN providers, and come up with the best VPNs for LG smartphones and TVs. All have software available for the Android operating system but also for computer operating systems–such as Windows, Linux or MacOS–and all of them support router installations and provide detailed instructions.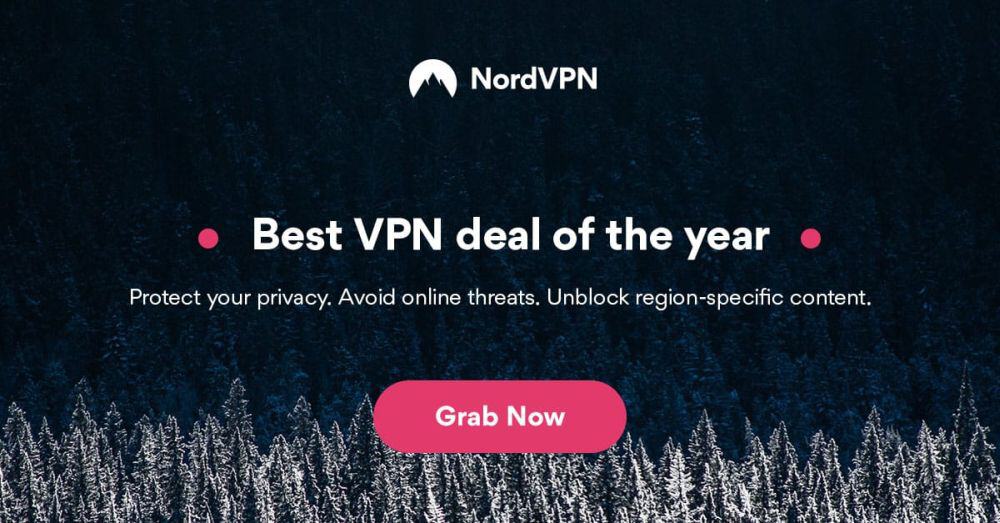 NordVPN offers a true no-logging policy along with traffic encryption via 256-bit AES and 2,048-bit DH keys. DNS leak protection is also offered and enabled by default. Your subscription grants you access from six devices, one of the highest among our top providers.
Unlike other providers, NordVPN lets users pick servers based on usage preferences such as torrenting, anti-DDoS, or video streaming. They have 5,700 servers spread across 61 countries. Client apps for Android, Windows, and MacOS are offered and, although they don't have a dedicated Linux client, they provide detailed instructions on how to set up their service on Linux. Router-wise, They offer four different models of preconfigured routers through a partnership with Flashrouters.
Read our full NordVPN review.
Pros
Very affordable plans
Mind-boggling number of servers
Zero leaks: IP/DNS/WebRTC
No logs and encrypted connections for total privacy
Great customer service via chat.
Cons
Refund processing can take up to 30 days.

Surfshark only recently came onto the VPN scene in 2019, but they came armed with the best features of other providers, all wrapped up into one affordable package. Some support for legacy protocols has been dropped, but you won't miss it–everything about Surfshark "just works" for just about anything you can throw at it.
First, yes–Surfshark is available on LG Android phones as well as smart TVs. This is a huge relief for anyone who doesn't want to deal with rooting or sideloading, and works as a turnkey privacy solution for your favorite devices. These apps are neat and intuitive, and don't require a ton of IT knowledge to operate.
What Surfshark offers is 256-AES-GCM encryption, 800+ servers in 50 countries, a kill switch, anti-malware, blanket obfuscation across its entire network, static IPs, multi-hop routing, and more besides. You never have to worry about logging either, as Surfshark's no-logs policy checks out even under independent scrutiny.
Pros
Unblock VoIP in oppressive regimes like WhatsApp, Skype, Discord, and more
Server selection is dead simple and quick
30-day satisfaction guarantee
Zero logging policy ensures your activity can't be used against you
Refund requests are simple and fast–no waiting or hassle.
Cons
Server network is not nearly as expansive as major competitors
Relatively young VPN still has to prove itself trustworthy over the long haul.
Read our full Surfshark review.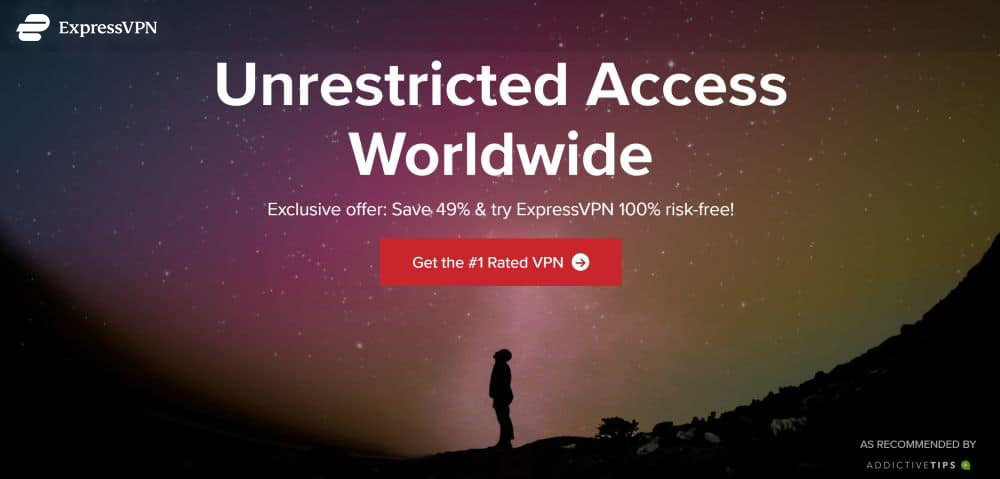 The best-known features of ExpressVPN are strong encryption protocols, blazing speeds, and a worldwide server network of over 3,000 servers spread across 94 countries.
ExpressVPN uses the OpenVPN protocol with 256-bit AES and perfect forward secrecy as a default. Furthermore, 4,096-bit DHE-RSA keys are protected by a SHA-512 hashing algorithm. They only have a partial no-logging policy, though. However, the only data they keep are the servers users connect to and the dates which they do so. Their Network Lock feature, similar to IPVanish's kill switch will block all internet traffic if the connection ever drops.
An ExpressVPN subscription grants access to three devices simultaneously and, in addition to an Android app, there are desktop clients for Windows, MacOS, and Linux. You're also covered if you want to install the VPN software on a router. Although they don't offer preconfigured routers, they have detailed instructions for over a dozen models of routers from various manufacturers
Read our full ExpressVPN review.
Pros
Unblocks US Netflix, BBC iPlayer and other streaming services
3,000+ super fast servers
No DNS/IP leaks found
No logs for personal data
Live chat support available.
Cons
Expensive month-to-month plan.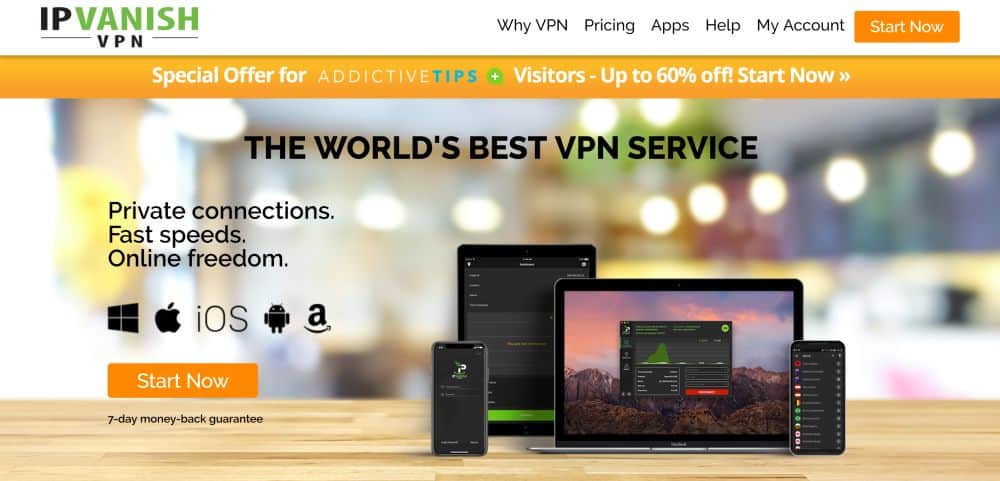 IPVanish offers a fast service that emphasizes both security and privacy. They have a full no-logging policy and keep no metadata on users. Even their employees aren't able to see what you're doing.
By default, IPVanish uses the OpenVPN protocol with 256-bit encryption. They feature SHA512 authentication and DHE-RSA 2,048-bit key exchange with perfect forward secrecy. These parameters ensure that past activity remains unavailable, even if your account were compromised. IPVanish also features a kill switch that will disconnect the network should the VPN disconnect unexpectedly.
They have over 1,300 servers spread across 60 countries. A subscription allows five devices to connect simultaneously. Finally, there are apps for both Android and iOS as well as desktop software for Windows and MacOS. As for routers, IPVanish provides detailed instructions for most well-known router brands and they have partnerships with three suppliers offering routers with preinstalled VPN software.
Read our full IPVanish review.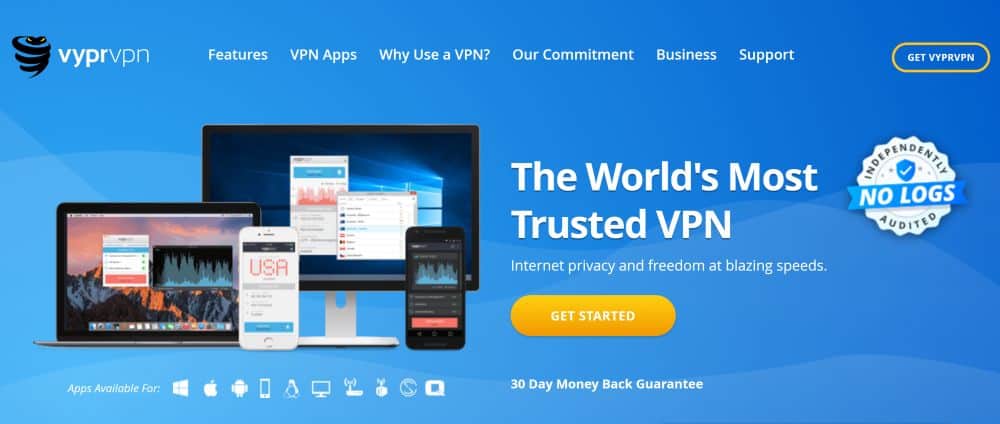 VyprVPN is best known for its encryption protocols which are said to be the best in the business. They offer 24/7 online customer support, a free 3-day trial, and a vast server network of some 700 servers spread out all around the planet.
Be aware that VyprVPN does not have a zero-logging policy. In fact, it's one of the suppliers with the most logging. They store "the user's source IP address, the VyprVPN IP address used by the user, connection start and stop time and the total number of bytes used." They say, however, that data is retained only for 30 days and is mainly used to improve the service. They admittedly don't log details of user activity.
VyperVPN encrypts data using the OpenVPN protocol with 256-bit AES encryption, 2,048-bit RSA keys without perfect forward secrecy and SHA256 authentication. An internet kill switch is included.
A subscription to a VyprVPN Pro account allows simultaneous connections from up to three devices. Client applications are available for Android, Windows, and MacOS. They also provide details Linux configuration instructions. VyprVPN offers a router app that installs over the Tomato OS, a customized operating system that runs on many routers from the major manufacturers. They do provide some instructions but the level of detail appears to be somewhat limited.
Read our full VyprVPN review.
What Are Virtual Private Networks?
In one sentence, Virtual Private Networks or VPN provide users with privacy and security while using the Internet. They accomplish that by encrypting all data transmitted or received using strong algorithms that render it undecipherable. We call them virtual because they establish a virtual tunnel between the protected device and a VPN server. All data in and/or out of the protected device is encrypted before being sent through the tunnel and is only decrypted and sent on the Internet when it reaches the other end of the tunnel.
How is the data secure if it is decrypted and sent on the Internet ar the far end of the tunnel, you may ask? Well, you still get increased privacy because, even though the data is not encrypted between the far end of the tunnel and its destination, it is still untraceable to you or to your equipment. Once the data exits the tunnel, it is seen as originating from the VPN server, not from your computer.
RELATED READING: What Are Virtual IP Addresses?
Furthermore, anyone (Internet Service Providers, government agencies or malicious users) trying to intercept your traffic and spy on you would do it on your end. And when using a VPN, this part of the communication is encrypted and anyone intercepting and examining your traffic only see undecipherable data between you and a VPN server.
Why Use A VPN?
There are many benefits to using a VPN in addition to increased privacy and security. Bypassing restrictions imposed by service providers, academic institutions or workplaces is possibly the main reason why people use a VPN. Accessing content that is limited to certain geographic locations is yet another use for a VPN. Finally, bypassing a country's Internet access restrictions is also among the most common uses of Virtual Private Networks.
General Security And Privacy
The main benefit of Virtual Private Networks is an increase in privacy and security. They provide a very strong level of encryption that typically makes your data almost impossible to crack.
Feel free to type in passwords, enter credit card number of any kind or sensitive data and be assured that, with a VPN, your upstairs neighbour, the guy sitting across from you at the public library, your ISP or the authorities won't see where you're going or what you're doing. Even if they intercepted your traffic, they would only meaningless garbage going to a VPN server.
Bypassing Usage Restrictions
Internet Service Providers, academic institutions, office environment and lots of public WiFi hotspots limit what you can do or where you can go on the Internet. It can be done to limit bandwidth usage, reduce time wasted by employees and students, protect copyright owners or just for better ethics and morality.
No matter what the reasons for the restriction are or the means employed to enforce them, using a VPN will usually allow one to circumvent them. It might not always work, though. As using a VPN has grown more and more popular in recent years, many organizations have gotten wiser and found ways to block VPN traffic. Fortunately, VPN client software has also gotten wiser and many can make their traffic look like "normal" traffic, thereby bypassing any VPN blocking.
Accessing Geographically Restricted Content
If you've ever tried to access an Internet resource only to be told that the content is not available in your region, you know what geo-blocking is. Many streaming media provider, for example, are licensed to provide content only in certain countries and will use geo-blocking. But what happens if you're on vacation abroad and want to watch something from your home country? A VPN can help.
Geographic restrictions are usually enforced based on source IP address. If you were able to change your source IP address to one from an authorized region, you'd have access to that geo-blocked content. A VPN will do just that. All traffic reaching the destination will appear as coming from the VPN server's IP address instead of your device's. To access some content that's only available, for example, in the US, all you have to do is choose a VPN server located in the US. Good VPN providers have servers in multiple countries and will allow you to pick where you want to connect.
Country-Based Restrictions
Some countries have strict limitations on Internet usage. China immediately comes to mind and many social networks such as Facebook, Twitter, Instagram are blocked in that country–even Google searches are limited. And China is just one example. Several other countries impose similar limitations through methods such as destination IP filtering, transparent proxying and a handful of other techniques are used to enforce these limitations.
The means employed to restrict access are generally the same as those employed by organizations to enforce access limitation. And as such, the same features of Virtual Private Networks that allow bypassing any usage restrictions generally work for bypassing country restrictions. The major difference is that you have to make sure you are aware of the consequences of bypassing country restrictions in each jurisdiction. Unfortunately, we can't really help with this.
Wrap up
What we've said about LG smartphones is probably just as true of any other smartphone running Android and what's good for LG devices will likely be just as good for any brand. Similarly, whats good for LG smart TVs is also good for much any other smart TV, no matter what brand it is.
We hope we've been able to shed some light on this complicated matter. Choosing a VPN provider is always a difficult task but when you have to take into consideration some special requirements such as those of smart TVs where no client software can be installed, it can be even harder.
Did we manage to make the VPN selection process any easier for you? What is your favourite VPN provider? What main feature made you choose it and not another? Please, share your experience with us using the comments below.