We are reader supported and may earn a commission when you buy through links on our site.
Learn more
Best Netherlands VPN in 2021 for Dutch Users
If you're wondering what the best VPN for Holland is, or even why you'd need one in a country with such strong Internet freedoms–wonder no longer! Today, we'll be walking you through some of the issues that face Dutch Internet users, and how you can solve them with a VPN. Finally, we'll present the top VPNs for the Netherlands.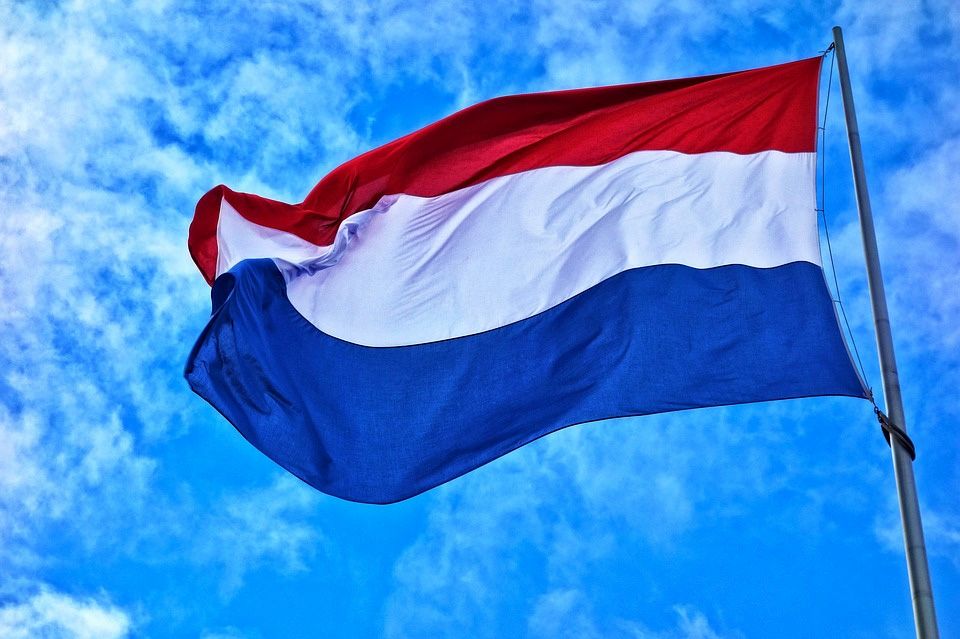 The Netherlands are known for having some of the most liberal and user-friendly policies in Europe about internet communications and electronic privacy. For this reason, you'll find that a lot of internet security and privacy companies are based there. The Dutch parliament has been active in protecting net neutrality, and therefore even privacy companies which aren't based within the Netherlands will still have servers or data centers there.
Dutchies enjoy some of the freest internet anywhere, but there's still geoblocks, hackers, and government surveillance to worry about. Solve these problems and more with a secure VPN:
NordVPN – Best VPN Netherlands – NordVPN offers the world's most robust encrypted server network, with thousands of spoofable IPs and a wide array of specialty servers for virtually any task. Connect in confidence from NL and abroad with unbreakable NordLynx encryption.
Surfshark – A new provider with an incredible value proposition. Proof that it is sometimes possible to cheap out and still get great service.
ExpressVPN – Less cheap than the rest, but a true premium service with some of the fastest speeds on the market.
PureVPN – Talk about utility! This provider offers a huge network plus anti-virus, leak protections, and even a NAT firewall for total security.
IPVanish – A great choice for low-powered streaming devices and high-end gaming rigs alike with a good balance of speed and security.
If you're based in the Netherlands, you might think that all of these friendly laws mean that you will be safe and secure when you use the internet. However, this isn't always the case. Privacy and security are not the same thing, and though privacy laws are very strong in the Netherlands, you can still be vulnerable to viruses, hackers, or other security threats. Today we're going to show you why you might want a virtual private network and then we'll talk about our recommendations for the best VPNs for the Netherlands.
30-days money back guarantee
How We Select VPNs for Recommendation
Now we'll move onto the recommendations for best VPNs for users who are based in the Netherlands. There are loads of VPN providers out there, so here are the factors we use to select the best:
Many servers in many different countries. To get around region locks, you need to access servers in other countries, so we look for providers who have many server options available for maximum flexibility.
Fast connection speeds. You don't want your VPN to slow your internet connection down to a crawl, so we look for providers with the fastest and most reliable connections.
Quality software. You'll generally use the software created by your VPN provider to access your VPN, so we want to see responsive, easy to use software which covers all of the essential features.
Strong security. In order to protect your security, we look for strong 256-bit encryption which is almost impossible to crack. We also insist on companies with a no-logging policy to protect your privacy.
Top 5 VPNs for the Netherlands
The VPN market is saturated with competing offers, but in our testing only a few stood out as the best for Dutch users. Here are the best VPNs for Holland: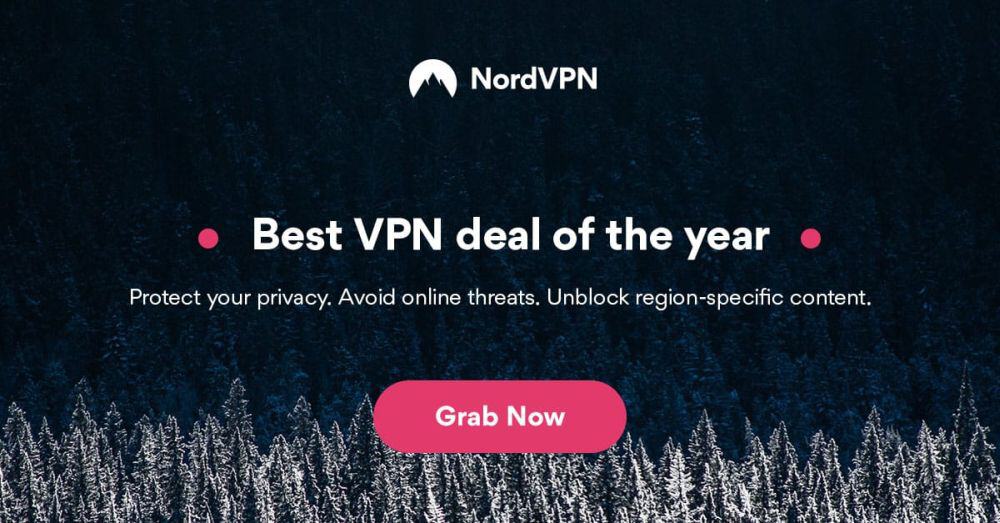 If you love to watch content from all over the world, or if you travel often and want a VPN which can keep up with your globetrotting, then we recommend NordVPN. It truly is a top VPN service for travelers, as it will let you get around region locks of all kinds thanks to its massive server network. The network covers 5,500+ servers in 60 different countries, so you'll always be able to find a server where you need one.
The service has excellent security, with strong encryption and no logging. A big advantage of NordVPN is that it offers the ability to "chain" together two VPN connections in a method known as a Double VPN. Normally, your VPN will encrypt your traffic, then route it through a proxy server to mask your true IP address, but with Double VPN, the process is repeated. The result is a nigh-unbreakable level of encryption that totally obfuscates your IP address twice over. Not only does this provide even more security, but it also means that the VPN can even be used in China where VPN blocking prevents other VPNs from working.
Read our full NordVPN review.
Pros
Unblocks US Netflix, iPlayer, Amazon Prime and other streaming services
Extensive server park of over 5,400 different servers
Allows up to 6 devices to be connected at once
No logs and encrypted connections for total privacy
24/7 Chat Support.
Cons
Some servers can have average d/l speeds
Refund processing can take up to 30 days.

Surfshark strikes at the heart of what Dutch people hold most dead: A great deal. It's hard to recommend a VPN that offers more bang for buck than Surfshark, with its slashes prices and top-shelf protections.
You get access to 256-AES-GCM encryption–the same used by the NSA–which connects you to over 3200 servers in 65 countries. Among this network are nodes that offer static IPs and multi-hop encryption–and they all benefit from blanket obfuscation, built-in smart DNS (useful for beating Netflix's VPN blocks), and even anti-censorship methods for when you go traveling.
Additionally, Surfshark blocks out known malware links, pop-ups and ad trackers before they can even load–which can improve page loading times and reduce mobile data used. Moreover, you can even split your subscription with a friend–Surfshark allows for unlimited simultaneous connections, and their no-logging policy ensures that any device connects completely anonymously.
Pros
Reliably unblocks Netflix US, UK, Japan, and more
Unblock Netflix on any server, no more picking and choosing
Accepts cryptocurrency payments for enhanced anonymity
Favorable BVI jurisdiction guarantees no logs kept
Responsive customer support available 24/7.
Cons
Connection speeds won't impress users of other high-end VPNs
Apps don't allow for much manual fiddling for power users.
Read our full Surfshark review.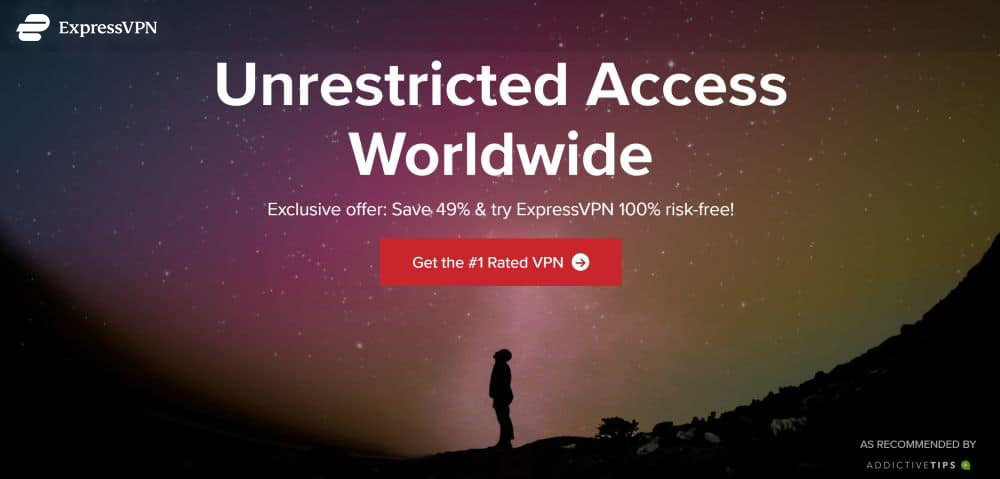 One of the best-known and most popular VPN services among power users is ExpressVPN. This provider has a massive network of more than 1000 servers in 145 locations across 94 different countries, so you'll always be able to find a server when you want to get around region locks and watch local content from elsewhere. The security is good too, with 256-bit AES encryption keeping your data will be safe and a no-logging policy protecting your privacy.
The software is clean and well designed, with a large variety of platforms supported, from both newer and older versions of Windows (including Windows RT, Windows XP, Widows Vista, and Windows 7, 8, and 10) to Mac OS, Linux, and Android. The software also has a special speed test feature which will help you to find the fastest server to connect to.
Read our full ExpressVPN review.
Pros
Unblocks Netflix and other streaming sites
94 countries, 3,000+ servers
Very simple and easy to use
Strict no-logs policy for personal information
Customer Service (24/7 Chat).
Cons
Max 3 connections simultaneously
Slightly pricier than competition.
For those who are looking for a comprehensive yet easy-to-use security solution, we recommend PureVPN. As well as a VPN, you'll get a bundle of other security software to cover all of your security bases with this one package.
The VPN gives you access to a network of 2,000+ servers in 140 different countries, so you can get around region locks from the Netherlands. But that's not all: the bundle also includes software for ad blocking, malware protection, anti-virus software, and web filtering, all controlled through simple, straightforward software.
If you're looking for a security package that you can install on the devices of your children or less tech-savvy relatives like Oma and Opa, then this bundle will keep them safe as they browse. The software supports Windows, Mac OS, Android, iOS, and Android TV, plus browser extensions for Chrome and Firefox.
Read our full PureVPN review.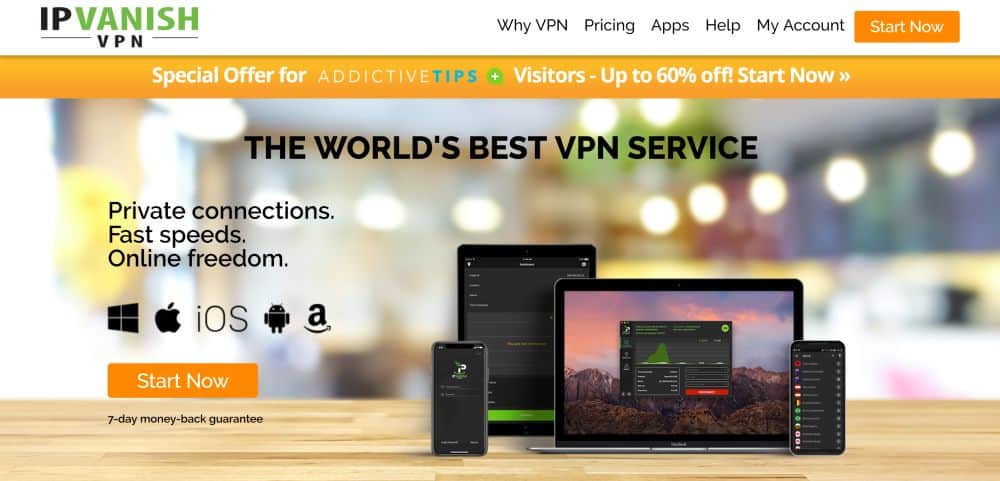 IPVanish are known for their super-fast connections which make using this service a pleasure, not a chore. The security is solid, with strong 256-bit encryption to stop anyone from hacking your data, and one of the most complete no-logging policies around to stop records of your private internet use from being saved or accessed later.
The software supports plenty of platforms, including Windows 7, 8, and 10, plus Mac OS, Linux, and Android. And there is a massive network of 1,300+ servers in more than 60 countries, so you'll be able to get around region locks and watch content from any country that you choose.
Read our full IPVanish review.
What Is Region Locking?
One of the biggest advantages of using a VPN is that it allows you to get around region locks. You know how when you visit a site like Hulu, Amazon, or Netflix, you see a version of that site which is tailored to your country – with text displayed in your local language or other regional changes? This shows you that you're being served a regional version of that website. And while this can sometimes be useful, it can also restrict what content is available for you to view.
Netflix and Hulu, for example, only have the legal rights to stream certain shows and movies in particular countries. If the site does not have the rights to the movie you want to watch in your region, you'll be unable to watch it. Similarly, useful sites like the UK's BBC iPlayer can be used to stream all of the BBC's content, but only if you are located within the UK. If you're in the Netherlands and you try to access this site, it won't work.
But there is a way to get around these region locks, and that's by using a VPN.
How to Unblock Websites with a VPN
Websites serve you regional versions of their content by examining your IP. An IP address is a unique string of numbers which is assigned to any device which is connected to the internet. So, for example, your phone has one IP address, your laptop has another, and your neighbour's laptop has yet another. The string is unique so that the particular data that your device has requested (such as when you enter a URL into your browser and it requests a copy of the website) can be accurately routed to your device.
Within your IP address is information about the country in which you are currently located. Certain ranges of numbers are assigned to particular countries, so any site that you visit can immediately see which country you are located in based on your IP.
In order get around region locks on content, you need a new IP address. When you use VPN software to connect to server in the UK, for example, you are assigned an IP address in the UK. Any data that you send over the internet is encrypted until it reaches the server, where it is decrypted and sent on its way. It fools websites by making it look like you are browsing from one country when you're really in a different one.
it looks as if you are browsing from the UK even if you are currently located elsewhere in the world.
This means that you can easily access UK-only content like the BBC iPlayer from the Netherlands, simply by using your VPN to connected to a UK server. You can also connect to servers in the USA to watch videos on the Comedy Central website, or connect to a server elsewhere in the world to check out that country's selection on Netflix. With this method, you can get around region locks to access content from any country.
Other Advantages of Using VPN
A VPN isn't just useful for getting around region locks though. It's also good for your privacy and security in a variety of ways:
Prevent Snooping from Your ISP or the Government
If you use an unsecured internet connection for your home network, it's shockingly easy for outside parties to observe and record your internet activity. Your ISP will monitor all of the traffic going over their network, and the government can check in on this data by forcing your ISP to hand over records of your browsing history. This should be a matter of concern for everyone, no matter what they are using the internet for or what country they live in. Your browsing history ought to be private, and a VPN can make sure that it is through the use of encryption. When you're running a VPN, your ISP and other observers can see how much data you are using, but not what the contents of that data is.
Download More Safely
The laws about downloading are more liberal in the Netherlands than in other countries, but you can still end up getting fined for downloading something you shouldn't have. If you're going to download lots of content, especially if you're going to use P2P downloading like torrents or usenet, then it's especially important to encrypt your web traffic to prevent your ISP coming after you for any copyright issues.
Boost Your Security when Using Public Wi-Fi Networks
It's so handy that many locations now have free Wi-Fi, whether they're cafes, bars, airports, or libraries. However, these public Wi-Fi networks can be dangerous to use. When you are connected to a network with many other people, it is possible for others to intercept and view the information you're sending over the internet–which could include your passwords, your private emails, or even your credit card details. In order to keep all of this information safe, you should always use a VPN when using public Wi-Fi networks as the encryption will prevent anyone else from gaining access to your data or stealing your identity.
Conclusion
Users from the Netherlands can take confidence from the fact that their country has some of the most user friendly and pro-net neutrality laws in Europe. However, these laws don't mean that you're safe from all cyber threats. In order to protect your privacy by stopping outside parties from observing your internet usage, and in order to prevent your data being hacked when you're on a public Wi-Fi network, you should use a VPN to encrypt your data.
As well as the privacy and security boost, Dutch users will benefit from a VPN as it allows you to access content which would not normally be available in the Netherlands. For getting around region locks and protecting your privacy, you can use any of the VPNs that we recommended.
Which of these is your favourite VPN for the Netherlands? Or is there another service that you love which we didn't mention? Let us know in the comments below!