We are reader supported and may earn a commission when you buy through links on our site.
Learn more
Best Mobile VPN for Windows Phone 10
While Windows phones have built-in security measures, you need a VPN installed before you can consider yourself safe from hackers and snoopers. Today, we'll share our findings of the best VPN for Windows 10 mobile (including phones and tablets) based on rigorous market research.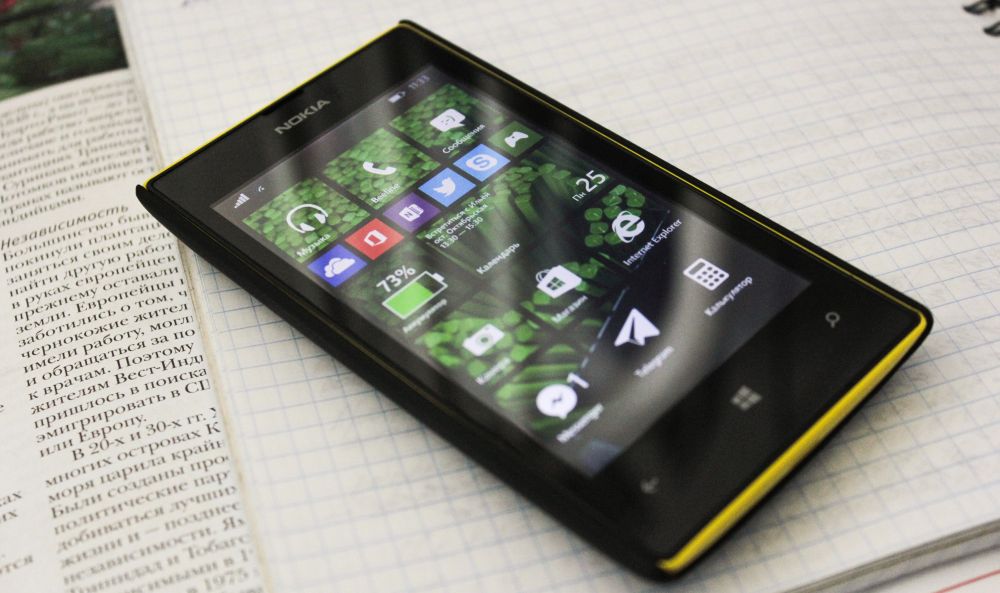 Keeping your mobile devices secure is a big challenge. These tiny pieces of hardware carry all of our private information, from contact lists to e-mail passwords, bank account information, and even credit cards. If our phone breaks or goes missing, a big chunk of our life goes with it. Even worse is when data is stolen when we go online and we never even realize it was taken.
Smartphones are prime targets for data thieves, but there are ways to protect against them. Encryption is a powerful deterrent that locks down data as soon as it leaves your device, making it impossible for anyone to read your information.
Virtual private networks provide the right level of encryption and security needed to keep our cell phones secure. They're inexpensive, easy to use, and remarkably effective. Read below to find some of the best VPNs for your Windows Phone device to make sure you're always safe when you go online.
READ ALSO: How to bypass school WiFi on your phone or tablet
Evaluating the Best Windows Phone VPNs
With so many VPNs on the market, how can you choose the one that's right for you? It's easy to get caught up in the flood of information. Making sense of encryption protocols, speed test scores, privacy policies, and the like is enough to make your head spin. We've isolated the top criteria used for evaluating the best VPNs for Windows Phone and beyond.
Software availability – The biggest obstacle to finding a VPN for Windows Phone is software availability. VPNs build custom solutions for a wide range of devices, including desktops, tablets, and many smartphones. Windows Mobile often gets overlooked, and since OpenVPN still isn't available for the platform, VPN solutions can be limited.
Encryption protocols – Because of the limited software availability, many VPNs rely on built-in protocols to handle encryptions. The standard OpenVPN setup doesn't work for Windows Phone, which is why the VPN service needs to support alternatives. L2TP/IPSec or PPTP are commonly used.fas
Logging policy – The foundation of a good VPN rests upon its logging policy. If the details of your website requests or traffic history are stored, they could eventually fall into third party hands. If no logs exist, your data is safe.
Speed – VPNs are known to be slower than standard internet connection, largely due to encryption overhead. Good VPNs have developed clever workarounds that provide fast speeds without sacrificing privacy.
Server network – The more servers a VPN has, the better. A wider selection gives you more options for finding nearby nodes and foreign servers that aren't bogged down by hundreds of users. They also ensure you always have a good connection while traveling.
File and traffic restrictions – Some VPNs, especially low-quality free VPNs, will block P2P network traffic and torrent downloads. They'll also throttle your speeds and limit the bandwidth you can use on a monthly basis. Good VPNs never restrict any of these things and let you access what you want without limitation.
We use these to make our recommendations, and you can use them to help narrow your search for a good mobile VPN. Below is our list of the 6 best VPNs for Windows 10 Mobile.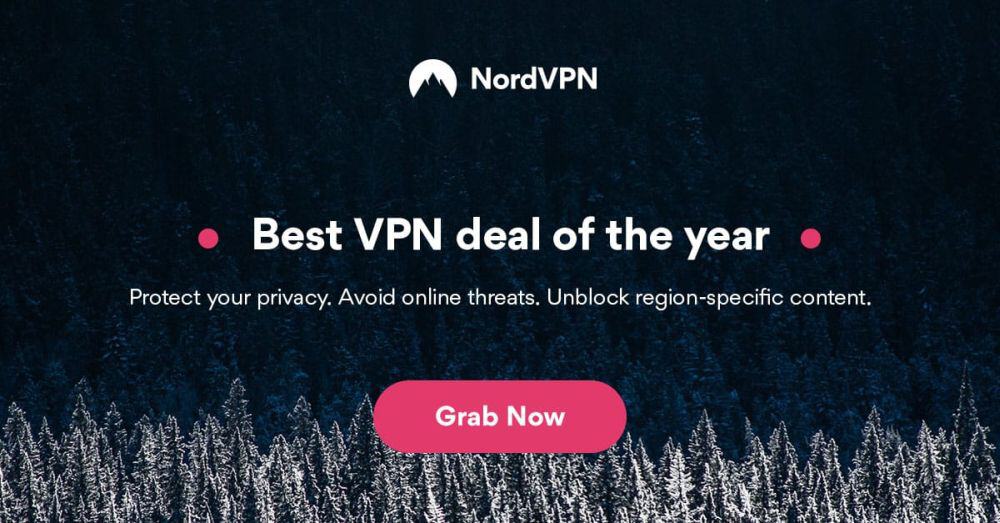 NordVPN is a long-standing favorite in the VPN marketplace. The service has been in business for years, providing incredible speeds and amazing privacy to countless users around the world. It all starts with one of the largest networks in the industry: over 5000+ servers in 56 different countries. That list is constantly expanding to include new nodes in new cities, as well. Your connection is always protected by 256-bit AES encryption, and unmonitored traffic means full access to torrents, P2P networks, and unlimited bandwidth no matter which device you're using.
NordVPN doesn't offer custom software for Windows Phones, but the service does support L2TP/IPSec connections, which the operating system supports natively. NordVPN's best features include:
Incredibly thorough zero-logging policy means no traffic logs, time stamp logs, bandwidth logs, or IP address logs.
Specialized servers that deliver double encryption, onion routing, and anti-DDoS.
Reliable, open, and private access to the internet even in countries like China.
One of the few VPNs that maintains reliable access to Netflix.
Read our full NordVPN review.

Surfshark certainly didn't skimp out on its Windows mobile apps in terms of functionality. At first glance, it all seems so simple: just three tabs organizing its 800+ servers into standard connections, multi-hop, and static IP-capable nodes, plus the little cog that denotes advanced settings. And really, it is simple, because Surfshark's philosophy is to cut the fat and leave only the meatiest privacy provisions.
For example, gone are inferior step-down encryption ciphers; instead Surfshark uses 256-AES-GCM, which is both unbreakably strong and quite fast. Its tunneling protocols include OpenVPN, IKEv2/IPSec, WireGuard–and they even threw in Shadowsocks for Windows users only.
Also gone are limitations on simultaneous connections, bandwidth, server switches, and traffic type. What they have added, however, is obfuscation on every server, allowing any connection you use to function as a highly anonymizing "specialty server". Zero logging rounds out the outstanding Surfshark package.
Read our full Surfshark review.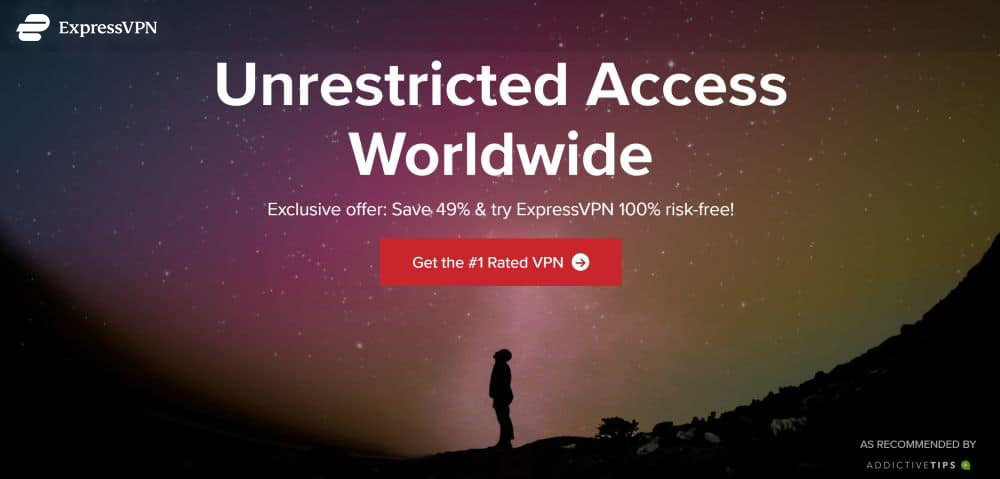 If speed is your top priority, ExpressVPN is the VPN for you. The company's long-standing best feature is incredible connection speeds to servers around the world, covering 3300 servers in 94 different countries. Built-in speed tests on the desktop versions of its software lets you verify speed and latency scores on the spot and choose a better server whenever necessary. You'll never worry about sluggish internet with ExpressVPN on your device, and with no restrictions on torrent traffic and unlimited bandwidth, you can download or stream movies all day long.
ExpressVPN doesn't offer dedicated software for Windows Phones, opting instead to use a manual configuration with L2TP/IPSec or PPTP. More features from ExpressVPN:
Strong 256-bit AES encryption, DNS leak protection, and automatic kill switch features.
Perfect for private connections in censorship heavy countries like China.
Extremely easy to use software, and fast setup for Windows Phones.
Reliable access to both the browser version of Netflix and its apps.
Read our full ExpressVPN review.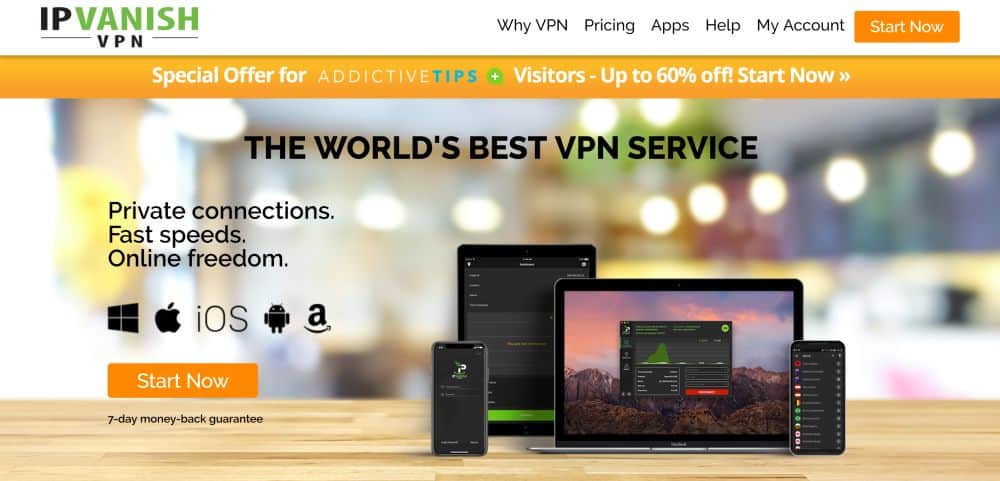 Staying hidden and secure are two of IPVanish's strongest features, and it maintains them both while providing lightning-fast servers. Privacy-conscious users will appreciate the 256-bit AES encryption on all data transfers, along with DNS leak protection and an excellent zero-traffic logging policy. These features are available throughout the entire IPVanish network (all 1200 servers in 60 different countries, one of the biggest in the VPN market). You'll always have a fast and secure connection to the internet with IPVanish, no matter where you connect from.
IPVanish doesn't have a custom app for Windows Phone, but it does feature L2TP with IPSec encryption you can set up yourself. IPVanish also includes the following:
Easy-to-use custom software and apps for a wide variety of platforms, with simple setup for Windows Phone devices.
Fast and secure servers allow for incredible lag-free video streams through Kodi.
Download torrents with full privacy and anonymity.
Read our full IPVanish review.
PureVPN hits the sweet spot when it comes to fast, friendly, and privacy-conscious VPN service. The company owns and operates its entire network of over 750 servers in 141 countries, providing a huge number of node options while keeping third parties completely out of the picture. This incredible amount of control allows PureVPN to offer a number of additional features for desktop versions of its app, including virus protection, ad blocking, and anti-phishing measures. Everyone who uses PureVPN will take advantage of no traffic logs, unlimited bandwidth, free access to torrents and P2P networks, and extremely fast speed test results on most of its servers.
PureVPN offers encryption and anonymity on Windows Phone devices through L2TP/IPSec. PureVPN at a glance:
Unlimited server switching and simultaneous connections for up to five devices.
Great 256-bit AES data encryption for all traffic that leaves your phone.
Guaranteed 99.99% uptime for the entire server network.
Wi-Fi security for extra protection while traveling.
Read our full PureVPN review.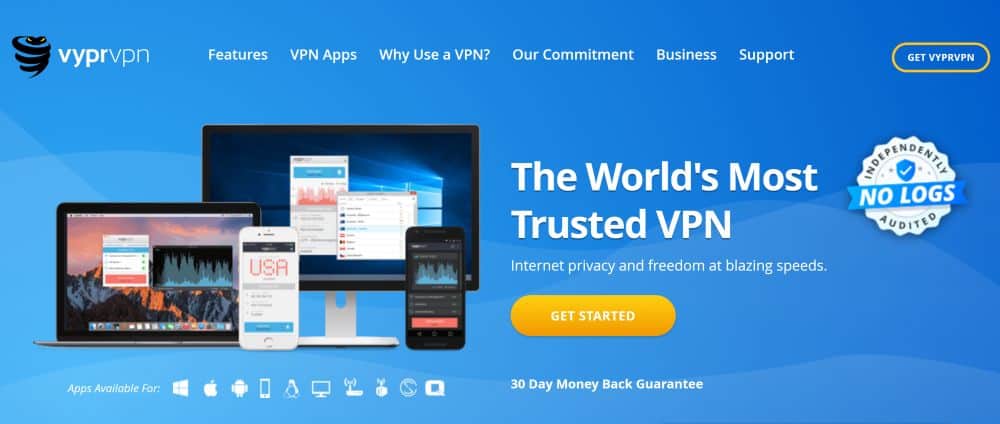 VyprVPN has a handle on the privacy situation, starting from the ground-up. The company owns and operates its entire network of servers, over 700 in 70 different countries, which allows them to perform all maintenance and upgrade tasks themselves. Third parties never have access to VyprVPN's servers, which offers a new level of privacy most other VPNs simply can't touch. There's also the unique and exclusive Chameleon technology that helps defeat deep packet inspection, a method often used by governments to track and censor the web. With Chameleon in place, you're guaranteed to stay anonymous, even in the most restrictive of environments.
As with most VPNs, VyprVPN doesn't have native support for Windows Phones. The services utilize the IKEv2 protocol to provide encryption and privacy. VyprVPN also includes the following features:
Incredible privacy features for the best VPN access in China and the Middle East.
Unlimited bandwidth and no restriction on P2P traffic or torrent downloads.
Strict zero-logging policy on both traffic and DNS requests.
Read our full VyprVPN review.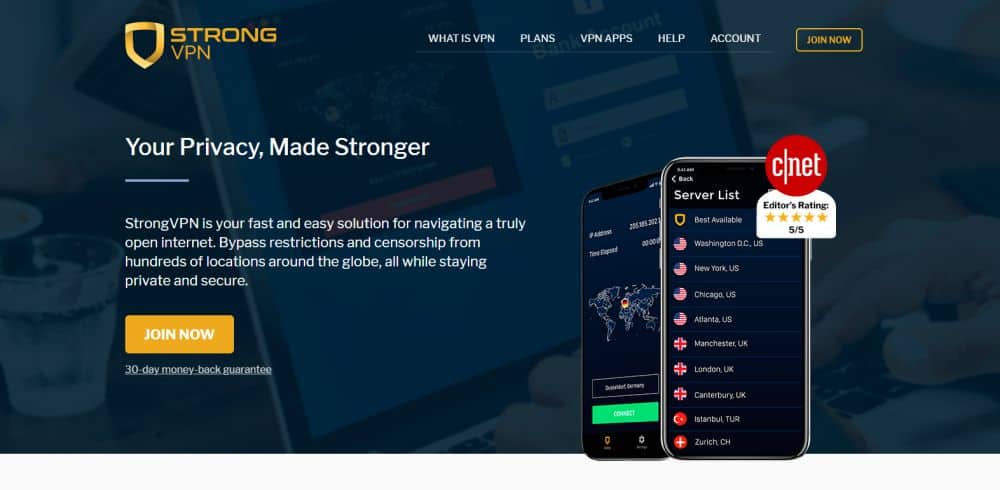 If you want tough encryption and strong privacy features, StrongVPN is the way to go. The service keeps a small network of a few hundred servers in 45 different cities, enough to provide the variety you need but still small enough to offer quality connections and stellar uptimes. The biggest features from StrongVPN are zero traffic logs and 2048-bit encryption, which is exponentially higher than most VPNs on the market.
StrongVPN supports a wide variety of security protocols, including L2TP with IPSec. This makes it easy to set up a VPN on Windows Phones. More StrongVPN features:
Free StrongDNS service for a wider variety of IP address to choose from.
A straightforward zero-traffic log policy to help protect your data.
No bandwidth limitations, no speed caps, and no throttling.
How to Set up a VPN on Windows Phone
It's difficult to find reliable VPN software that works with Windows Phone. This is largely due to the platform's lack of support for OpenVPN, the software and the protocol that most VPNs are based upon. Microsoft has a built-in method for gaining VPN encryption and anonymity through alternative protocols, however. It comes with all Windows Phone devices and doesn't require any additional downloads.
How to use a VPN on Windows Phone:
Go to the app list and tap Settings > VPN.
Set the Status to "On" then tap "Add".
In the Server name or IP address box, type the name or IP of the VPN server you want to use. This can be found on your individual VPN provider's support pages.
Select "Type" and tap "L2TP with IPSec".
On "Connect using", select "Username+password+preshared key". Enter your VPN service details here.
In the Profile name box, type a unique name and tap "Save".
Set up new profiles for each server you'd like to connect to, if any.
Each time you go online, simply go to Settings > VPN and activate your chosen server.
Note that the above methods could vary slightly depending on your VPN. Check the help files on your service's website for a more detailed and customized guide.
RELATED READING: Mask your IP address on iPhone or iPad
What's the Difference Between OpenVPN, L2TP/IPSec, IKEv2, and PPTP?
The more you look into VPNs for Windows Phones, the more you'll encounter specific encryption protocols utilized by VPN services. OpenVPN isn't available for Windows Phone, so VPNs have to use other methods to provide encryption and anonymity. The most common alternatives include L2TP/IPSec and PPTP connections, but both has their own set of drawbacks. Below is a quick guide to the common encryption protocols used by VPNs around the world.
OpenVPN – The OpenVPN protocol is used by most VPNs to handle encrypted traffic to and from the user's computer. Essentially, it pulls together a variety of other protocols and allows them to work together. OpenVPN offers the best balance of speed and security and has become the default standard that powers the VPN market.
L2TP/IPSec – Layer 2 Tunneling Protocol (L2TP) is a method for delivering data from one device to another. Since L2TP doesn't offer any kind of encryption, it's almost always paired with Internet Protocol Security (IPSec), which negotiates cipher keys to create a VPN-like environment. L2TP/IPSec is generally considered more secure than OpenVPN, but it's also notably slower.
PPTP – The Point-to-Point Tunneling Protocol (PPTP) is a straightforward method of sending data packets through a private tunnel. It doesn't offer encryption, however, relying instead on avoiding detection to provide privacy. PPTP has some security flaws and is generally only recommended as a last resort if OpenVPN or L2TP/IPSec is unavailable.
IKEv2 – IKEv2, or Internet Key Exchange version 2, is part of the IPSec suite that exchanges authentication certificates to set up encrypted internet sessions. IKEv2 isn't a pseudo-VPN itself, but rather a methodology employed with other protocols. It's known to add security to the initial key exchange, but there are some vulnerabilities.
How to Encrypt a Windows Phone
Encrypting your internet traffic is only one part of the encryption picture. A VPN protects data that leaves your device, wrapping each packet in unbreakable scrambled code. But because you carry your phone with you wherever you go, it's possible for hackers and data thieves to grab information even when you aren't connected to the internet. A great way to protect against this is to encrypt your Windows Phone device by default.
READ ALSO: Best WhatsApp VPN to Unblock the Service from Anywhere
Local encryption protects data sitting on your smartphone. As soon as the screen locks everything stored on the device is encrypted. When you unlock your phone, it gets decrypted, all in an instant. If someone tries to break into your Windows Phone, they'll find nothing but randomized code. It only takes a few moments to encrypt your device, but it can save your data from a wide variety of attacks.
How to encrypt a Windows Phone:
From the Start menu, swipe to open the All apps screen.
Search for the Settings app, then tap "System".
Scroll down and select "Device encryption".
Tap the slider to "On".
If you don't have a screen lock PIN in place, you'll be redirected to create one.
Note that on-device encryption doesn't protect SD card data by default. If you use removable storage with your Windows Phone, make sure all sensitive information is stored locally.
Free VPN Providers Can Be Dangerous
With such poor support for OpenVPN protocols on Windows Phone, it's tempting to search through the app store and download the first free VPN program you see.
The problem with this is most free VPNs are on the sketchy side, especially when it comes to logging practices. If a VPN isn't charging users for their services, they have to make income through other methods. This usually involves gathering and selling private data to third parties, which defeats the core purposes of a VPN entirely.
TUTORIAL: How to setup a home VPN yourself
It may be tempting to use a free VPN, even if it's just for one quick video or to bypass one blocked website. It's almost never worth it to gamble with your private information, however. Trustworthy VPNs are hard to find, even in the paid sector. The recommendations above are a great start, as all have been in business for years and proven their reliability. And none of them keep logs.