We are reader supported and may earn a commission when you buy through links on our site.
Learn more
Best VPN for Zattoo: How to Watch from Outside Germany
If you're searching for the best VPN to unblock Zattoo anywhere in the world, you've landed on the right page. Today, we discuss how geographical content restrictions work, plus review the top-rated VPN providers which offer the smoothest, most private streams. With these tips, you can watch Zattoo outside of Germany in just a few easy steps.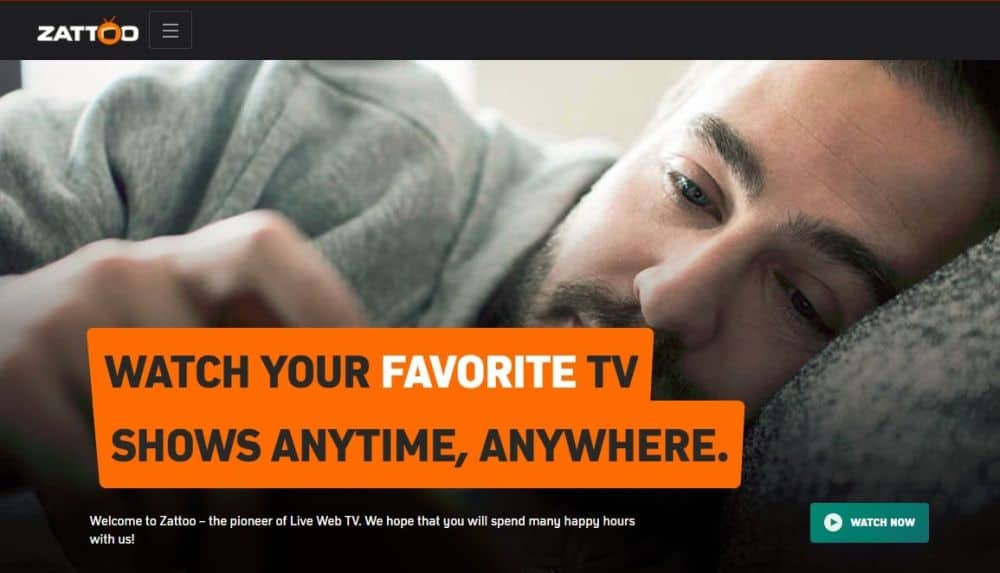 Zattoo is a TV replacement platform developed by the University of Michigan. The service delivers live television channels along with video on demand to a wide variety of devices, especially in Switzerland, Spain, Denmark, and Germany. While the company largely partners with other businesses for streaming ventures, countless users around the world use it to meet their daily entertainment and TV streaming needs.
Zattoo is unavailable outside of Germany and a handful of other countries, but you can regain access anywhere with these secure VPNs:
NordVPN – Best for Zattoo – NordVPN offers the most robust VPN network in the business, with tens of thousands of spoofable IPs across Europe you can use to unblock and stream Zattoo abroad.
Surfshark – An excellent core VPN with some unique extra functionality for defeating VPN blocking.
ExpressVPN – A super-fast provider capable of unblocking streaming sites with smart DNS and Lightway encryption.
CyberGhost – The no-brainer option for people who'd rather just click "unblock streaming" than deal with advanced configuration.
PrivateVPN – The no-brainer for people who love advanced configuration, so you can tweak your VPN for optimal streaming speed.
PureVPN – Strong all-rounder that gives a new meaning to the phrase "massive server network".
While Zattoo is generally considered a safe service, the internet in general isn't always so above board. Simply by going online, you subject your activity and your identity to a number of threats, including government surveillance, ISP logging practices, and cyber criminals. Fortunately, it's easy to deploy a reliable VPN to protect yourself from these dangers. Below we discuss just how to use a VPN to keep your Zattoo streams safe, along with several of the best VPNs to get the job done.
30-days money back guarantee
Top VPN Criteria
What's the best VPN for Zattoo, and how do you know which ones live up to the hype? We'll outline a few of the most important features necessary for a fast online streaming experience, followed by recommendations for the top VPNs to use with Zattoo.
Researching a good VPN means knowing which features are important for a solid online experience. It's tough to make sense out of all the encryption jargon, privacy protocols, and other marketing speak. By focusing on the criteria listed below, you can cut through the garbage and find just the right service to meet your needs. No mess, no fuss, just quick VPN downloads every time you connect.
Best VPNs for Zattoo
If your goal is to unblock Zattoo outside of Germany with as little headache and effort as possible, the following VPNs are highly recommended due to their privacy policies and performance: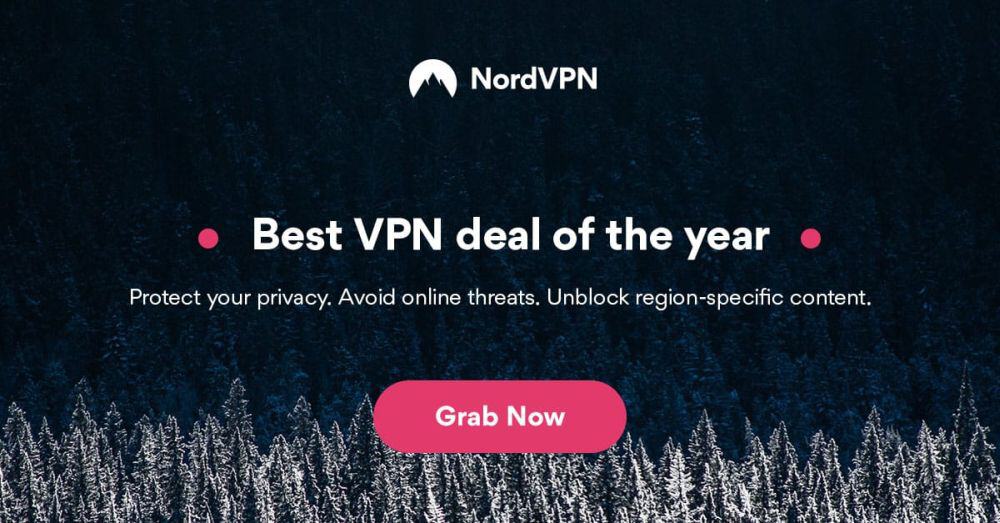 NordVPN is one of the fastest and most popular VPNs around, mainly thanks to the company's absolutely massive server network. The list is growing on a daily basis, but at the time of writing it sits at over 5,500 servers in 59 countries, every continent except Antarctica. This amazing variety lets NordVPN deliver fast speeds to all of its users regardless of location. There's also a few unique services only NordVPN offers, including protection against DDoS attacks, double encryption, and onion over VPN. All you have to do is connect to the right server and you're set.
NordVPN also includes everything you need to stay safe, from 256-bit AES encryption to DNS leak protection, an automatic kill switch, and an amazing zero-logging policy that covers time stamps, DNS requests, IP addresses, and traffic. It's also extremely easy to use, with smart, intuitive software designed for all modern devices that handles all of the heavy lifting. When you need solid, fast protection, just fire up NordVPN and you?re set.
Read our full NordVPN review.
Pros
Servers optimized for unblocking Netflix
GooglePlay users rating: 4.3/5.0
256-bit AES encryption with perfect forward secrecy
No logs and encrypted connections for total privacy
Live Chat Support.
Cons
Refund processing can take up to 30 days.

One of the best site unblockers to launch in the last couple of years is undoubtedly Surfshark. Not only do they offer the best standard VPN features–like 256-AES-GCM encryption, zero logging, and a massive network of more than 3200 servers in 65 countries–but they also feature some smart automatic provisions designed to combat the growing problem of VPN blockers employed by sites like Netflix.
This smart suite includes Camouflage obfuscation, and built-in smart DNS functionality that confounds proxy bans and VPN blacklists. Thus, you need only connect to a server in Germany, and Surfshark will handle the rest of the advanced configuration behind the scenes.
In terms of performance, Surfshark delivers outstanding speeds sufficient for buffer-free Zattoo streams, even in HD. You never have to worry about logs, either, as Surfshark's privacy policy forbids their collection while their RAM-only servers make it impossible.
Pros
Reliably unblocks Netflix US, UK, Japan, and more
Diskless server network ensures you leave no trace behind
Accepts cryptocurrency payments for enhanced anonymity
Independently audited privacy practices
Get help any time of day via email, phone, or live chat.
Cons
Server network is not nearly as expansive as major competitors
Apps don't allow for much manual fiddling for power users.
Read our full Surfshark review.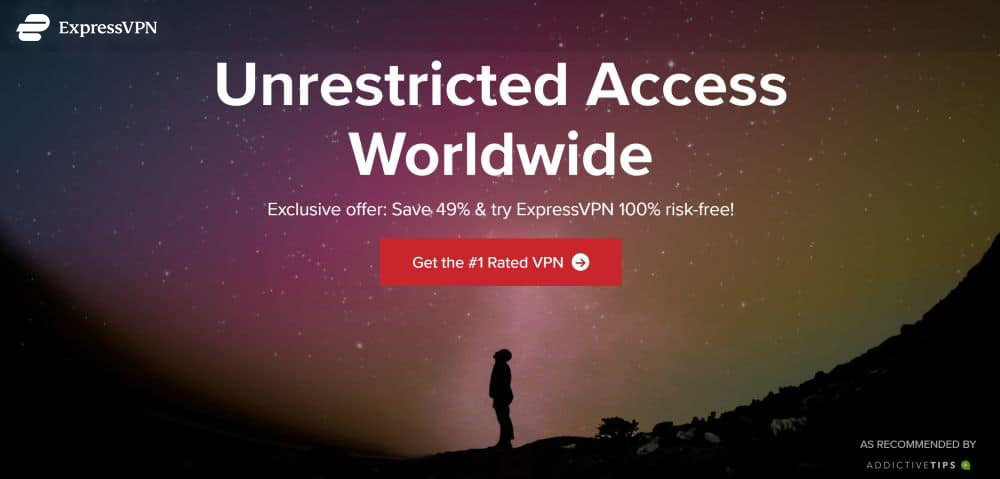 ExpressVPN has a stellar reputation as a fast, friendly, and easy to use VPN. It's also one of the most popular services in the world, largely thanks to its easy to understand features and wide variety of software. ExpressVPN is perfect for anyone looking for a reliable VPN, and it's especially well-suited for streaming from Zattoo thanks to its high quality servers and download speeds.
ExpressVPN offers a wide range of privacy features to keep you safe online, including 256-bit AES encryption, a zero-logging policy on all traffic, and both kill switch and DNS leak protection. ExpressVPN's server network covers over 3,000 locations in 94 different countries, giving you plenty of options for a fast connection no matter where you live or travel to.
Using ExpressVPN is surprisingly simple, too. The company offers custom software for most modern devices, including Windows, Mac, Linux, Android, and iOS. Once you create an account, all you need to do is download the app, sign in, and you're good to go. ExpressVPN takes care of finding the fastest server to connect you to each time you turn on your device. It keeps your data secure and your location hidden, as well.
Read our full ExpressVPN review.
Pros
SPECIAL OFFER: 3 months free (49% off - link below)
Superfast servers (minimal speed loss)
AES-256 encryption
No personal information logs kept
Customer Service (24/7 Chat).
Cons
High cost for month-to-month users.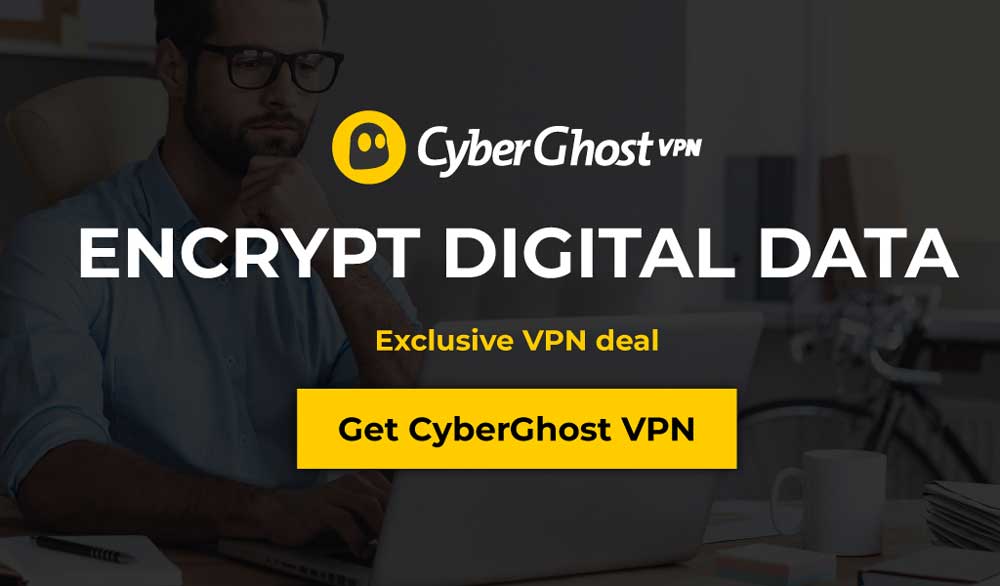 The CyberGhost company provides one of the best VPN experiences on the market. Much of this is due to its easy to use software that works on a wide variety of devices, including smartphones, desktop PCs, and laptops. Users can freely access to a huge network of over 5,900 servers in 90 countries, allowing CyberGhost to deliver incredibly fast and reliable speeds around the world. No buffering delays or internet slowdown, only great connections every time.
CyberGhost's privacy features keep you secure with 256-bit AES encryption on all data, a zero-logging policy on traffic, time stamps, and IP address, and both DNS leak protection and an automatic kill switch. These foundational features hide your identity each time you go online, allowing you to connect with fully encrypted data no matter where you go. You never have to spend time configuring these features, either, as CyberGhost is ready to go right out of the box!
Read our full CyberGhost review.
Pros
Works with American Netflix
Torrenting allowed
Robust encryption standards
No logs policy
45-days money back guarantee.
Cons
IPv6 WebRTC leak in macOS
Can't unblock some other streaming sites.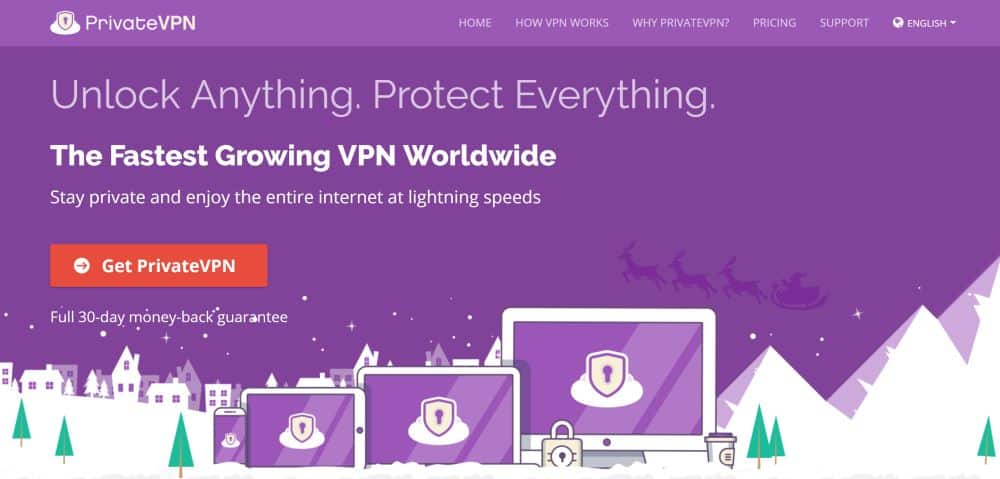 Not only is PrivateVPN fast, it's also one of the easiest to use VPNs around. The company offers lean and accessible software anyone can pick up and use, no configuration required. It runs like a dream on everything from Windows to Mac, iOS to Android, and it connects to the company's lightning fast network that offers excellent speeds around the world. You won't have a difficult time streaming anything with PrivateVPN on the job!
PrivateVPN operates a small but strong network of over 150 servers in 60+ countries, enough to deliver location variety and fast speeds without sacrificing reliability. PrivateVPN locks down all data passing through this network with 256-bit AES encryption, and it keeps your connection safe with an automatic kill switch, DNS leak protection, and a zero logging policy on traffic, too.
PureVPN is far more than just a VPN. The service platform offers a full security suite to its users that protects everyone from a range of cyber threats, making it one of the best ways to stay safe on the internet. With PureVPN you'll have anti-virus protection, malware shields, app blocking features, and DNS website filters in a single package. Simply download the software and you're safe, it's that easy.
PureVPN provides standard VPN privacy features on top of its extras, as well. It begins with a zero-logging policy on traffic and continues with an automatic kill switch, 256-bit AES encryption on all data, and DNS leak protection. These features work together to keep your data secure no matter what. And with PureVPN's self-owned network of 2,000+ servers in 140+ countries, you're guaranteed a fast connection at all times, as well!
Read our full PureVPN review.
How to Use a VPN to Watch Zattoo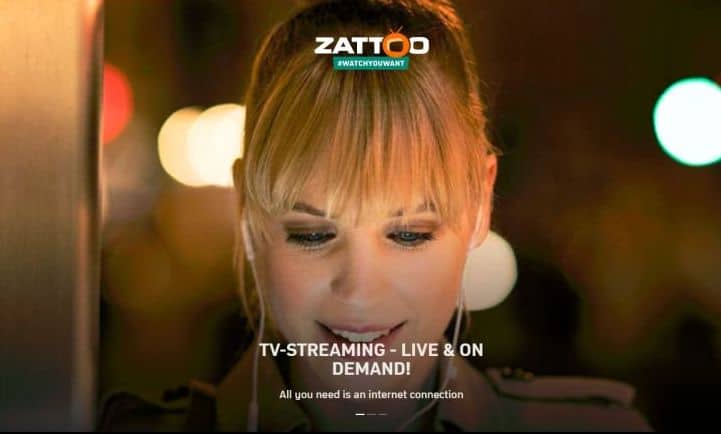 The Zattoo live TV service has limited availability. To open up all of its features, you'll need the right VPN, and a few minutes to get everything set up. If you're not sure how to proceed, simply follow our outline below.
Your first step will be to download and install your VPN software. Sign into a VPN's website and download the app for your device. Install it, launch the software, then enter your login credentials to activate the connection.
Most VPNs automatically connect to the fastest server as soon as you open the app. To use Zattoo, you'll need to have an IP address from Spain, Germany, Denmark, or Switzerland. Before you can start streaming, switch your VPN server to one of the countries listed above. To do this, open the server browser and find the right node. Connect, then wait a few moments for it to resolve. Now minimize the VPN app and let it run in the background.
Next you'll want to verify your IP address to make sure the VPN is actually working. With your VPN active and connected to one of the above server areas, open a web browser and go to ipleak.net. Wait for the page to load and it will run an IP address lookup automatically. Look at the box beneath where it says "Your IP address". If it shows the right country, you're good to go.
Now you can set things up with Zattoo. Start by visiting the Zattoo TV website and creating an account. Choose one of the subscription plans (start with Free if you?re not sure), then complete the checkout process. One your account is activated, log into Zattoo. Now you?ll be able to pick a stream and start watching live TV in an instant!
Before attempting to access your Zattoo, always make sure your VPN is active and connected to the right server. If it's not, you?ll be met with a message stating the service is unavailable in your country.
RELATED READING: How to check for DNS leaks
Zattoo Box Add-on for Kodi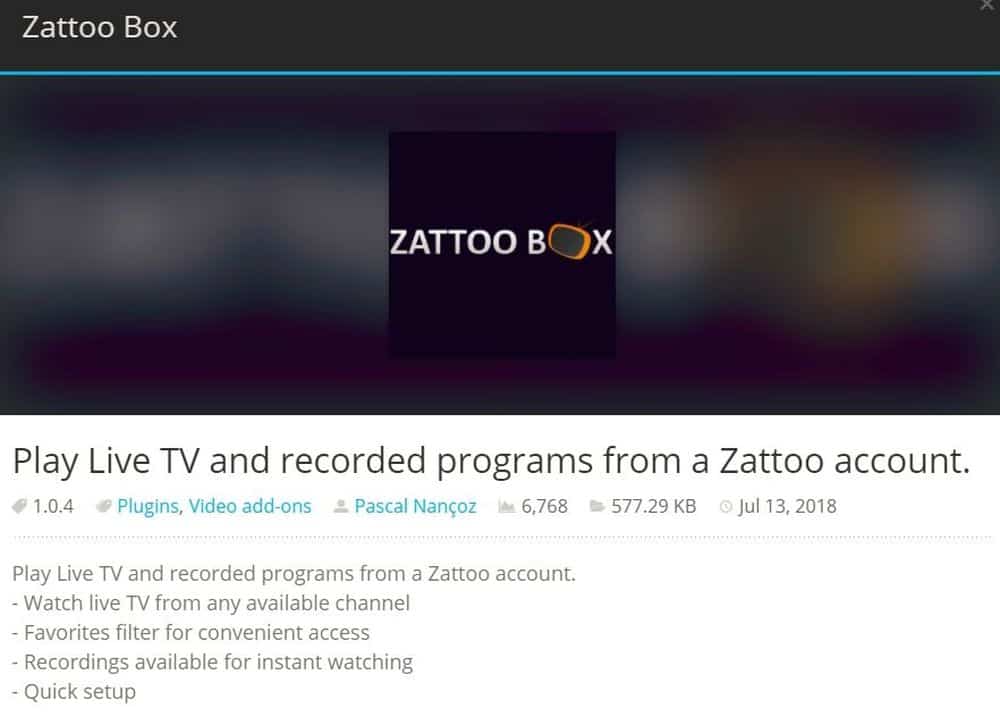 Not everyone is aware of this, but there's actually an official Zattoo add-on made specifically for Kodi. The software is open-source, completely legal, and surprisingly useful for Zattoo users who also run Kodi.
The Zattoo Box Kodi add-on lets you play Live TV and recorded programs from a Zattoo account, watch live TV streams from any of the service's channels, and favorite content for convenient access later. All of this is available from Kodi's unique and easy to understand interface, and it works on every device that supports Kodi!
To get started with the Zattoo Box add-on, start by creating an account at the Zattoo website using the links above. Once you have login credentials and an active Zattoo account, follow the steps below to install the add-on to your system.
Open Kodi on your device and select Add-ons.
Click the open box icon at the top of the menu bar.
Choose Install from Repository.
Select Kodi Add-on repository, the official repo that comes with the software.
Scroll down to Video add-ons.
Select Zattoo Box from the bottom of the list and install it.
Add your username and password in the Zattoo add-ons configuration screen.
Launch the add-on and start streaming live TV.
Conclusion
Zattoo is one of the best resources for live TV streams in several countries around the world. Its geographic limitations can be overcome easily with the right VPN, however, which makes it an ideal service for anyone who wants fast, reliable, and safe TV streams. All you need is a good VPN and you're set.
What's your favorite programming on Zattoo? And, where will you stream with your new VPN? Give us your thoughts in the comments below!