We are reader supported and may earn a commission when you buy through links on our site.
Learn more
Are Cryptocurrencies Safe And Legal To Use?
Cryptocurrencies have drawn a lot of attention in news media, along with surging interest from newcomers. But are they safe and legal to use? We'll address these questions and more in our comprehensive guide below. We'll also make recommendations for the top rated VPNs proven to enhance your security while using cryptocurrencies.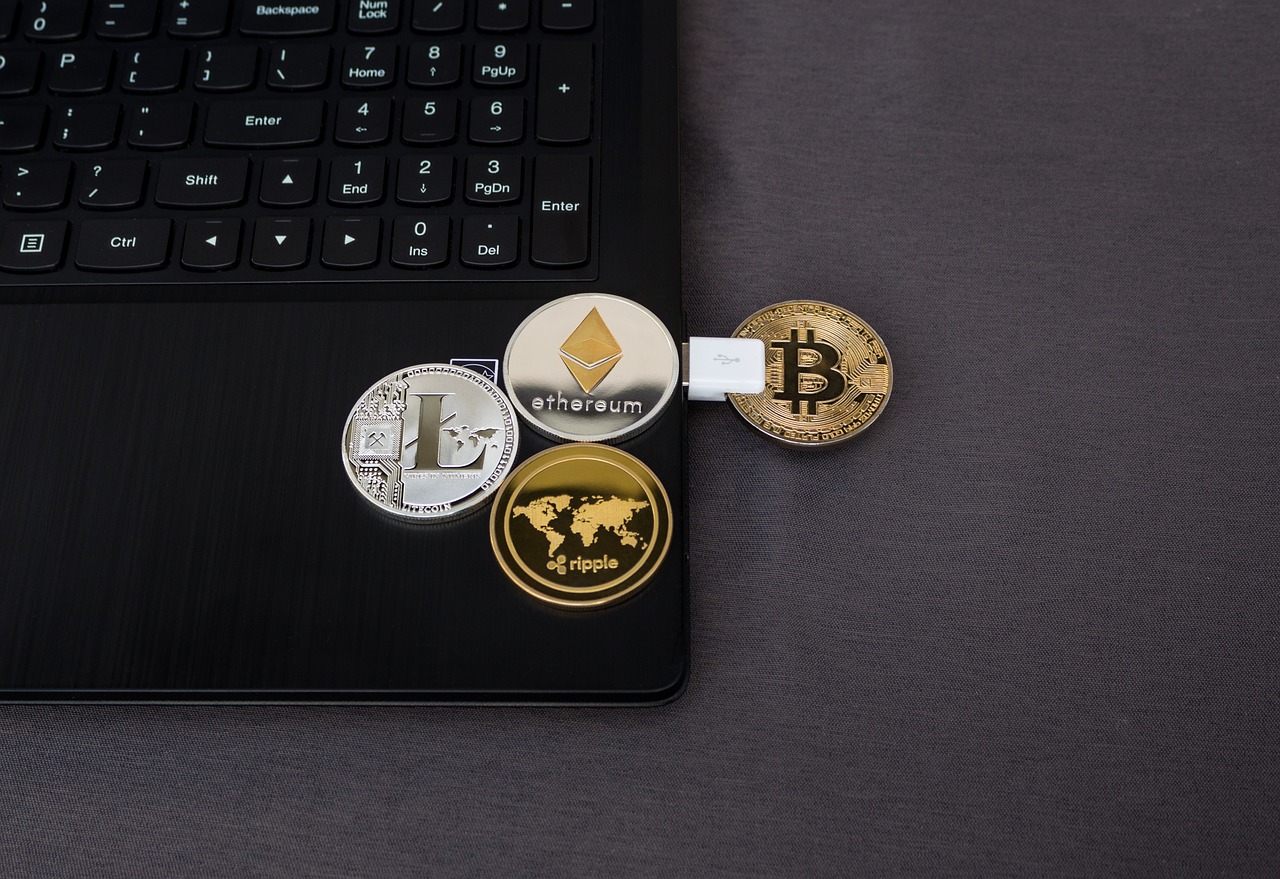 It used to be that only people with a high level of knowledge in technology and finance were involved in cryptocurrency mining and trading, but now it's more and more common for regular people to start use cryptocurrencies too. From the big names like Bitcoin to the lesser known but up and coming currencies like Ethereum, LiteCoin, or Dashcoin, there are many options for users to choose from. And there are increasingly more options to pay for everyday transactions in shops or online stores with cryptocurrencies.
Enhance the security of your cryptocurrency transactions with these anonymizing VPNs:
NordVPN – Best for Cryptocurrency – NordVPN allows you to unblock crypto exchanges, protect your wallet information, and anonymize your transactions. With NordLynx encryption and a massive network, you'll be able to do all this and more from any country, with no lag to boot.
Surfshark – An affordable VPN with myriad leak protections, obfuscation, strong encryption, and a policy of accepting cryptocurrency payments.
ExpressVPN – Your best choice when speed is top priority, like bidding sites and gambling. Super fast, stable network spans the globe.
PureVPN – Unimaginably huge network that encompasses more countries than any other. Breaks through China's Great Firewall.
StrongVPN – Outstanding balance of security, speed, and usability.
But if you're new to all of this, you might be wondering: are cryptocurrencies safe and legal to use? This is the topic we're going to address today.
Are Cryptocurrencies Legal?
The legal status of cryptocurrencies is rather complicated. In most countries in the world, there are no specific laws against the mining, purchasing, or trading of cryptocurrencies. However, even if cryptocurrencies are legal to have and own, they may not necessarily be acceptable as legal tender. Some countries have made new laws to explicitly allow the use and trading of cryptocurrencies, while in other countries, cryptocurrencies have been made illegal due to the possibility of money laundering using these currencies.
So the exact legal status of cryptocurrencies depends on where exactly you live, and you should check the laws in your country before using them. However, as a rough guide, you should know that cryptocurrencies are legal in countries in Europe and North America, and they are also legal in Israel, Turkey, India, Pakistan, Japan, South Korea, and Australia.
Cryptocurrencies are illegal in Bangladesh, Nepal, Cambodia, Ecuador, Algeria, and Morocco. In Indonesia, cryptocurrencies cannot be used as payment but it it legal to mine them.
Two countries in which cryptocurrencies are legal but the government has been pushing hard to regulate or restrict their use are China and India. In China, many cryptocurrencies exchanges have been shut down, but this has been down through means other than legal prosecutions. In these countries, users should be very careful when using cryptocurrencies even though they are not technically illegal.
LEARN MORE: How to unblock Bitcoin exchanges in China
Are Cryptocurrencies Safe?
A big attraction for users of cryptocurrencies is that they are often believed to be anonymous. Many users think that it is impossible for anyone to track their use of cryptocurrency to purchase goods or to trade, which is why they want to use cryptocurrencies to keep their transactions private. However, it is not strictly true that cryptocurrency transactions are totally anonymous.
The way that blockchain works is that all transactions are visible to everyone, so that no central bank is required as all users can track the transactions. To preserve anonymity, people keep secret their cryptocurrency accounts. So the idea is that everyone can see that 0.002 Bitcoins were transferred from Account A to Account B, but no one other than the account owners know who's real identity is linked to accounts A or B.
The Reality Of Anonymity And Cryptocurrencies
However, in practice, transactions are not always anonymous. During a transaction, you are using a pseudonym. So if anyone is able to work out the link between your real identity and your cryptocurrency account, they will be able to see your transaction. This might happen if, for example, you order a product to be delivered to your house and you pay with Bitcoin. Now there is a link between your address and your Bitcoin account.
Another issue arises when you make a transaction on a cryptocurrency exchange like Coinbase or Coinsquare. These sites do not use encryption for transactions, so it is possible that the transactions could be observed by third parties.
None of this means that cryptocurrencies are inherently unsafe or that you shouldn't use them. However, you should be aware that cryptocurrencies may not be as anonymous as you think they are. So you should proceed with caution.
Tips For Using Cryptocurrencies Safely
Now you know that there are some concerns around anonymity of cryptocurrency transactions, there are some steps that you can take to keep yourself safe when using cryptocurrencies. The first tip is to not use cryptocurrency for anything that you would not willing use regular money for. If you use cryptocurrency to purchase goods illegally, for example, there is a chance that your transactions can be tracked and that you could be prosecuted. So do not assume that using cryptocurrency will protect you from legal consequences of purchasing.
Another good piece of advice when working with cryptocurrencies is to use a VPN. When you are exchanging large amounts of money online, it's good practice to use an encrypted connection to be absolutely sure that no one can intercept your data and track your transactions. A VPN protects you by encrypting all of the traffic that your device sends over the internet, including data about your cryptocurrency transactions. This encryption makes it impossible for hackers or the government to observe your transactions and to collect information about your cryptocurrency use.
How To Pick The Right VPN
There are many VPN provides out there, so how do you pick a provider for use with cryptocurrency transactions? These are some of the key factors that we think are important:
Excellent security. We look for the highest level of security in a VPN, with 256-bit encryption which is practically impossible to crack and a no logging policy to protect your privacy.
The possibility to pay your subscription in cryptocurrency. If you're going to use your VPN to protect your cryptocurrency transactions and to protect your identity, then you don't want a link between your personal identity and your VPN. Therefore, it is helpful to choose a VPN provider which allows you to pay your subscription costs with Bitcoin or other cryptocurrencies.
Fast connections. Fast connections are a must for the best user experience, as there is nothing worse than a VPN that slows your internet down.
Large server network. To be able to use your VPN for best flexibility, you want a provider who has a large network of servers, including servers in many different countries.
Software that can be installed on variety of platforms. Once you have paid for a VPN subscription, you can use this one subscription to protect all of your different devices. So we look for VPN providers who offer software for a big range of operating systems.
The Top 5 VPNs For Safe Cryptocurrency Transactions
With all of these factors taken into consideration, here are the best VPNs that we recommend for cryptocurrency users: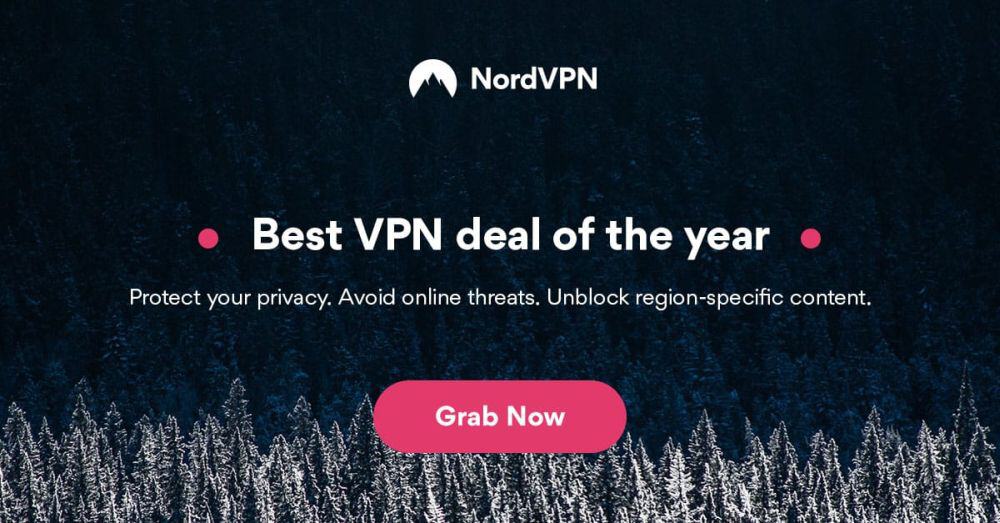 For those who want the absolute highest possible degree of security, then NordVPN has to be the VPN provider of choice. The security features begin with the essentials that you would expect, like strong 256-bit encryption and a no logging policy. But in addition to these essentials, NordVPN has a killer security feature in their special double encryption procedure. This double encryption works by encrypting your data not only when it first leaves your device and heads to a server, but also encrypting for a second time at this first server before being sent to a second server for decryption. This means that your data is virtually impossible for anyone to crack, even if they have the most modern and high end cracking software. And with the rollout of their new NordLynx protocol, the benefits compound further.
In addition to double encryption, a further security feature is the CyberSec option which you can enable to protect you from malware, and there is also DNS leak protection and the option to use Onion Over VPN. With more than 5,600 servers in over 60 different countries, the server network is massive.
Read our full NordVPN review.
Pros
Highly affordable plans
GooglePlay users rating: 4.3/5.0
DNS leak protection, kill switch
Based in Panama
Live chat support is available.
Cons
Some servers can be unreliable
Refund processing can take up to 30 days.

There's a lot to love about Surfshark if you're a cryptocurrency user. For one, they actually accept payments in Bitcoin, Etherium, and other currencies. Combined with a strong no-logging policy and RAM-only servers that continuously wipe your usage metadata, you'll be able to divorce your identity from your VPN traffic entirely.
Of course Surfshark is an outstanding VPN in terms of core functionality, offering unbreakable 256-AES-GCM encryption on every one of their 3200+ servers in 65 countries. Built-in smart DNS and automatic obfuscation allow you to unblock almost any geoblocked website, while hiding your VPN traffic from ISPs and authorities–making you very hard to track indeed.
Other cybersecurity provisions include IP/DNS/WebRTC leak protection, a kill switch, plus blocking of adware, known malware links, and popups. Overall, it's hard to do better than Surfshark for the money.
Pros
Every server optimized for unblocking Netflix, BBC iPlayer, Hulu, and more
Torrent safely on any server, no guesswork required
VPN split tunneling available
Absolutely no logging of connection data, IP addresses, bandwidth used, or traffic
Responsive customer support available 24/7.
Cons
Speeds occasionally suffer a noticeable drop
Relatively young VPN still has to prove itself trustworthy over the long haul.
Read our full Surfshark review.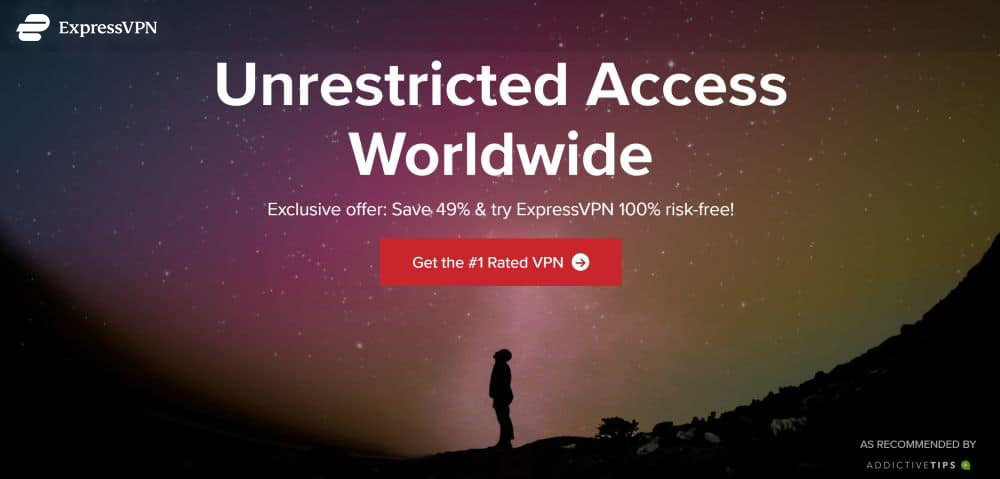 One of the biggest and best VPN providers on the internet is ExpressVPN. They offer the best of all worlds with excellent security, fast connection speeds, and a large server network. The vital security features include strong 256-bit encryption and a no logging policy to protect your privacy. There are also more security features in the software like a kill switch to stop you from accidentally sending any data over an unsecured connection.
With more than 3000 servers in 94 different countries, the server network is massive and the connections are extremely fast. The software is available for older and newer versions of Windows, plus Mac OS, Linux, iOS, Android, and more, plus browser extensions available for Mozilla Firefox and Google Chrome. Best of all, you can pay for your subscription to ExpressVPN using Bitcoin.
Read our full ExpressVPN review.
Pros
Unblocks US Netflix, BBC iPlayer and other streaming services
Super fast servers (minimal speed loss)
Torrenting allowed
Strict no-logs policy
Live chat support available.
Cons
Max 3 simultaneous connections
Slightly more expensive than some other options.
If you're looking for an all in one security system which includes lots of extra security features as well as a VPN, then PureVPN is for you. A subscription to PureVPN includes access to a high quality VPN with strong 256-bit encryption and a no logging policy. Plus it has a large network of servers, with more than 2,000 servers in 140+ different countries.
In addition to the VPN, you get access to security features that include anti virus and anti malware protection, plus an anti spam filter for your email. Mobile users can take advantage of the app filtering option which lets you set different security permissions for different software, so that some apps pass their data through the VPN and some through the unencrypted connection. In addition you get features like DDoS protection, a kill switch, the option for a dedicated IP, and a NAT firewall.
The software can be installed on Windows, Mac OS, Android, iOS, and Android TV devices, as well as browser extensions for the Chrome and Firefox browsers. When it comes to payment, you can pay for your subscription using the CoinPayments system which lets you pay with altcoins like Ether, Litecoin, BitBean, CloakCoin, Dash, and LeoCoin as well as Bitcoin.
Read our full PureVPN review.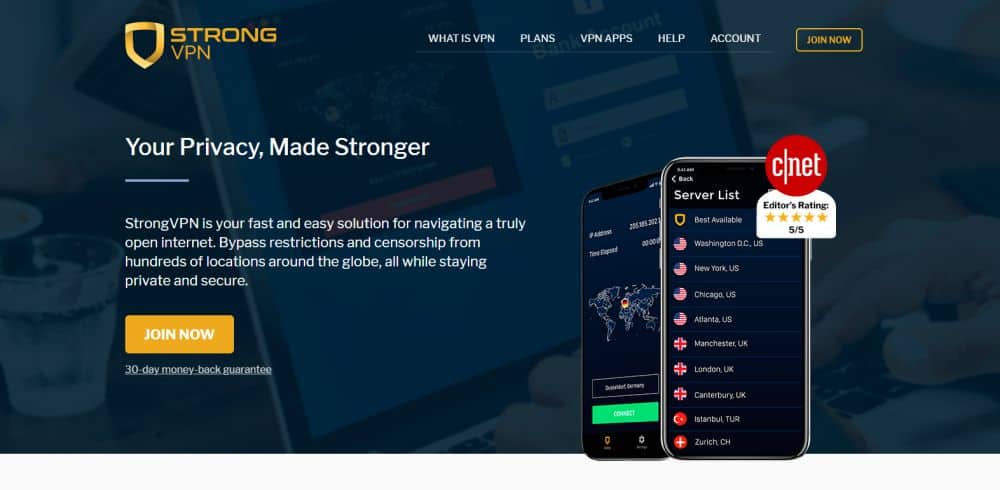 If you are concerned about hackers trying to access your data and you want the absolute toughest encryption that you can get, then you should opt for StrongVPN. This has the option for running a VPN using up to 256-bit encryption, which is incredibly strong and is essentially impossible to crack. This extremely high level of security is complemented by a no logging policy too to ensure that your data will never be recorded or sold. The downside of this amazing security is that the server network is smaller than other providers, with 650+ servers available in 26 countries. On the plus side, however the connections are fast and reliable.
The software can be installed on Windows, Mac, iOS, and Android, and you can pay for your StrongVPN subscription using Bitcoin to protect your anonymity.
Conclusion
Cryptocurrencies are only becoming more popular, with more and more people starting to use cryptocurrencies for their everyday transactions. However, the legal status of cryptocurrencies is somewhat complex. In countries in Europe and North America, plus some other countries around the world, cryptocurrencies are legal and frequently used. However, in other countries such as Bangladesh and Nepal, cryptocurrencies are illegal. In places like China and India, cryptocurrencies are technically legal but are being cracked down on by the government so they should be used with caution.
There are also some security issues to be aware of when using cryptocurrencies. Most people believe that cryptocurrency transactions are anonymous, but this is not strictly accurate. If you are very concerned about anonymity then you should take extra steps to protect yourself when making cryptocurrency transactions, such as using a VPN. We have recommended a selection of VPNs that are suitable for cryptocurrency users and which accept payment in cryptocurrency.
Do you have security concerns about cryptocurrencies? And are cryptocurrencies legal where you live? Let us know about the cryptocurrency situation in your country by leaving a comment below.