We are reader supported and may earn a commission when you buy through links on our site.
Learn more
How to Install VyprVPN on Fire Stick and Fire TV
You can't just download VyprVPN onto your Firestick, but the sideloading process is surprisingly easy with a little help. Today's guide walks you through the process of installing a VPN onto your Fire TV device, step by step. We'll even throw in a sweet deal to make VyprVPN even more affordable.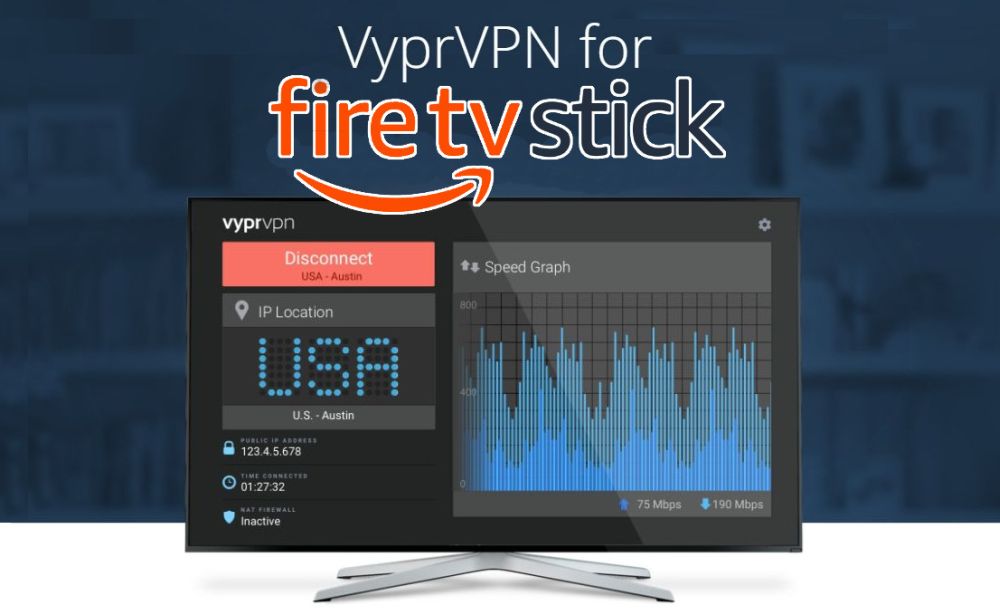 Keeping your Fire Stick safe is as easy as installing a good VPN. Finding the right one that features a smart balance of speed and security can be difficult. As thousands of satisfied users already know, VyprVPN is one such service. It's easy to use, offers fast connections around the world, and can help keep your data secure no matter where you live (even in China).
Installing VyprVPN on a Fire Stick or Fire TV device requires a little preparation. The app isn't available on Amazon's built-in appstore. Instead, you'll need to sideload it yourself. It's not as complicated as it may seem, so if you've got a few minutes and want to ensure complete privacy on your Fire Stick, we've provided a complete guide for installing VyprVPN on any Fire TV device.
30-days money back guarantee
How to Install VyprVPN on a Fire Stick
Most people are familiar with installing apps on Fire TV using Amazon's built-in appstore service. Not all VPNs are available through this marketplace, however, which means they have to be sideloaded. The sideloading process is remarkably straightforward. You don't have to jailbreak or root, just add programs using another program, that's it!
Sideloading Methods
There are over a dozen reliable methods of sideloading apps onto Fire Stick. Below we've chosen two of the best: adbLink and the Downloader app. Both are free, both are simple, and both let you install VyprVPN on your Fire TV in very little time. All you need is access to a computer and the internet, that's it!
Usability Concerns
Although VyprVPN is an excellent VPN itself, keep in mind it wasn't designed for use with Fire TV. The app runs without any problems, though it can look stretched or be difficult to navigate since it expects you to have a narrow touch screen device instead of an HD smart TV with handheld remote.
A new, customized version of VyprVPN has been released for Android TV that shows promising results for Fire Stick owners, however. We've used this version for our guide below so you can get the best experience possible.
Why Use a VPN with Fire TV?
VPNs, or virtual private networks, work quietly in the background to keep your information safe and secure. They do this by encrypting each packet of data that leaves your device, making it impossible for ISPs, governments, or hackers to see what sites you're visiting or what you're downloading. VPNs also add a touch of anonymity by replacing your easily identifiable IP address with a safe, non-local IP.
Both encryption and virtual IPs add a number of fantastic benefits to your streams, even on Fire Sticks and Fire TV. By installing a VPN you'll get access to the following features, and a lot more:
Keep videos from sideloaded apps secure and anonymous.
Prevent ISPs from throttling your connection.
Get VyprVPN for Incredible Online Privacy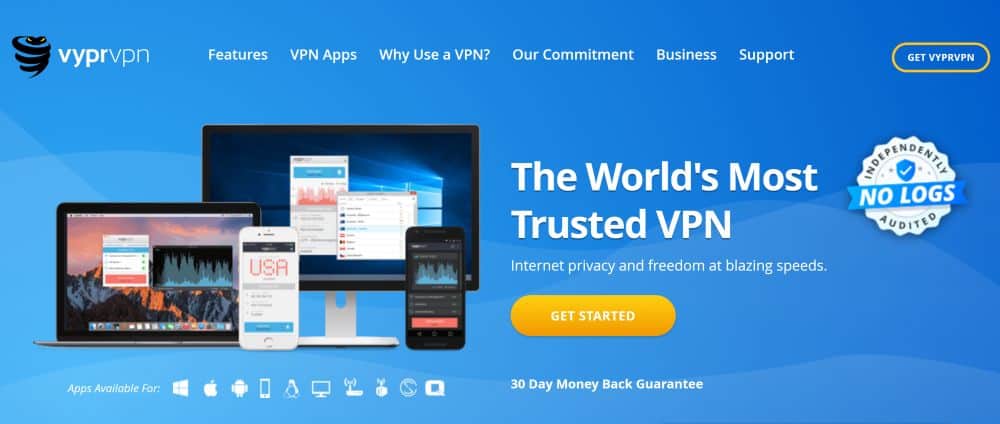 VyprVPN has a lot of fantastic features that make it perfect for keeping your data secure. It starts with a solid foundation of protection that includes 256-bit AES encryption, an automatic kill switch, and DNS leak protection features. Users also gain the benefit of a zero-logging policy on traffic and DNS requests, helping to keep data secure from nosy third parties.
One of VyperVPN's most unique features is Chameleon technology. This protocol wraps every packet of data in an extra layer of encryption, hiding the metadata to defeat deep packet inspections used to crack encrypted connections. Your activity will stay private even if you're accessing the web in places like China, Russia, or Iran, allowing you to break through censorship firewalls and unblock websites with ease.
Read our full VyprVPN review.
VyprVPN on Fire TV – adbLink Method
Using adbLink to sideload content onto your Fire Stick is one of the best ways to gain access to new software. Below we walk you through the process of installing VyprVPN using a PC and the free adbLink software.
Step 1 – Create an Account with VyprVPN
Visit the VyprVPN deals page on your PC web browser. Choose a plan at the top, then enter your account information below (name, e-mail address, password). Add billing information beneath that and choose a payment method. Complete the checkout process to create your account.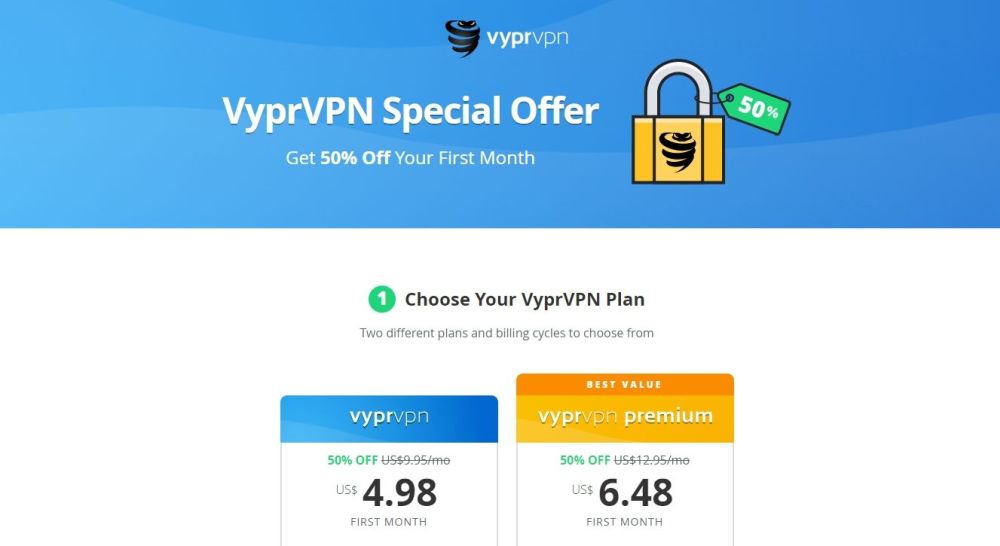 Once your subscription is active, visit the VyprVPN login page and sign in. Here you can manage your subscription, download additional software, or get versions of VyprVPN for a variety of platforms. Since Vypr doesn't offer a direct download for Fire TV or Fire Stick devices, we'll have to choose another method to install. Close this page when you're done and continue with the steps below.
Step 2 – Download the APK
APK files (.apk) are packaged programs that run on Android and Android-based devices. Fire TV and Fire Sticks are based on Android, so in order to install VyprVPN we'll need to obtain an official apk.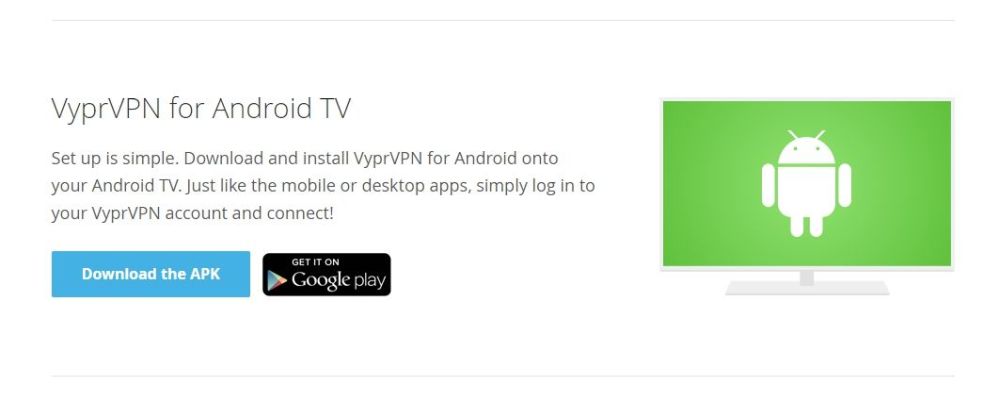 VyprVPN doesn't provide direct download links for the apk from the home downloads page. Instead, we have to access the link from an alternate page. On your desktop web browser, go to the Android TV Download section and look for the blue apk link button below. The following URL should take you directly to the file, though VyprVPN may move it when a new version is added:
Download the file to your computer's desktop, or anywhere that's easy to access.
Step 3 – Install adbLink
adbLink may seem complicated, but it's really easy to use once you're familiar with the layout. Start by visiting the adbLink website to download the program. Install it wherever you like, then launch it right away. Click the "new" button next to the devices box and add your Fire TV Stick.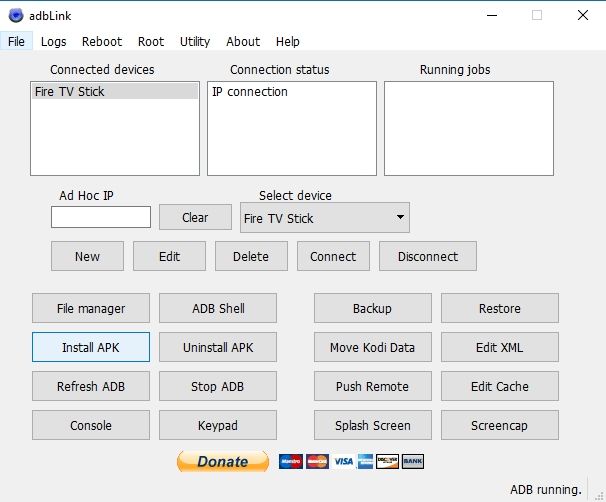 The only two required changes on the "add device" screen is a unique description for your device and an IP address. The description can be anything you like, just as long as you recognize it as your Fire Stick. The IP address needs to be specific, so we'll need to copy that down from the Fire TV itself.
Turn on your TV and boot up your Fire Stick. Go to Settings > About – Network and look for the IP address listed on the right. Jot it down, take a picture, or memorize it. Either way, you need to copy those numbers into adbLink, then you can forget them.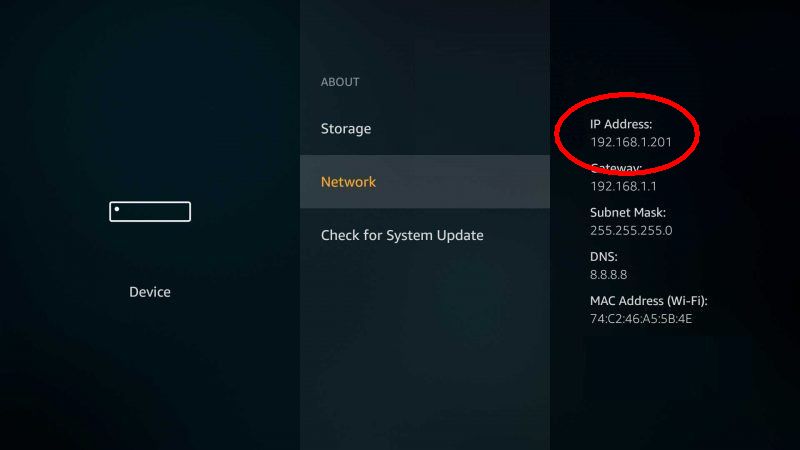 Add the Fire Stick IP address to adbLink, then click OK to save your changes. You can now select the device from adbLink's main menu. Do so, then click Connect. If both your computer and your Fire Stick are on the same home network, adbLink will form a connection to make easy sideloading possible.
Step 4 – Adding the APK
With adbLink connected to your Fire Stick, you're ready to install. Choose the Install APK button on the left side of the window. A file dialog will open, allowing you to browse for the VyprVPN apk you downloaded earlier. Locate it, confirm the installation, when wait while adbLink sends the file to and installs it on your device. It should only take a few moments.
Step 5 – Launch VyprVPN
The VyprVPN apk will now be installed on your Fire Stick. To access it, you'll need to scroll to the Your Apps & Games section on Fire TV's main menu, then move all the way to the right until you see the "See All" arrow. Click it and a grid of apps will appear. VyprVPN will be at the very bottom. Simply scroll to it and click to launch.
VyprVPN on Fire Stick – Downloader Method
Because VyprVPN offers a direct link to the software's apk, it's surprisingly easy to install it to your Fire Stick by using the Downloader app. Follow the steps below to do just that, and get ready for some lengthy remote control typing.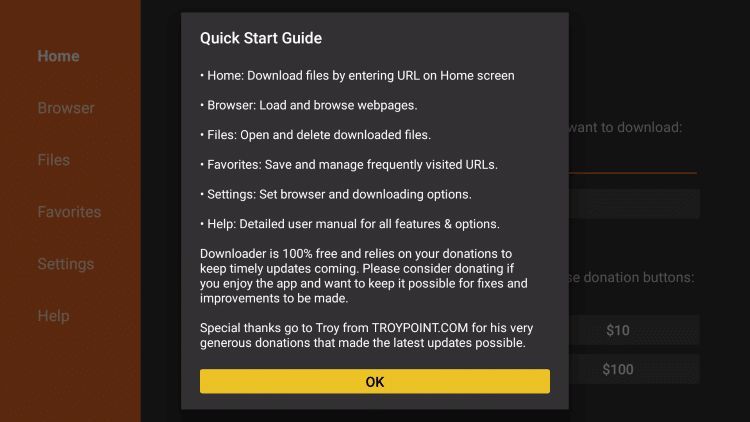 Step 1 – Sign Up with VyprVPN
Go to the VyprVPN deals page on your PC web browser. Choose a plan, enter your account information, add billing details, then complete the checkout process to create your account. When your subscription is active, visit the VyprVPN login page and sign in. You can manage account details and download VyprVPN for various platforms here, but because Fire Stick isn't directly supported, there isn't much you can do. Close the browser window when you're done looking around, then continue with the steps below.
Step 2 – Install Downloader
Add the Downloader app to your Fire Stick by searching for it on the built-in apps store. You can also use Amazon's web-based marketplace to send Downloader to your device. Once it's installed, launch it from the Fire TV's main menu.
Step 3 – Get the VyprVPN APK
APK files (.apk) are the format used by Android-based devices to install apps. Fire Sticks run these just fine, as Fire TV is based on the Android operating system. Since VyprVPN isn't on Amazon's marketplace, we'll need to get an Android apk and install it manually.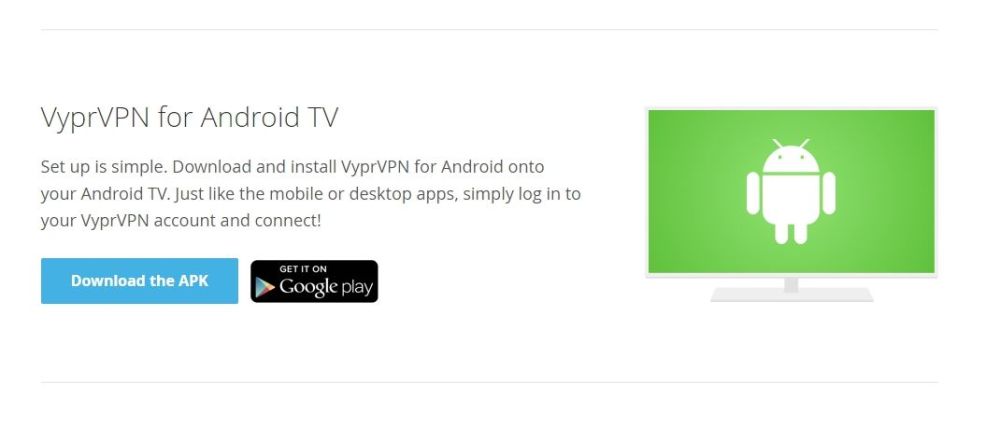 VyprVPN keeps its Android apk somewhat hidden. You won't find it on the main download page. Instead, go to the Android TV Download section and look for the blue apk download button. Right click and choose "copy link", then paste it somewhere safe. You'll need to enter it into the Downloader app in the next step.
For reference, the download link should look something like this. You won't need to download the actual file, just copy the URL:
Step 4 – Download and Install VyprVPN
Now you're ready to install VyprVPN. Open the Downloader app on your Fire TV. You'll see a simple screen with a large URL box at the top. Type the direct link to the apk file you copied above into this box. It can be frustrating when all you have it a remote control and software keyboard, but stick with it, it does save time in the long run.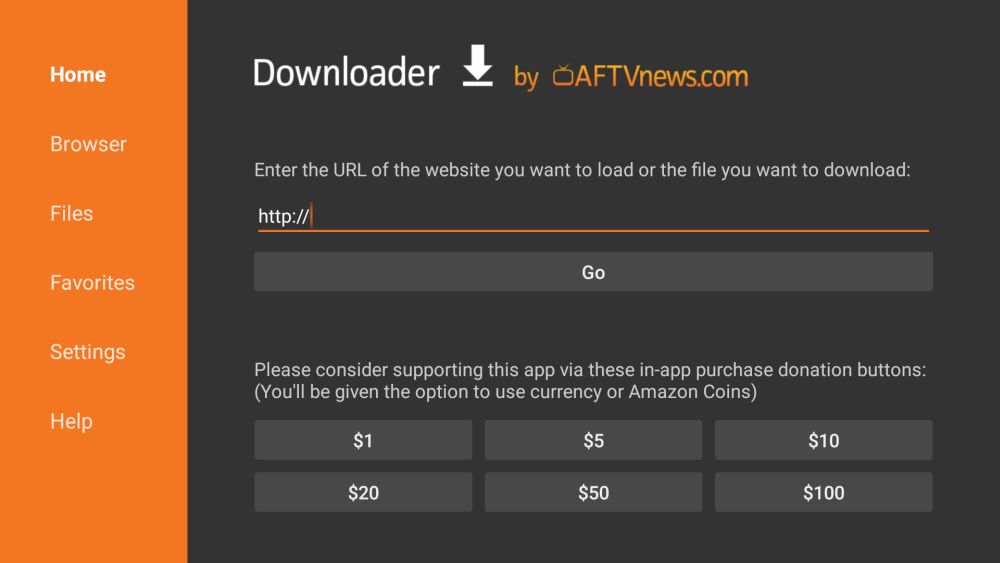 Enter the URL, then click Go. Downloader will fetch the file automatically. You'll be prompted to install it once it completes. Confirm the choice, then confirm the installation steps that pop up on your TV.
Once the installation is complete you can access VyprVPN from your main apps menu. Run it every time you start up your Fire TV Stick for complete online safety and security!
Troubleshooting Sideloading Problems
Sideloading is simple, but you can run into the occasional error. If you can't get VyprVPN installed on the first try, double check to make sure the below issues aren't getting in the way.
Allow Unknown Sources
Fire TV comes with a built-in option that disables external installations by default. You can enable it to sideload content by entering the configuration page. Without this toggled to "on", you won't be able to add apps except through Amazon's appstore.
Go to your Fire TV Stick's settings page located at the top of the home menu.
Scroll right and choose Device
Move down to Developer Options
Set Apps from Unknown Sources to ON.
Accept the warning message about installing external apps.
Can't Connect to Fire TV
If you use a separate device to sideload, such as the adbLink method above, you may encounter issues connecting to your Fire TV. The most common source of this is not having the connecting PC on the same network as your Fire Stick. All you have to do is make sure both devices access the same Wi-Fi signal, then try sideloading again.
Is it Safe to Sideload?
Absolutely, yes. Sideloading is both safe and arguably endorsed by Amazon itself. Since you don't have to do any hacking or jailbreaking to enable sideloading features, the entire process is straightforward. Once you have apps sideloaded, you can even uninstall them through the Fire Stick's default uninstaller. Unless you purposefully install bad apps on your hardware, sideloading is a perfectly harmless practice.
Conclusion
Ready for a safe and secure Fire Stick streaming experience? Adding a service like VyprVPN to your Fire TV is a great way to unlock new videos, protect your privacy, and defeat ISP throttling efforts, all at the same time. Once it's installed and ready to go, you never have to worry about online safety issues again.