We are reader supported and may earn a commission when you buy through links on our site.
Learn more
Best Iran VPN in 2021 – Watch Netflix and Unblock Websites
Whether you're living in or traveling to Iran it's a fact that you need a VPN. This article will present our top-recommended VPN providers, plus educate you on how they work to boost your security in Iran. We'll also show you how use your VPN to bypass online censorship, access blocked websites, and secure your link to the free and open Internet.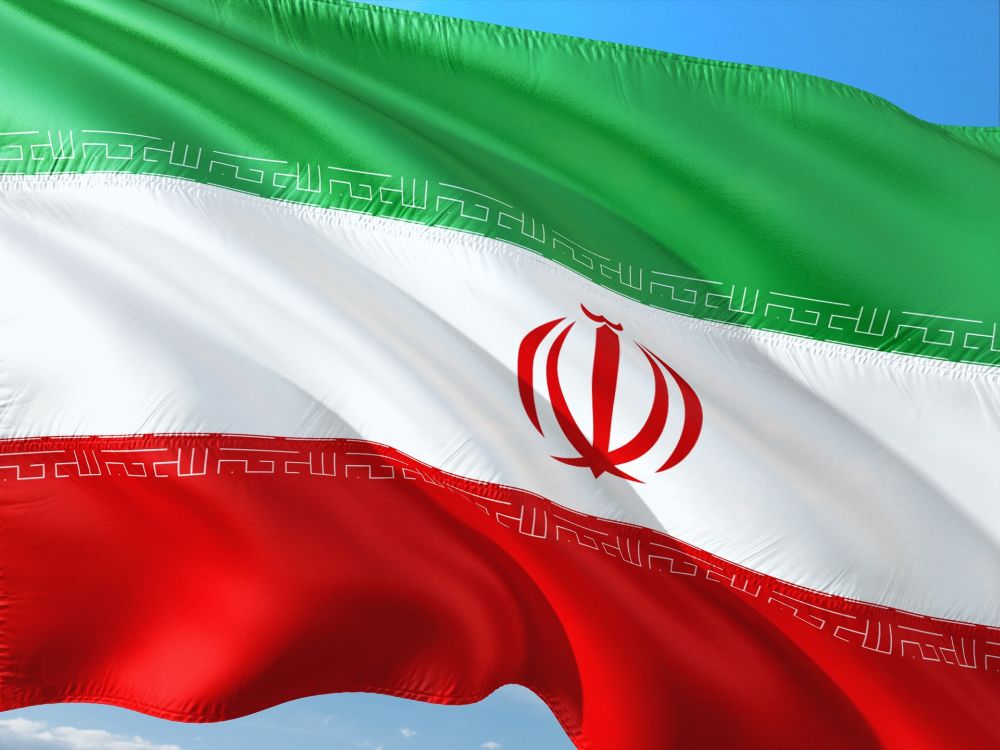 Online privacy is a big issue all across the world. In some countries, it's harder to stay safe than in others. If you live in or are visiting Iran, there are a few digital security and censorship precautions you should take to keep your searches, downloads, and streams as safe as possible.
Iranians, take back your right to privacy online with these VPNs:
NordVPN – Best for Iran – NordVPN's impressive network has worldwide reach, offering Iranians the chance to connect to the world's most secure VPN servers without sacrificing performance. Zero logs, zero compromise on your privacy.
Surfshark – Unlimited simultaneous connections allow Iranians to split the cost of an already-cheap but nonetheless impressive VPN service.
ExpressVPN – More expensive than the rest, but worth it due to the incredible speeds available.
CyberGhost – Less tech-savvy users will appreciate the simplified interface that allows you to tweak advanced settings according to your use-case.
PureVPN – No stranger to beating harsh government censorship, with many using it to get past the Great Firewall of China.
VyprVPN – Chameleon is perhaps the most sophisticated anti-censorship protocol in the world.
The best way to do that is with a reliable virtual private network (VPN). Below are our picks for the best and fastest VPNs for Iran.
30-days money back guarantee
Do I need a VPN in Iran?
VPNs provide a wealth of privacy and anonymity features thank to something called encryption. This process wraps each packet of data that leaves your device in a layer of unbreakable mathematical code. No one can see what's inside these packets except your device and your VPN, creating a tunnel of privacy between you and the internet.
VPNs also assign you a non-local IP address each time you connect. If you're worried about a website or government agency knowing your location, VPNs make it easy to stay hidden online, all without any extra effort on your part.
Evaluating VPNs
Getting a VPN requires a little more work than just picking the first service you set eyes upon. When privacy and censorship are real risks, you need to carefully shop around for a VPN that goes to great lengths to keep your data protected at all costs. This comes down to a few key features.
Best VPNs for Iran
Ready to lock down your internet connection in Iran? Below are some of the best VPN services to use on any device. They're fast, friendly, easy to use, and offer just the right amount of security features to keep you safe.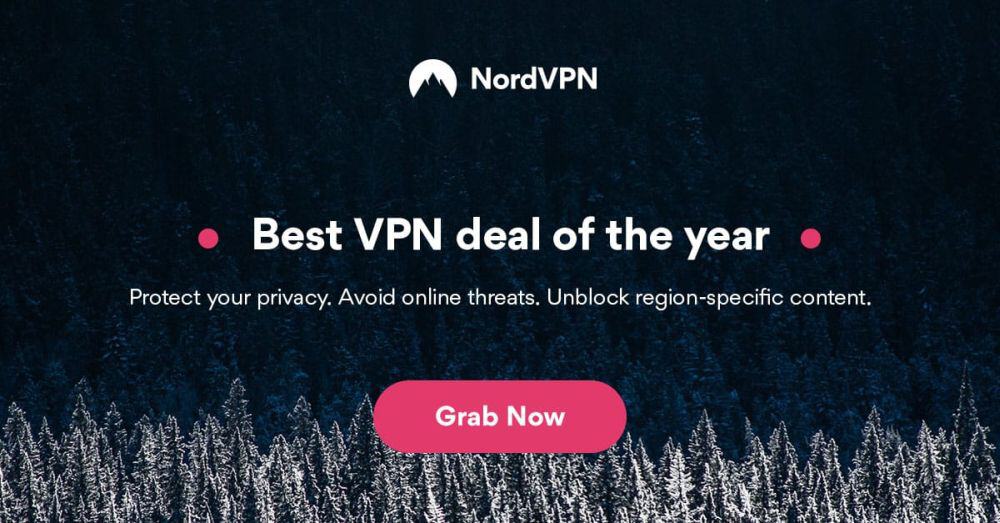 NordVPN is a stable, trustworthy, and reliable VPN company that provides service to thousands of users each day. Its biggest feature is the size of its server network, a constantly expanding list that currently sits at over 5,400 servers in 59 different countries. Finding a fast connection is never a problem if you're a NordVPN member. The network also lets you take advantage of special servers for unique privacy features such as double encryption, onion over VPN routing, and DDoS protection.
NordVPN uses a strict zero-logging policy that covers bandwidth, traffic, time stamps, and DNS access, far more than most competitors and enough to keep all of your personal data secure. NordVPN also delivers an automatic kill switch and DNS leak protection features with its custom software, along with 256-bit AES encryption on every single connection.
Read our full NordVPN review.
Pros
SPECIAL OFFER: 2-yr plan (68% off - link below)
5,400+ servers globally
Allows multiple connections (6 devices)
Extra-secure Double VPN for data encryption
Money back guarantee policy.
Cons
Very little
Refund processing can take up to 30 days.

Surfshark is a relatively young VPN that brings the most modern privacy provisions to the table. Iranians will delight in using the same encryption used by the NSA (256-AES-GCM) to hide their activity online, without paying an excessively high subscription cost.
Indeed, you'd never know Surfshar was a budget VPN looking at its feature set. It's got a cutting-edge diskless network numbering more than 800 servers in 50 countries, unlocking a world of spoofed IPs while wiping any trace of your activity. And each one of these servers comes equipped with Camouflage obfuscation and NoBorders, which are special privacy settings designed to automatically come online to combat specific forms of censorship and surveillance.
And if you're worried about logs, don't be. Surfshark's logging policy has been independently verified, so you can break through Iran's tough Internet restrictions without fear.
Pros
Reliably unblocks Netflix US, UK, Japan, and more
One of the first VPNs to implement RAM-only servers
TrustPilot 4.3/5 rating
Absolutely no logging of connection data, IP addresses, bandwidth used, or traffic
Responsive customer support available 24/7.
Cons
Overall, not much to complain about
Apps don't allow for much manual fiddling for power users.
Read our full Surfshark review.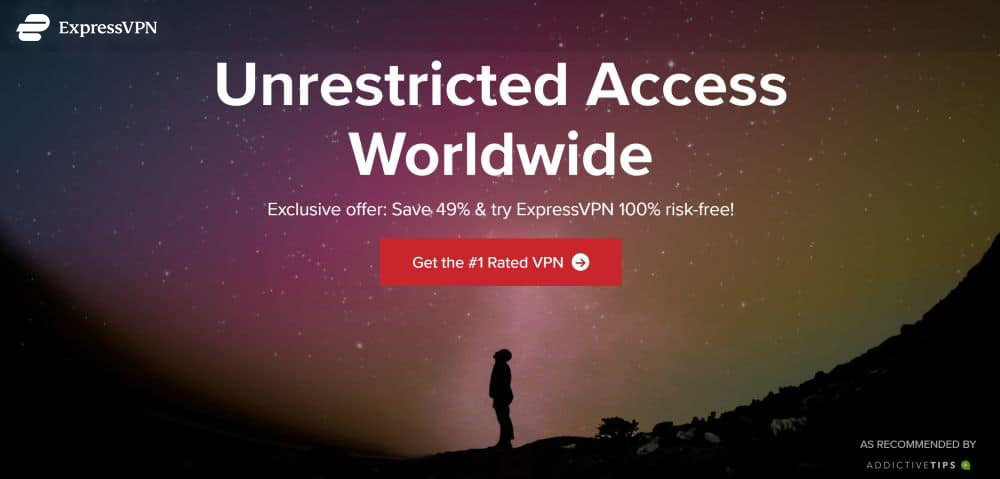 ExpressVPN has a great reputation in the VPN community. Not only is it one of the fastest services in the market, it's also incredibly easy to use, offering custom software and apps for a wide variety of devices, including Windows, Mac, Linux, Android, and iOS. ExpressVPN's network covers 94 different countries with 3,000+ servers, as well, ensuring you can always grab a fast connection no matter where you are or where you need your virtual IP address to be.
ExpressVPN uses strong 256-bit AES encryption on all data to form the foundation of its privacy features. This is combined with a zero-logging policy on traffic, DNS requests, and IP addresses to ensure nothing is stored on their hardware. You also get DNS leak protection and automatic kill switch features on every device, along with a built-in speed test to help you find the fastest server every time you connect.
Read our full ExpressVPN review.
Pros
Unblocking Netflix USA, iPlayer, Amazon Prime
Reliable and fast connections
Supports ALL devices
Strict no-logging policy
24/7 Chat Support.
Cons
Month-to-month plan has high cost.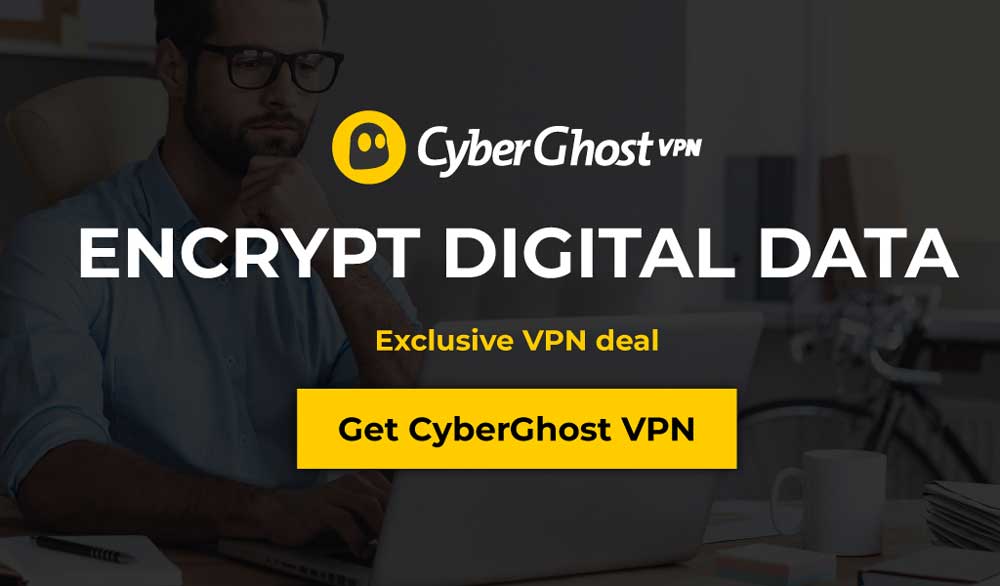 CyberGhost offers all the right privacy and security features you need in a VPN. It starts with 256-bit AES encryption, the industry standard for unbreakable data protection. This combines with CyberGhost's thorough zero-logging policy on traffic, time stamps, and IP address. DNS leak protection and an automatic kill switch ensure your identity stays hidden no matter what, allowing you to surf the web freely in Iran or any country around the world.
CyberGhost runs a large network of nodes that deliver lightning fast connections around the world. Over 5,700 servers are online throughout the day, covering 90 countries with dozens of locations in each area. CyberGhost has over 1,100 servers in the U.S. alone, with wide availability throughout Europe, Australia and the Middle East.
Read our full CyberGhost review.
Pros
LOW PRICE: 6 EXTRA free months (79% off - link below)
Special profile designed for torrenting privately
Jurisdiction in Romania
Zero logs and good privacy features
24h support.
Cons
Some streaming sites cannot be unblocked.
PureVPN is one of the best services to use if you need more than just VPN protection. The company aims to be a one-stop-shop for all your online security needs, no additional downloads or subscription fees required. Ever wanted virus protection on your device? How about malware shields, app blocking, and DNS-level website filters? With PureVPN you get access to all of these and much more. Just subscribe, install, and surf.
PureVPN's virtual private network features are praiseworthy, as well. The company runs a large network that covers over 140 countries with 2,000+ servers in an amazing 140+ countries worldwide. Each of these keeps your data safe with 256-bit encryption and a zero-logging policy on all traffic. PureVPN also bundles DNS leak protection and an automatic kill switch into every version of its software, creating an amazing foundation for online privacy.
Read our full PureVPN review.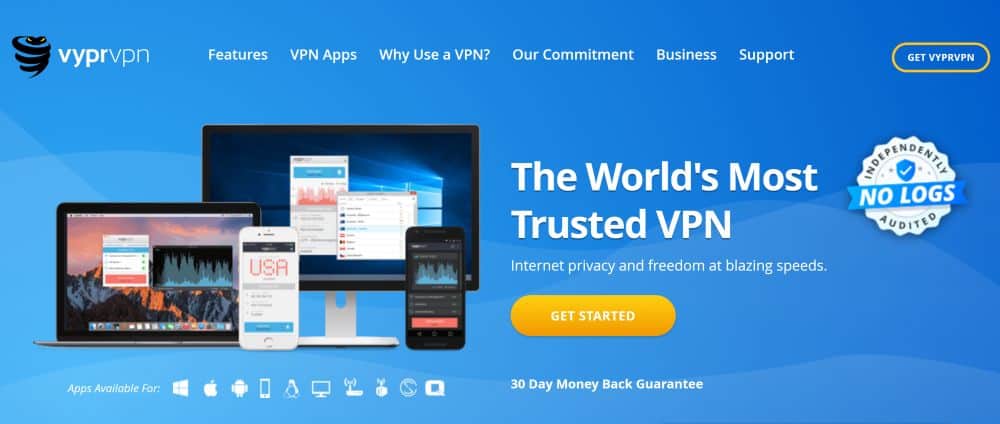 VyprVPN has a wealth of strong privacy features, making it one of the best VPNs to keep your data secure. The most important is that VyprVPN owns and operates its entire network of 700+ servers in 70 different countries. Third parties never have access to these servers, allowing VyprVPN full control over both hardware and software. The company uses this to provide 256-bit AES encryption, DNS leak protection, an automatic kill switch, and a zero-logging policy on traffic and DNS requests for extremely strong online privacy and anonymity.
One of the most unique features VyprVPN offers is Chameleon technology. This protocol wraps every packet of data in an extra layer of encryption, hiding the metadata to defeat deep packet inspections. This means VyprVPN can break through censorship walls and keep your data secure in places like China, Russia, and Iran, keeping your activity hidden no matter what.
Read our full VyprVPN review.
Security and Censorship Issues in Iran
Iran received internet access in the early '90s and has expanded to serve nearly 70% of its population since then. A large portion of those people are reported to use a VPN, as censorship issues in the country have blocked access to a variety of services hosted around the world.
Censorship
As of 2012, nearly a third of internet sites were blocked in Iran. Half of the world's top 500 sites were forbidden in the country's borders, as well, including YouTube, Facebook, Google Plus, and Twitter. The content of the blocked sites ranges from health to science, sports, news, and foreign shopping outlets. Most were blocked simply to give in-country resources a competitive advantage, though there is a fair amount of censorship for political reasons, as well.
Censorship methods deployed by Iranian ISPs are some of the harshest in the world. DNS blocks are common but fairly easy to work around. Deep packet inspection (DPI) is rumored to have been implemented in 2008. This method examines each packet of data in an attempt to determine its originating address and destination. It's remarkably effective at blocking requests to disallowed sites, and VPNs generally have a tough time breaking through it.
Throttling
Speed throttling is employed by the Iranian government to frustrate users and limit communication with foreign sites. Massive speed drops are often experienced when attempting to access external, non-approved sites, often as much as 10% of the user's total possible speed.
Surveillance
Reports in the last few years have confirmed that the Iranian government monitors traffic, online conversations, and instant messaging platforms. ISPs are required by law to store all data sent and received by clients. Even if they cancel their contract, the ISP has to keep the information for a minimum of 90 days afterwards.
Mobile Access
Mobile internet access has been the subject of special blocking efforts by the Iranian government in recent years. During the 2017-18 protests, all mobile networks were temporarily shut down in an effort to control the population. Access to Instagram, the country's most popular social networking destination, was blocked as well, along with the country's favored messaging platform Telegram.
READ ALSO: Russia bans Telegram, VPN usage soars
Other Benefits of Using a VPN
VPNs do more than just provide privacy and security on your home PC. With the right service running in the background you can gain access to a variety of added benefits, including better access to movies from around the world!
Unblock Netflix
Can't access enough Netflix content from Iran? Don't worry, a VPN can help! By running a top quality virtual private networking service you can change your IP address to a non-local one. This fools video streaming sites like Netflix, BBC iPlayer, and YouTube into thinking you're located in another area, opening up movies and TV shows from the U.S., UK, France, Germany, and more!
Mobile Privacy
Using your smartphone on a public network is a great way to compromise your security. You don't know which ISP is running the network, for example, nor can you guarantee the cafe that's offering the connection can be trusted. With a VPN in place you can access wireless hotspots without worrying about your security. Encryption prevents anyone from discovering your identity or recording your activity, so you can surf and shop anywhere you like.
Defeat Throttling
ISP throttling is a problem in Iran and many countries around the world. The practice artificially slows speeds for users accessing certain websites or services, gently encouraging them to use companies that have a deal with the ISP or local government. This is often entirely arbitrary and has no bearing on what services are best for users, only what serves the needs of the companies involved.
VPNs can help defeat throttling efforts by automatically masking your traffic. If an ISP can't tell what site you're trying to access, they can't throttle it based on a pre-defined list. You can use the internet with full neutrality, surfing and shopping wherever you like at full speed.
READ MORE: Can VPNs defeat tiered Internet packages?
Secure Streaming Devices
Got a Fire TV, Apple TV, or Android TV box? You might think these devices are safe from surveillance and throttling efforts, but ISPs monitor them, as well. If you use a streaming stick or TV box hardware to access movies, it's always a good idea to install a VPN on them to prevent any data leaks.
Hide Your Kodi Streams
Kodi is a fantastic piece of software that lets you organize and stream media from around the world. It's completely free to use, open-source, and legal in most countries, making it one of the best apps for movie and TV show lovers.
Unfortunately, ISPs don't look at Kodi in quite the same light. Because third party add-ons can be used to stream pirated content, a number of ISPs have started blocking, throttling, or even reporting Kodi users to the local governments. If you want to use Kodi, you should always run a VPN in the background, no exceptions.
A note about free VPNs
It can be tempting to use a free VPN service to try and keep your data secure. Unfortunately, these companies simply cannot be trusted. Free VPNs don't make money from their users, so they have to resort to other methods to keep their servers online. This usually means injecting ads into your browser or, worst of all, secretly collecting your data and selling it to third parties. If you value your privacy and security, avoid free VPNs in all their forms and choose a reliable, trusted paid service in stead.
RELATED READING: Onavo Protect is a fake VPN that will undermine your security
Conclusion
Staying safe while using the internet in Iran isn't as difficult as it seems. With the right VPN running you can access all of the sites blocked by the local government, including Facebook. Set your security settings to max and you can stay anonymous and secure no matter what you do online.