We are reader supported and may earn a commission when you buy through links on our site.
Learn more
How to Unblock Google from Anywhere Using a VPN
If you can't imagine a world without Google, just travel to one of the countries where it is banned. But before you go, make sure to install a VPN onto your device so that you can unblock the search engine giant. With an encrypted worldwide VPN network, you can hide your activity online and bypass censorship to use Google anywhere.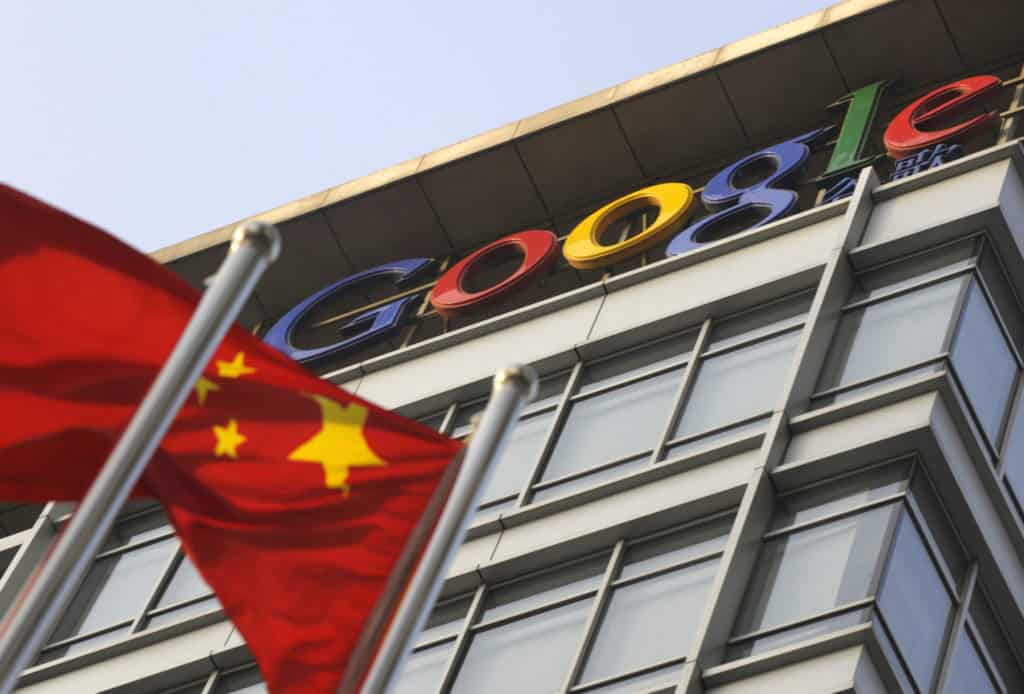 Google is known as the world's largest and best search engine. With a 66% difference from the second largest search engine in the world, Google has become an essential tool from everyone from school pupils to professionals in virtually every field of work. However, some countries in the world restrict, or even block entirely, access to Google for local residents, getting in the way of their internet freedom.
Get past government blocks of Google with these super secure VPNs:
NordVPN – Best Google Unblocker – NordVPN is the most robust VPN solution on the market, enabling you to unblock Google or any other site by connecting to its massive worldwide network via NordLynx encrypted tunnels.
Surfshark – A dirt-cheap VPN with top-shelf privacy features. Works to unblock sites even in heavily censored countries–where it is most needed.
ExpressVPN – Super-fast VPN that doesn't compromise on security. Rotating IPs, built-in smart DNS, self-owned servers, and no logging.
CyberGhost – An extremely capable VPN, with tons of servers and an intuitive user interface. Sadly, doesn't work in China, though.
PrivateVPN – Don't be fooled by its small network; this VPN has some serious tunneling power and is highly reliable for accessing censored content.
In this article, we will discuss the benefits of unlocking Google if you are located in one of the countries on the list, using a VPN to unlock Google, and our recommendations for VPN providers best suited to your needs. We also highlight some of the best reasons to unblock Google in the first place.
30-days money back guarantee
Essential features of the best VPNs
Whether you are a VPN rookie or an experienced user, getting started with a virtual private network is super easy and only takes a few minutes. Don't let big words like encryption or nuanced concepts like privacy policies fluster you, because providers prioritize making their apps as easy to use as possible. With our help, you'll be able to find the best VPN to unblock Google and start browsing worry-free as soon as you're done reading this article.
First thing's first – you need to know what to prioritize when it comes to VPN features. Below we've provided you with some important criteria that you should base your VPN choice on.
Most secure VPNs to reliably access Google anywhere
Let's face it, the Internet just isn't as handy without Google, so don't let government censorship come between you and free access to information. With the top-tier VPNs below, you can easily bypass website blocks, and regain access to Google from any country: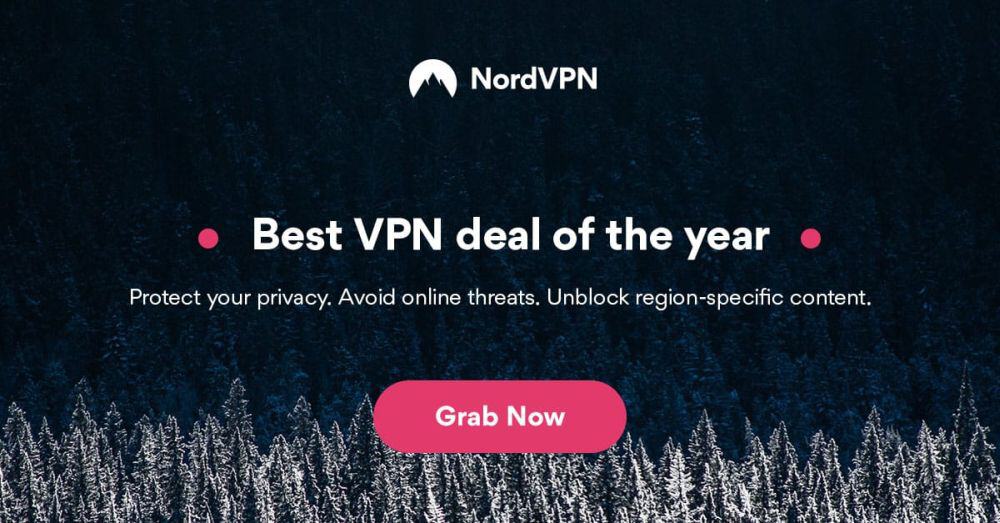 NordVPN focuses on security, unlocking regional content and, for experienced users, advanced features. With 5,500 servers in 59 countries, NordVPN has the biggest network in the industry and is consistently growing over time. Some of its specialty servers include Onion over VPN, anti-DDoS, P2P, and Double VPN, to name a few.
NordVPN also prioritizes security and reliability. With a 256-bit AES encryption, your data is inaccessible and could not be retrieved even by the world's strongest supercomputer. NordVPN also employs other encryption protocols, including UDP, TCP, L2TP, PPTP and SSTP. Furthermore, the no-logging policy means that no information is stored regarding the traffic, IP addresses, timestamps, and even browsing history. All these features are then completed with an automatic kill switch and a range of customizable encryption features. With NordVPN, you can be certain that your data and information is kept away from the government and third parties.
Read our full NordVPN review.
Pros
SPECIAL OFFER: 2-yr plan (68% off - link below)
Most VPN servers with different IP addresses
2,048-bit SSL keys and DNS leak protection
Strict zero logs policy on both traffic and metadata
Great customer service via chat.
Cons
Very little
Apps can sometime be slow to connect.

Surfshark has fast proven itself one of the most secure and consumer-friendly VPNs on the market. Since its launch in 2019, it's already cultivated an impressive network of over 3200 servers in 65 countries, with drastically improved stability and uptime that puts it on even ground with industry veterans.
Tunneling is handled via your choice of OpenVPN, IKEv2/IPSec, WireGuard or Shadowsocks (on Windows and Android), and encrypted with the 256-AES-GCM cipher. Surfshark also offers obfuscation on every server, as well as built-in smart DNS and even a sophisticated NoBorders anti-censorship mode. Together, this battery of cybersecurity features enable you to unblock Google anywhere–even in China.
Surfshark also offers a few unique features, such as the ability to auto-enable certain VPN settings for specific Wi-Fi networks, unlimited simultaneous connections, plus RAM-only servers which regularly purge your usage metadata from memory banks. And with a strict no-logging policy, you can count on Surfshark never to reveal your identity to overreaching government surveillance agencies and ISPs.
Pros
Unblock 15 international Netflix libraries, including the US and Japan
All 800+ servers are P2P-friendly, with private DNS and obfuscation
30-day satisfaction guarantee
Favorable BVI jurisdiction guarantees no logs kept
Get help any time of day via email, phone, or live chat.
Cons
Overall, not much to complain about
Young VPN still has plenty of room to grow in terms of advanced functionality.
Read our full Surfshark review.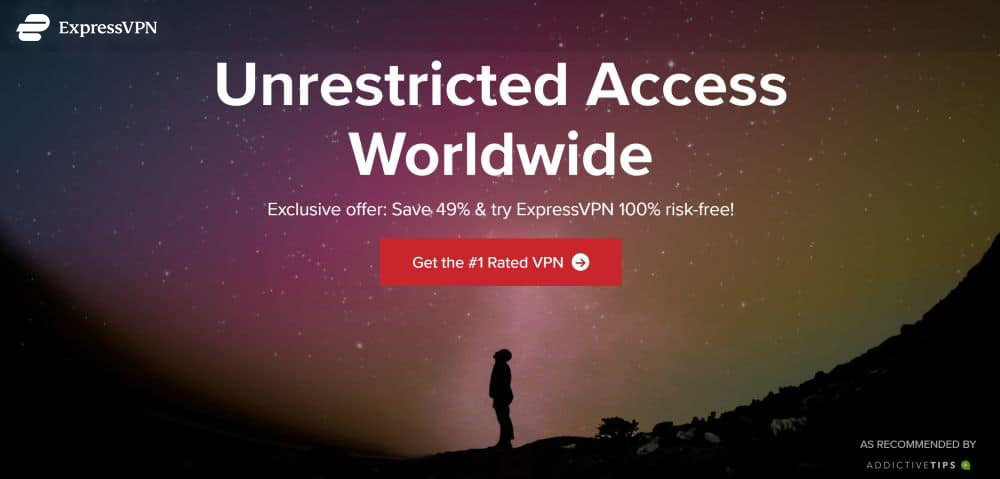 ExpressVPN, true to its name, is one of the fastest VPN providers on the market at the moment. With a network of 3,000+ across 94 countries, including dozens of locations across Europe, Asia and the Americas, you can be certain that you'll be getting a fast connection wherever you are in the world. The easy-to-use, single-click interface will have you browsing content with geo-restrictions within minutes, avoiding any bans or restrictions your country has on Google.
One of ExpressVPN's key focuses is privacy and security. With a 256-bit AES encryption, it would take the world's most powerful supercomputer millions of years to retrieve any form of data. This goes hand in hand with the provider's other encryption protocols, including UDP, TCP, L2TP, PPTP and others. Furthermore, the no-logging policy on everything from traffic to IP addresses will ensure that none of your data or activity logs are being stored. Other privacy features include the DNS leak protection and an automatic kill switch, which provides you with a safety net in case there is an accidental disconnect.
Read our full ExpressVPN review.
Pros
Unblocking Netflix, iPlayer, Hulu, Amazon Prime
Reliable and fast connections
Supports ALL devices
Strict no-logs policy
Great customer service via chat.
Cons
Slightly more expensive than some other options.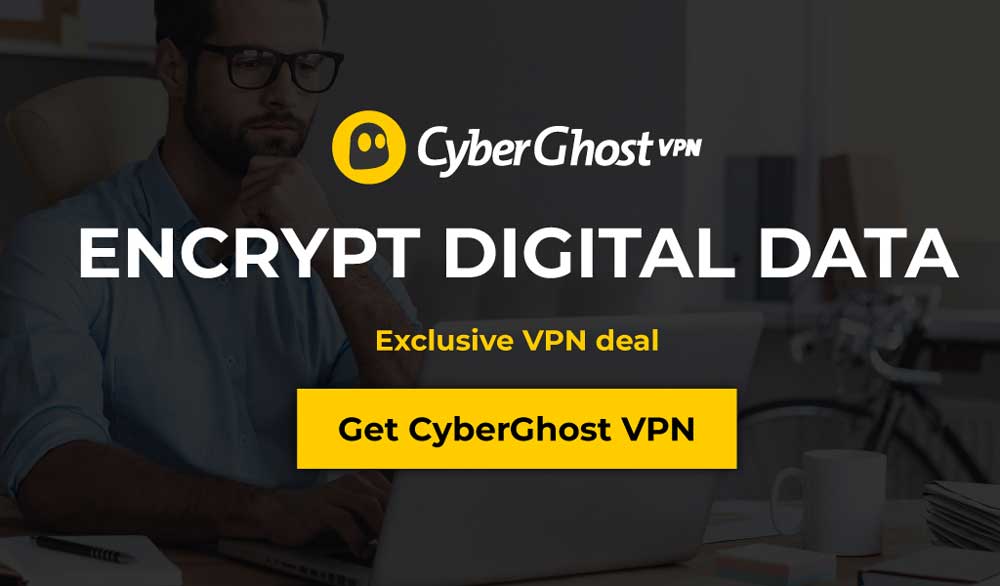 CyberGhost prides itself in its user-friendly app, reliability, and keeping your data private. Upon launch, you are given the option to choose from six different configuration profiles, including "Surf Anonymously", "Unblock Streaming", "Torrent Anonymously", and "Choose My VPN Server". Each one of these profiles are then customizable with toggles, which exchange features for some performance. These toggles include options like "block ads", "block online tracking", "extra speed", and more.
With a 256-bit AES encryption, CyberGhost is on the level of industry leaders when it comes to security. Further, the provider also uses other encryption protocols, including UDP, TCP, L2TP and PPTP. The flawless no-logging policy doesn't store information on almost anything at all, and there is no way to connect a person's activity log to a person's identity; it doesn't even keep your email address.
With a large server of 5,900 servers in 90 countries, CyberGhost guarantees a quick and reliable connection. Unlimited bandwidth and no speed caps come as default features, and you are free to connect up to five devices. CyberGhost is compatible with Windows, Mac OS, iOS, Android, Linux and Chrome OS.
Read our full CyberGhost review.
Pros
Unblocks US Netflix + BBC iPlayer
P2P allowed on any server except in US and Russia
2,048-bit RSA keys and SHA256 authentication
Private: Strong no logs policy
24/7 Live Support.
Cons
WebRTC IPv6 leak in macOS
Can't unblock some popular streaming sites.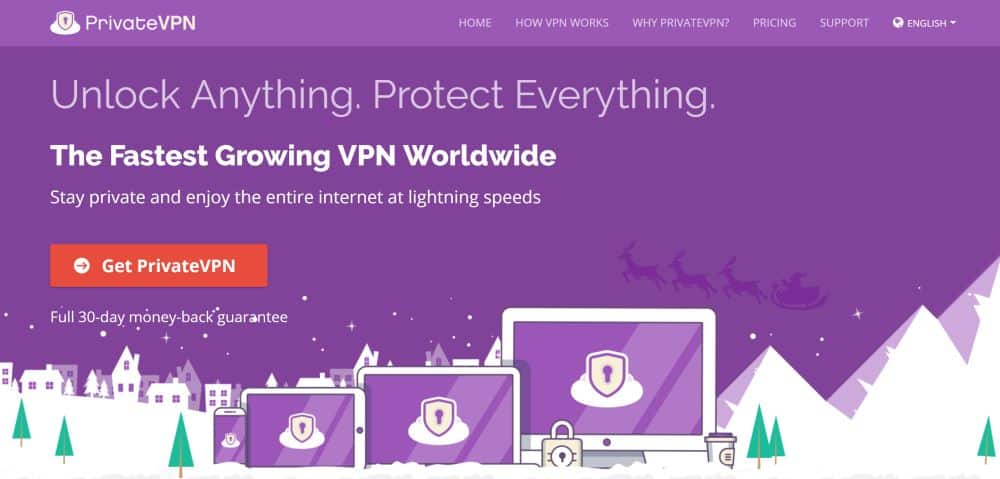 PrivateVPN is a great choice is you are looking for an easy-to-use VPN service that also happens to be extremely fast. If you're looking to get started right away, PrivateVPN doesn't require any complicated settings and is great even for inexperienced users. Whether you are looking to connect through a smartphone or PC, Windows or Mac, PrivateVPN is compatible with a wide range of devices and operating systems we discuss in our full review here.
PrivateVPN keeps all your data safe, and with a 256-bit AES encryption, it's almost impossible to crack. That, together with an automatic kill switch and DNS leak protection will have you confident that you are browsing with a secure, private connection. The no-logging policy ensures that anything from your IP addresses to browsing history is not stored, so the government and third parties could not access your information.
Although PrivateVPN has a relatively lightweight ~150 servers in 60+ countries, the network has spread out worldwide, giving you more options when it comes to picking a country to connect to. With this provider, you'll be able to bypass any regional restrictions on websites like Hulu and Netflix.
How to use your VPN to unblock Google anywhere
Good news. Now that you've read up on our recommended VPN providers, the hard part is over. Below you will find a detailed step-by-step description of how to get started to unblock Google and enjoy the fastest VPN connection out there.
Step 1 – Sign up for and download your VPN
To begin, open a browser on your computer and sign into your VPN account. Find and download the right VPN app for your operating system; for example, if your PC is Windows 10, make sure you download the app that is compatible with this OS. You may be redirected to your OS's app store if you are using an Android or iOS device.
Step 2 – Install and connect
Now, install the VPN. Once it is downloaded and installed, open the app and sign in using your login details. The majority of apps will connect to the fastest available server upon launch. However, you may want to switch servers depending on the IP address you want. For example, if you wish to connect to an IP address in France but you were automatically connected to the US, you'll need to switch servers.
Step 3 – Check your IP address
Although this isn't a necessary step, we recommend running a test for your IP address; this will make sure your VPN is working properly. First of all, open the browser on your PC or mobile device and log into ipleak.net. This page will run an automatic IP address lookup and within just a few moments show you "Your IP Addresses". Below this subheading, you should see the country you selected to get an IP address from. If you live in Russia, for example, but chose to connect to Greece, you should see "Greece" in this list. If it does, you are good to go. If you see your physical location, contact the VPN provider directly; there may be a leak.
FULL GUIDE: How to check for VPN leaks
Step 4 – Start Googling.
In order to start browsing and searching on Google, you have two options. You can either go on "www.google.com" within your web browser, or you can download the 'Google' app in your app store and start browsing there. Before you get going, however, make sure your VPN is connected. Now, even if Google is blocked in your country, you'll be able to enjoy browsing with no restrictions.
Where is Google Blocked/Limited?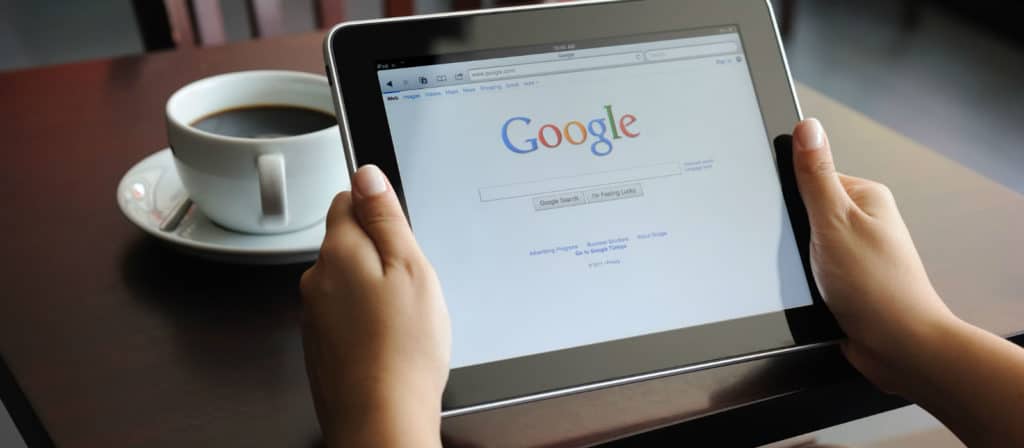 When it comes to blocking access to Google, the only country that has done so is China. This is a result of the 'Great Firewall of China' – the laws and technologies used to regulate internet content nationwide. According to the local government, the main reason for this censorship regime is to regulate the Internet and, consequently, 'protect its citizens'. But more importantly, this is a massive push for local companies and in turn a boost for China's internal economy, since these regulations literally push out the foreign enterprises out of the picture.
Google, a well as some of its business services (like YouTube, Gmail, Blogger, Maps), is restricted in some other countries. You can often use a VPN in order to avoid these restrictions and get complete freedom with websites like Google. Below we've listed countries where access is limited to a lesser or greater extent.
Crimea
Cuba
Sudan
Syria
Others include – almost all countries in the Middle East (except Israel)
In some countries in the world, Google is not blocked completely but some of the business services, such as YouTube or Gmail, are completely banned.
Is it legal to unblock Google with a VPN?
This is a slightly tricky question since the issue purely revolves around where you are located in the world. For the most part, Google is not illegal and people are not banned from browsing with it. The way governments restrict people from using Google is by simply blocking or restricting its usage, be it for work or personal use.
The rule of thumb is quite straightforward: as long as Google on its own isn't illegal in your region, you are more than welcome to use a VPN to access it. It is the responsibility of every user to read up on these laws prior to using a VPN to avoid regional restrictions on Google. A VPN is a great way to get connected under many circumstances, but it doesn't mean you can break the law.
Why unblock Google?
At this point, Google seems to be as important to any layperson as a scalpel is to a surgeon. Whether you are a school pupil, a college student, a parent, or a professional in virtually any field, chances are you use Google at least on a daily basis. But does everyone have access to Google; and if not, why?
While Google is an essential tool for people in most corners of the world, there are still some countries that restrict access to the search engine or block it altogether. For example, in China, all browsing and searching via Google was blocked in 2012. According to news sources at the time, the block was thought to be triggered by the changing leadership in the country, and Google was treated as a source of controversial content that could affect the election results. The restriction, however, was thought to be temporary, yet it remains unchanged since then. Google is also restricted in other parts of the world. For example, most countries within the Arab region have some sort of limitations on using Google or one of its business services, such as Gmail. But why go through the trouble of unblocking it?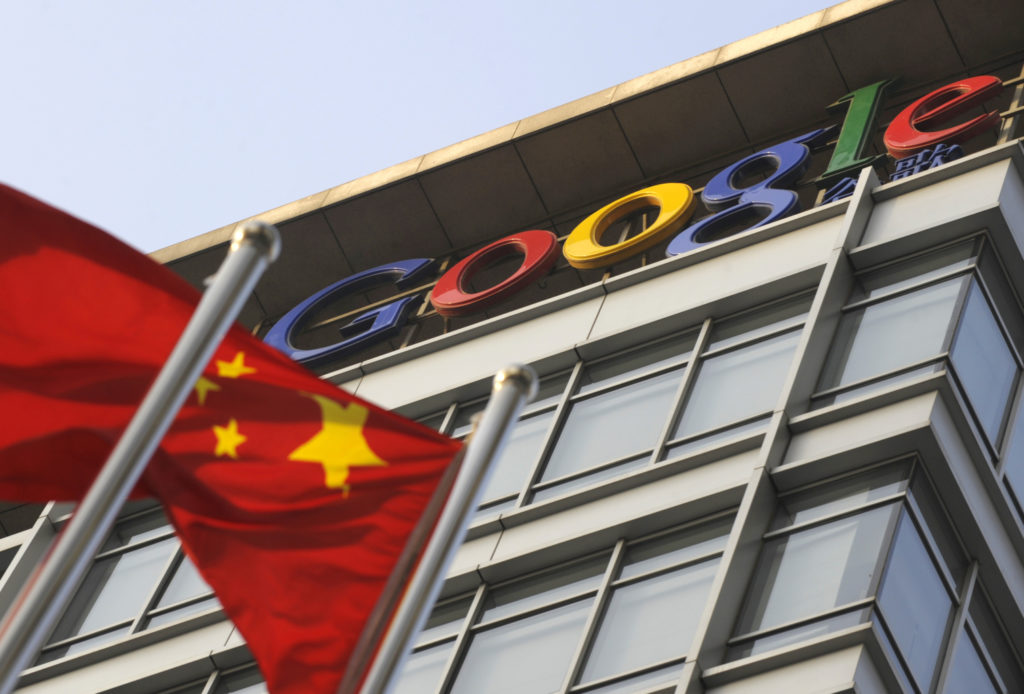 Google's search engine – Google's first and primary product – is a remarkable tool if you are looking to find relevant information fast. Google uses a secret algorithm to rank search results by your use of keywords, which means that they come up in order of relevance to your query. The search engine also filters out links that are of low quality and highlights advertisements so you know what you are clicking on in full disclosure. Furthermore, Google can also translate web pages into other languages. So, say you are using a VPN to browse content via Google in Italian but are having a hard time reading it. All it takes is a click of one button to translate the entire page into English within seconds. Today, Google also offers a myriad of other services, including Blogger, Gmail, YouTube, Maps, and many more, all of which are intended to make your life much, much easier.
Conclusion
Unblocking Google isn't difficult with a good VPN provider; however, it is useful for a myriad of different tasks. Choosing one of our recommended VPNs will allow you to use Google to your advantage whilst maintaining a fast, secure connection.
If you live in a country where Google is blocked or restricted, it could take just a few minutes to get hassle-free, reliable access to the world's biggest search ending, So, tell us, what are you going to use Google for when you are done installing your VPN? Leave us your ideas down below.