We are reader supported and may earn a commission when you buy through links on our site.
Learn more
How to Watch beIN Sports Outside Europe: Unblock beIN Sports Abroad with a VPN
Frustrated trying to unblock beIN Sports where you are? You have geoblocks (geographical content restrictions) to thank for missing the match. But fear not, our step-by-step guide will show you how to watch beIN sports online with a VPN, blasting through geoblocks no matter where in the world you go so you never miss a play.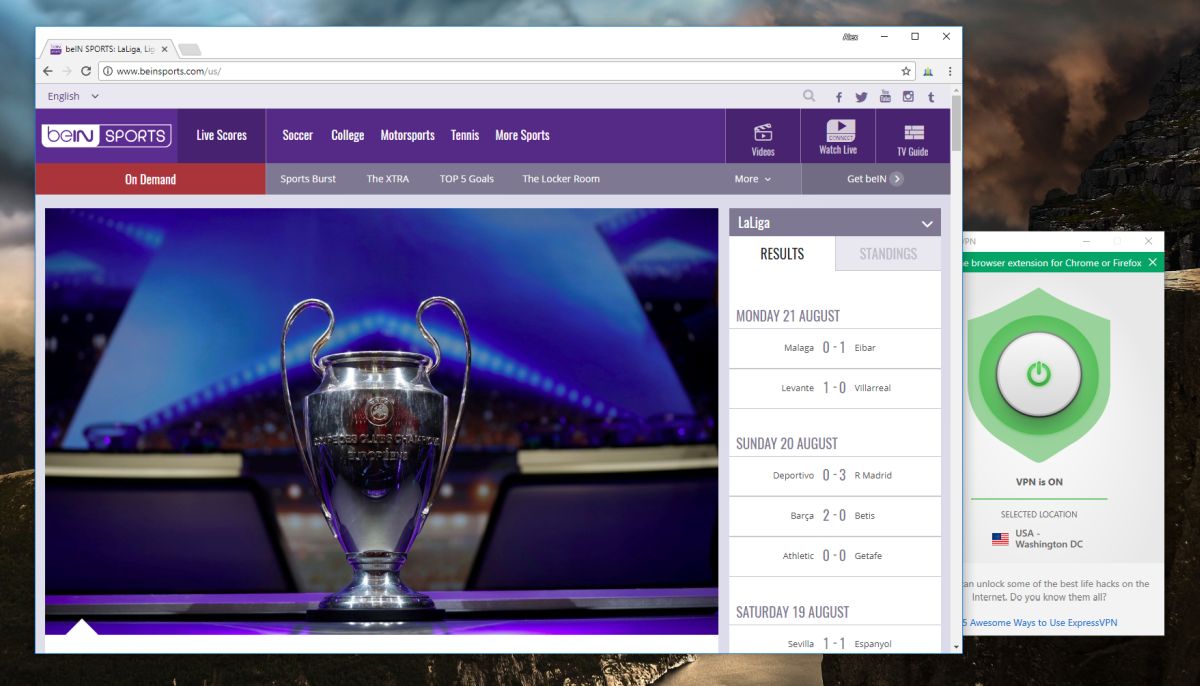 beIN Sports is a network of cable and internet channels that broadcast everything from football (soccer) to rugby, tennis, boxing, track and field, racing, and handball. The company is a spinoff from Al Jazeera and operates globally in dozens of countries and regions, providing content to cable TV subscribers as well as internet subscribers through its beIN Connect app.
beIN Sports has gained a massive amount of popularity around the world. The service offers the most content to viewers in France and the Middle East, including Egypt, Iraq, and Saudi Arabia, thanks to its three dedicated 24-hour sports channels. Outside of these areas broadcast licenses limit what can be shown. If you live in the U.S. or Canada, for example, you'll have select access to channels from Spain along with World Cup Qualifiers and Football League Championship.
Fool beIN Sports into serving you content as though you were in Europe with these VPNs:
NordVPN – Best for Sports Streams – NordVPN maintains the most powerful encrypted server network in the world, with thousands of highly secure connections across Europe. The perfect choice for unblocking beIN Sports outside the EU.
Surfshark – A scrappy upstart VPN packing some of the most impressive site-unblocking features we've seen in recent years.
ExpressVPN – One of the best VPNs specifically for accessing geoblocked streaming sites, with super-fast connection speeds ideal for UHD video.
Geo-blocking becomes a major issue with services like beIN Sports and beIN Connect. If you have a subscription in your home country but travel abroad, you'll suddenly find you don't have access to the same channels as before. With such restrictive viewership licenses in place, this can get extremely frustrating. Fortunately, there are some workarounds that help you access beIN Sports channels no matter where you happen to be.
30-days money back guarantee
RELATED: Best VPN For Saudi Arabia, How to Unblock Sites and Bypass Content Filters
Watching beIN Sports abroad: Proxy vs VPN
The most common method of locking content based on geographic location is to use IP addresses. An IP address is a series of numbers assigned to every device that connects to the internet. When you go online from your home PC, for example, your local service provider assigns your device an IP, which serves as an identifying marker so data can find its way to your computer. IP addresses are necessary for the internet to work, but because they contain location information, they can also be used to control what content you can or cannot see.
The simplest way to access geo-blocked content is to change your IP address. The two major go-to methods for achieving this are proxies and virtual private networks. Proxies are simple services that act as a middle ground between your device and the internet. When you connect to the internet you're assigned an IP address from the proxy, not your local ISP. This allows you to change your virtual location with ease, making websites, streaming services, and beIN Sports servers think you're sitting in another country, all without leaving your chair.
VPNs go a step further than proxy services. A VPN acts like a private tunnel between your computer and the internet. Data is encrypted before it leaves your home, making it unreadable to third parties, hackers, and the like. This encrypted data is then assigned an IP address associated with the VPN provider, giving you a much higher level of anonymity than before.
Both VPNs and proxy services offer a quick method of changing your virtual location with just a few clicks. VPNs offer more privacy and convenience features, however, which makes them a far better choice when you want to watch beIN Sports while abroad.
RELATED READING: Did you know Netflix can be unblocked on school Wi-Fi?
Step One: Choosing a Good VPN
The first step to unlocking geo-restricted content is to select a reliable and inexpensive VPN service. You can spend weeks researching encryption protocols, debating kill switch methods, and analyzing server network spreads to find a provider that fits your needs. There are a few factors that should be at the top of your list for streaming videos, however. Take a look at the list below to see the most important considerations when choosing a virtual private network.
These Are the Most Reliable VPNs for Unblocking beIN Sports: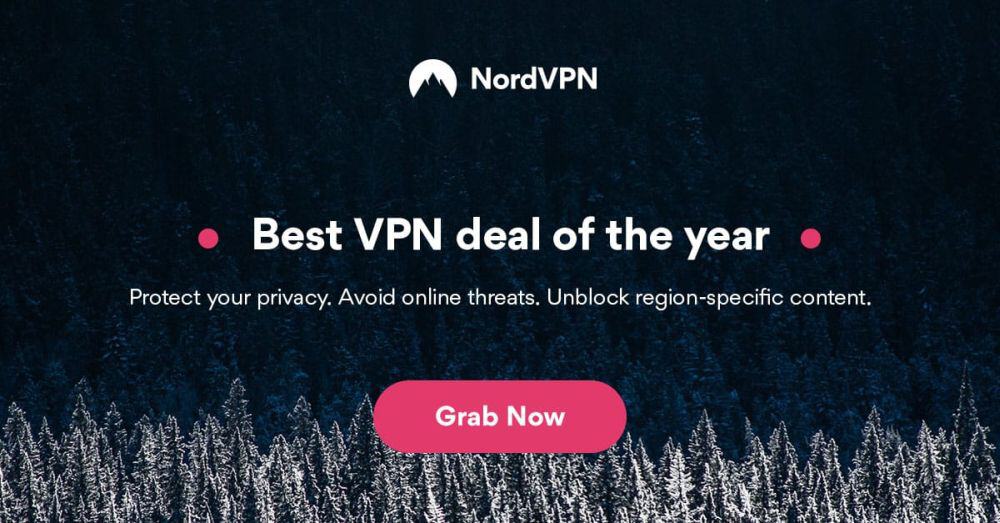 Whenever NordVPN rolls out a new feature or policy, all the other providers take notice. It's not an exaggeration to say this is the gold standard of VPNs, attestable by its legion of loyal subscribers across the world. Suffice it to say, this is a great choice for unblocking beIN Sports outside the US.
The secret to NordVPN's success isn't really a secret at all; it's a massive server network spanning more than 5,500 nodes in 59 countries, complete with a slew of specialty servers geared towards use-cases like P2P, Onion over VPN, anti-DDoS, multi-hop routing, static IPs, and more. In the EU alone, NordVPN maintains several thousand servers–more than most providers have in total.
NordVPN's encryption is also second to none, defaulting to the unbreakable 256-bit AES cipher. With low-latency infrastructure, a great jurisdiction, a kill switch, and a strict no-logging policy, you'll be hard pressed to find a better site unblocker than NordVPN.
Read our full NordVPN review.
Pros
Very fast speeds make this a strong choice for 4K streaming
Fast and stable connections
DNS leak protection, kill switch
"Double" data protection
24/7 Live Chat.
Cons
Very little
Apps can sometime be slow to connect.

Surfshark may be a relatively new provider on the market, but they're anything but modest. Within a short time, their network has exploded to encompass 3200+ servers across 65 countries. A huge portion of these are located across Europe, and even include static IPs and multi-hop connections in these countries.
But that's not all Surfshark offers to users looking to unblock beIN Sports; if you're in a really heavily censored country, Surfshark will use one or both of their special Camouflage and NoBorders methods, designed to beat VPN bans and government censorship.
Based in the BVI, Surfshark is free to enforce a truly transparent no-logging policy. Thus, you can stream live sports to your heart's content without ever leaving a trace of your activity behind.
Pros
Unblock 15 international Netflix libraries, including the US and Japan
Diskless server network ensures you leave no trace behind
CleanWeb mode blocks ads and popups before they load, saving your mobile data and speeds
Zero logging policy ensures your activity can't be used against you
Refund requests are simple and fast–no waiting or hassle.
Cons
Connection speeds won't impress users of other high-end VPNs
New-kid-on-the-block status may not instill same trust as larger providers.
Read our full Surfshark review.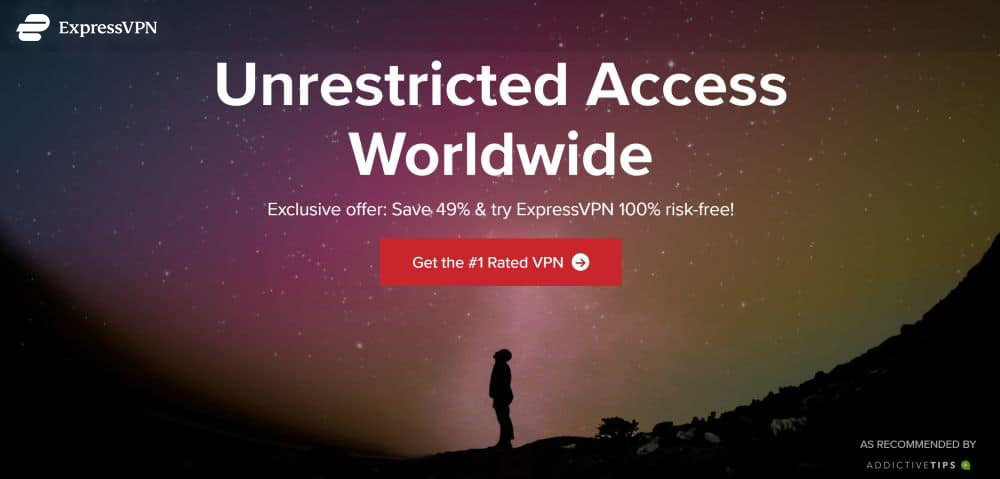 ExpressVPN is easily one of the best VPN providers around. The service has a stellar reputation for fast connection speeds and a great privacy policy, giving you the bandwidth you need to stream HD sports content without sacrificing anonymity. The company's server network also covers 94 different countries, all of which are accessible without bandwidth limitations, speed caps, or torrent/P2P limitations.
Device coverage is another strong point of ExpressVPN's service. You'll be able to run your VPN and stream beIN Sports channels just about anywhere, including Windows, Mac, and Linux desktops, laptops, Android and iOS smartphones and tablets. You can even install software on your router to protect your entire home network.
Some other advantages of using ExpressVPN include:
Multiple server options in France and the Middle East (Egypt and Israel) for optimal beIN Sports accessibility.
Kill switch and DNS leak protection to ensure your real IP address is never shared.
Built-in server speed test for Windows, Mac, and Android.
Strict zero-logging policy for improved privacy.
Read our full ExpressVPN review.
Pros
Unblocking Netflix, iPlayer, Hulu, Amazon Prime
Reliable and fast connections
Supports ALL devices
No logs for personal data
Customer Service (24/7 Chat).
Cons
Expensive month-to-month plan.
Step Two: Installing and Connecting to a VPN
Once you've signed up to a good VPN service, it's time to watch some sports. In order to take advantage of virtual location switching and encryption, you'll need to make sure your VPN software is running and active each time you connect to the internet, no exceptions.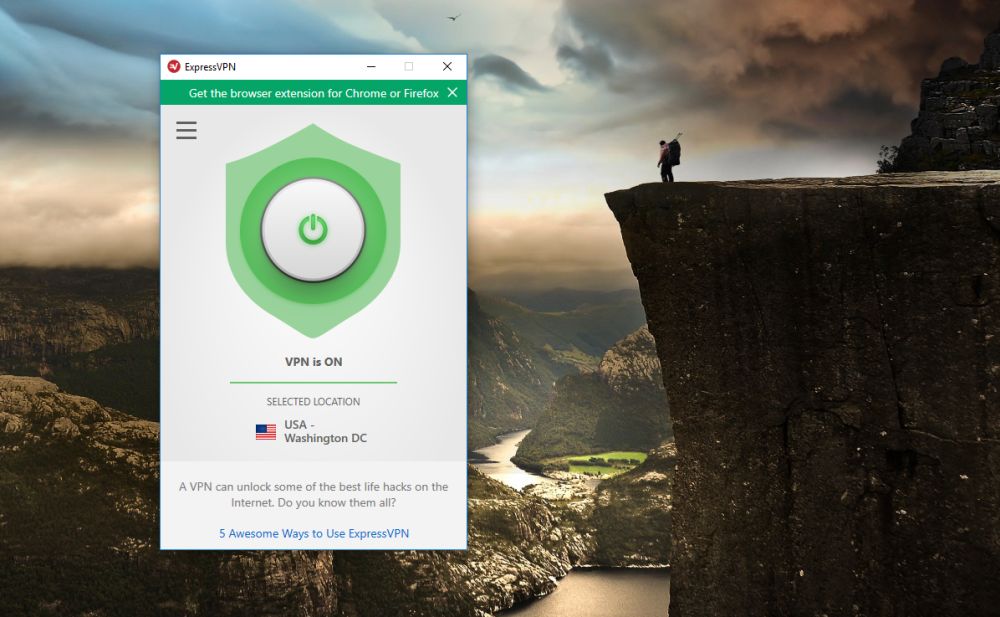 The specific details of downloading and connecting to your VPN will vary depending on the provider, but the basic process will be something like the following:
Download and install your VPN provider's software.
Sign in using your credentials.
Look for a tab or menu option labeled "servers".
Search for a server in France, Saudi Arabia, Egypt, the U.S., Canada, or another beIN Sports friendly country.
Connect to the server. Your IP address will now reflect the location of the server you chose.
Step Three: Accessing beIN Sports and beIN Connect
beIN Sports channels can be accessed in two different ways, the most common being through local cable providers such as Foxtel or Orange. If you have a compatible cable service you can simply sign in through the beIN Sports website and stream content through your web browser at no extra cost. If not, you can use beIN Connect, the network's official app that offers on demand content through a separate subscription.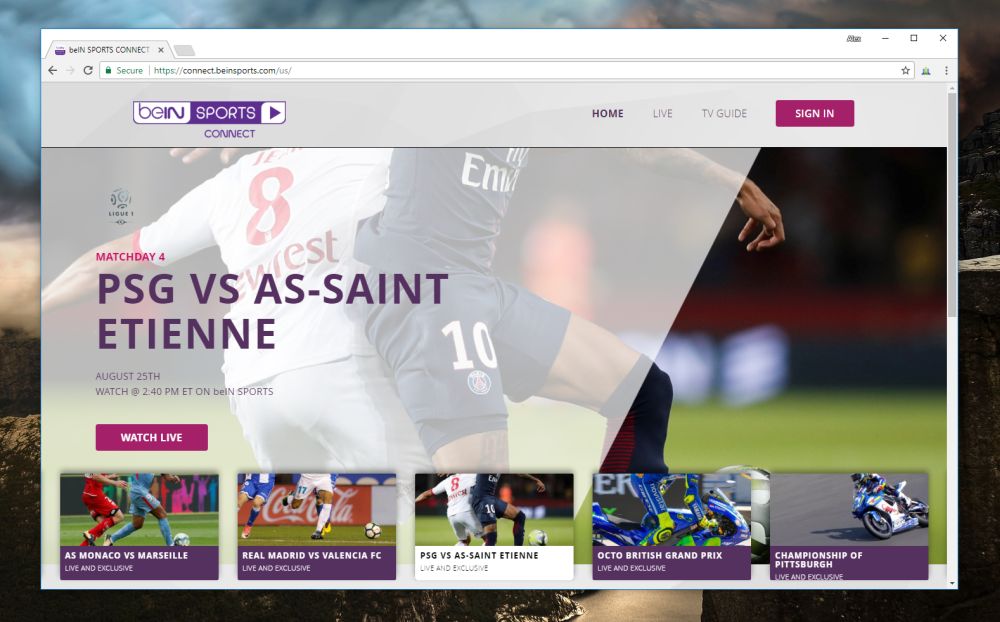 With an active and compatible cable service subscription and VPN software running in the background, follow the instructions below to access beIN Sports channels while abroad:
Set your VPN server location to a compatible beIN Sports country.
Go to https://connect.beinsports.com in your web browser.
If you aren't automatically redirected, choose a country from the list. Make sure it's the same country your VPN IP address is from.
Click the "sign in" button at the top of the page.
Choose your home cable provider from the icons below.
Enter your cable provider's login information.
You'll be redirected back to beIN Sports where you can stream content at your leisure.
You don't need a cable subscription to access beIN Sports. The beIN Connect service offers separate subscriptions to a number of countries, including France, Spain, United States, Canada, and much of North Africa and the Middle East. Most users report being able to sign up even if their credit card is from a separate country, which makes it easy to switch your virtual location, grab a subscription, and watch beIN Sports from anywhere.
First, to subscribe to beIN Connect:
Set your VPN server location to a compatible beIN Sports country.
Go to https://connect.bein.net/en in your web browser.
Click "subscribe" at the top of the page.
Choose a subscription package. If monthly or yearly are too expensive, scroll down to find a non-renewing daily pass.
Enter your information to complete the subscription process.
With an active beIN Connect subscription and your VPN running in the background, follow the instructions below to watch beIN Connect while abroad:
Download beIN Connect to your chosen device. Make sure you also have VPN software installed on the same device.
Sign in to your beIN Connect account.
Change VPN servers to your home country or the country with the access you need.
You may need to exit and re-open beIN Connect after changing servers.
Stream sports content as if you were back at home.
RELATED READING: ExpressVPN Works in China. Here's all there is to know.
Watch beIN Sports abroad with Kodi
Kodi is an open source media center that gives you access to live sports streams, movies, TV shows, music, and so much more, all from a single interface. The free software is enhanced by a number of third party add-ons that gather streaming content from around the web and make it accessible from most modern devices, including PCs, tablets, and smartphones.
beIN Sports channels are also available through Kodi, though you'll need to install a specific add-on to access them. Third party extensions like this are known to have some reliability issues, which makes the Kodi method of watching beIN Sports a little less desirable than the methods described above. Still, it's tough to beat the convenience of a media center program with this many options.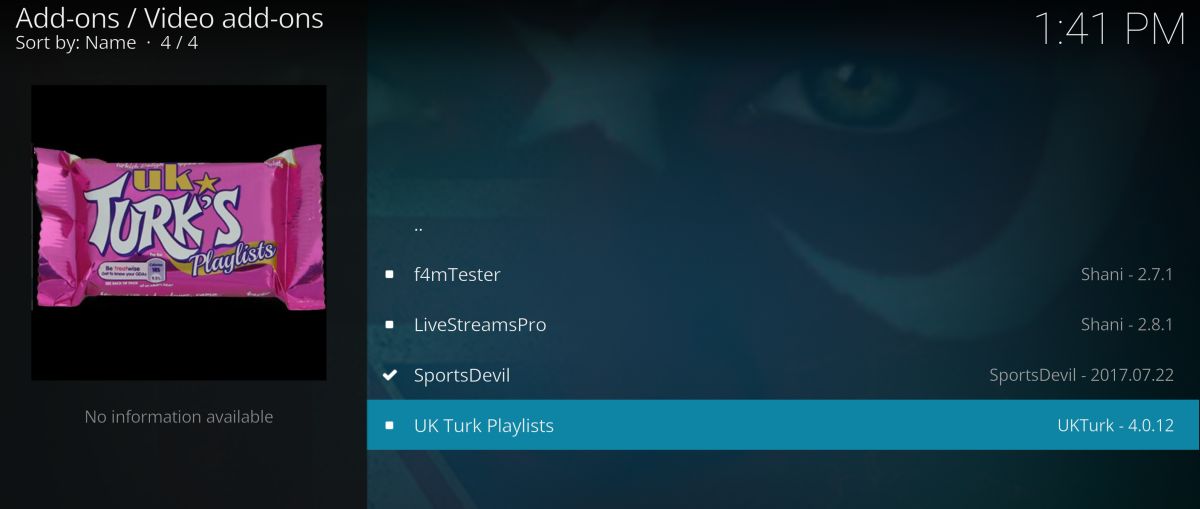 beIN Sports Add-on for Kodi: UK Turk Playlists
Access to beIN Sports is best obtained through UK Turk playlists, an add-on that includes a wide variety of sports, movie, and television show streams packaged into a single interface. Once installed you can simply scroll through the interface, choose the channel you'd like to watch, and start streaming.
UK Turk Playlists can be found in the UKTurk Repository. If you already have UKTurk Repo installed, skip to step 13 below.
How to install UK Turk Playlists on Kodi
Open Kodi on your local device.
Click on the gear icon to enter the System menu.
Go to File Manager > Add Source (you may need to click the double-dot to move to the top of the directory)
Type in the following URL exactly as it appears: https://addoncloud.org/ukturk/install/
Name the new source"UKTurk"
Click "OK".
Go back to the Kodi main menu.
Select "Add-ons"
Click the open box icon at the top of the menu bar.
Choose "Install from Zip File"
Select "UKTurk"
Choose "repository.ukturk-x.x.x.zip"
Go back to the Add-ons menu and click the open box icon.
Choose "Install from repository"
Find and click "UKTurk Addon Repository"
Scroll down to "Video Add-ons"
Locate "UK Turk Playlists" and install.
Access the UK Turk add-on from the main menu when the installation is complete.
This is what it looks like.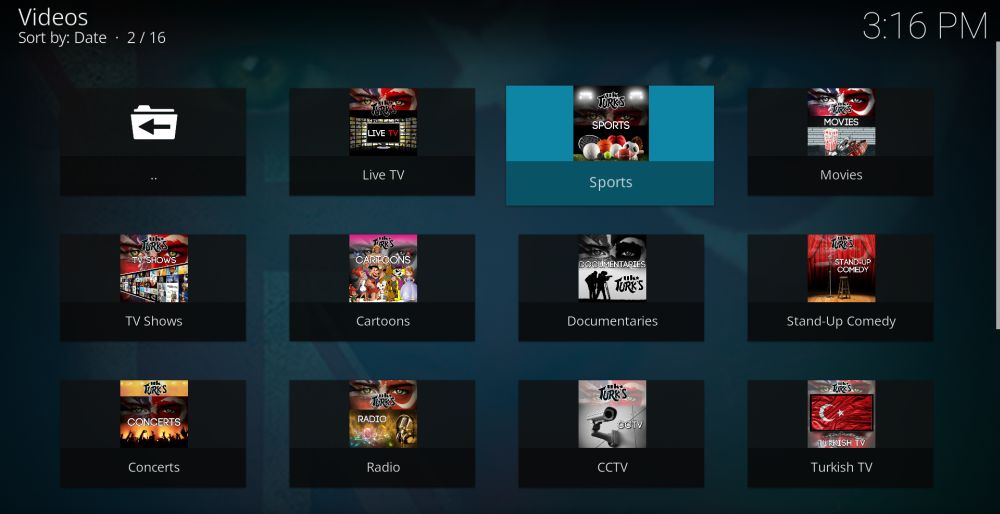 Avoiding Free VPNs and Free Proxy Services
It's easy to be tempted by a free VPN or proxy, especially if you're only traveling for a few days or weeks and only need temporary access to beIN Sports. These services promise free and unlimited access to geo-blocked content, all you have to do is download and start streaming. Unfortunately there are a number of downsides to using free VPNs and free proxy services.
The main reason to avoid free services like this comes down to privacy. Every business needs income to survive, including virtual private networks and proxy providers. If revenue doesn't come from customers, it has to be made elsewhere. The most common methods for this are injecting ads into user's browsers and selling collected user information. Both of these policies can be frustrating and invasive, making the small price you would pay for a VPN worth it.
Watch beIN Connect on Your Amazon Fire TV
While beIN Connect isn't directly available through Amazon's video services, it's still possible to stream beIN Sports content through your Fire TV or Fire TV Stick. All you need to do is install Kodi on your Fire TV device, then grab the UK Turk add-on described above. You can do this from home to watch beIN on your TV with ease. You can also install a VPN on your Fire TV Stick so you can switch virtual locations and make beIN Connect available while you travel.