Yodiz: Project Management With Collaboration Through Social Media [Web]
In the field of software application development, project management techniques like scrum (agile software development method) possess a unique role in addressing the challenges of monitoring and managing progress, virtually, with emphasis and importance on each team member's work contribution. Using this technique, high performing individuals can be encouraged while weak performers can be addressed for the overall good of the team. Yodiz is a cloud-based project management tool that is based on the scrum method. With role-based specialized interfaces, agile management and issue tracking coupled with a smooth signup and extensive support experience, this tool is great for all efficiency enthusiasts. By collaboration on social sites, Yodiz aims to connect business professionals to the social media as a means of better time-utilization with respect to team interaction.
We advise you to go through the Live Demo option on the official Yodiz website before signing up. This would give you a better idea regarding where and to what extent this utility would benefit you.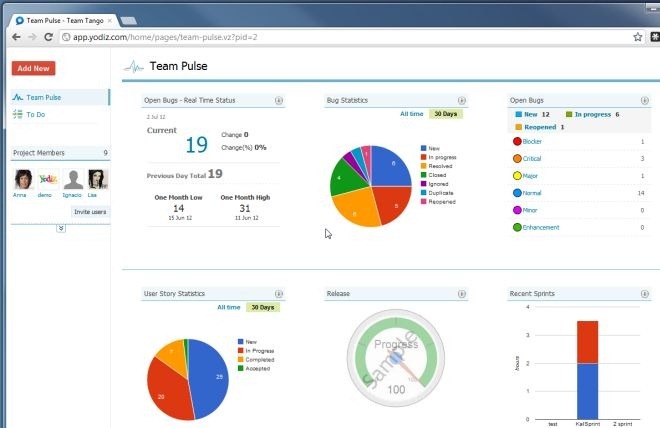 The most useful aspect of this tool is the intricate illustrative relation between statistical and graphical reporting. The main Team Pulse tab can be accessed to get a complete overview of the current state of your team with the To Do list and Project Member links displayed on the left sidebar. Moreover, recent sprints show the emerging activity trend in a team member's performance while the tasks are also displayed at the top. A 'sprint' is a unit of development in the scrum method.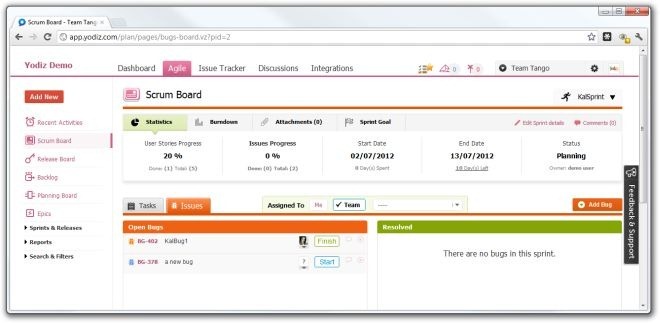 The scrum board informs the user of tasks, issues and sprint statistics with emphasis on goals, achievements and start-end time. Moreover, all recent activities, backlogs, reports and searches can be performed using the left sidebar. Similarly, a new entry can also be added by clicking the relevant button on the top left corner.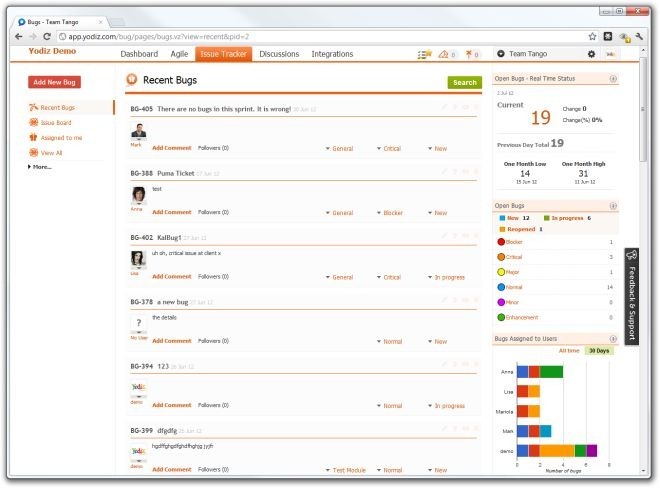 The Issue tracker tab highlight the recent bugs illustrating the real time status of tasks and team work distribution spread over time on the bottom right corner. In addition, the prioritization feature makes all information valuable.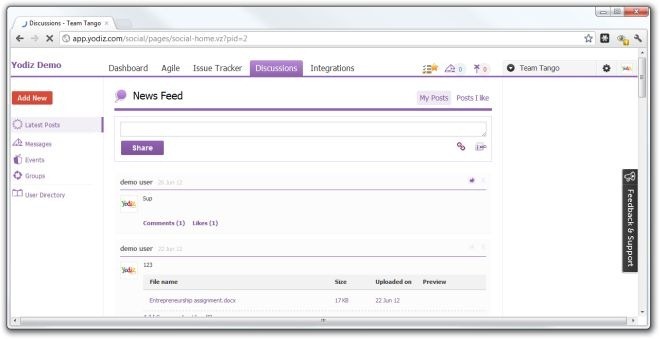 The Discussions tab brings to the business professional, a feeling of connection with a flurry of activity in the background. Team constituents can share what's on their mind, as well as the work they're doing so as to bring a feeling of connection and progress. This is where social collaboration comes in handy concealed within the Integrations tab.
All in all, Yodiz is a powerful online application that is bound to add value to your workspace with an integrated, up-to-date and socially connected team management environment with focus on teamwork and progress in light of specified goals.