1Password – Desktop & Web Browser Based Password Manager With Dropbox Support
1Password is a brilliant Password and Identity manager which is built on a very intriguing yet simple idea of having only one password for all Applications, Website login information, Software, etc. Earlier, we have came across many password managers, including, Password Provider, Lock Crypt, and Secure Password Storage. Comparatively, 1Password provides more features with seamless web browser (Internet Explorer & Firefox) integration, so users can use it as easily as LastPass- an eminent password manager. Both the functionality and usage is utterly identical to LastPass, whether you save login information from main interface or from Firefox/IE9 extension, either way you will end up filling login information. Since security is essential and must be provided by password managers, it offers a staunch AES encryption with an ability to quickly lock down itself, and other applications to prevent any unauthorized usage.
Editor's Note: Mac users will be familiar with 1Password since it was originally developed for Mac OS X. We gave the Windows version a shot and easily feel in love with it. This review focuses more towards helping Windows users who need a powerful and easy-to-use password manager.
The application lets user create multiple keychains, keychain in its context means that multiple accounts can be created to save and manage multiple set of passwords and identities, being an non-imperative option, you can always use only one keychain to manage different login information. Furthermore, it supports creating of secured notes, you can easily jot down private information, keys, bypassing phrases, bank account numbers, without fearing dreadful/erratic privacy issues. Apparently password generation is one feature which is widely common, so it can also suggest you strong password with just a single click.
Running it for the first time prompts you to create a keychain, just click Create new Keychain to enter the master password, choose one discreetly and click OK.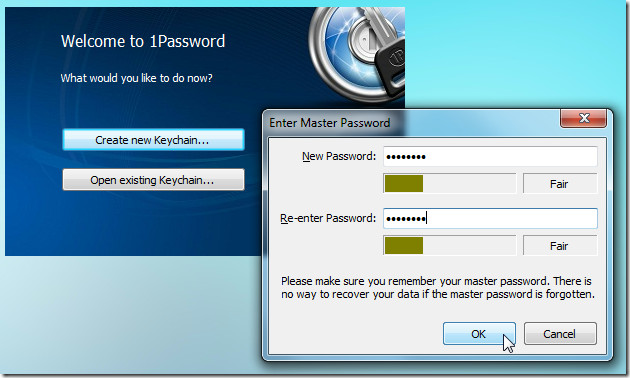 Once done, you will be greeted by main interface where you need to enter master password again for verification. The application interface is intuitively designed to give the best usage experience. The left flank holds two panes, one carrying main items and and, one beneath it,  for managing folders and trash can. The toolbar comprises of all main options – Lock/Unlock, Preferences, create Login, Wallet item, Software, Secure Note, Identity, and New Folder, just click an item to create and enter respective information. Since it integrates with Firefox and Internet Explorer, you will need to close all of their instances to let it install extensions for both of them. Another pattern you can follow to automatically fill-in website login information is by creating a Login. Fill all the required details and specify URL of web page before hitting OK.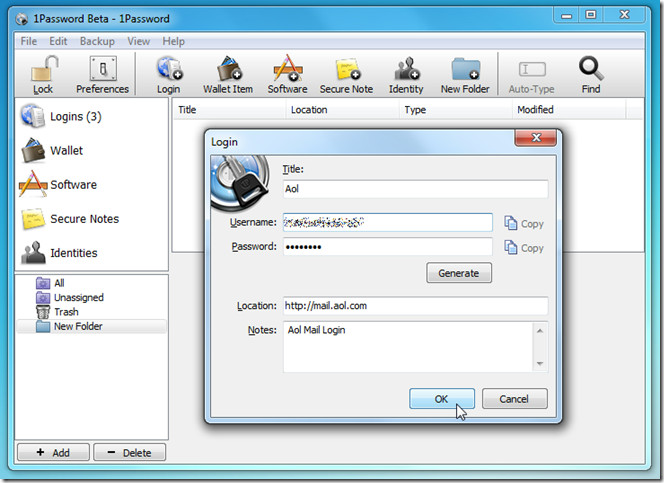 In a similar fashion, other important information and passwords can be created. The Wallet item, offers a vast list of items you can create on the fly, just select an item type, choose wallet item type, and start entering details.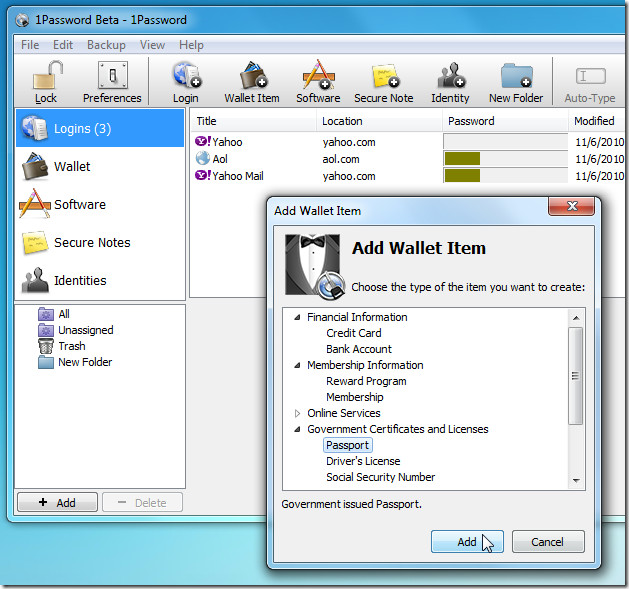 All the saved information can be edited by selecting an item and clicking Edit in bottom to pane to update the credentials. If you're planning to remove a piece of secured information or password, hit Delete.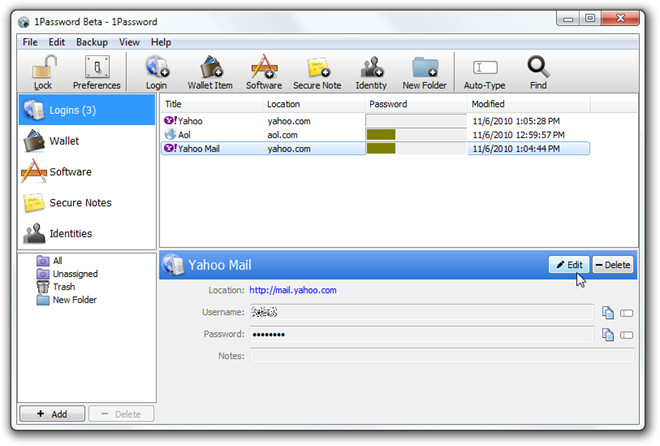 When the plugin is installed and properly configured for your favorite browser, you won't need to access the main interface anymore. All the login information can be saved and retrieved in Firefox by clicking its small button present at right-corner of the screen. You can also lock the password management and access the main screen by clicking Launch 1Password.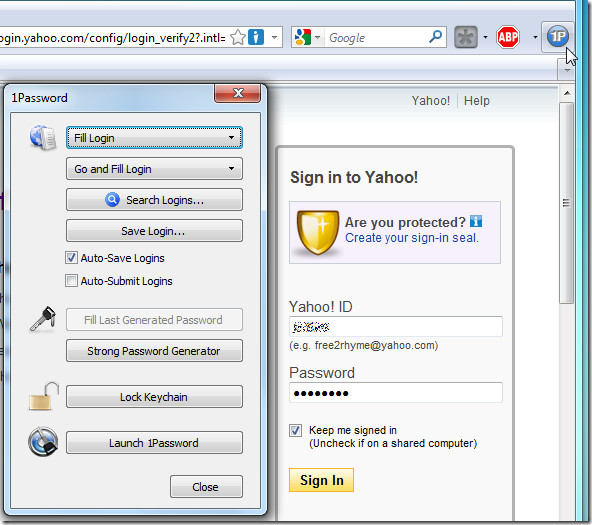 To tweak with options and customize application, click Preferences in toolbar (on main screen), you can change some generic behaviors, security related information, master password, schedule backup creation, enable/disable browser integration, from respective tabs.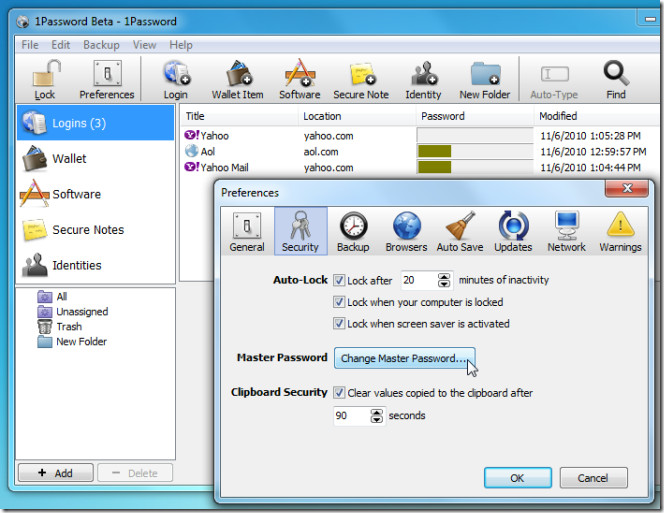 One novel feature is that you can keep your login information synced with Dropbox – an eminent file-based synchronization cloud solution. In this way, you can retrieve the main keychain data file on any system, no matter which OS you're using, just access the main data file or refer to synced folder where keychain is residing to fetch all the secured notes, wallet and other login information.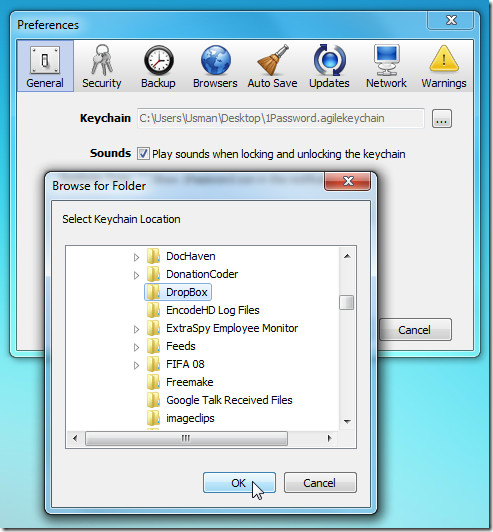 According to developer, you might come across some minor issues since 1Password is in beta for Windows. While testing, we didn't run on any sort of bug, so in our experience it works without any noticeable problems. Testing was done on Windows 7 x86 system while it supports Windows XP/Vista/7 (both 32-bit and 64-bit systems are supported).