Access Websites Restricted In Your Country With Ricco VPN
Some websites are blocked outside a specific country or region due to copyright issues and political reasons. The latter has been recently seen in many countries around the world due to anti-government protests and the drive to control information. This is a common annoyance that leaves many users stranded and deprived of access to quality content. To bypass such limitations, many users use proxies, however, they are often detected by servers which are meant to block content for users from specific lcoations. A better alternative is to us a VPN (Virtual Private Network). Unlike a proxy, a VPN is a secure mechanism of connecting to a private LAN at a remote location. This can be done either using the Internet or any public network to transport the network data packets. Large corporations often provide VPN access to their employees to allow them o obtain data from their office computer in case of an emergency or to remote execute task. This process has been converted into a proxy mechanism in recent years to allow users to access location restricted websites and to provide them with secure browsing.
Ricco VPN is a VPN provider, which, helps protect your privacy, secure your connection by encrypting it and allows accessing location restricted websites. It has both a free and Pro version, with features similar to iVPN. It provides you with a proxy IP, provides access to blocked websites, encrypts your connection, and allows the option to select an IP address in the country that has the services of which you would like to use (e.g. US based IP to access Hulu). Once Ricco VPN is installed, launch it and click Connect to start using the VPN service.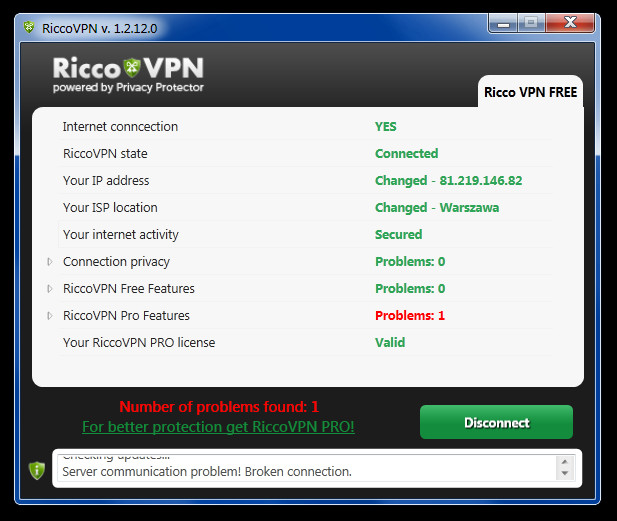 Your IP will be automatically changed and you will be able to access the internet through any browser with anonymity due to having alternative network credentials. During testing we were able to obtain Polish IPs. The free version is limited to the change of network credentials and provides encryption and anonymous internet surfing. Whereas, the paid version provides unlimited privacy network bandwidth, the option to seelct an IP from a custom location to bypass browsing restrictions from specific countries, time based IP auto change, encrypted virtual networks for gaming purposes and anonymous file download from P2P networks.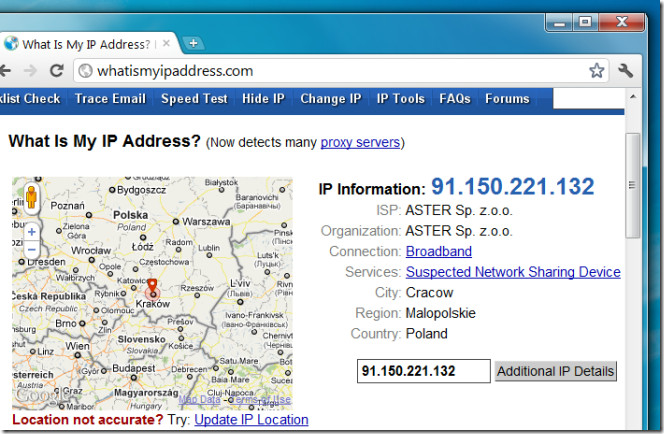 The free edition of Ricco VPN can be useful for bypassing restrictions imposed only in your country, and does not allow accesing famous location restricted websites such as Hulu, Pandora, Spotify and the like. For example, you might find Ricco VPN (free edition) handy for accessing websites blocked perhaps by the government of your country or some regulatory authority. We have seen common websites like Facebook, Flickr, and Twitter getting blocked in a few nations to avoid any online collaboration between agitators. If you have fallen victim to such a restriction, then you can use the free edition of Ricco VPN to gain access to such websites. The Pro Version on the contrary provides the option to choose an IP from a selected location, which can help you access websites like Hulu (e.g. by acquiring a US based IP), nonetheless it is worth mentioning here that the Pro Version is still in development stage and some of it's features are not ready for use as yet. You can try out both the free and a trial version of Ricco VPN PRO and see what it can do for you. Ricco VPN works on Windows XP, Windows Vista and Windows 7.