AceMoney: Eye-Candy Finance Manager With Stocks & Portfolio Support
We have been reviewing quite a lot of financial management applications lately, because we fully appreciate how important a role money, and its management, for that matter, plays in one's daily life, and requires some of the most judicial decisions in spending it. Money may provide all the luxurious fascinations in life; however, despite this, it can cause mental unrest if you don't properly manage it, especially if you possess multiple bank accounts. If you have been a victim of such prospects and require an easy and simple way to look after your financials, then AceMoney might come in handy. Developed by MechCAD Software, this free personal financial application let you handle multiple number of accounts to manage budgets, track multi-currency finances, analyze your spending habits, manage bills and much more. The tool is aesthetically pleasing and might seem highly elucidative, even to an accounting layman. Read on to find about some of the salient features of this app.
When you launch the application for the first time, it asks you for some start up settings (although you can configure them later), such as default Currency, Number of decimal digits, Decimal point, Thousands separator. Next up, you need to enter Date Settings and click Finish to start the program.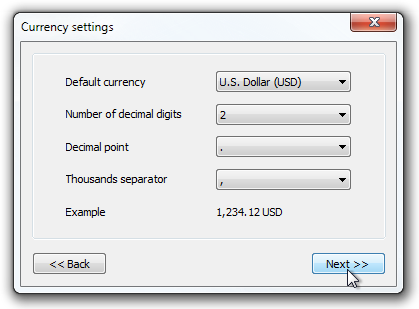 You will be introduced to a neat looking, user-friendly green interface (the applications contains multiple colors for different menus, such as pink, grey, brown etc.). As I mentioned earlier, one of the main features of AceMoney is to let you manage multiple accounts. To add an account, click New account, and a dialogue window will open up. Here, you can add your account's Name, Group (for example Bank accounts, Cash accounts etc), Bank name (if your bank is not listed in the drop down menu, you can add it by using Edit and filling in your bank's information), Opening balance, Currency etc. When you're done, click OK to add your account.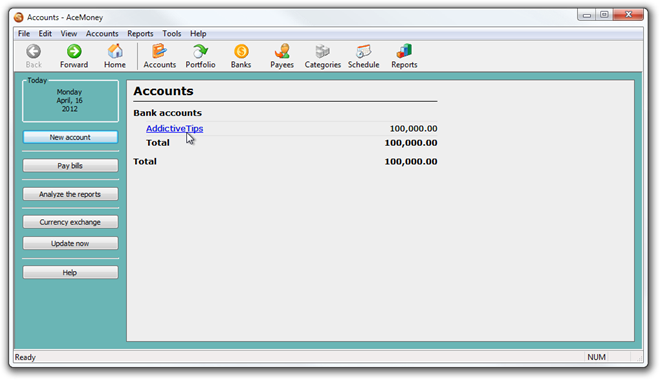 When you've successfully set up your account, you can now make all types of transactions linked to it, for instance, payment of bills, withdrawals, deposits, money transfers etc. All your transactions are automatically saved to your accounts database, which includes date, payee, category of transactions, amount and so forth. You can also delete, as well as edit, a transaction, in case you have made some mistake.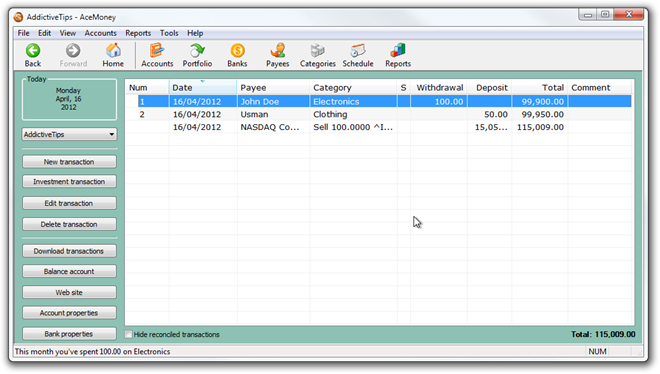 Apart from account management, the application provides other facilitative options, such as portfolio management to look after your investments in stocks and shares, and supports popular markets, such as NASDAQ Composite Index. Other than that, you can access Banks, Payees and Categories database, Schedule your bills or deposits and check monthly financial Reports, each of them containing their on set of features. The application also lets you save your information to local storage, and has the ability to save and read CSV files, a universal format used in many organizations.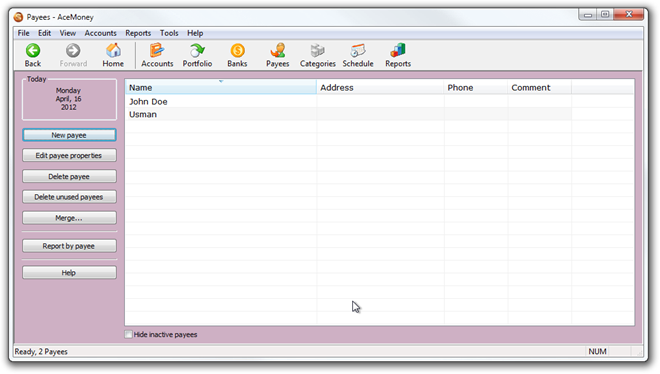 Overall, AceMoney is a comprehensive application that might help both advanced and novice users alike. While the application is available for free, the Lite version only lets you add two accounts. In case you need to manage more than two, you can always purchase the paid license for $39.99.  The program works on Windows, Mac OS X and Linux.