Advanced Disk Defragmentation And Cleanup With MyDefragPowerGUI
MyDefragPowerGUI is a portable GUI based tool that provides additional options for easy defragmentation and disk cleanup of Windows based operating systems. Other than performing the normal tasks of manually or automatically defragmenting system partitions, it cleans additional directories such as the Prefetch folder, allows defragmenting all partitions simultaneously, provides detailed information about system partitions/hard disk in a graphical user interface, allows setting defragmentation speed, provides trace erasing options and works with RAM disks/external drives. It supports U3 devices and can automatically update its GUI interface without the need of user intervention. With MyDefragPowerGUI you can quickly and efficiently cleanup and defragment your hard drive for better performance.
From the Defragmentation Settings tab you can perform disk analysis, quick defragmentation, set debugging messages, configure defragmentation speed and enable washing drives. To instantly start the defragmentation process, click Start.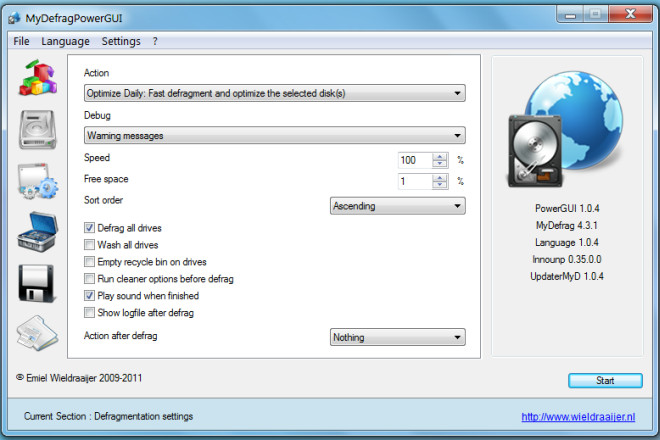 From the Drive Selection tab, you can select multiple drives to defragment and clean up simultaneously and set emptying of the recycle bin. This tab also provides a detailed overview of the hard disk, including information such as available space, consumed space, file system (e.g. NTFS), volume serial number, cluster size and number of sectors.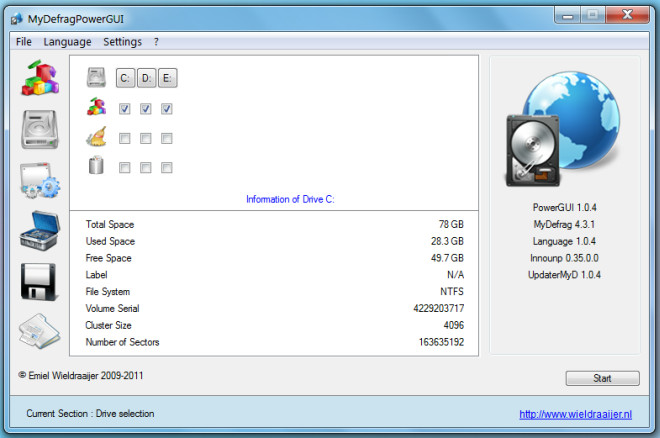 The Program Options tab can be used to enable detection of removable devices, RAM disks, deletion of log files, hiding of scheduled tasks and enabling exit of MyDefragPowerGUI after a process is complete.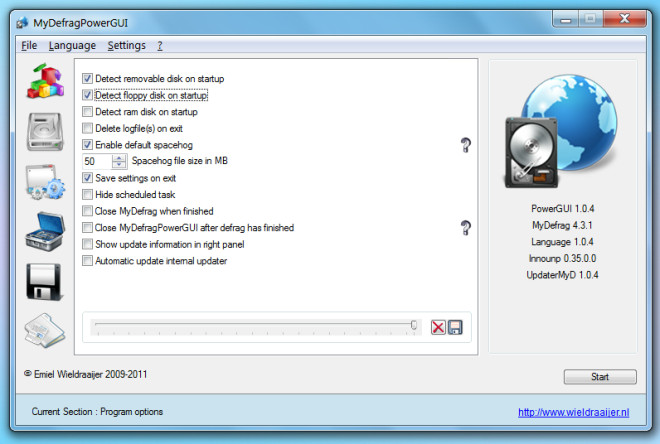 The Independent Programs tab provides options to auto start MyDefragPowerGUI  at system start up, for creating a restore point at start up, scheduling disk cleanup/defragmentation tasks and trace erasing options.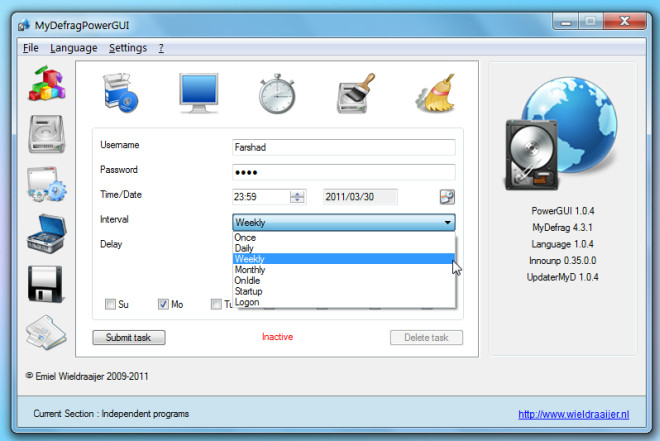 It works on Windows XP, Windows Vista, Windows 7, Windows Server 2003 and Windows Server 2008.