Automatically Fix Typos, Spellings, Grammatical Errors With Ginger
These days, people have stopped caring about the grammar and spellings they use while writing anything on the internet. It can be anything from a YouTube comment, to a Windows' support forum, but the lack of grammar and incorrect spellings will be present everywhere. You can partly blame it on the carelessness of people, and partly on the availability of applications for both computer and mobile phones that automatically fix wrong spellings and grammar. Since no one gives a second glance to the sentence or word corrected by the software, it allows people to avoid learning the correct usage themselves. However, we cannot deny the fact that if it weren't for the these applications, a lot of text on the internet would be full of wrong grammar and spellings. The usefulness of such applications is not limited to only correcting the grammar and spelling mistakes, but they also help out in fixing typos that are a result of trying to type faster than you actually can. We found one such grammar and spell checker application called Ginger, that corrects text based on the context of each sentence. Currently, MS-Word, Outlook, PowerPoint, Internet Explorer and Firefox are supported.
Ginger recognizes words in context and provides the most appropriate corrections regarding spellings and grammatical errors you have made according to the intended meaning of your sentence. When a correctly spelled word is misused, Ginger automatically detects it and replaces it with the correct word. Ginger can correct misspelled words, contextually misused words, merge split words and correction of prepositions and other inflections.
To correct your text, simply place your cursor where you want the application to start correcting your text, and either press F2 on your keyboard, or click on the Ginger it! icon that appears at the top of your screen.

Right-click the application's system tray icon to change the default language between US English and UK English.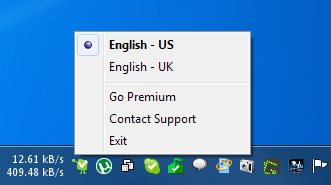 Ginger is limited in the number of applications it currently supports. Right now Ginger works with the following applications.
Microsoft Office Word 2003/2007/2010
Microsoft Office Outlook 2003/2007/2010
Microsoft Office PowerPoint 2003/2007/2010
Internet Explorer version 6.0 and higher
Firefox
The developer plans to add more applications and browsers to the list in future. Note that you have to be connected to the internet at all times for Ginger to work. It works on both 32-bit and 64-bit versions of Windows XP, Windows Vista and Windows 7.