Backup And Edit System & User Environment Variables With Rapid Environment Editor
Some development kits, debuggers, and runtime environments require users to manually set environment variables prior to compiling dependent applications properly. The environment variable refer to dynamic named values which defines how the processes of one specific application will behave on your system. Generally, environment variables are categorized into two groups – User and System variables. Rapid Environment Editor (REE) is a portable and multi-lingual application which offers an advance way to edit both registered System and User environment variables.
It was mainly developed to quickly access all the set variables in a tree-like structure in order to browse through them and to find the one which requires modification. Apart from allowing editing, you can directly add paths and delete them without having to open Windows native environment variable editor. Furthermore, it can add new directories, convert path from long to short and vice versa, change variable types, and re-arrange the path order.
Sometimes it's required to find out errors regarding the set variable path and type, with REE, you will also get to know which variables will erupt problems, as it integrates error highlighting mechanism. If you're moving software from one system to another and have already set variables manually for a list of applications, you can backup all variables to quickly port them to any other system with this variable editing tool.
The main interface presents System Variables and User Variables at left and right side of the window.  The bottom pane shows all related information against the selected system or user variable. Running it for the first time will analyze all the registered system & user variables. The variables shown in red color, indicates that there are some errors which you need to sort out yourself.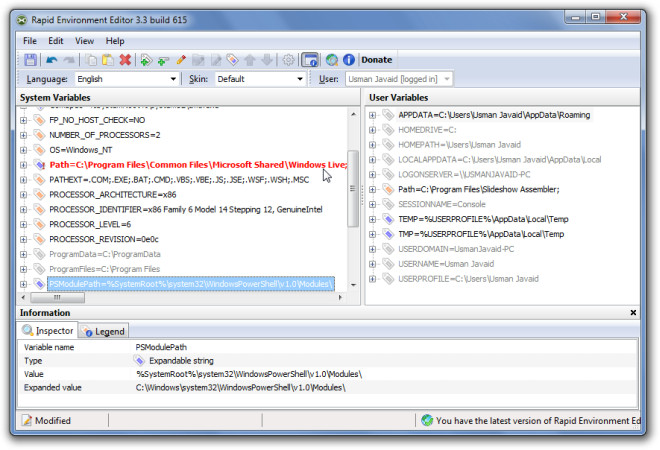 The toolbar holds options to add, edit and change variable path and type. Select the variable to review underlying information in bottom pane, and perform required action from toolbar. Nevertheless, from right-click menu, you will see options to change variable type, add value & variable, insert directory & file path, change long path to short & vice versa, copy, and delete variable path.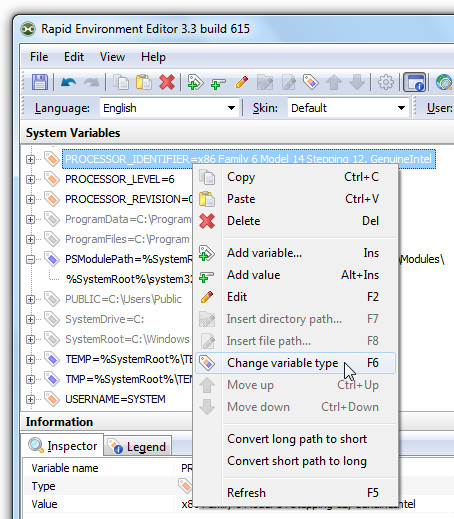 Once you've added variables, set paths, and solved problems, don't forget to create backup from File menu. It creates backup in REG format. Please note that editing some system variables requires administrative privileges.
Rapid Environment Editor works on Windows XP, Windows Vista, and Windows 7.
Download Rapid Environment Editor