How To Share Files Between Windows 7 And Windows 8 In Dual Boot
When you dual boot Windows 8 with Windows 7, you are likely to end up willing to use many of the files which are located within your Windows 7 user directory (e.g. Administrator account).  Although these files can be accessed manually, doing so is both tiresome and time consuming task. Copying files to the Windows 8 user account can be one way of solving the problem, however that will simply waste a lot of disk space. Moreover, shortcuts from within the Windows 7 user folders can make it confusing to manage both Windows 7 and Windows directories.
In this post we will provide you with a simple procedure to share your Windows 8 and Windows 7 user folders. The benefit is that it can help you access your favorite videos, pictures and documents (such as from My Pictures, My Videos or My Documents) in both operating systems easily without having to create unnecessary shortcuts or manually navigating through user profile directories.
In this procedure, we will be moving a Windows 8 default Documents folder to the Windows 7 user profile folder. Go to Windows 8 Installation drive path, e.g, D:\Users\<user name>\folder (D being the drive of the Windows 8 operating system in our case), access Documents folder's Properties via right-click context menu and head over to Location tab. Click Move option, select your Windows 7 username, and click OK.
If you followed the above procedure correctly, Windows 8 will now start using your Windows 7's Documents folder as its own Document folder. You can follow the same procedure for Videos, Pictures, and Music folders.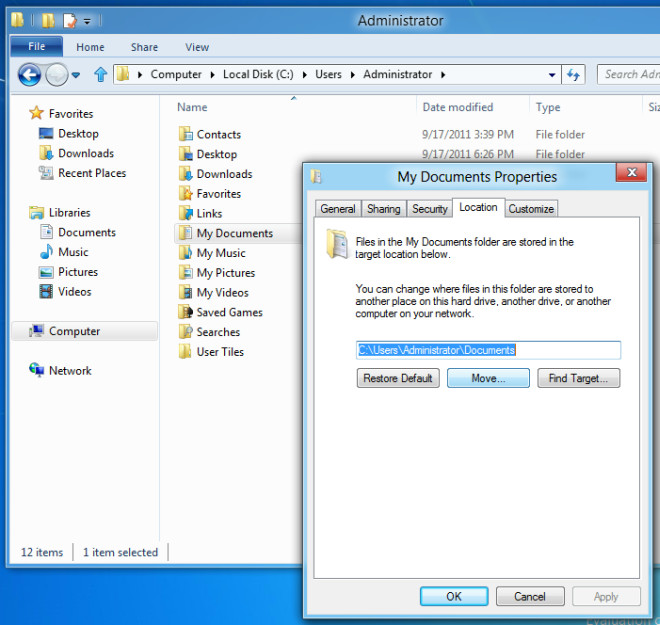 To share data between other folders, follow the same steps. Don't forget to mention the correct Windows 7 User Profile folder. Moving folders can also help you retain installed program preferences by moving applications folders.