Security AutoRun: Windows Startup Manager
How would you know if a suspicious program or service is running during Windows startup? Using Msconfig would be a nice start but it won't show you the complete details behind every application. Recently I have noticed that many spyware apps will start during Windows startup but will stay hidden from Msconfig window, i.e, they will not be listed in the Msconfig window's Startup tab.
Security AutoRun is an app developed for the purpose to identify spyware and adware programs that run during startup. The advanced features can also be used to find additional information about each application, such as, startup registry, startup common/user, and startup service.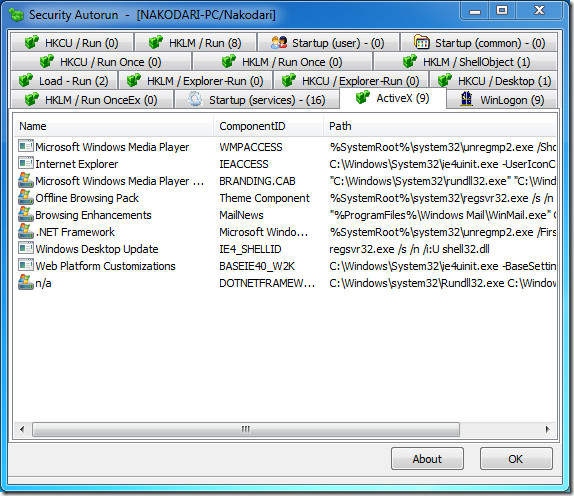 The interface contains multiple tabs, each showing different startup entries. The above screenshot is showing the Active X entries. The entries shown in each tab are comprehensive, complete with the full path. Right-click any item to disable it or permanently delete it. Clicking Jump To will open up a directory where the startup services are residing.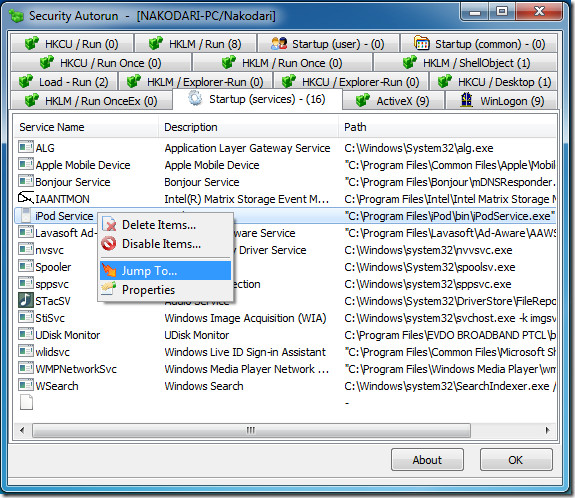 This nifty little app is developed by the same authors behind TCPEye. Sadly no portable version is available yet. It works on both Windows 7 32-bit and 64-bit OS.