Windows 7 Advanced Power Management
Looking for a laptop battery power manager that can efficiently manage the power plans and allows you to tweak the power profiles? Meet Power Plan Assistant. It is a free Power Management tool developed for Windows 7. Instead of changing the basic power management feature, it adds additional features which enhances the overall power of your laptop/netbook running Windows 7. So is it a Battery booster? No, but it helps increase the overall life of the battery. With this tool you can automatically switch between Windows default power plans – High Performance, Balanced, and Power Saver.
Just like Windows default power options, you can access Power Plan Assistant from system tray. Unlike the default power options, it shows all three power profiles, including High Performance, Balanced, and Power Saver, along with Power Off The Display to quickly turn off the monitor.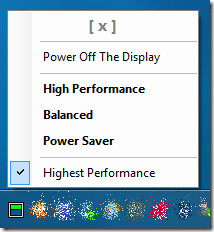 It will change to High Performance when power cable is plugged in, will change to Balanced when power cable is plugged out, and will change to Power Saver when batter is lower than 40%.

You can also turn off your display by simple double-clicking the system tray icon. This can come useful if you want to save even the slightest of battery life (display alone can take up to 50% of battery power).