Windows Virtual Drives Manager
Virtual Drives Manager is a small portable utility for Windows that can quickly create a virtual drive. Sometimes user needs to mount a folder that is frequently accessed but is located deep inside as a virtual drive. Once you mount any point(folder) as a virtual drive, it can accessed quickly from My Computers.
Creating a Virtual Drive is this tool is quite a breeze. Just select the folder, choose the drive letter, and hit Create Drive. You can also mount any point on the network, thus making it easier for network administrators to access important data over the network quickly.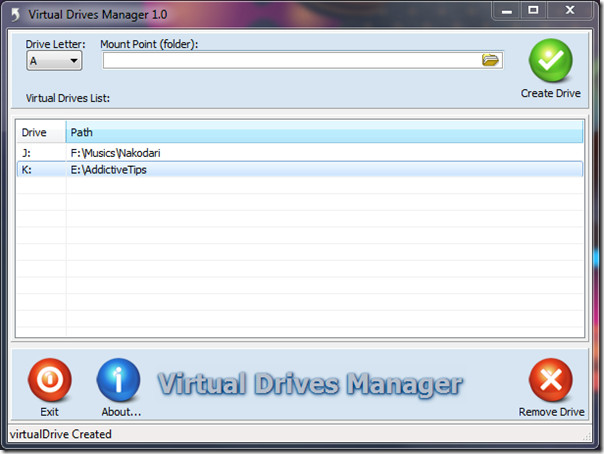 In the screenshot below you can see two folders which are mounted as separate virtual drives.

Even though it is quick and fast, we would love to see two new features in this tool – an option to rename the virtual drives and the option to mount multiple folders as a single drive.
Download Virtual Drives Manager
It has been tested on Windows XP, Windows Vista, and Windows 7. Enjoy!