We are reader supported and may earn a commission when you buy through links on our site.
Learn more
How to Install and Set Up Stremio on Fire Stick and Fire TV
Stremio has positioned itself as a viable alternative to Kodi, though it makes a strong case as a replacement for Netflix and alternative to Hulu as well. It's a unique hybrid service that combines free movie and TV series streaming with user-made add-ons and links to legitimate online stores that let you buy and rent content. Basically, it's an end-all entertainment resource, and it works extremely well on Fire TV.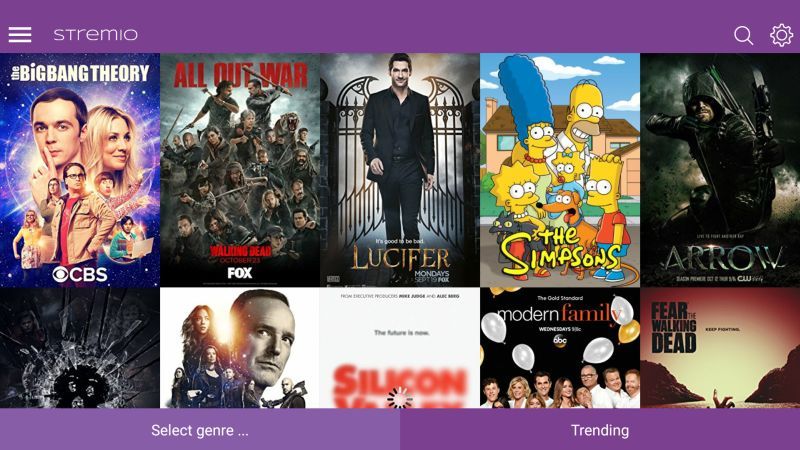 Stremio is a relatively young project and has yet to fully extend beyond the basic platforms. At the time of writing it's available for Windows, Mac, Linux, Android, and iOS, which is a fantastic starting point. For Android TV and Fire TV, though, native support has yet to be released. The good news is that Stremio works perfectly on Fire Stick and Fire TV, all you have to do is sideload it using a free app, then sit down and enjoy. Below we cover the entire installation and setup process so you can get Stremio on your Fire Stick and Fire TV with ease.
30-days money back guarantee
Before Using Stremio, Get a Good VPN
No matter what device you're using Stremio on, it's always a smart practice to keep a VPN active in the background. VPNs encrypt data leaving your device to help keep traffic anonymous and secure. Without it, anyone can discover your identity and monitor your online activities, even Stremio streams on Fire TV. ISPs often use unsecured data to monitor and throttle connections, as well, which means using a VPN can actually speed up your downloads.
There's a lot to learn when it comes time to choose a VPN. We've done most of the hard work for you by providing a few smart recommendations below. Each one is fast, secure, and extremely easy to use, even if you're new to the world of VPNs. They're also inexpensive and easy to install on Fire TV.
IPVanish – Best VPN for Fire TV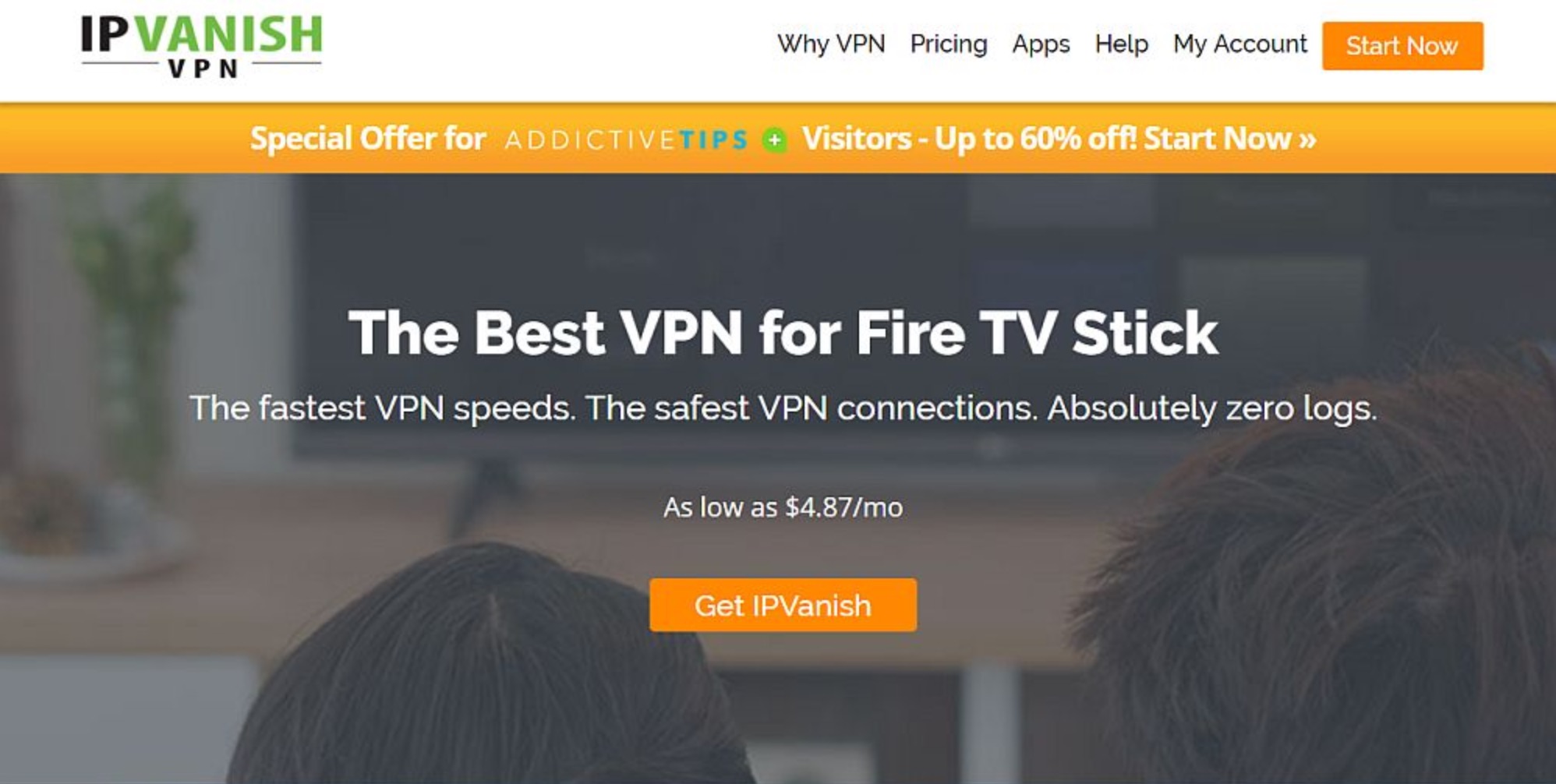 IPVanish provides two key features all video streamers covet in a good VPN: speed and security. The company delivers this with an incredible array of 950 servers in 60 different countries, each of which is fast and lag-free no matter where you're connecting from. With IPVanish you'll be able to find a good connection anywhere in the world, opening up HD video streams on Fire Stick and any other device. Their dedicated app is also available to download directly from Amazon's appstore, so installation is a breeze.
All versions of IPVanish's software include DNS leak protection and an automatic kill switch, both of which help keep data secure. Information is also protected by 256-bit AES encryption and a zero-logging policy on traffic to prevent data from being stored for more than a few moments. These features pair well with Stremio content access on Fire TV, giving you the perfect environment for a safe, anonymous, and secure internet.
Find out more about IPVanish's speed and security features in our IPVanish review.
IPVanish offers a 7-day money back guarantee which means you have a week to test it risk-free. Please note that Addictive Tips readers can save a massive 60% here on the IPVanish annual plan, taking the monthly price down to only $4.87/mo.
How to Install Stremio on Fire TV – Basic Setup
Since Stremio isn't available to download directly from a Fire TV, we'll need to sideload it. This process isn't as complex as you might think. In fact, you won't need to jailbreak your Fire TV, root it, or do any kind of hacking at all. Before you can get started, follow the quick steps below to prepare your Fire device.
Allow Unknown Sources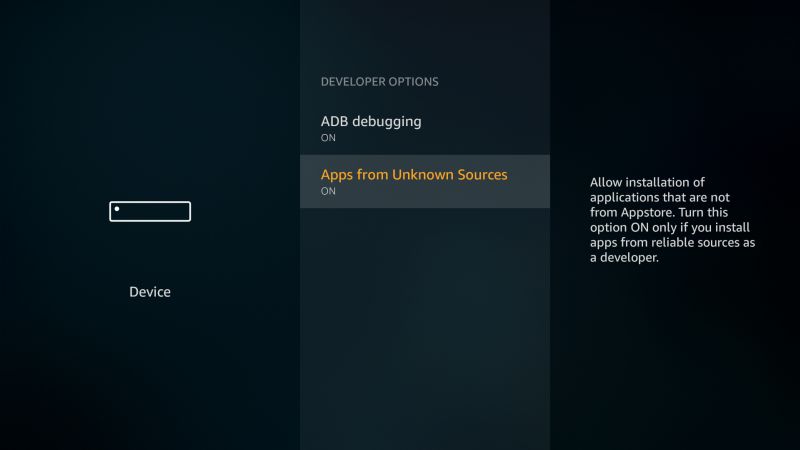 The Fire TV operating system comes with a built-in feature that disables external installations, meaning anything that doesn't come directly from Amazon's internal appstore. You can easily disable it, however, which is a necessary requirement for sideloading content. Follow the quick steps below to enable unknown sources on your Fire Stick or Fire TV.
Go to your Fire TV's settings page located at the top of the home menu.
Scroll right and choose Device
Move down to Developer Options
Set Apps from Unknown Sources to ON.
Accept the warning message about installing external apps.
Managing Sideloaded Apps
Fire TV devices, especially Fire Stick, weren't made to hold a lot of content. They're streaming hardware, not hard drives after all! While sideloading is perfectly safe and legal, it's easy to run out of space by installing a ton of cool apps. Fortunately, you can manage and uninstall sideloaded apps just like any other installed content. Stremio can be a large download, so if your Fire Stick is low on space, uninstall some apps before you begin sideloading.
Choose a Sideloading Method
There's no shortage of options when it comes to sideloading apps on Fire TV. We usually stick with three of the easiest and most reliable, outlined below. Any one of them can have your app sideloaded and running in minutes, no complicated setup required. Depending on your level of comfort with sideloading as well as available hardware, one method may work better than the others. If you're not sure which one to pick, see our article that covers Downloader vs apps2fire vs adbLink.
Accessing Sideloaded Apps
The Fire TV interface includes sideloaded apps right in line with all of your other content. It doesn't differentiate them at all, which means you can browse and search for them just like every other piece of software on your device. When an app is first sideloaded, however, you'll need to navigate to access it for the first time.
Scroll down to the section labeled Your Apps, then move right and click to see a full list. Any new sideloaded app will appear at the bottom of the next page. Once you launch it, it will show up under your Recent Apps on the Fire TV's main screen.
How to Install Stremio on Fire TV and Fire Stick
Got your Fire device primed and ready? Let's sideload Stremio and start watching some movies!
Sideloading Method 1 – Downloader App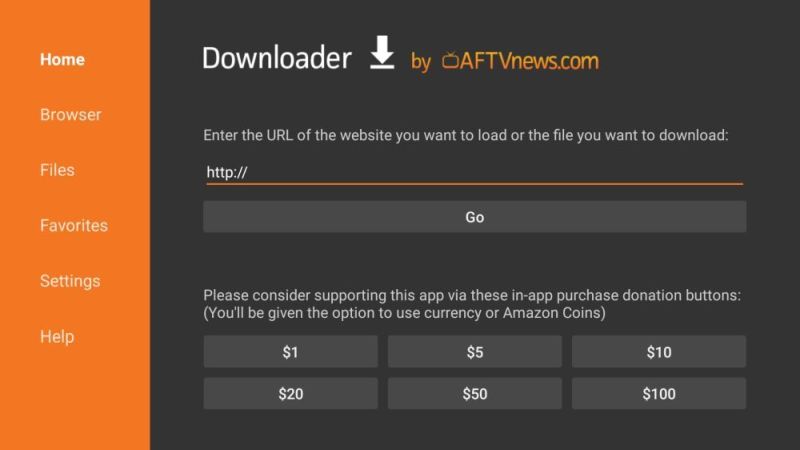 Using the Downloader app to sideload content onto Fire TV is arguably the easiest way to do it. The app it free to use, installs right to your Fire Stick, and doesn't require any external hardware to make it work. The one catch to using Downloader is that you have to do a lot of typing. If you only have a Fire TV remote for input, this can be frustrating. Stick with it, though, and you'll be watching Stremio movies in no time!
First, open a web browser on your PC, head to the Stremio website and go straight to the downloads page. Scroll down a bit and you'll see links for the mobile versions of Stremio, including Android. Move your mouse over the gray box on the right that says "Stremio 0.44.0 APK". The numbers may be different, but that's not important right now. Right click and copy the link address to your clipboard. Keep this somewhere handy, as you'll need to access it in just a moment.
With the apk URL in hand, go to your Fire TV device. Follow the steps below to get Downloader and use it to install Stremio.
Open the Amazon appstore and search for Downloader.
Install the app, then open it.
In the URL box in the center, type the full link to the apk file, the one you copied above. Type the entire thing in, starting with http and ending with .apk
Downloader will grab the Stremio installation file, then store the link in its dedicated Files section.
You'll be prompted to either install the app right away or save it for later. Go ahead and install Stremio directly from Downloader's interface.
When the installation completes, you can access Stremio from the Fire TV's main menu.
Sideloading Method 2 – adbLink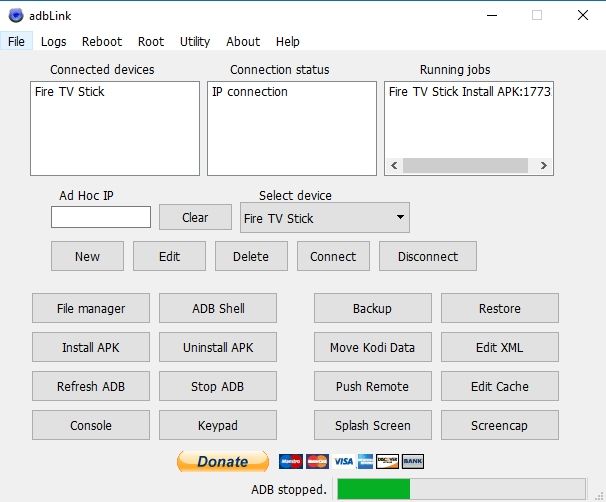 Using adbLink to manage apks and sideload new content seems complicated at first, but really it's shockingly easy. If you have a computer on the same Wi-Fi network as your Fire TV, this is arguably the best way to install apps like Stremio.
Before you get adbLink, you should open a web browser on your PC, visit the Stremio website and go straight to the downloads page. Scroll down until you see the section for Android downloads. Right click the gray box that says "Stremio 0.44.0 APK" (the numbers may be different, but that's ok), then save the file to your desktop. You'll need to access it again in a moment.
Now it's time to download adbLink and use it to sideload Stremio. Follow the steps below and you'll have everything set up in no time.
On your Fire TV go to Settings > About – Network and write down your device's IP address.
On your PC visit the adbLink website, download the program and install it.
Run adbLink, then click "new" next to the devices box.
In the next window, type a unique description and the IP address of your Fire TV Stick.
On adbLink's main screen, click the "Install APK" button, then navigate to the Stremio apk file you downloaded before.
Confirm the apk installation. adbLink will automatically install the app to your Fire TV. It may take a few minutes depending on your Wi-Fi speed.
When the process is complete you can access Stremio from your Fire TV.
Sideloading Method 3 – apps2fire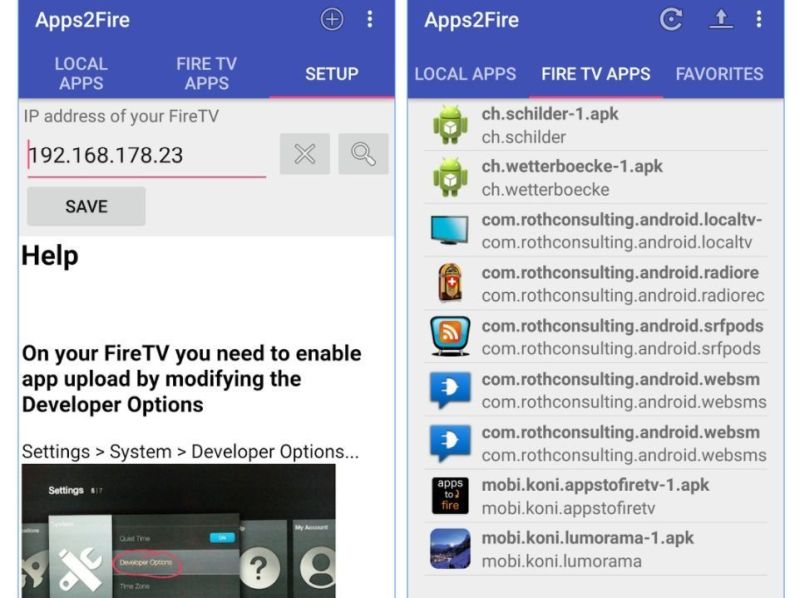 The apps2fire program is a convenient way to sideload content to your Fire TV. You'll need a separate Android device to use it, however, as it essentially just copies installed content from a smartphone or tablet onto the Fire Stick itself. Follow the steps below to use apps2fire to quickly and easily install Stremio on your Fire device.
On an Android device, install apps2fire from Google Play. Make sure it's the official one developed by Koni.
On the same device, search for Stremio on the Google Play store and install it, as well.
Run apps2fire and let it create a list of your local installs.
When the scan is complete, slide the menu left and tap Setup.
On your Fire TV, go to Settings > About – Network and write down the IP address on the right.
Back in apps2fire, enter your Fire TV's IP address. You may also need to tap "Search Fire TVs" just below that.
Go to the Local Apps tab and scroll down to Stremio.
Tap the app's icon, then select "Install" when the window opens.
After a moment, the app will upload to your Fire TV and install.
Go to Fire TV and run Stremio. You're set!
Using Stremio on Fire TV
Now that you've got Stremio installed, what's next? Well, it's time to sit down and enjoy some awesome movies and TV shows, that's what. Below we take a quick look at what you can do with Stremio on Fire TV, Fire Stick, or any compatible device.
Watch Movies
Stremio comes with a surprisingly rich selection of sources that give you access to a lot of popular and free movies. As soon as you open the app you'll see a grid of content laid out in front of you. Scroll around using the Fire TV remove to see if there's anything you like. Click an image for more information, then choose a source on the next page to start the stream.
Unlike other streaming platforms, Stremio offers links to legally rent or purchase video content from online stores like iTunes, YouTube, VUDU, and Google Play. Always consider these options if you enjoy the content you stream, as supporting the creators is always a smart move.
Full TV Series
Stremio has a robust category of entire TV series ready to stream on-demand. You can choose a show, flip through seasons, pick out an episode, and start watching (or you just choose a show and begin binging from the very beginning). Stremio has a search feature to make discovery a little easier, and it has both genre categories and a trending section to show you popular content at a glance.
Add-ons
Stremio's default content not enough for you? Take a look at the official and community-made add-ons. These resources add all sorts of new avenues for content streams, including popular torrent and storage sites. To get started, see our article covering all the best Stremio add-ons available for the software. You can install them on your PC or on Fire TV and they sync across devices, which is extremely convenient.
Remember to Use a VPN
It's important to always use a VPN when utilizing services like Stremio, Plex, or Kodi. Not only do they provide a strong base layer of security, but they can actually protect you from harmful ISP practices such as throttling or data logging. A good VPN keeps you anonymous no matter what you're streaming, allowing you to stay safe and secure on the web. If you're not sure where to begin with your VPN, see our recommendations above, all of which work perfectly with Fire TV and Stremio.
Conclusion
It's time to enjoy some free movies on Stremio! The software may not support Fire TV natively, but with the right tools and a few minutes of your time, it's easy enough to sideload it and start streaming. Use it in place of Kodi or as another tool in your entertainment toolbox. Either way, you've got some great content waiting to fire up and enjoy.