Must-See Movies On Netflix
Netflix is a godsend for those who enjoy spending their free time (especially in quarantine!) catching up on their favorite movies. Thousands of films are waiting for you to press the play button and witness their stories unfold! But how to choose a movie that will hold your interest from the first to the last second?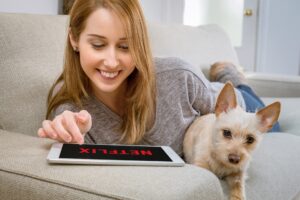 When there are so many options, it's easy to stumble upon mediocrity. But there's no need to worry just yet, because this post will help you pick the best of the best. We've collected seven must-see masterpieces available on Netflix right now. You've surely heard of most of these movies, so they're definitely worth it to be included in your next binge-watching session.
Godfather
Mafia Boss Don Carleone is gradually losing his power as he ages, and his foes see it as an opportunity to wage a war against him. After losing his firstborn, Carleone intends to transfer his criminal empire to his youngest son Michael, who until then remained aloof from the family business. Michael is gradually turning from a young idealist into a true heir of Don Carleone.
An impressive cast (Marlon Brando, Al Pacino, James Caan) and the genius of Francis Ford Coppola guarantee a thrilling three-hour spectacle. And if that's not enough, Godfather 2 and Godfather 3 are also available on Netflix.
The Dark Knight
One of the most beloved superhero movies will keep you riveted from the first moment to the last. It has everything a Batman movie should have: the melancholy atmosphere mired in the sins of Gotham, an epic psychopathic villain, and a mysterious hero ready to give his life to battle evil.
The Dark Knight is not only an action-packed narrative with a touch of noir, but it's also ingenious acting from the leading trio of Christian Bale, Aaron Eckhart, and Heath Ledger (how many actors do you know who won an Oscar for their performance in a superhero flick?). If you've lived under a rock and never heard of Christopher Nolan's The Dark Knight Trilogy — of which all three installments are found on Netflix — then you're in for a treat.
The Lord of the Rings
Another beloved trilogy, this time in the style of fantasy. The Lord of the Rings will take you to the mysterious Middle-Earth as an ancient evil contemplates getting hold of the mighty One Ring to gain power over all living creatures. By coincidence, the ring is in the hands of a humble hobbit Frodo, who is entrusted with the mission to destroy it in the fires of Mount Doom.
Together with eight companions, the fearless Hobbit embarks on a dangerous and exhausting journey. With each movie, the plot is getting more and more gripping — give it a chance and it will be the most incredible nine hours of your life.
Forrest Gump
Forrest Gump tells the story of his extraordinary life as he becomes a famous football player, war hero, influential businessman, shrimp catcher, and even a billionaire — but he always remained a good fella. His kindness and sincerity touched the hearts of everyone he met on his life's path. But it seems like everything Forrest does leads him to his longtime school friend he is unrequitedly in love with. The heartwarming story, which brought the Oscar statuette to both director Robert Zemeckis and incredible Tom Hanks, won't leave you feeling cold.
Inception
Another must-see masterpiece from the legendary director Christopher Nolan starring Leonardo DiCaprio and Joseph Gordon-Levitt tells about the future where technology makes it possible to extract information directly from the human brain while a person sleeps. Cobb (DiCaprio), one of the best extractors in the field, was hired to do the impossible — instead of prying into the target CEO's thoughts, he must plant the idea into his head. Will Cobb see it through, especially when he is torn apart by personal drama?
If you haven't seen it yet, stunning special effects, mesmerizing acting, and a mind-blowing storyline will leave you on the edge of your seat.
The Matrix
Would you like to know that the world you live in is nothing more than a computer simulation, the Matrix, and you are just a battery that powers ruthless machines? The rank-and-file IT guy Neo chooses to find out the truth and face the shocking real world. But Neo does not yet realize that his destiny is to become the leader of the Resistance, a group of people fighting for the human race to regain dominion over their lives
The first film of the Matrix trilogy was released 21 years ago and became a real breakthrough in the science fiction genre. Although the graphics probably won't knock your socks off, the movie has the main thing — an engrossing, original plot. Ahead of the release of the fourth installment in 2021, it won't hurt to re-watch Matrix to recall its plot twists and turns.
One Flew Over the Cuckoo's Nest
Netflix's original TV show Ratched has become the main sensation of fall 2020. If you don't know who Mildred Ratched is, One Flew Over the Cuckoo's Nest will help you get to know her a little bit better.
Outlaw Randle Patrick McMurphy, played by Jack Nicholson, is condemned to a lengthy prison sentence. However, he doesn't like the prospect of spending his best years behind bars. He pretends to be out of his mind believing that a nuthouse is a better alternative to prison. What he doesn't know is that his life is now in the hands of a cruel and ruthless nurse Ratched who intends to turn it into a nightmare.