We are reader supported and may earn a commission when you buy through links on our site.
Learn more
The Best VPN for UC Browser & How to use VPN in a UC Browser
Looking to enhance the security of your UC browser-equipped device? Consider using a VPN, which is the single most useful cybersecurity tool you can download. If you're not sure where to start, today's guide is right for you; we'll walk you through how VPNs work, why you need one, and finally present the best VPNs for UC browser.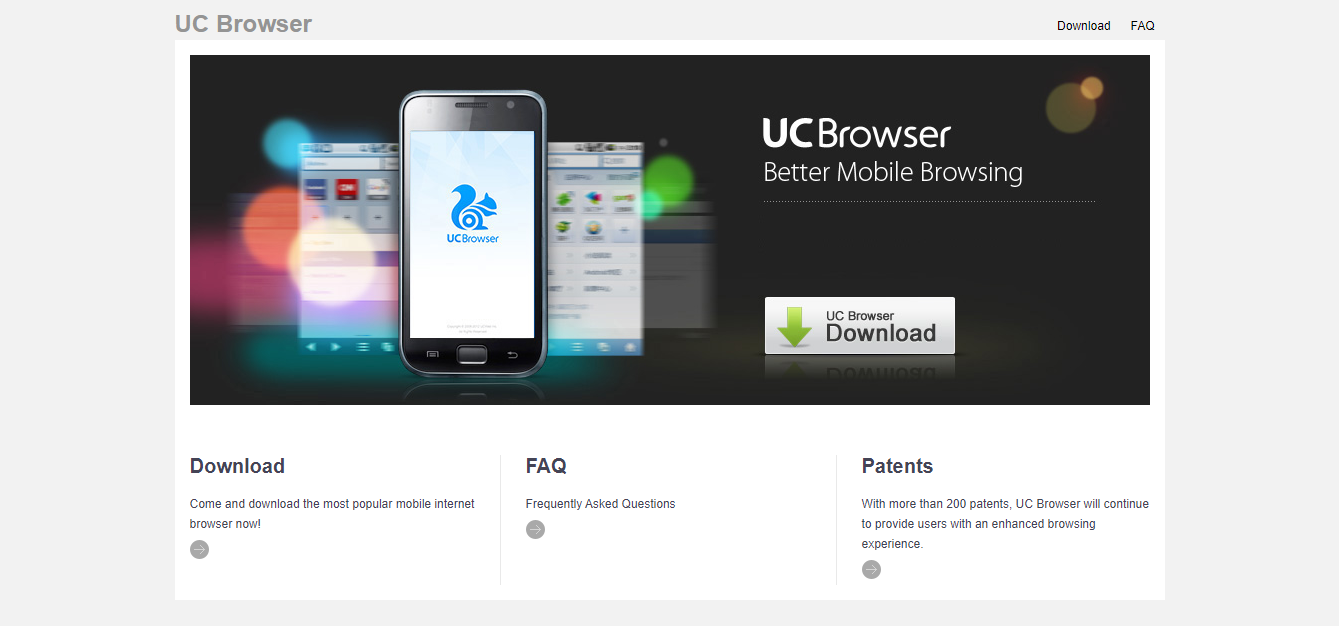 When thinking about web browsers, Windows users will think of Microsoft Internet Explorer or Microsoft Edge as it is now called. Some will also mention Chrome and some Firefox. Mac users will certainly think of Safari or Opera. But did you know that the UC browser is one of the most used in the world?
It is particularly popular with mobile platform users. Despite its popularity, there has been news of several security issues with the UC browser, though. If you're concerned with security and privacy, perhaps using a VPN along with the UC browser is the best solution. Let's have a look at what the best VPNs for the UC browser are.
Short on time? Pair UC Browser with one of these VPNs:
NordVPN – Best Browser VPN – With specialty servers galore, military-grade encryption, numerous failsafes and the industry's best logging policy, NordVPN is the best choice to pair with UC Browser for enhanced security.
Surfshark – A lean-but-mean provider with snappy apps, powerful tunneling protocols, and blanket obfuscation.
ExpressVPN – Hide online without sacrificing connection speed with one of the world's most robust networks.
IPVanish – The classic solution for torrenters and streamers looking to block tracking and spying.
VyprVPN – Has proprietary encryption in the form of the Chameleon protocol, which tunnels through the harshest censorship.
We'll start by tell you all you need to know about VPNs and what their benefits are. Then, we'll discuss some important features of VPN that you should consider when selecting the best provider for you. Next, we'll present what we consider to be the best VPN providers to use along the UC browser. We'll wrap up with an overview of the UC browser, what it is and what it is capable of.
30-days money back guarantee
Virtual Private Networks In A Nutshell
Virtual Private Networks or VPN are systems that provide users with privacy and security while using the Internet. They do their magic by encrypting any data transmitted or received using strong algorithms that render data undecipherable. They're called virtual because they build a virtual tunnel between your computer and a VPN server. All data in and/or out of your computer goes through the tunnel encrypted and is only decrypted before being sent on the Internet at the other end of the tunnel.
Some will ask: "If my data is decrypted at the other end of the tunnel, how is it more secure?" Let's try to answer this very good question. Privacy is achieved through the fact that, even though the data is not encrypted between the far end of the tunnel and its destination, it is still untraceable to you or to your computer. Once the data exits the tunnel, it is seen as originating from the VPN server, not from your computer.
Also, the most "sensitive" part of the data transmission is at your end. This is where anyone (Internet Service Providers, government agencies or malicious users) could be trying to intercept your traffic and spy on you. When using a VPN, this part of the communication is encrypted and anyone intercepting your traffic and examining your usage would only see undecipherable traffic between your computer and a VPN server.
Important Features To Look For In A VPN
There are lots of VPN providers out there. Too many, in fact. And they're not all as good. With such diversity, picking the best solution can turn out to be somewhat of a challenge. Here are some important criteria to consider when selecting a VPN provider.
Speed and stability of service. Like it or not, using a VPN adds some overhead to the communication that could slow it down. To minimize this, you need access to fast VPN servers. And since you want the service to be available when you need it, you' need a reliable supplier, one that has the best possible uptime.
The number and location of servers. The more servers there are throughout the world, the better the chances to find one that works and that is not overused and to locate one that will permit the geographic bypass you need.
Strong encryption parameters are important. This is what makes your data so hard to crack. The higher the encryption, the harder traffic is to crack. Accept no less than 128 bits but the higher the better.
Available client for your platform. Not all suppliers offer apps for Android or iPhone although one of these is possibly a platform you'll bee running the UC browser on.
Provision for simultaneous connections. There might be times when you'll need to use a VPN on a computer while also browsing from your smartphone, also in need of a VPN. Make sure your provider offers multiple simultaneous connections.
Ease of use. Because nobody wants something too complicated?
No-logging policy. This is to further protect you. Even if your VPN provider were forced to reveal information about your activity, they couldn't if they don't have any; that's the power a good zero-logging policy has.
5 Best VPNs: VPN for UC Browser
We've searched the web and tested several VPN providers. We came up with what we consider to be the best of them all. Let's see what each one has to offer. Since the UC Browser is mostly used on Android, we have focused on providers that support that platform. All our recommended providers have apps for Android and iOS.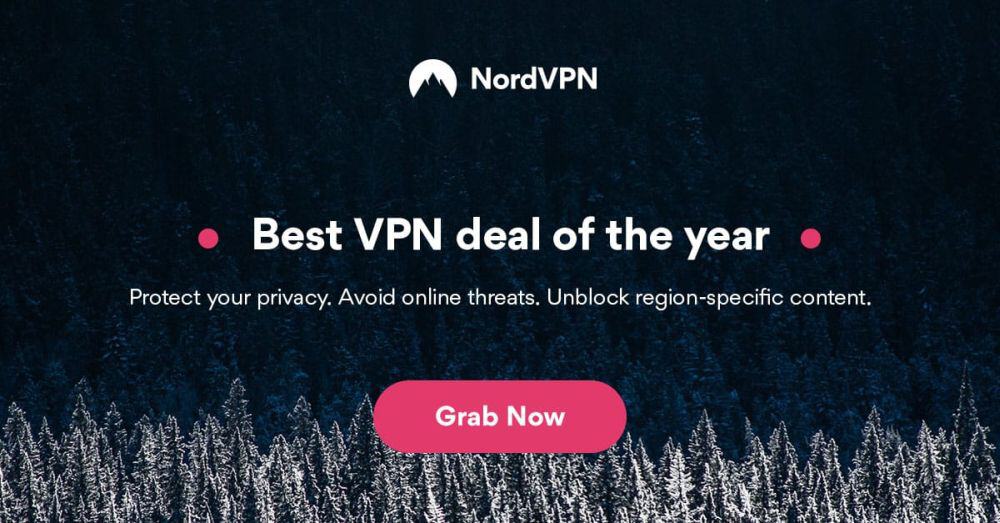 NordVPN is very interesting to power users because of its customizable features and servers bifurcated according to a user's specific requirements. They offer speed and stability in an affordable package. NordVPN is another log-less VPN–similar to ExpressVPN or IPVanish. NordVPN encrypts traffic via 256-bit AES and 2,048-bit DH keys. They also offer DNS leak protection which is enabled by default. The subscription allows access from six devices, one of the highest among our providers.
NordVPN allows users to pick a server based on usage preferences such as torrenting, anti-DDoS, or video streaming. They have an incredible 5,700+ servers spread across 60 countries. As for client apps, they offer iOS, Android, Windows, and MacOS versions.
Read our full NordVPN review.
Pros
Highly affordable plans
No bandwidth caps
Torrenting is explicitly permitted
Based in Panama
24/7 Chat Support.
Cons
Automatic server selection can be unreliable
They can take 30 days to process refunds.

Surfshark doesn't have a dedicated browser extension for UC Browser. However, its standalone apps are lightweight and responsive enough to work unobtrusively in the background while you surf the web in complete anonymity.
So what does this relatively young provider have to offer? How about the world's most advanced cryptography, the 256-AES-GCM cipher, or advanced tunneling protocols which can break through any censorship without sacrificing performance. There's also IP/DNS/WebRTC leak protection, a kill switch, and even a dedicated ad/malware/popup blocker available on all connections.
And speaking of connections, there are over 800 servers in 50 countries worldwide, making it easy to find a fast, secure connection nearby. No special settings are needed to unblock streaming sites like Netflix; every server just works thanks to built-in obfuscation.
Finally, Surfshark's modern network is based on diskless infrastructure, making it impossible for your VPN to store logs of your activity. This dovetails nicely with their "Strictly never" logging policy, and BVI jurisdiction.
Pros
Unblock VoIP in oppressive regimes like WhatsApp, Skype, Discord, and more
One of the first VPNs to implement RAM-only servers
30-day satisfaction guarantee
Independently audited privacy practices
Responsive customer support available 24/7.
Cons
Growing network doesn't have same coverage as more mature VPNs
New-kid-on-the-block status may not instill same trust as larger providers.
Read our full Surfshark review.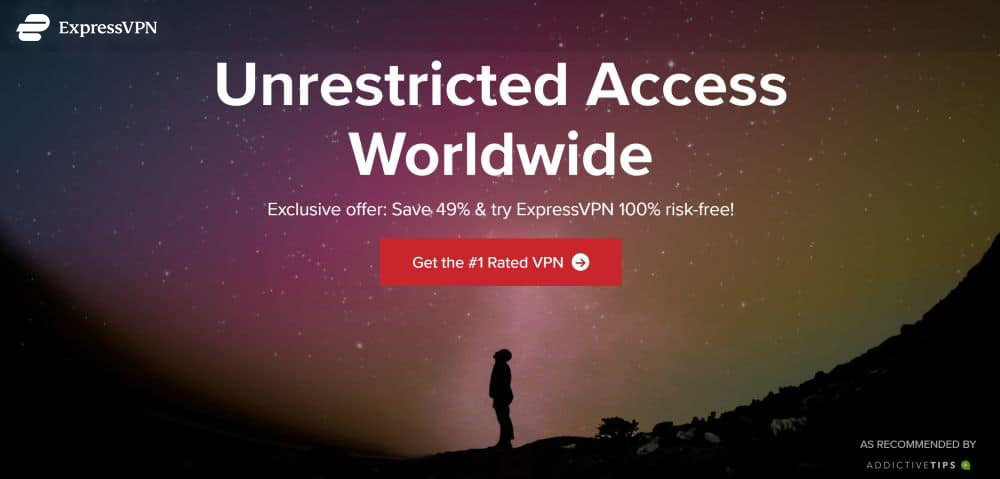 ExpressVPN is best known for its strong encryption protocols, blazing speeds, and worldwide server network, with over 3,000+ servers spread across 94 countries. Also, ExpressVPN uses the OpenVPN protocol with 256-bit AES with perfect forward secrecy as a default. 4,096-bit DHE-RSA keys are protected by an SHA-512 hashing algorithm.
ExpressVPN only has a partial no-logging policy. The only bit of metadata they keep are the servers users connect to and the dates they do. Their Network Lock feature will block all internet traffic if the connection ever drops, which it usually doesn't unless you have other network connectivity issue
Your ExpressVPN subscription grants access to three devices simultaneously and, in addition to apps for Android and iOS, they have desktop clients for Windows and MacOS.
Read our full ExpressVPN review.
Pros
SPECIAL OFFER: 3 months free (49% off - link below)
Super fast servers
Govt-level AES-256 encryption
Strict no-logs policy for personal information
24/7 Live Chat.
Cons
Slightly pricier than competition.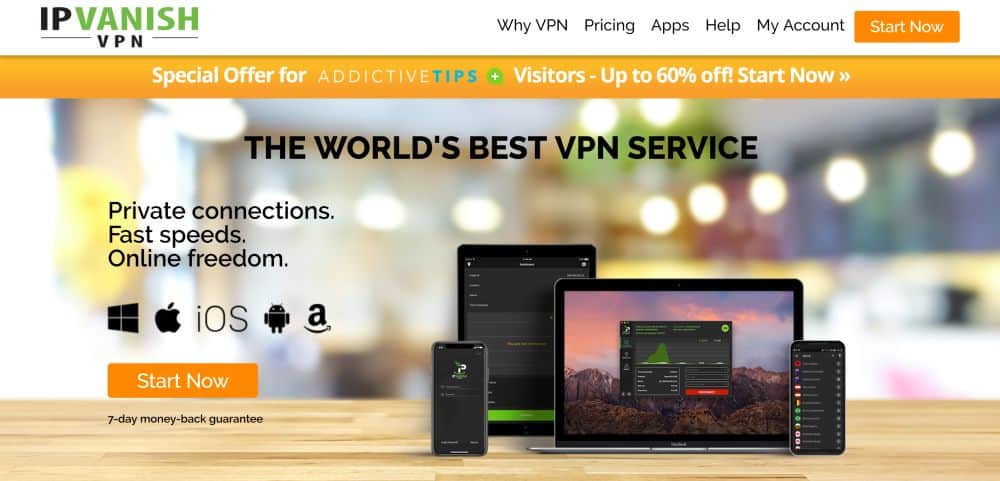 The only major VPN provider headquartered in the US, IPVanish has a fast service that emphasizes both security and privacy. They don't log anything and keep no metadata about users. Even their employees wouldn't be able to know what you're doing.
IPVanish uses 256-bit encryption and the OpenVPN protocol by default. They have SHA512 authentication and a DHE-RSA 2,048-bit key exchange with perfect forward secrecy. With such a setup, all pas activity remains unavailable, even if your account were compromised. Similar to ExpressVPN's network lock, IPVanish features a kill switch that will disconnect the network should the VPN disconnect unexpectedly.
IPVanish has over 1,300+ servers spread across 75 locations worldwide. A subscription allows five devices to connect simultaneously. Finally, there are apps for both Android and iOS as well as desktop software for Windows and MacOS.
Read our full IPVanish review.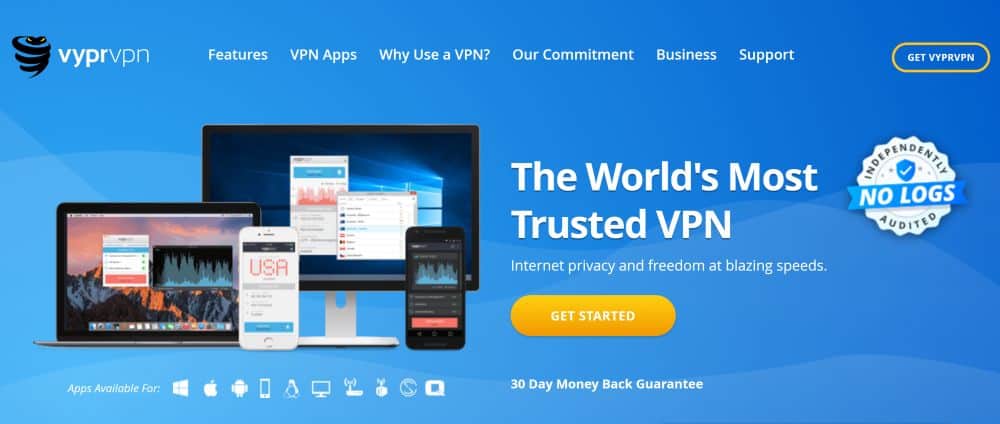 VyprVPN has an impressive reputation, mainly because of its encryption protocols which are rumoured to be the best in the business. They also offer 24/7 online customer support, a free 3-day trial, and a large server network of over 700 servers spread over 70+ countries throughout the globe.
Among our recommended providers, VyprVPN does the most logging. They store "the user's source IP address, the VyprVPN IP address used by the user, connection start and stop time and the total number of bytes used." However, all data is retained only for 30 days and is mainly used to improve the service. Details of users' web traffic remain out of reach.
Traffic is encrypted via the OpenVPN protocol with 256-bit AES encryption, 2,048-bit RSA keys without perfect forward secrecy and SHA256 authentication. An internet kill switch is included. An important feature for UC browser users in China, VyprVPN is also one of the few VPN providers that's able to unblock Internet access in that country. A subscription to a VyprVPN Pro account allows up to three devices to connect at the same time and apps are available for Android, iOS, Windows, and MacOS.
Read our full VyprVPN review.
Benefits Of Using A VPN
In addition to increasing your privacy and security, there are several benefits to using a VPN. Among the most important ones are unlocking country-based restrictions and bypassing public, academic or business restrictions. Both are very similar in the way a VPN helps provide a solution. Unlocking access to geographically restricted sites and services is another important benefit of using a VPN.
Country-Based Restrictions
Some countries impose limitations on Internet usage. The Chinese government, for example, has severe information-control policies that are strongly enforced. For instance, Facebook, Twitter, Instagram and most other social networking platforms are blocked in China. In fact, even Google searches are limited. And this is just one example. Several other countries impose similar limitations, especially in the parts of the world where the UC browser is most popular.
To accomplish that, traffic may be blocked based on destination IP address. It's relatively easy to figure what IP addresses different services use so blocking them is easy. Transparent proxying can also be used for access control. A computer–called a transparent proxy–is inserted in the communication stream and allows or denies traffic based on several criteria by examining the contents of the communication.
When using a VPN, all traffic between your computer and the Internet goes through the VPN tunnel. It is, therefore, addressed to the VPN server rather than to the resource that's actually being accessed. That means that blocking based on destination IP address will fail as your traffic won't be seen as going to a blocked destination. And although know IP addresses of VPN server could be added to the blocked lists–and they sometimes are–it wouldn't be practical as a lot of legitimate traffic could be using VPN servers.
RELATED READING: How to Hide Your IP Address
A VPN also helps with transparent proxy-based blocking. When traffic is encrypted, it is almost impossible to examine it and figure what sort of traffic it actually is. While nothing prevents authorities from blocking all encrypted traffic. this would be detrimental to tons of legitimate encrypted traffic and it usually doesn't happen.
Workplace, Public and Academic Restrictions
Similar restrictions often take place in many public, academic and workplace settings. while the means by which restrictions are implemented are often the same, their reasons are different. In this context, each type of organization may have different objectives.
Organizations, for example, may want to limit bandwidth usage. After all, they often have limited Internet bandwidth available. Furthermore, this limited resource has to be shared equitably among all users while protecting and prioritizing business-critical traffic.
Another objective of both businesses and educational institutions is limiting the time users spend on the Internet. Social networks, are a huge source of wasted time, costing lots of money to businesses. It's no wonder then that most workplaces and academic institutions would block social networks.
SEE ALSO: How to Bypass Wi-Fi Restrictions in School
Enforcing usage policies is another objective of many organizations. For example, many public WiFi hotspots will block access to file sharing sites, peer-to-peer protocol or adult-oriented sites.
Since the exact same type of methods is used by organizations and by countries to enforce Internet usage restrictions, the exact same mechanisms that can help someone circumvent country-wide restrictions will also help get around corporate or institutional ones. Same issue, same solution.
Accessing Geographically Restricted Content
Have you ever tried to access an Internet resource only to be told that the content is not available in your region? There might be several reasons for that and more and more sites are using geo-blocking. For example, many streaming media provider are only licensed to provide content in certain countries. But what if you're on vacation abroad and want to watch something from your home country? A VPN can help you with this too.
Most geographic restrictions are enforced based on the source IP address. So, if you were able to change your source IP address to one from an authorized region, you'd have access to that restricted content. As a side effect, a VPN will do precisely that. All traffic reaching the destination will be seen as coming from the VPN server's IP address instead of your device's. So, to access some content that's only available in the US, all you have to do is choose a VPN server located in the US. Most if not all VPN providers will allow you to choose a server in a specific country.
General Security And Privacy
Another great benefit of Virtual Private Networks is that they also increase your privacy and security. They provide a very strong level of encryption that typically makes your data is almost impossible to crack. Once you've established a connection with a VPN server, you no longer have to worry about it.
No matter what you do, type in passwords, enter credit card number of any kind or sensitive data, you can rest assured that with a VPN, your next-door neighbour, the guy sitting across from you at the café, your ISP or the authorities can't see what you're doing. They might be able to intercept your traffic but if they did, all they'd see would be meaningless garbage going to a VPN server.
An Overview Of The UC Browser
Launched in 2004, the UC Browser is one of the most used mobile browsers for millions of users in China, India and Southeast Asia. It is developed by a subsidiary of Alibaba called UCWeb. Particularly popular in Asia, the UC browser is also used in other regions of the globe and is available in 7 different languages. It combines great performance, combined with ease of use, speed and some pretty cool features. The browser is available on multiple platforms including Android, iOS, and Windows Phone. and Windows.
The UC browser includes features specially designed for users of the countries where it is more popular. For example, users in Bangladesh can get notifications and easy access to ensure that they don't miss any Facebook message. Those in Pakistan get alerts about the latest news. The UC Browser claims to offer faster performance and more efficient browsing. The UC browser uses cloud acceleration, it supports multi-file format downloading and it features cloud syncing and HTML5. It also allows one to save pages locally for offline reading, a great feature for mobile users. Finally, the browser's data compression features help reduce data consumption, another useful feature for mobile users.
The UC Browser's security was questioned in 2015 when a research group called Citizen Lab revealed that the data of many users had been compromised. Citizen Lab also reported that personal information was being transmitted to multiple commercial tools. Furthermore, they raised concerns about the poor level–or total lack–of encryption applied to protect users' online browsing activity. The problems were quickly addressed by Alibaba and Citizen Lab later confirmed that their tests showed that in general, the data leaks and privacy issues had been resolved. However, UC Browser users should take measures to enhance the privacy and security of their information.
Conclusion for VPN UC Browser
A VPN is not totally safe, nothing is. As we said, someone could be spying on your traffic at the far end of the tunnel. They could, but they'd have a hard time tracing it back to you. A VPN will make your Internet usage more private while allowing you to bypass all sorts of restrictions. We've introduced four excellent VPN suppliers that would all do a great job of protecting UC browser users.
And you, what VPN are you using along with the UC browser? What are the features you love most about your favourite VPN Provider? Share your experience with us using the comments below.