We are reader supported and may earn a commission when you buy through links on our site.
Learn more
Best VPNs for Streaming in HD, 4K and Beyond: Stream Movies and TV Shows, Safely and Fast
In a world of endless entertainment options, are you dead certain your media devices are secure? Today, we'll cover the best VPN for HD and 4k streaming enthusiasts. Our recommendations strike the perfect balance between privacy provisions and performance, so you never drop a frame behind your wall of VPN encryption.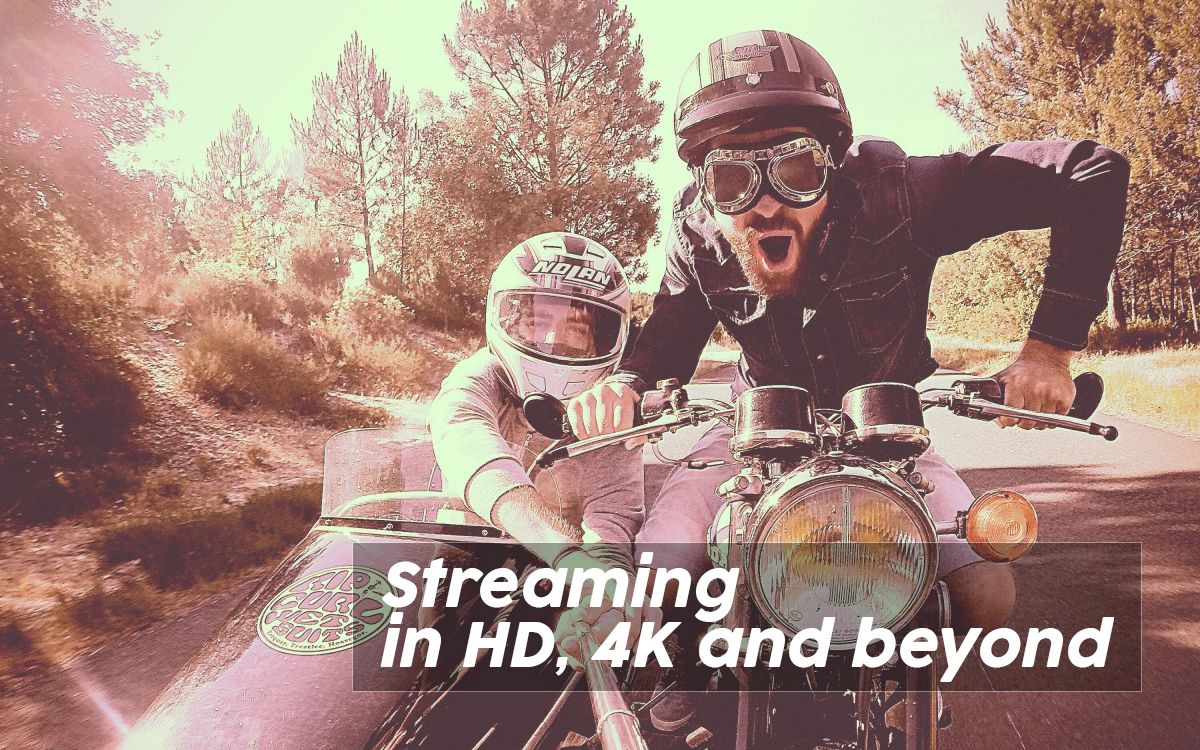 As recently as the early 2000s, HD streaming videos were a luxury only a few people could afford. As time and technology progressed, internet speeds became faster, hardware matured, and suddenly HD streams were commonplace. In recent years, even HD has become somewhat obsolete with things like 4K videos and ultra HD quality movies hitting the market.
When you're looking to unblock UHD streams, choose one of these blazing fast VPNs:
NordVPN – Best Streaming VPN – NordVPN's massive worldwide server network has more than enough power to deliver the speeds you need to securely unblock buffer-free streams–even in 4k. The sheer volume of nodes alone makes this the premium choice for serious streamers.
Surfshark – Not the largest network, but one of the most modernized with excellent performance and privacy.
ExpressVPN – Tons of servers, stupidly fast speeds, and great fail-safes.
IPVanish – The Amazon Firestick's best friend, and a solid choice for HD streaming.
VyprVPN – Entirely provider-owned network is incredibly well maintained and responsive. Outstanding tunneling via Chameleon protocol.
PureVPN – Ever wanted to spoof into Uzbekistan? You can with the widest-reaching network in terms of countries available.
Streaming hi-def shows carries privacy risks just like any online activity, however. Fortunately, you can protect your connection against throttling and lock down personal information by using a virtual private network. Read on to find the best VPNs for streaming in HD, 4K, and beyond.
30-days money back guarantee
Evaluating the Best VPN for Streaming in HD
To watch HD, 4K, and ultra HD video streams, you need all the speed you can get. In the world of VPNs, however, speed often comes at the price of privacy, which is an unacceptable trade-off to most users. For these reasons and more, it can be difficult to pick the best VPN for streaming in HD. We've made the process simpler by providing a list of recommended services below. Each was selected based on the following criteria, ensuring you always have the fastest VPN service possible, all without sacrificing your online privacy.
Speed – VPNs are, on average, anywhere from 10 to 20% slower than a standard internet connection. To maintain your top speeds for HD content, you need a VPN that puts a high priority on fast downloads across its entire server network
Bandwidth limitations – A few VPNs still limit the amount of bandwidth you can use per day, week, or month. This can quickly put a cap on your HD video watching, so always make sure your VPN features unlimited bandwidth
Traffic restrictions – A surprisingly common practice among low-tier VPNs is to block certain types of downloads, especially traffic from P2P networks and torrents. Both of these technologies are routinely used to stream HD videos
Logging policy – Online privacy hinges on a VPN's logging policy. If logs are kept, data can be stored for an indefinite amount of time, allowing government agencies or other third parties a chance to get access. If no logs exist, your information is safe, plain and simple
Device compatibility – Watching HD streams doesn't just happen on your desktop PC. Make sure you're protected on every HD-compatible device by using a VPN that offers custom software for a wide variety of platforms, including tablets, laptops, and smartphones
Here is our list with the best VPNs to watch hi-def streaming in HD or 4K.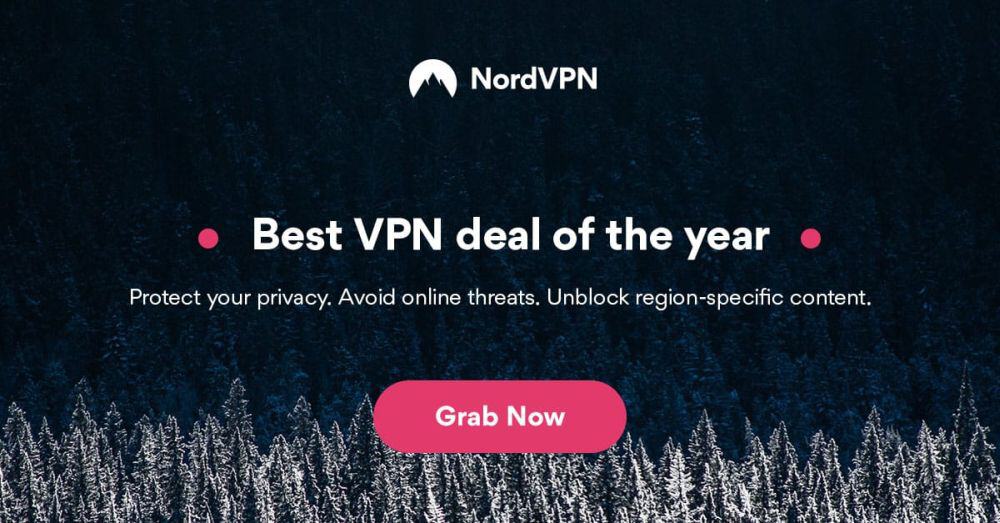 NordVPN delivers exactly what users want from their VPN: fast speeds, strong privacy, and a huge network of servers. At the time of writing, NordVPN has over 5000+ servers in 61 different countries, a list that's constantly growing as the days go by. You can access the entirety of this network with unlimited bandwidth, unlimited server switching, and no restrictions on P2P or torrent traffic, as well.
NordVPN has one of the most all-inclusive zero-logging policies around, covering everything from traffic to time stamps, bandwidth logs, and even IP addresses. This is in addition to 256-bit AES encryption (with select servers that offer 2048-bit encryption), DNS leak protection, and an automatic kill switch on multiple versions of their custom software. With NordVPN you always know you're getting the fastest connection possible, and you're not giving up your privacy to do it.
More of NordVPN's best features:
Specialized servers that offer faster P2P downloads, double encryption, onion routing, or DDoS protection
Reliable access to Netflix streams despite constant attempts at blocking VPNs
User-friendly apps for Windows, Mac, Linux, Android, iOS, and more
Unlimited bandwidth and no restrictions on P2P traffic or torrents
Read our full NordVPN review.
Pros
Unblocks US Netflix, iPlayer, Amazon Prime and other streaming services
Mind-boggling number of servers
DNS leak protection, kill switch
Extra-secure Double VPN for data encryption
Live chat support is available.
Cons
Apps can sometime be slow to connect.

Surfshark is a VPN that just makes you feel good to use. Its RAM-only server infrastructure is incredibly snappy and responsive, complemented by highly efficient encryption (256-AES-GCM) and tunneling (OpenVPN, IKEv2/IPSec, WireGuard) protocols for reduced latency. This makes for incredibly fast connection speeds on most nodes, allowing for buffer-free streams even in 4k.
And you can spoof into 50 countries dotted by 800+ servers–great for accessing international content libraries. You'll really find that Surfshark "just works" to bypass geoblocks and hide your activity online–no specialty servers or fiddling with settings required.
Surfshark also offers:
CleanWeb anti-malware, anti-virus, pop-up blocker and constantly updating virus link blacklist
Unlimited simultaneous connections (great for splitting subscription fees with friends)
Cryptocurrency payments accepted for enhanced privacy
Zero logging
Pros
Unblock VoIP in oppressive regimes like WhatsApp, Skype, Discord, and more
Server selection is dead simple and quick
DNS leak and kill switch protection keep your defenses up even when your connection drops
Zero logging policy ensures your activity can't be used against you
Support staff manned by actual human beings 24/7.
Cons
Overall, not much to complain about
Young VPN still has plenty of room to grow in terms of advanced functionality.
Read our full Surfshark review.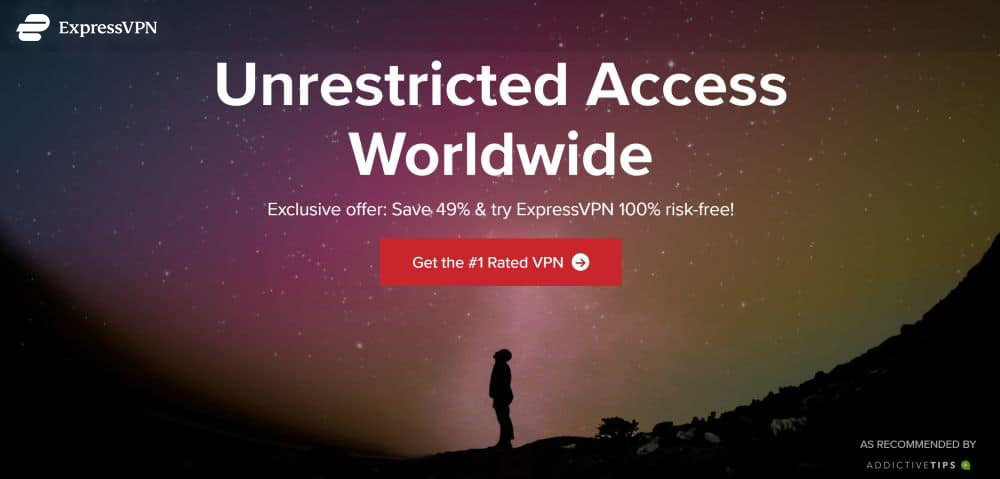 ExpressVPN has some of the fastest servers on the VPN marketplace. The company strives to deliver incredible download speeds without skimping on privacy features. It succeeds by deploying a relatively small network of 3000 servers in 94 different countries, a list large enough to provide location variety but small enough to allow for better hardware. No matter where you live or where the server you connect to resides, with ExpressVPN, you'll get a solid, lag-free connection. There's even built-in speed test software to help you verify ratings and switch to a new server.
As for privacy, ExpressVPN uses the industry standard 256-bit AES encryption, locking information down to keep prying eyes at bay. Data that passes through servers is further protected by a comprehensive zero-logging policy that covers traffic, DNS requests, and IP addresses. Local software comes with DNS leak protection and an automatic kill switch, both of which are designed to keep your identity hidden should your internet connection suddenly disappear. All in all, ExpressVPN manages to provide top speeds and strong privacy features, all in an easy to use package.
ExpressVPN's best features include:
Custom software and apps for Windows, Mac, Linux, Android, and iOS devices
No restrictions on bandwidth, P2P network downloads or torrent traffic
Break through censorship barriers in countries such as China
Consistent and reliable access to Netflix streams
Read our full ExpressVPN review.
Pros
Unblocks Netflix and other streaming sites
3,000+ super fast servers
No DNS/IP leaks found
Keeps no logs of personal data
Great customer service via chat.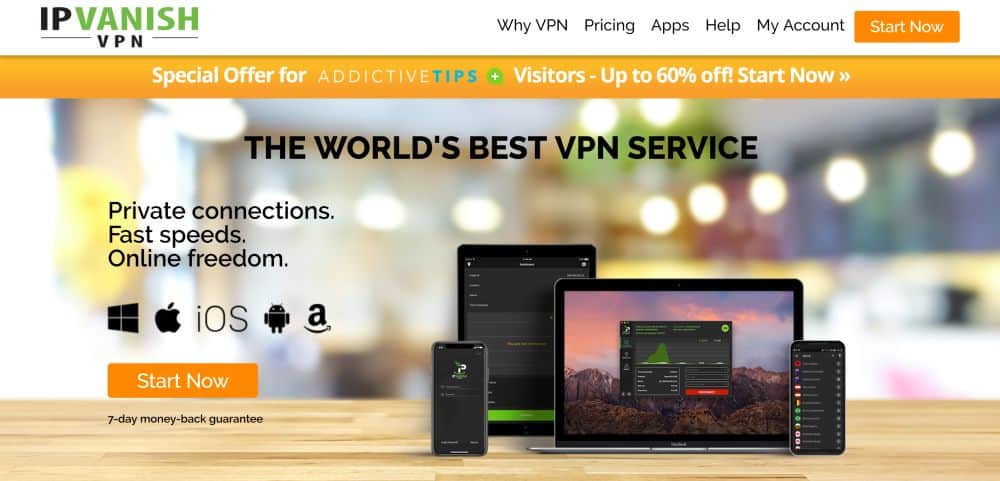 IPVanish is the best VPN for fast speeds and anonymous HD streams. The network is powered by over 850 servers in 60 different countries, featuring an astounding 40,000 shared IP addresses. This ensures you'll always be able to find a great connection in the region of your choice, all while staying hidden in a crowd of other users. DNS leak protection and automatic kill switch features help make sure your identity doesn't slip through the cracks, as well.
As for privacy, IPVanish doesn't take shortcuts, either. The service delivers 256-bit AES encryption to secure everything from end to end. A zero-logging policy on all traffic ensures your activity doesn't stick around for third parties to take a peek. All of this adds up to the perfect amount of online privacy and anonymity, and you get access to it without sacrificing even a little bit of speed.
IPVanish features at a glance:
Watch anonymous HD streams on Kodi without alerting your ISP or tipping off copyright trolls
Download movies and TV shows through BitTorrent with full anonymity
Easy to use apps for Windows, Mac, Linux, iOS, and Android devices
Secure servers with fast connection speeds for incredible HD videos
Read our full IPVanish review.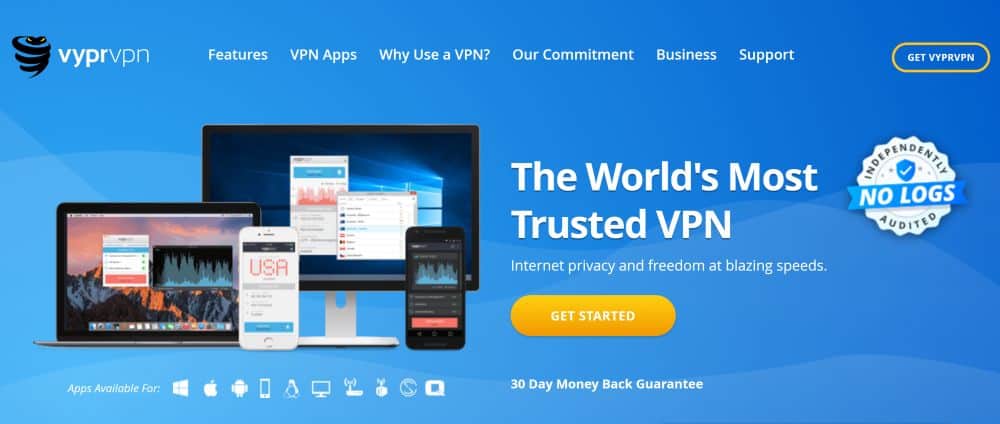 VyprVPN takes some unique tactics when it comes to preserving your online privacy and anonymity. The most useful of these features is Chameleon, an exclusive protocol that defeats deep packet inspection (DPI) deployed by ISPs and governments to throttle speeds or spy on user activity. Chameleon wraps packet metadata in an extra layer of encryption to obfuscate the origin and destination. This lets more traffic slip through censorship barriers and region blocks, making VyprVPN incredibly useful for areas like China, Russia, and the Middle East.
VyprVPN also owns and operates their entire network of servers, over 700 in 70 different countries. This means the same company controls all hardware maintenance and software upgrades, preventing third parties from gaining access to servers. Add a zero-logging policy on all traffic, 256-bit AES data encryption, and both kill switch and DNS leak protection features, and you've got an ideal VPN service that's both private and secure.
VyprVPN also includes the following:
Anonymous and private web browsing and HD video streaming anywhere in the world
Easy and free custom apps for Windows, Mac, Linux, Android, and iOS smartphones
Unlimited bandwidth and no restrictions on P2P traffic or torrent downloads
Read our full VyprVPN review.
PureVPN does more than just provide encryption, virtual location switching, and other VPN exclusive services. If you're looking for an all-in-one internet security suite, PureVPN is definitely the choice for you. Some of its more notable extra extras include a built-in ad-blocker, web filtering options, malware protection, anti-phishing features, and even anti-virus scanners. To use all of these incredible bonuses, all you have to do is download PureVPN's software, sign in, and start browsing.
As for its VPN specific features, PureVPN doesn't pull its punches. You'll get complete kill switch and DNS leak protection, as well as 256-bit AES encryption to lock down all of your information. PureVPN also owns and operates its entire network, over 750 servers in 141 countries. Third parties never have access to your data, and with PureVPN's excellent zero-logging policies, you're guaranteed a safe and reliable connection to the internet.
PureVPN's best features:
Extra features include anti-virus protection, web filters, ad blocking, and anti-phishing measures
Custom apps for Windows, Mac, Linux, Android, iOS, and even Chromebooks
No restriction on torrent or P2P traffic and completely unlimited bandwidth
Read our full PureVPN review.
How to Defeat ISP Throttling with a VPN
There are hundreds of ways to access HD movie streams online, everything from Netflix to YouTube, Amazon Instant Videos, and Kodi. Depending on the method you use, your local ISP might deploy throttling efforts to help them save on bandwidth costs.
These throttles silently decrease your download speed whenever you start streaming a movie. If your HD videos frequently buffer despite having fast internet service, you could be a victim of ISP throttling.
Fortunately, VPNs generally make quick work of artificial slowdowns of this nature. A VPN's encryption alone is often enough to defeat ISP filters, as it masks the type of traffic you're using by default. Instead of "Kodi stream from X website", your ISP simply notices the traffic and passes it along unhindered.
DID YOU KNOW? How to Watch Netflix with a VPN
Even with encryption, some ISPs can persist in throttling HD video streams, often resorting to slowing down all VPN traffic. Follow the tips below to stop ISP throttling so you can resume your high quality movies without interruption.
Change ports – Port monitoring is a common method of controlling internet traffic. If you use a different, unmonitored port, however, you'll often get by without being noticed. If your VPN software allows it, try switching to TCP port 80 or TCP port 443
SSH tunnels – A more complex method of bypassing VPN blocks is to wrap your traffic in an additional layer of encryption, obscuring the fact that you're using a VPN. You can quickly make an SSH tunnel on Linux and Mac systems, though Windows will take some extra configuring
SSL tunnels – An alternate to SSH tunnels above that accomplishes nearly the same thing. SSL tunnels are offered by NordVPN, but you can also download the stunnel software and set things up from there. It's more complex than the other methods and can be a little slower, but it's practically guaranteed to bust through VPN throttling efforts
Need a more detailed guide? Follow our tips on how to bypass VPN blocks to get your HD streams back on track.
RELATED READING: How to Bypass Verizon Hotspot Throttling
Get More Speed from Your VPN
ISP throttling isn't the only thing that could be slowing down your connection. There are a dozen or more weak points between your screen and the stream you're downloading, and if any one of them fails, the only thing you'll be watching is a buffering image. If you've ruled out throttling but still aren't getting the speeds you should be, try the tips below.
Experiment with different encryption types – VPNs rely on the OpenVPN protocol to manage traffic, as it offers the best balance of speed and privacy. You can switch to other protocols if you're willing to trade a bit of privacy in exchange for speed. If your VPN offers the option, try switching to L2TP/IPSec or PPTP protocols
Switch VPN servers – Factors such as server load and physical distance can have a tremendous impact on connection speeds. If you don't need access to a particular country's IP addresses, pick a VPN server closer to your location to help reduce lag. You can also try a less populated server to see if that speeds up your stream
Use a different device – Not all hardware can handle HD, 4K, or ultra HD content, especially tablets and smartphones. If your video playback is stuttering instead of buffering, chances are it's a hardware issue, not a problem with your connection speed. Try the same stream on a laptop or desktop PC to see if that solves the issue
Plug in a network cable – Wireless internet is convenient, but it's notoriously spotty, especially if you're far away from the broadcast point. If you're watching a stream on a computer and experience frequent buffering, grab a network cable and plug directly into the router. Wired connections are far more reliable than Wi-Fi, and often faster, too.
INTERESTING READ: Is NordVPN FREE? Here's how to get a FREE trial
Watch HD Movies and TV Shows on Kodi
One of the best ways to stream HD movies to your device is through Kodi, the free open-source media center software. Kodi is powered by third-party add-ons that provide access to content you didn't even know existed. Interested in high-quality foreign films? HD sports streams? Entire TV series for a good binge watch? Kodi's add-ons can hook you up!
Finding a reliable add-on for the content you need is the real challenge. We've scoured the web in search of the best Kodi add-ons for HD, 4K, and ultra HD content. Whether it's blockbuster movies or old TV shows you're interested in, the links below can help you find good-quality videos.