We are reader supported and may earn a commission when you buy through links on our site.
Learn more
The Best VPNs for Movie Streaming in 2021
Sure, determining the best VPN for streaming will depend partly upon your specific needs, but amidst a crowded market, it's helpful to know which providers are the standouts. Each of our top recommended VPNs allow you to unblock streaming services with ease while preserving connection speed and fidelity.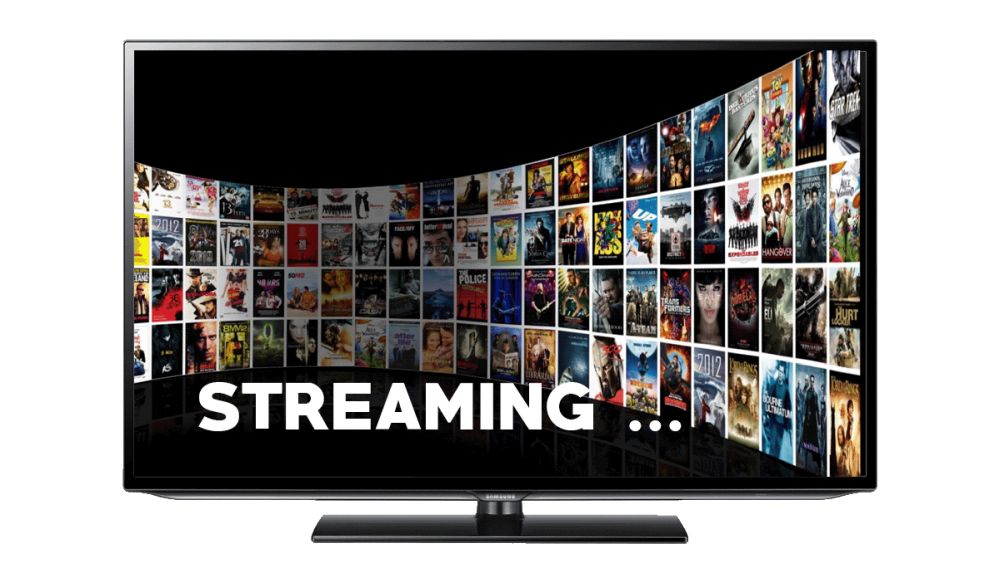 Early internet connections were sluggish and awkward, barely suitable for downloading even animated GIFs. As connection speeds increased and hardware became faster, streaming videos and movies went from an occasional thing to a daily activity. In 2014 Netflix and YouTube, the two largest streaming video services, were responsible for over half of all internet traffic in the U.S. When you add torrent downloads and a few other movie streaming sites, that number jumps to 64%.
Need a quick answer? These are the best VPNs for securely unblocking and streaming movies online:
NordVPN – Best VPN for Movies – NordVPN stands out from the crowd due to its absolutely gargantuan server network, allowing you to spoof tens of thousands of IPs to bypass geoblocks and enjoy your favorite movies. Buffer-free streams, even in HD; no logging.
Surfshark – Encryption on every server, unlimited simultaneous connections, responsive network.
ExpressVPN – A bit more expensive, but offers the fastest VPN speeds you'll find anywhere. Unblocks Netflix US like a champ.
IPVanish – Your Firestick's best friend, used heavily in the torrenting community as well.
VyprVPN – The primary pick for anyone living in a country with heavily censored internet.
Streaming videos are here to stay, and if you want to keep your activity private and secure, you need to incorporate a virtual private network into your daily routine. VPNs use data encryption to help protect your activity from bandwidth throttling, spying third parties, and information-hoarding ISPs. You can also use a VPN to access geo-restricted content to stream videos from any country in the world!
30-days money back guarantee
How to Find the Best VPN for Streaming Videos & Movies
Picking the best VPN for online movie streams is more complicated than just comparing speed tests. You have to take things like encryption strength into account, look at server distribution, and keep an eye on logging policies and software compatibility. There's a lot of information to digest before you sign up, which is why we've made the process a little easier.
Below are the most important criteria to keep in mind when looking for the best video streaming VPNs. We used the same features to select our recommended services, ensuring you'll always have fast and private access to HD videos no matter where you choose to watch them.
Logging policy – Online privacy is built upon a VPN's logging policy. With no logs, your data is never stored and can't be accessed by third parties or government agencies.
Speed – Encryption can slow your internet speed by as much as 20%. To make sure your streaming videos never stutter, we've selected the fastest VPNs that deliver top speeds without sacrificing privacy.
Server network – The closer you are to the VPN server you're connected to, the less lag you'll encounter. It also lets you select from a larger list of virtual locations so you can stream videos from other countries.
Blocked file types – Lower-quality VPNs often block P2P networks and torrent traffic, both of which are frequently used to download and stream videos. All of our recommendations below allow all types of traffic without exception.
Bandwidth restrictions – Streaming video eats up a ton of bandwidth. To ensure your stream doesn't end in the middle of the movie, our recommended VPNs have unlimited bandwidth with no throttling or other restrictions.
Device compatibility – Video streams aren't just for desktop PCs. If you want to watch videos on a tablet or TV box, you'll need to be able to install VPN software on the same device. Most good VPN providers have custom apps for popular operating systems, including Android and iOS.
Able to bypass VPN blocks – It's commonplace for major streaming services to employ methods to detect and block VPN traffic. While it's almost always bound to be a game of cat and mouse, the best VPN providers are usually able to stay a step ahead of VPN blocks.
The Best VPNs for Streaming Video Online
Here are our top VPNs for fast, secure, and buffer-free streaming of movies and TV series, even in HD and 4K quality: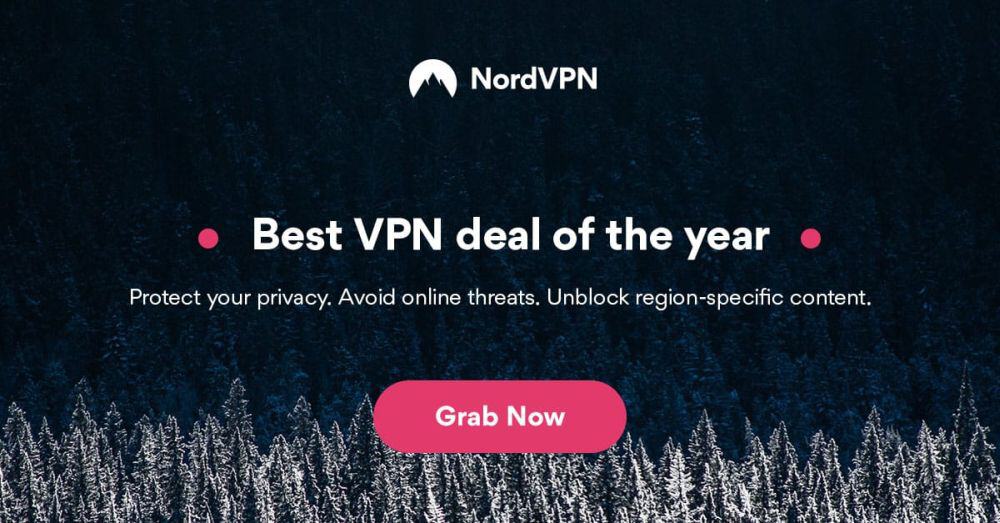 NordVPN has the speed and security to make it one of the top VPNs on the market. It also offers the largest network of any VPN provider, with over 5,700 servers in 60+ different countries! You'll never have trouble finding a fast and lag-free node to connect to, no matter where you're located. This also makes it easy to access geo-restricted content on services like Netflix, Hulu, BBC iPlayer, and YouTube. Streaming all of this HD content is easy, too, as NordVPN doesn't restrict P2P or torrent traffic and offers unlimited bandwidth for all accounts.
Privacy is the other high point of the NordVPN experience. The company has one of the best zero-logging policies around, covering everything from traffic to time stamps, bandwidth logs, and even IP addresses. Full DNS leak protection and an automatic kill switch also keep your identity locked down, even if something goes wrong.
Netflix's blocking efforts have managed to force a lot of VPN users to switch off their service to stream videos. With NordVPN, that's almost never the case. The company goes to great lengths to ensure fast and reliable access to Netflix from any country at any time.
Read our full NordVPN review.
Pros
Optimized servers for unblocking Netflix
Over 5,400 servers in 61 countries
Allows up to 6 devices to be connected at once
No logs and encrypted connections for total privacy
24/7 Customer Service.
Cons
Automatic server selection can be unreliable
Apps can sometime be slow to connect.

When it comes to unblocking streaming sites, Surfshark seems to punch well above its weight class. After all, it's a "budget" VPN, yet it can unblock 14 international Netflix libraries.
Surfshark makes use of only the most modern privacy provisions–cutting outdated protocols out in favor of OpenVPN, IKEv2/IPSec, WireGuard, wrapped in unbreakable 256-AES-GCM encryption. If that weren't enough to spoof the IP you need, every network node is capable of enabling Camouflage obfuscation and NoBorders anti-censorship.
What's more, Surfshark offers this level of protection without bogging your connection down with unnecessary overhead. With their diskless network (numbering 800+ servers in 50 countries), you can count on snappy response times for buffer-free streams. It also works to wipe your identifiable metadata, giving some serious credibility to Surfshark's no logging policy.
Pros
Unblock 15 international Netflix libraries, including the US and Japan
Unblock Netflix on any server, no more picking and choosing
DNS leak and kill switch protection keep your defenses up even when your connection drops
Zero logging policy ensures your activity can't be used against you
Support staff manned by actual human beings 24/7.
Cons
Overall, not much to complain about
Relatively young VPN still has to prove itself trustworthy over the long haul.
Read our full Surfshark review.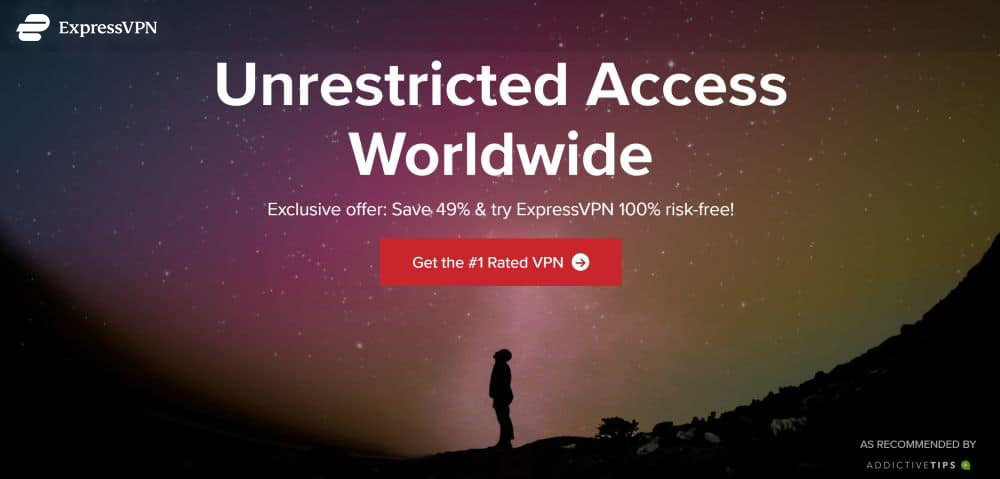 ExpressVPN has a well-deserved reputation for incredibly high speeds. The service delivers some of the fastest connections to and from cities around the world, covering the entirety of its network of 3,000+ servers in 94 different countries. You'll always be able to find a latency-free server in the location you need, whether it's near your home or on another continent to bypass geo-restrictions. If your video streams start to get sluggish, ExpressVPN offers built-in speed test software in several versions of its apps, allowing you to evaluate your server and find a better connection when necessary.
ExpressVPN delivers all of these speed benefits without sacrificing privacy or anonymity. All data that leaves your device is secured with 256-bit AES encryption backed by a strict zero-logging policy on all traffic, DNS requests, and IP addresses. Your local connection will also be secured by DNS leak protection and an automatic kill switch, ensuring your identity is never leaked.
Netflix has started a crusade to block VPNs from accessing its streaming services, which can put a serious dent in your movie watching abilities. ExpressVPN constantly works to bypass those blocks, however, which means you'll maintain reliable access to the Netflix website and its video streaming apps. ExpressVPN is one of the best VPNs to use with Netflix!
Read our full ExpressVPN review.
Pros
Unblocks Netflix and other streaming sites
Super fast servers
Govt-level AES-256 encryption
No logs for personal data
24/7 Chat Support.
Cons
Expensive month-to-month plan.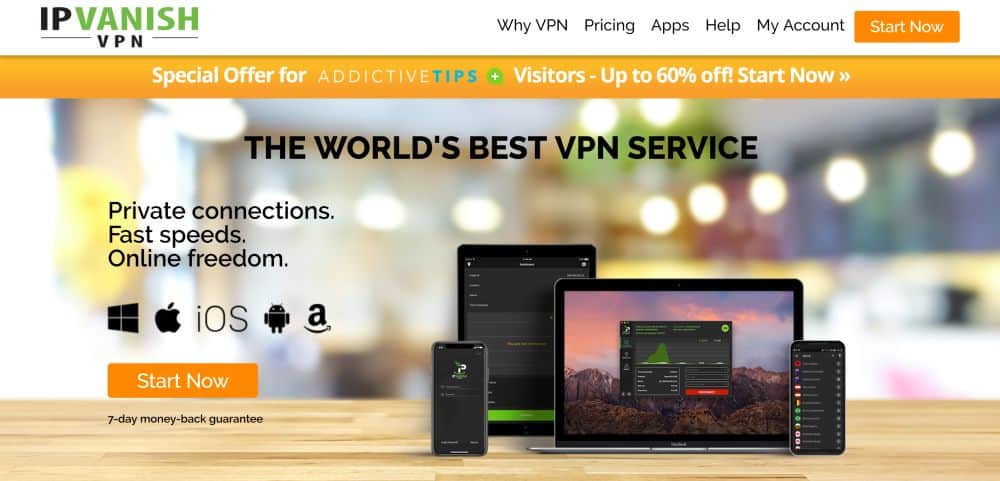 Keeping your activity hidden is what IPVanish does best, and it provides that security while delivering incredibly fast speeds. The company runs a network of over 1,300 servers in 75+ different locations, complete with over 40,000 shared IP addresses available to all users. Those numbers alone provide plenty of anonymity for your online video streams, but IPVanish also features 256-bit AES encryption, a solid zero-logging policy, and both kill switch and DNS leak protection features for added peace of mind.
Keeping clear access to movie streams is easy with IPVanish. You'll get unlimited bandwidth with no speed caps or throttling, which is perfect for HD and 4K content. There's also full access to both P2P and torrent traffic downloads and free access to the Kodi media center and all of its movie and TV show add-ons. IPVanish is the perfect VPN for high-speed and high-quality video streams.
Read our full IPVanish review.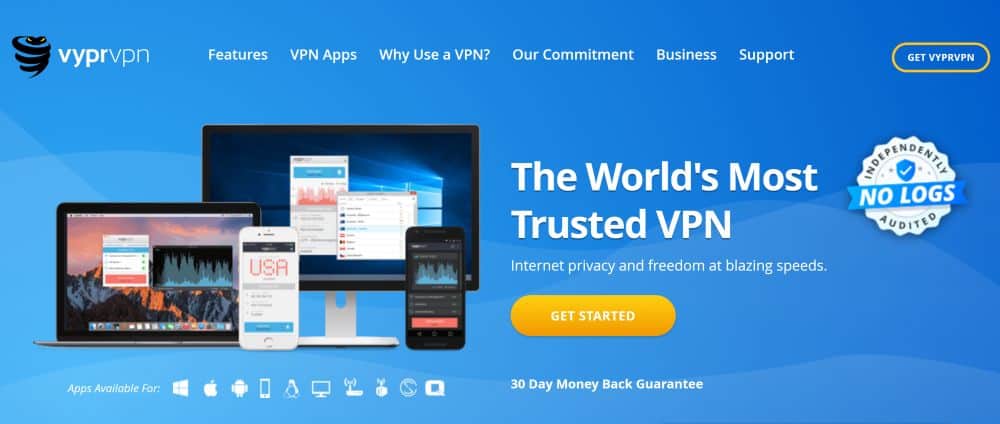 When you want to stay anonymous and break through online barriers, VyprVPN is the way to go. The service offers some of the most unique solutions to privacy and censorship issues in the online community, largely thanks to its proprietary Chameleon technology. Chameleon takes pre-encrypted data and wraps another layer of encryption around the meta information. This helps defeat deep packet inspection, a method commonly used by governments and ISPs to look through VPN encryption to track user activity. Chameleon makes it virtually impossible to trace anyone's connection, making it easy to slip through ISP throttling efforts and break through censorship firewalls in places like China or the Middle East.
Another excellent privacy feature is the fact that VyprVPN owns and operates its entire network of servers, over 700 in 70 different countries. VyprVPN handles all hardware maintenance and software upgrades, as well, which keeps third parties out of the picture. When you combine that with 256-bit AES encryption, zero traffic logs, and DNS leak protection features, you've got the perfect recipe for a private, secure, and anonymous online experience.
Read our full VyprVPN review.
Get Faster Speeds from Your VPN
There's nothing more frustrating for a video streamer than lengthy buffering delays or constant playback stuttering. Speed is the number-one consideration for any frequent movie watcher, especially when it comes to HD and 4K content. VPNs are known to be a little slower than your average ISP connection, but that doesn't mean you can't get access to top speeds. Our recommended providers above run some of the fastest servers in the business, but there are a few tricks you can use to squeeze extra speed out of your VPN connection.
Change VPN servers – The distance between your device and the server you're connected to can have an impact on speed. Some servers also might be experiencing heavy traffic, which will make all connected users' speeds a little sluggish. Our recommended VPNs above offer unlimited server switching, so if you're stuck on a bad connection, try changing servers to see if that fixes the problem.
Switch devices – Although it's technically possible to watch videos on everything from a smartphone to an e-reader, not all devices can handle the strain of streaming movies, especially not HD content. If your tablet or another mobile device is stuttering, try the same stream from your desktop computer.
Use a wired connection – Wi-Fi isn't the most reliable way to get a fast internet connection, especially if the router is on the other side of a floor or wall. If at all possible, try using a wired connection to stream your videos.
Change ports – Some ISPs throttle certain ports in an attempt to discourage VPN use. Most VPN providers are aware of this and offer built-in workarounds to bypass throttling efforts. If your connection is inexplicably slow, check your VPN software for a port or protocol option, then switch things up to see if your speed improves.
FULL GUIDE: How to Speed Up Your VPN
Get Better Video Streams with Kodi
Services like Netflix, Hulu, Amazon Instant Video, and HBO Go provide good quality movie streams at reasonable prices. Each one has its drawbacks, however, including content availability and restrictions based on geographic location. Many of these company's apps are notoriously sluggish on certain devices, as well, making them far from perfect solutions for easy and convenient video streams.
Kodi is a free and open-source media center app that aims to change all of that. Through Kodi and its thousands of unofficial add-ons, you can gain access to live sports, TV shows, movies, broadcast channels, and international content, all from the comfort of your favorite device. There's no subscriptions to mess with or content restrictions to bypass, either. With Kodi, all you have to do is download and start watching.
To get the best video streaming experience out of Kodi you'll need to install the right add-ons. Before you dive in, though, make sure you're running a solid VPN on the same device. Kodi is perfectly legal to use, but a number of ISPs have flagged it as potentially harmful, which can result in bandwidth throttling or even copyright infringement notices. With a VPN you'll never have to worry about either of those. Our recommended services above work extremely well with Kodi. You can also check out our list of the best VPNs for Kodi for a few more suggestions.
Below are some of the most useful video and movie streaming add-ons for Kodi, complete with instructions on how to install them.